*You'll find all the details for the giveaway down below the recipe!*
I promise you I'll cook you some healthy food eventually. But sometimes, in order for me to be convinced to eat healthily I need to have some little reward waiting for me.
Something that's not quite as healthy.
Am I the only one?
I know there are people who are super dedicated to eating healthy or low calorie or low carb or low sugar all the time, and they don't ever give in. Those people are really, really strong, and I totally admire them.
The thing is, in order for healthy to work for me, I need a little balance. I'll try to restrict the times that I'll eat sweets, or something like that instead of trying to cut them out altogether.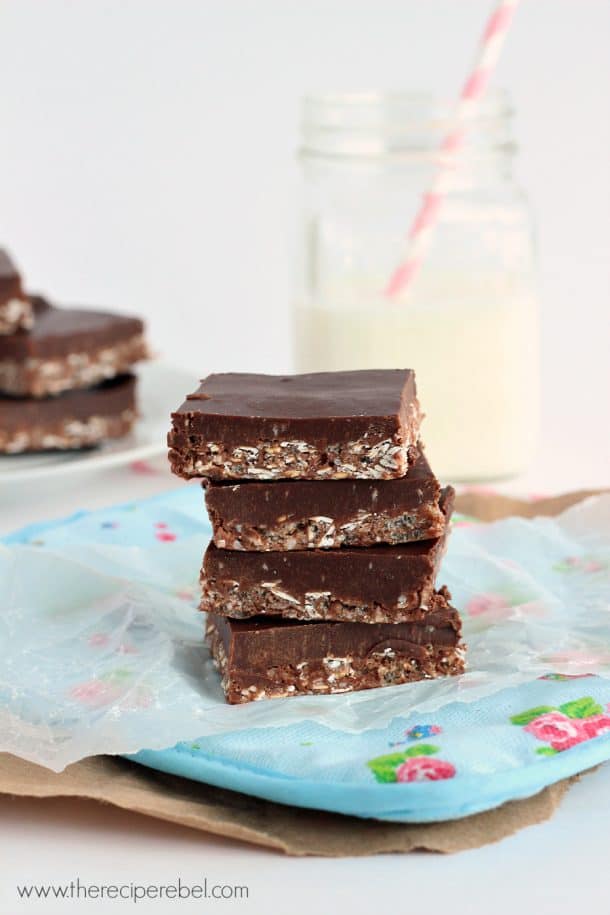 Often, when I'm working, I'll make sure I pack a really healthy lunch and lots of produce. Because I know when I get home I'm not going to have a lot of willpower.
Now that I'm on maternity leave, it's a little bit harder.
But I know if I tried to avoid sweets altogether, I'd be a miserable person. And I know you don't want to see that, right?
That being said, I've got a new baby, which means those healthier recipes are inevitable. But you can be sure I'm going to be posting some easy treats for you to enjoy as well.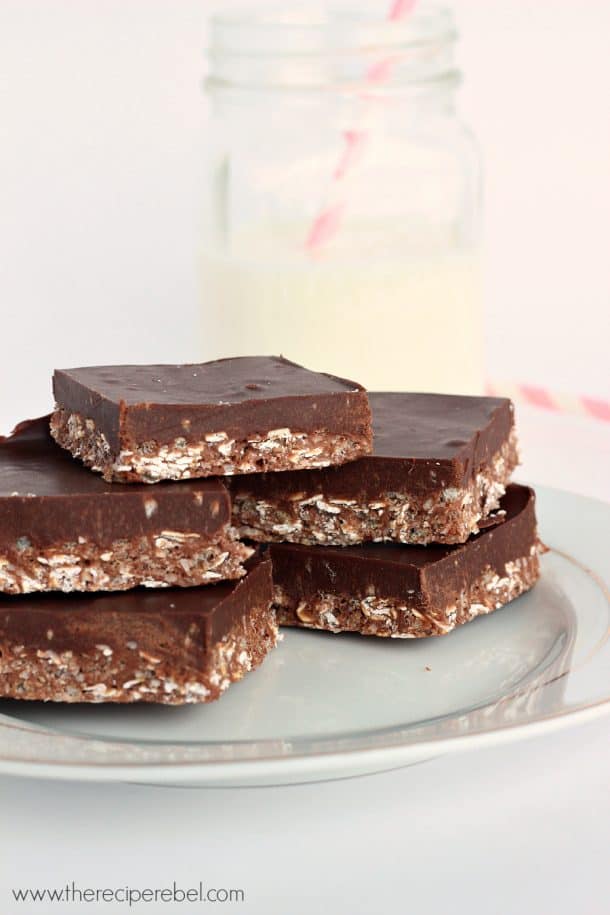 This recipe is another one from my grandma's cookbook that her church put out in 2000. I feel like I've spent so much time in the last few years scouring the internet for new and exciting recipes, that I haven't taken enough time to treasure the recipes I grew up with and the recipes that the people around me are enjoying.
Sometimes those are the best recipes.
I just love a good no-bake recipe. I think it's safe to say that everybody loves a good no-bake recipe.
These bars are so perfectly chewy, with a bit of crunch and texture from the oats, coconut and rice krispies. The layer of chocolate on top makes them totally indulgent.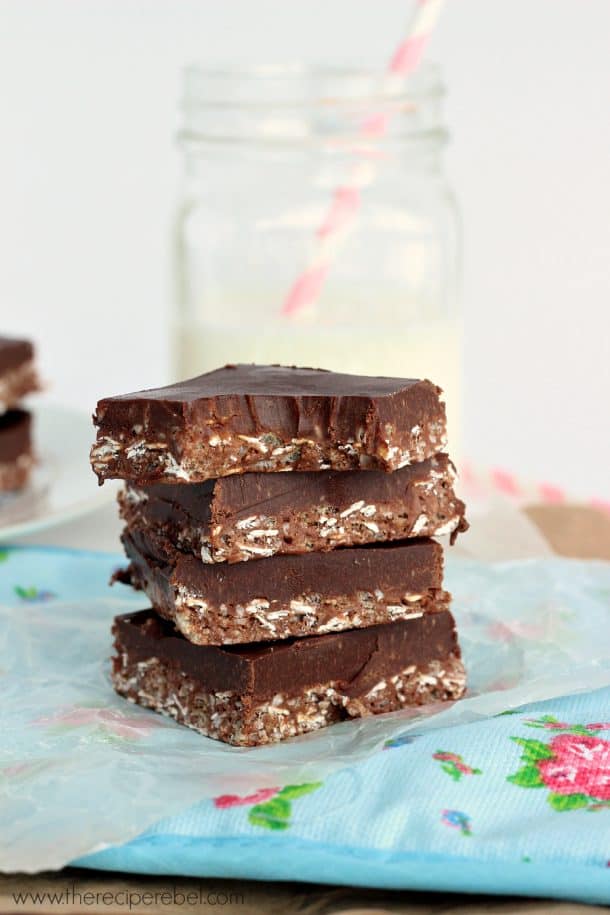 But if you're here looking at them in the first place, I think you're looking for a little indulgence in your life. 😉
2 dozen bars
adjust servings
No-Bake Crunch Bars
No-Bake Crunch Bars: so easy and totally irresistible! www.thereciperebel.com
Ingredients
3/4

cup hard margarine or butter, divided

8

cups mini marshmallows, divided

2

cups semisweet chocolate chips, divided

1

cup shredded coconut

1 1/2

cups Rice Krispies

1

cup large flake oatmeal
Instructions
Melt together ¼ cup margarine and 4 cups marshmallows. Stir in ½ cup chocolate chips until melted. Stir in coconut, Rice Krispies, and oatmeal.
Press into a 9x13" pan that's lined with tin foil (to save on washing!) and sprayed with non-stick spray.
Melt together remaining margarine, marshmallows and chocolate chips. Spread on top of coconut layer. Set aside to set completely (I like to leave it in the fridge).
They are fine sitting at room temperature, but I like to store them in the refrigerator or freezer so they don't get too soft and stick together.
Recipe Notes
*To melt ingredients together, I used the microwave. I cooked in the microwave on high for 1 minute, and then in 30 second intervals after that, stirring in between until smooth. You could also melt on the stove over medium-low heat.