Don't underestimate them.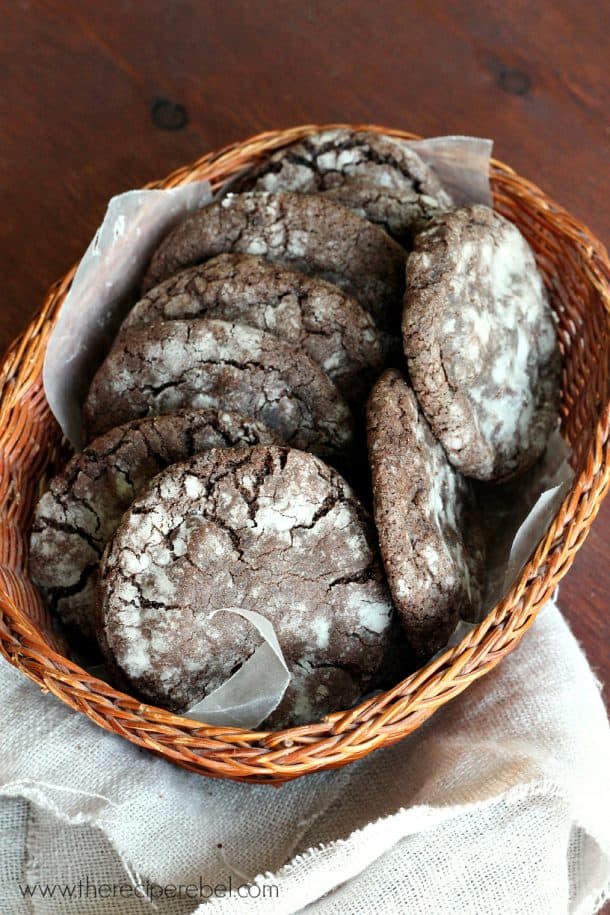 They might look a little Plain Jane on the outside but inside they're stuffed with a mint chocolate truffle that stays rich and creamy long after these cookies are baked.
Everyone loves food with a filling, right?
Think Boston Cream doughnuts. (Yes, doughnuts. I refuse to jump on the donut train. It's also cheque, and not check.)
Reese's.
Ravioli.
Cannoli.
Pierogis.
Caramilk.
Macarons.
Filling just makes things better.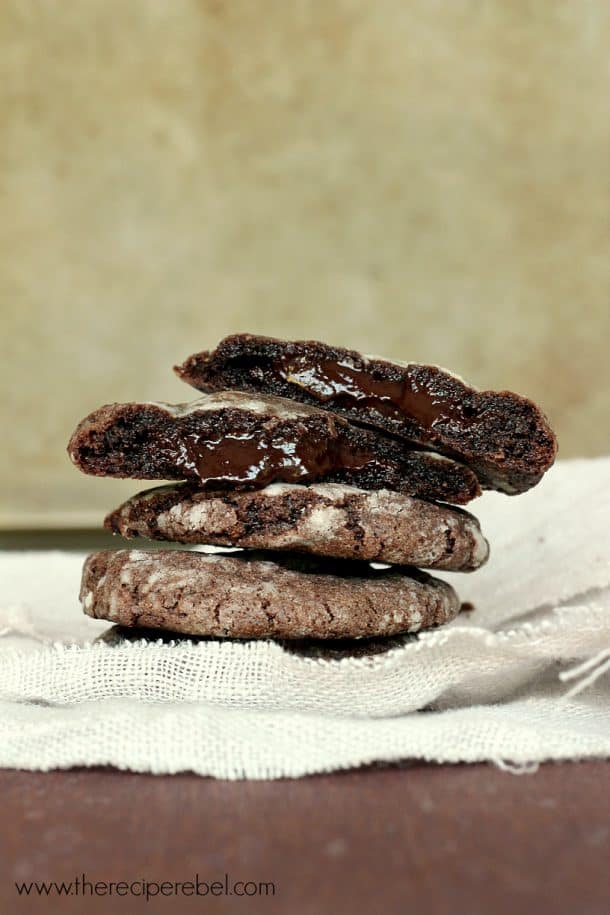 So instead of the odd chocolate chip here and there, I stuffed this cookies with a mint chocolate truffle. You could always leave out the mint extract if you want, but I love mint and chocolate together.
I got the idea because I wanted to make another Christmas cookie to enter in the Christmas in July cookie contest with EatInEatOut magazine. I know I already submitted one mint chocolate cookie, but when I think of Christmas, that's pretty much all I want.
I mean, I want chocolate all the time. So basically my question is, how can I make chocolate Christmasy?
With mint.
And so there you have it. Another mint chocolate cookie. I hope you're not upset.
If you are, I'll have to console myself by eating the whole batch and trying not to shed any tears.
about 3 dozen truffle-stuffed cookies
adjust servings
Mint Chocolate Truffle Cookies
Ingredients
For the truffles
1 1/3

cups or 1/2 lb chopped dark chocolate (you can use milk if you prefer)

1/2

cup heavy cream

2-3

tsp mint extract (depending on your tastes -- you can also omit)

2

tbsp cocoa powder
For the cookies
1

cup butter, room temperature

2

cups sugar

2

tsp vanilla

2

eggs

2

cups flour (I'm running out of whole wheat flour, so I used only 1/2 cup whole wheat and the rest all-purpose)

3/4

cup cocoa

1

tsp salt

1tsp

baking soda

1/2

cup powdered sugar (optional)
Instructions
Truffles:
In a medium pan, heat the cream over medium heat until it just comes to a simmer. Remove from the heat and stir in the chocolate, whisking until smooth. (I like to do this in the hot pan, because I find otherwise the cream cools too much. If you need to place the pan back on the hot element to finish melting the chocolate, do so)
Stir in the mint extract if using. Pour into a bowl and cover with plastic wrap. Refrigerate for at least 1 hour.
Cookie dough:
In the bowl of a stand mixer, beat butter until smooth. Add sugar and beat until creamy, a good 2-3 minutes.
Add eggs and vanilla, and beat until combined.
Add flour, cocoa, salt and baking soda and mix until combined.
Refrigerate at least 1-2 hours.
Assembly:
Scoop out 1 tsp of truffle mixture, rolling in cocoa to help create a smooth ball, about ½" thick. Continue until truffles are done and place on a plate in the fridge until ready to use.
Preheat oven to 350 degrees F.
Scoop your cookie dough as you would normally. Press your thumb into the middle to create a place for your truffle. Place a truffle in the middle and wrap the cookie dough completely around the truffle - you don't want it to leak out! Continue until all truffles are used*. Roll cookie balls in powdered sugar, if using.
Place on lightly greased baking sheets and bake at 350 degrees F for 8-9 minutes, until just set. (Baking time will depend on the size of your cookie -- mine were baked 9 minutes)
Recipe Notes
*I got 35 truffles, and had a little extra dough, so I made plain cookies to use for s'mores!