Classic chocolate no-bake cookies topped with mint frosting and chocolate ganache — a twist on my favorite no-bake mint chocolate bars! Perfect for Christmas or a sweet summer treat!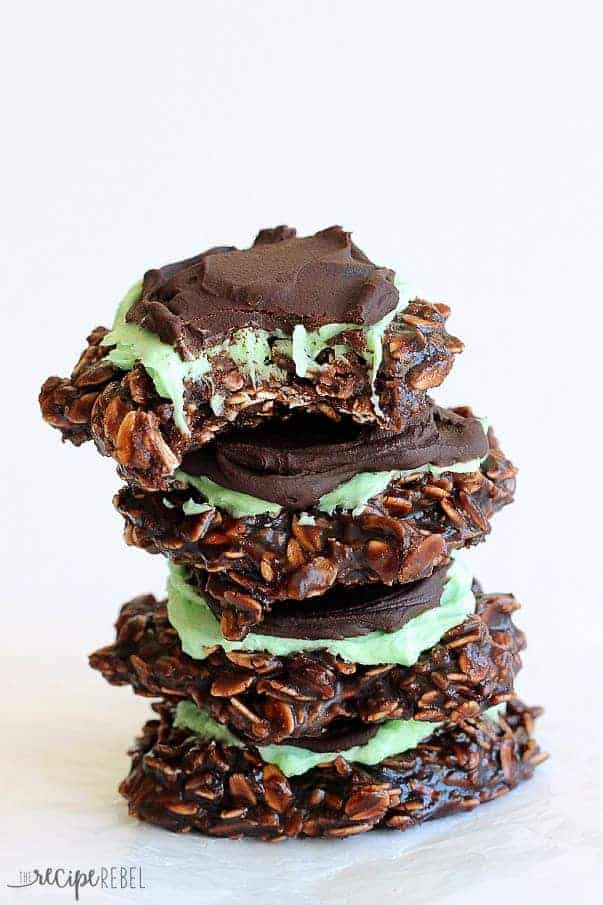 I was a little bit bitter last Christmas.
We started building our new house in the Spring of 2013, and I was actually thinking we might be in our new house by sometime in November. A few months later I decided as long as we were in by December 1, that would be fine.
A few months after that, I relented and gave my husband until December 21 — my last day of school before Christmas holidays. That way, I could still have Christmas in our new house, even if I wasn't able to bake or decorate much.
And then I decided on December 23. I don't care if I can't do any Christmas decorating or baking at all, I just want to get in there!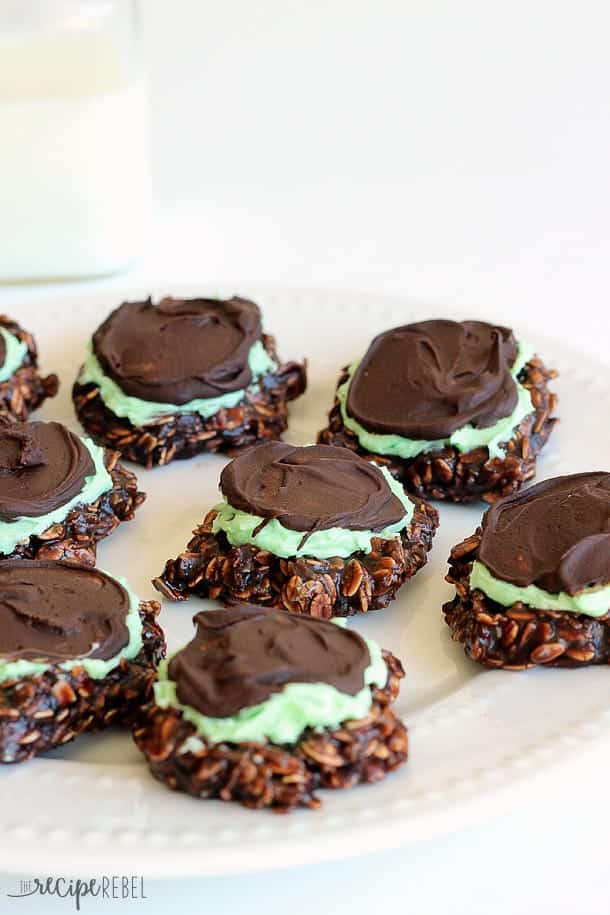 We moved December 28.
Now, before you go ahead and judge me for being on my husband's case while (it's true) doing absolutely nothing to move the process along, you should have seen where we were living in the meantime. Any houses that were available for rent wanted a one year lease, and I refused to pay rent for a tiny rental house after we had moved in to our brand new one.
So we ended up moving out into the country into a small house that had been empty for a little while. The owners were basically doing us a huge favour, because they opened it for us even though they probably didn't really care to rent it, because it was that or we move into my parents' camper.
You all know how that would have turned out come December in Manitoba.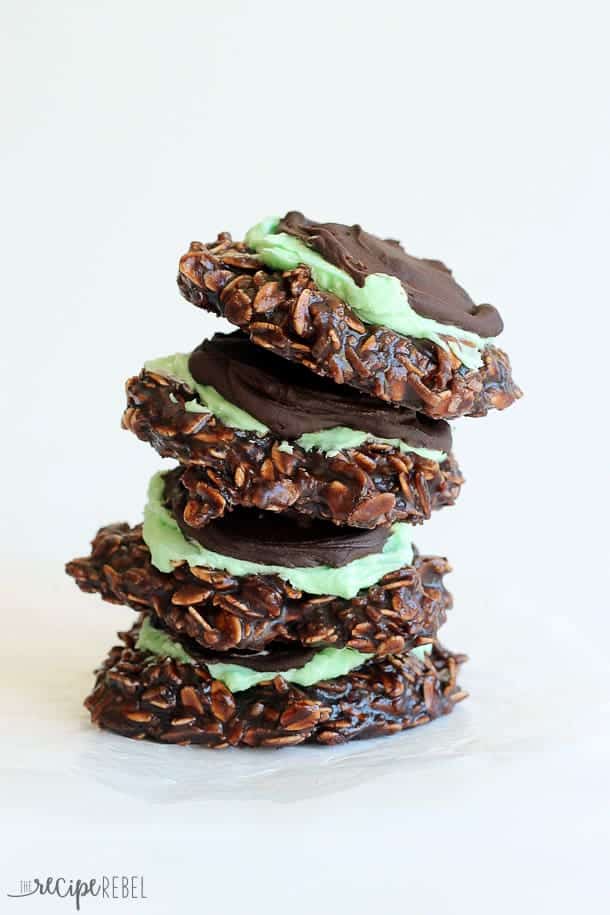 I didn't get to do any Christmas baking or put up any decorations. That's kind of a big deal for me.
So we went shopping for new Christmas decorations last Boxing Day and I decided I would just go all out the next Christmas, Christmas 2014.
Except we're expecting a baby December 16, 2014.
And while I am overjoyed, it does cramp my Christmas style a little. But, no worries, I told the husband the Christmas tree goes up November 1 and I'm going to be baking up a flurry of Christmas cheer starting probably before Halloween is even over.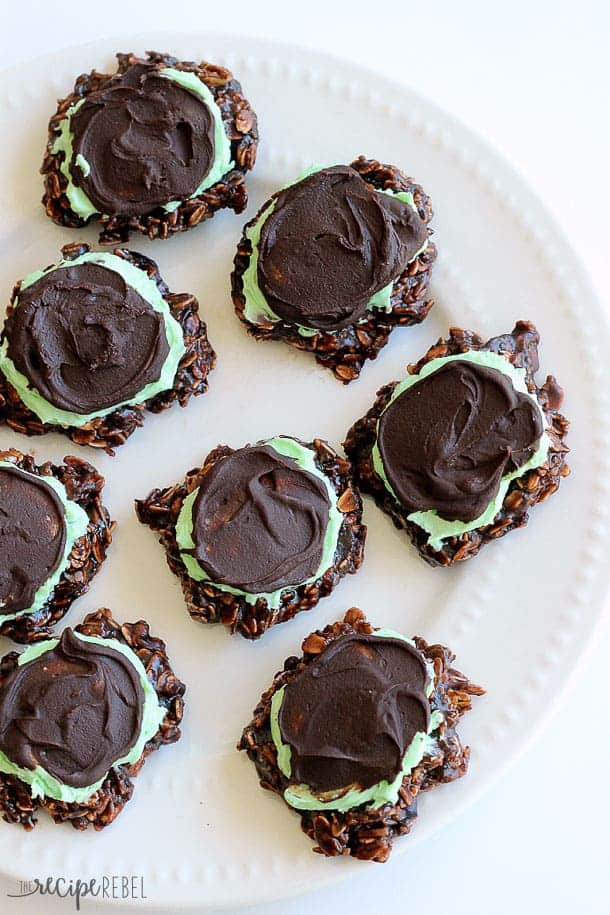 And then this opportunity for a Christmas in July cookie contest from EatInEatOut magazine came up, and I thought to myself, "how perfect!"
So Christmas baking started a little early this year. But who doesn't love mint and chocolate all year round?? And plus, they're no bake, so if you decide to make them while it's still warm out, the oven won't heat up your house.
*The contest is over 🙂
2 dozen cookies
adjust servings
Fudgy Mint Chocolate No-Bake Cookies
Gooey chocolate no-bake cookies topped with cool and creamy mint frosting and smothered in rich chocolate ganache -- the perfect no-bake treat for summer or to add to your list of Christmas baking!
Ingredients
Cookies
1/2

cup butter

2

cups granulated sugar

1/2

cup unsweetened cocoa powder

1/2

cup milk

1

teaspoon vanilla

1/2

teaspoon salt

3

1/2 cups oats (I use quick)

2

1/2 cups shredded unsweetened coconut
Frosting
1/2

cup butter, room temperature

1

1/2 cups icing sugar

1

tbsp milk

1/2

tsp mint extract

green food coloring
Ganache
3/4

cup semisweet chocolate chips

1

tbsp milk

1

tbsp butter
Instructions
Line 2 cookie sheets with wax paper.
In a large pot, combine butter, sugar, cocoa and milk. Bring to a boil over medium-high heat, stirring frequently, and boil 1-2 minutes.
Stir in vanilla and salt. Add oats and coconut and stir to combine.
Drop into 24 spoonfuls onto wax paper. Refrigerate until set.
Meanwhile, make the frosting. To a stand mixer (or use a hand mixer), add butter, icing sugar and milk and beat until creamy and blended. Add in mint extract and food coloring. If necessary, add an extra tbsp sugar or milk to achieve the right consistency -- you do not want the icing runny.
Remove cookies from the fridge and spread with frosting. Return to the fridge to let the frosting set.
Make the ganache: In a small pot, combine chocolate, milk and butter over very low heat. Cook and stir constantly until chocolate is smooth. Set aside to cool 5-10 minutes. Spread on cooled cookies, and return to the refrigerator to allow chocolate to set.
Because they are slightly gooey, I like to store them in the fridge or freezer with wax paper between layers so they don't stick together.
You might also like these No-Bake Samoa Cookies!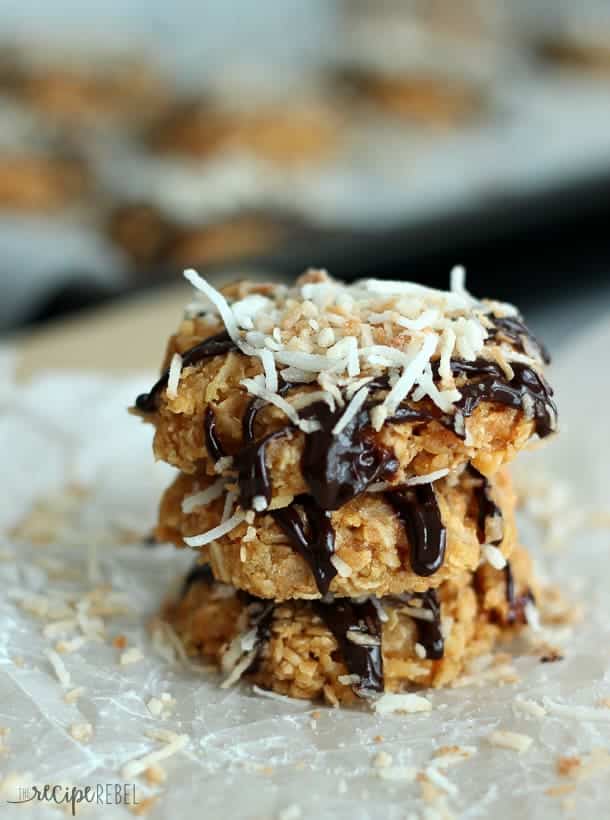 Or this No-Bake Banana Split Cheesecake!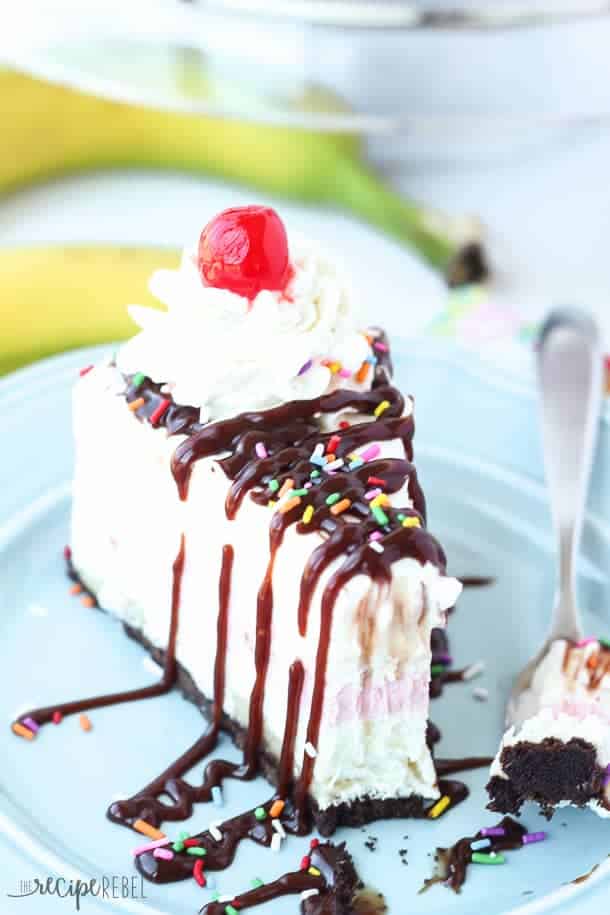 More no-bake goodies from friends!
No-Bake Red Velvet Cheesecake Pie from Life Made Sweeter
No-Bake Mighty Maple Energy Bites from Hip Foodie Mom
Neapolitan No Bake Cheesecake from Grandbaby Cakes