These Lemon Blueberry Energy Bites are an easy, no bake snack that's perfect for back to school or summer road trips! Just a few ingredients and they're gluten free with paleo and vegan options, and you can press them into a pan to make granola bars! 

Friends, this is my first foray into the world of energy bites.
Not just the first time I've developed my own energy bite recipe, but the first time I've ever made energy bites. And now I'm wondering why it took me so long.
I developed this recipe in the middle of summer, when the girls are outside pretty much 100% of the time they're not in their beds sleeping. They're hungry ravenous all the time, and I just don't always feel like making them a snack on the go. I also know that you guys love lemon and blueberry so I was pretty sure this combo would be a hit!
I'm embarrassed that it took me this long to make some energy bites.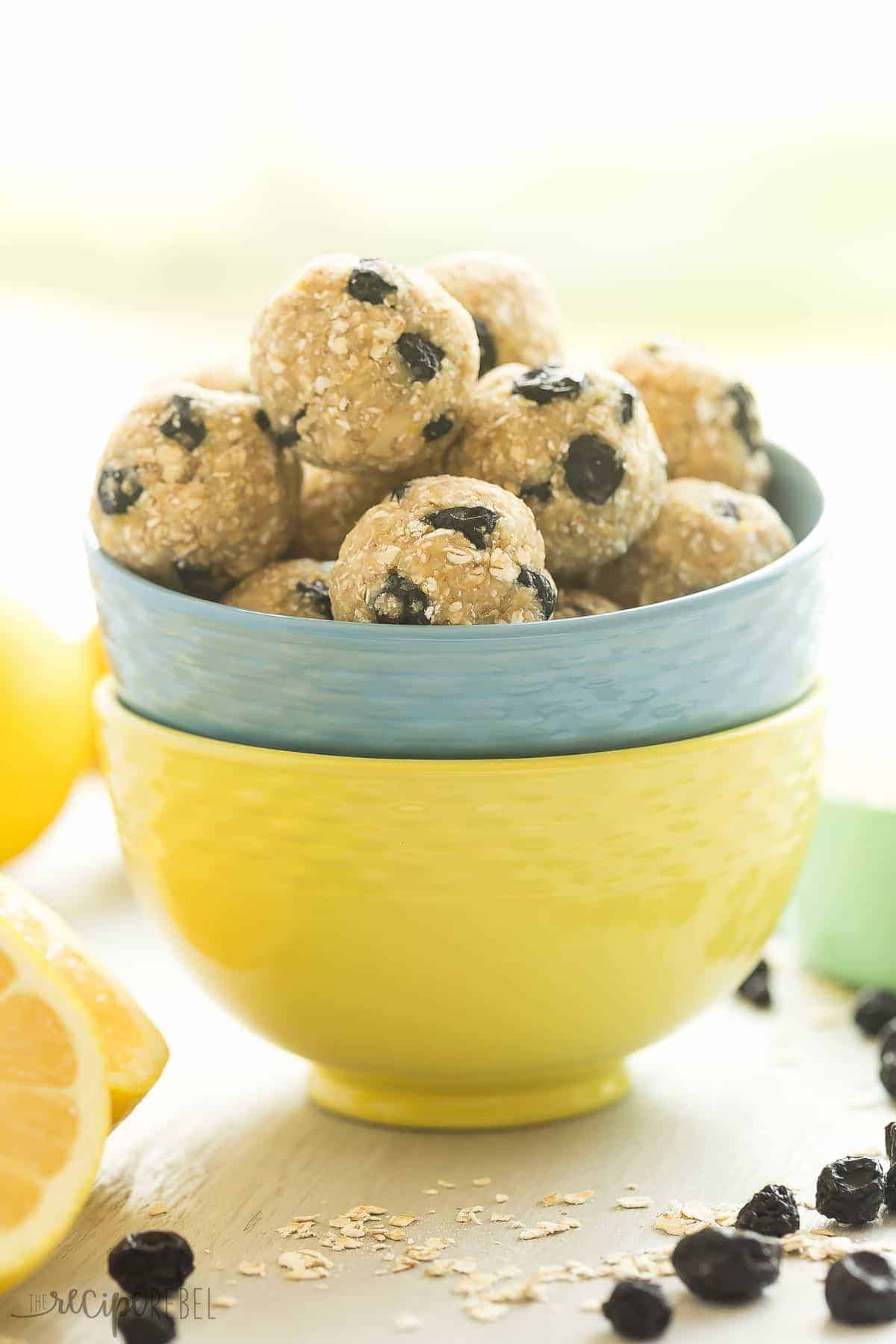 The girls love these homemade granola bars, so I knew these would be a hit. I love that I can make them into perfect little bite sized pieces for either the 1 year old or 4 year old. Throw them in a container and you're good to go!
I can tell you that these will absolutely be a staple from here on out. Summer, Fall, Winter — it doesn't matter! They love lemon and any dried fruit, and they just love snacking in general.
And plus, while I was trying to finish up my video and get some photos, my 18 month old had climbed onto a chair and was cleaning the food processor bowl out with her fingers. I take that as a good sign!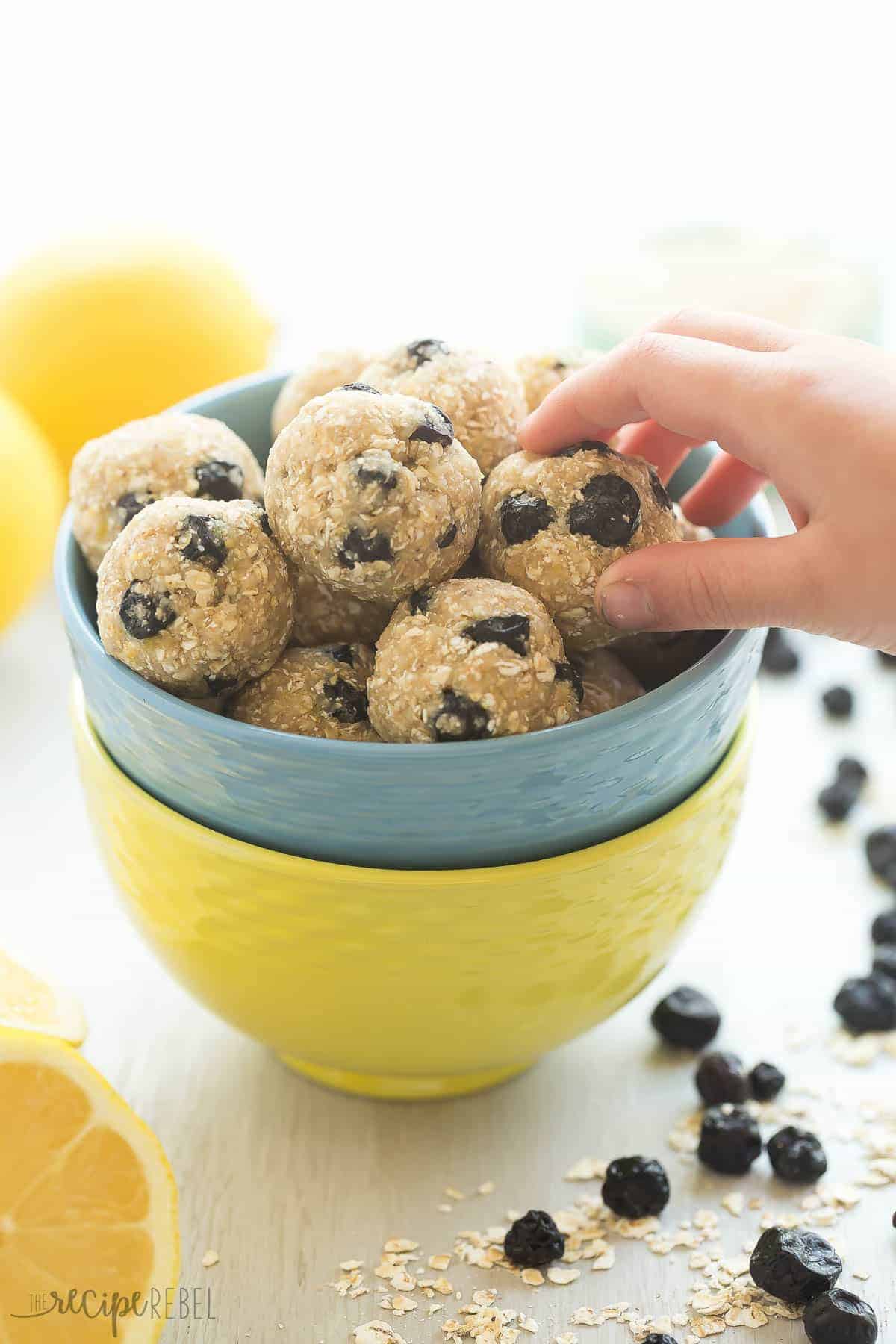 A few notes:
You'll want to make these in a food processor. I have a Cuisinart and it works perfectly for me! The food processor turns the almonds into more of a paste. If you don't have a food processor, try starting with almond butter instead and mixing them up in a bowl.
I love to buy a great big bag of almonds at once to keep on handy for snacks like this — it's cheaper than buying a teeny little bag every time you need some! I keep my nuts fresh by storing them in the freezer.
Be sure to store them in an air tight container in the fridge — they will stay fresher for much longer! I like to store them in these little snack containers so they're ready to grab and go!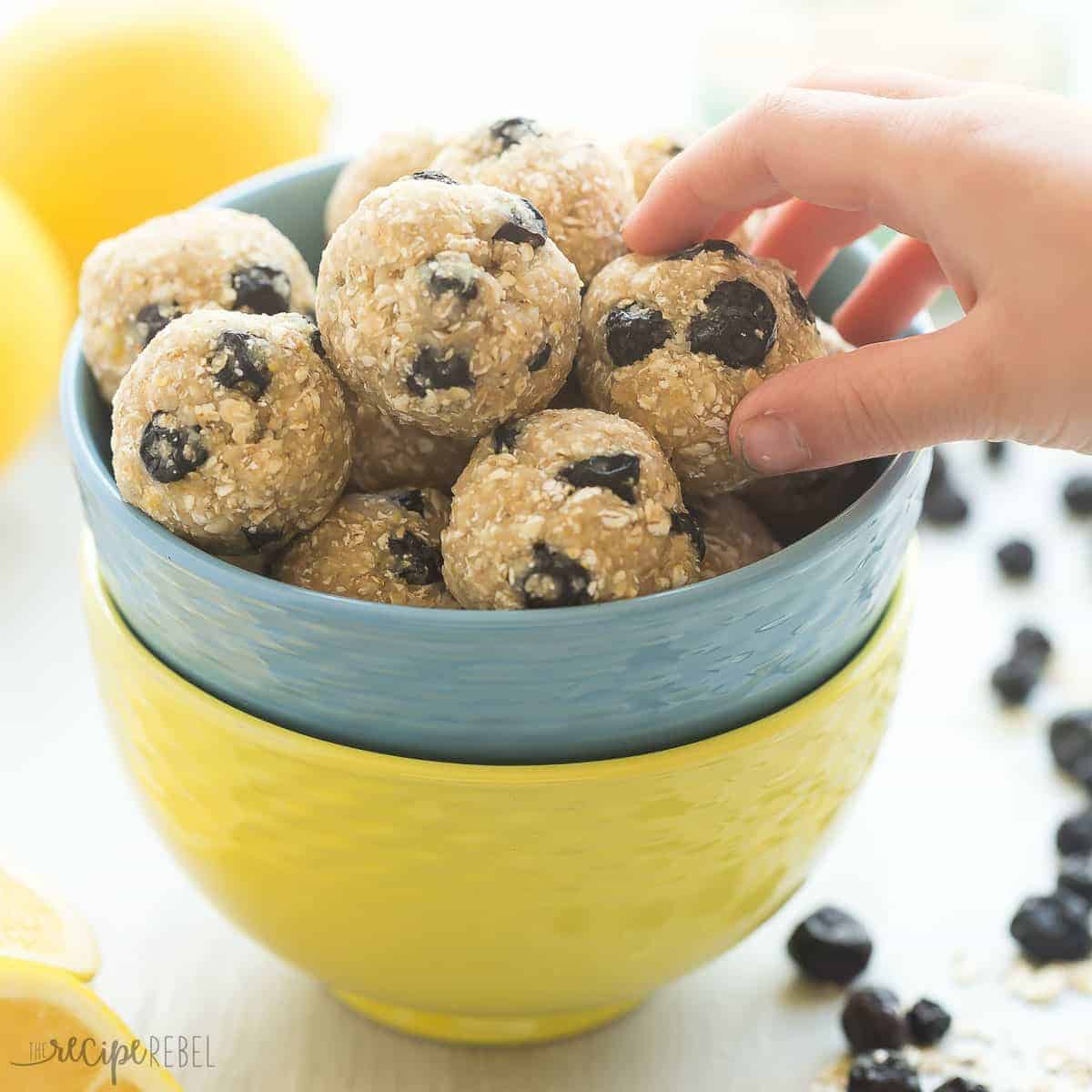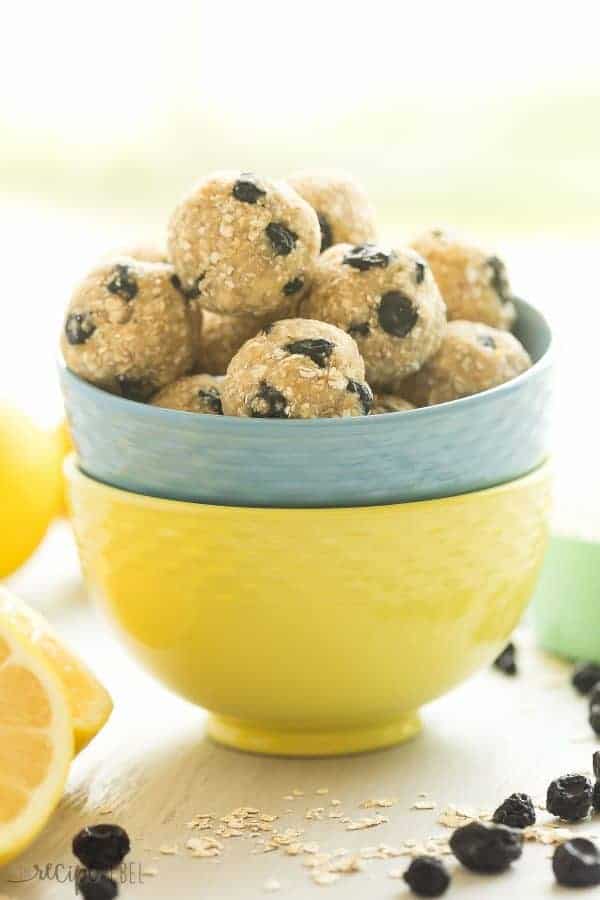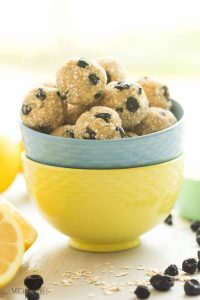 Print
Pin Recipe
Lemon Blueberry Energy Bites
These Lemon Blueberry Energy Bites are an easy, no bake snack that's perfect for back to school or summer road trips! Just a few ingredients and they're gluten free and with paleo and vegan options.
Ingredients
1

cup

sliced almonds

zest and juice of 1 lemon

1/4

cup

honey

1 1/4

cups

quick cooking oats

or use large for more texture - gluten-free if necessary

1/2

cup

dried blueberries
Instructions
In a food processor, process almonds, lemon zest, juice and honey until smooth (this can take a few minutes).

Add in half of the oats and process again until smooth.

Move mixture to a bowl and stir in remaining oats and blueberries. Stir until combined -- you may need to use your hands as they can be pretty sticky!

Store in the refrigerator for 1-2 weeks or freeze for up to 6 months.

*To mix things up and add more protein, trying swapping ¼ cup of the oats for chia seeds, hemp seeds or ground flax.
Notes
*VEGAN and PALEO: substitute the honey with a vegan liquid sweetener, such as maple syrup or agave nectar. I chose honey because we always have it and it has a neutral flavor, unlike maple syrup.
Nutrition (this is an estimate)
Nutrition Facts
Lemon Blueberry Energy Bites
Amount Per Serving
Calories 76
Calories from Fat 27
% Daily Value*
Fat 3g5%
Carbohydrates 12g4%
Protein 2g4%
* Percent Daily Values are based on a 2000 calorie diet.