Mini cheesecakes topped with apples, peaches, or other fruit and crunchy streusel: one of my favorite fall recipes and cheesecake combined!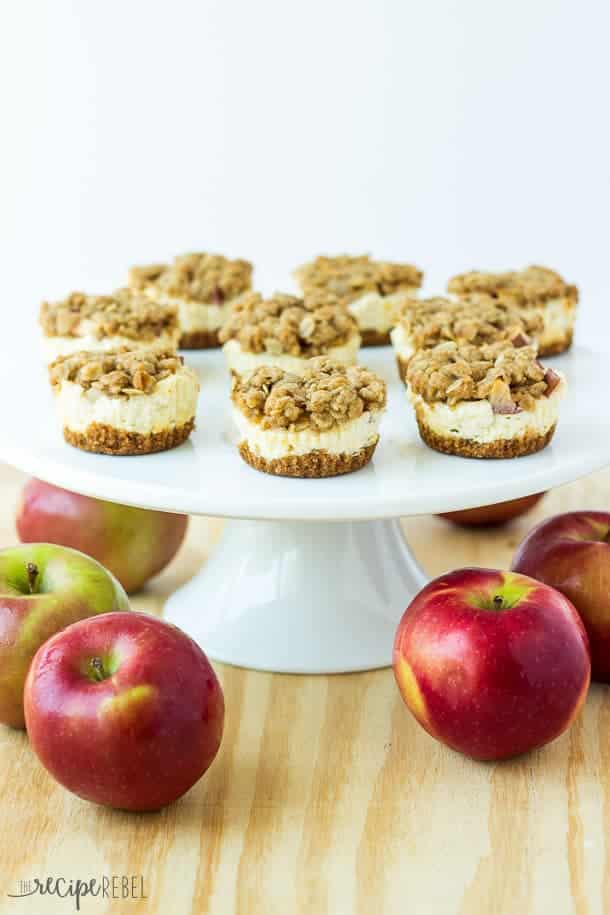 I think the week after spring break had to be the craziest week of my school year. It's gotta be that way, right? One would think you should have saved up some energy from your week off to handle report cards, a badminton tournament, covering extra classes, having a toddler, and a food blog.
By Wednesday I was ready to collapse. And my longest day (13 hours of teaching and school obligations) was yet to come. Of course, that was Friday.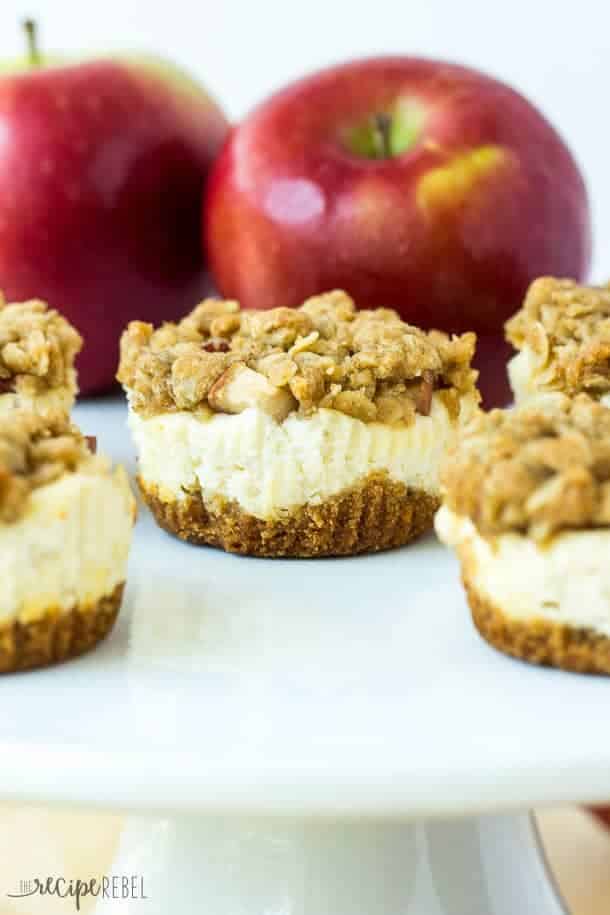 Anyway, so we planned to have 12 of our closest friends and their kids over the Saturday after the-longest-week-of-my-life, obviously not knowing how insane that week was going to be. Not that it would have mattered, necessarily, because it only happens about twice a year that we all get together and sometimes you just have to make friends a priority.
So I wanted to make some things that I could prepare ahead of time and just bring out and thaw the day everyone was coming over. I served the rest of my bacon jam with some cheese crustini, as well as these cheesecakes. That wasn't all we ate, of course, as everyone else pitched in and brought other delicious offerings.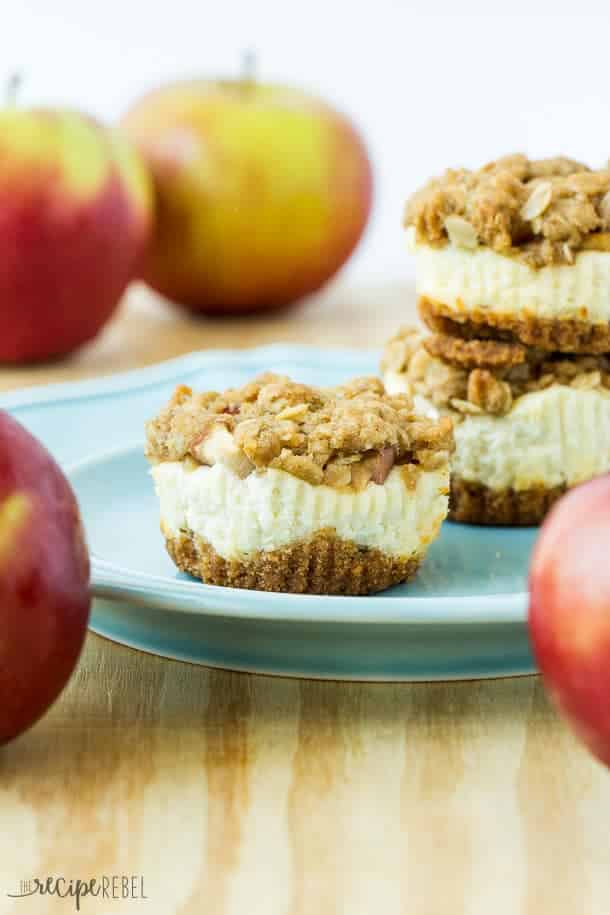 I thought this would be a super easy dessert to make ahead and freeze for a few days. They would also probably be fine in the fridge for the 3-4 days I needed to store them.
Can you believe this was my first time making mini cheesecakes?
I'm not sure what that says about me…. it's not that I haven't made my share of cheesecakes, that's for sure! I guess I just always go a little bigger…. First time for everything!
I got this idea from Bakeaholic Mama who got the idea from Inside BruCrew Life. I made the cheesecake from Bakeaholic Mama's website another time we had friends over, and we devoured it. Mixing cheesecake and apple crisp seemed like a genius idea.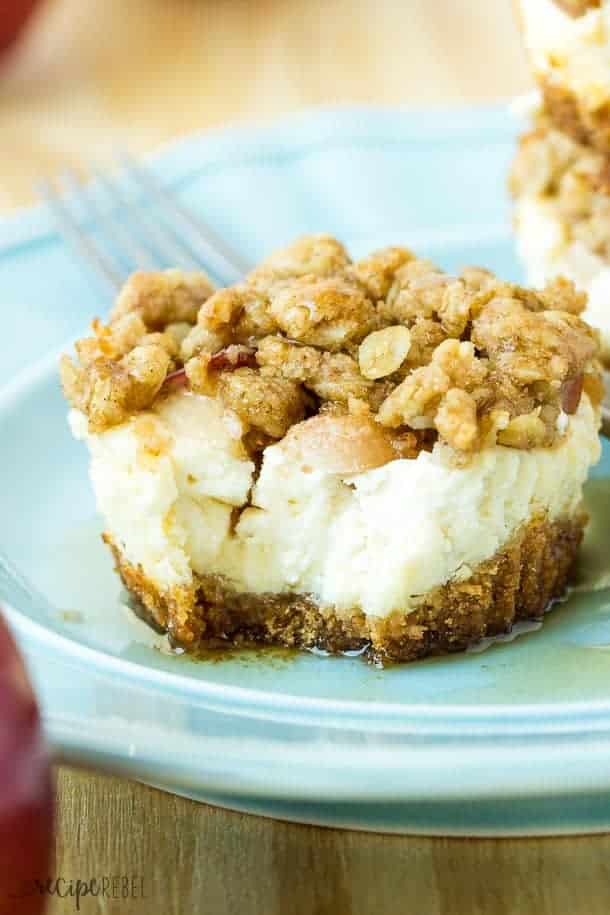 I mean, is there anything better a fruit crisp PLUS a cheesecake? Apple crisp was always one of my favorite desserts growing up. It's a classic, right? I think I enjoyed it straight out of the fridge just as much as I enjoyed it hot from the oven with ice cream!
So I thought it would be super easy to make mini cheesecakes and mix up the fruit flavours for some variety. It's such an easy way to make 2 or 5 or 10 different types of cheesecake with one crust and one batter — you could even leave the streusel off of some and swirl in some berry preserves to change things up.
 You might also like these Apple Crisp Cookies!
These Apple Crisp Blondies.
Or this Praline-Glazed Apple Bread!
Fruit Crisp Cheesecakes
Mini cheesecakes topped with fruit and streusel -- so easy to customize to your tastes or to make a variety of flavours for guests!
Ingredients
For the crust
1/4 cup butter, melted
2 cups graham crumbs
For the cheesecakes
3 8oz packages cream cheese
3 eggs
1 tsp vanilla
3/4 cup sugar
Finely chopped apples, peaches, pears, other fruit
For the crisp
1/4 cup butter, quite soft
3/4 cup flour (I use whole wheat)
1 cup oats
1/2 tsp cinnamon
2/3 cup brown sugar
Directions
Preheat oven to 350 degrees F.
For the crust
Line 24 muffin tins with paper liners.
Combine butter and graham crumbs. Spoon 1 tbsp crumbs into each liner and press down with your thumb.
For the cheesecake:
With a stand mixer or handheld mixer, beat cream cheese until smooth. Add eggs, vanilla and sugar and beat again until smooth.
Ladle batter into liners, leaving room at the top for fruit and streusel.
Top with finely chopped fruit of choice.
For the streusel:
Combine all ingredients and mix together until crumbly. Sprinkle on top of fruit on the cheesecakes.
Bake for 18-20 minutes until centers are just set.
Bring to room temperature and refrigerate for at least 2 hours before serving.
Recipe Notes
These freeze wonderfully, and will keep for quite some time in the fridge or freezer before you need them.
Cheesecake recipe adapted from Philadelphia's A Taste of Heaven cookbook.
More Apple Crisp Goodies!