An easy granola made with banana, chocolate and peanut butter — Chunky Monkey granola! A great source of protein and fiber!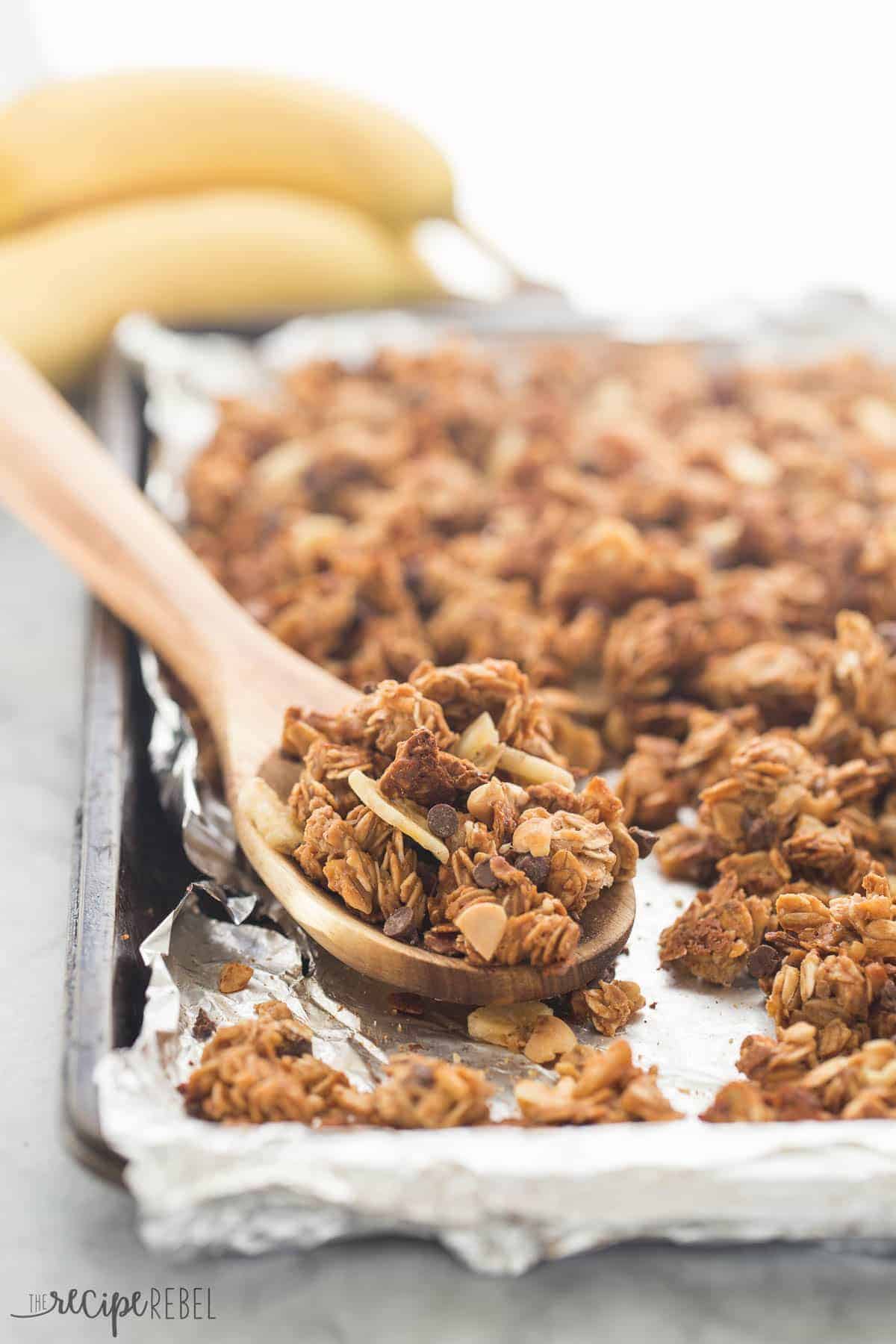 I love Chunky Monkey.
I'm actually not a huge peanut-butter-on-its-own kind of person. I don't ever eat peanut butter on toast. But if you throw peanut butter into a dessert, a cookie, or even oatmeal? Totally different.
I also actually have never been a huge granola maker or eater. I attended a food blogging conference where I was given a bag of dark chocolate peanut butter granola in the swag bag, and I've just been kind of obsessed. I thought it was time I made my own, and then I started dreaming of this No Bake Reese Peanut Butter Chocolate Banana Cream Pie….. and the rest is history.
Lately, I've been swapping out my nightly plate of a dozen cookies with some low fat vanilla Greek yogurt and granola, and I love how it keeps you full longer so you don't need to eat a dozen cookies after. And with the peanut butter and chocolate I can almost convince myself that it's dessert granola!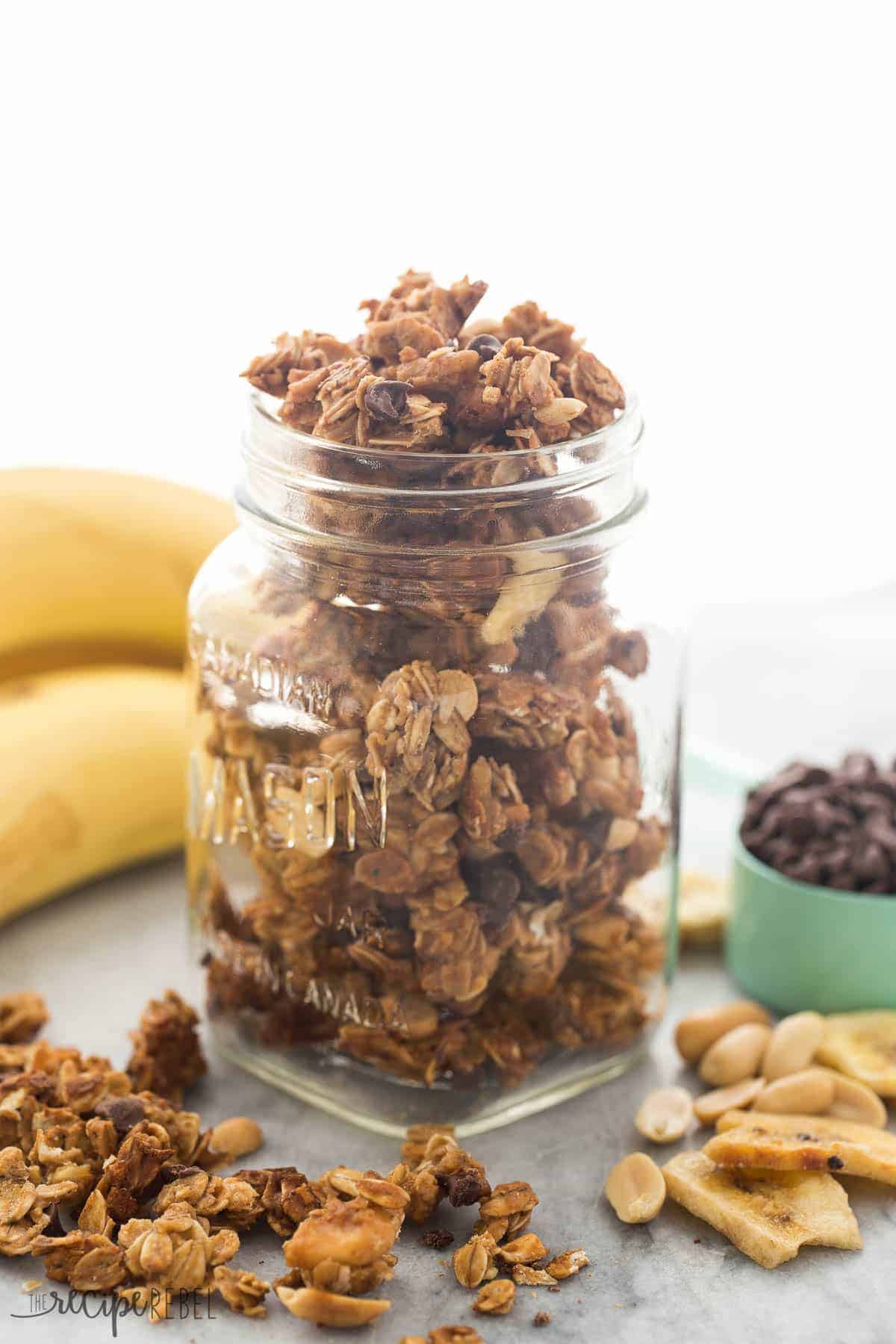 I have a bit of a problem with my sweet tooth.
Most of the time, I can keep it under control but in November and December the urge to bake (or no bake) all the treats just takes over and I've got no self-control (maybe you noticed this Turtle Cheesecake or this Overnight Chocolate Cherry French Toast..) and I'm currently suffering from a bad case of Blog Booty.
So the New Year (yes I know it's cliche!) is all up getting my act together and eating more healthy snacks instead of going straight for the cookie jar. Mostly I just love having an excuse to call chocolate chips part of a healthy snack 😉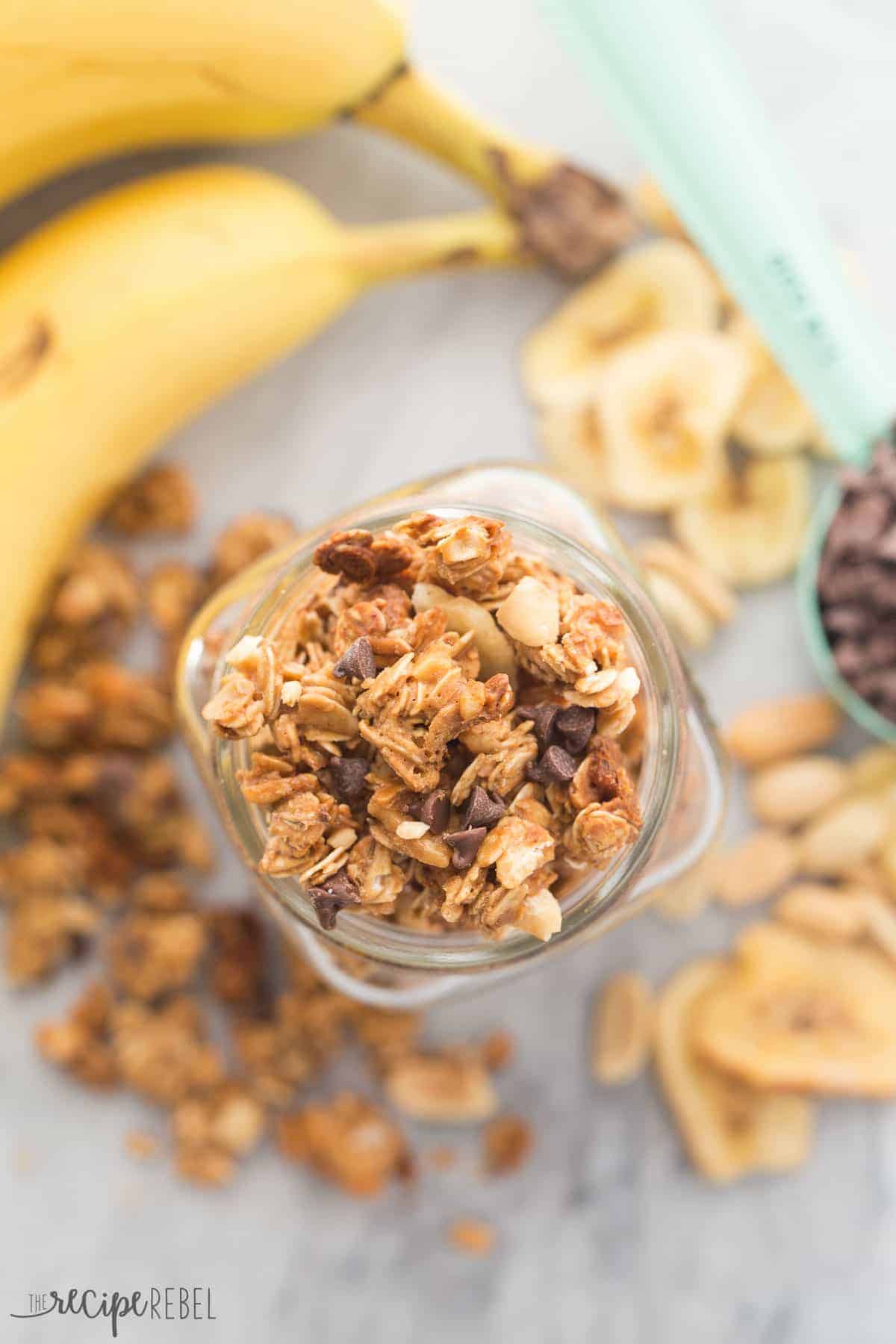 Since I'm not an expert on granola, I went looking for some inspiration to use as a guide. I adapted this Chunky Monkey Granola recipe from this recipe from Cooking Classy and this recipe from Kristine's Kitchen.
about 4 cups
adjust servings
Chunky Monkey Granola (Banana Chocolate Peanut Butter Banana Granola)
An easy granola made with banana, chocolate and peanut butter -- Chunky Monkey style! A great source of protein and fiber!
Ingredients
1/3

cup creamy peanut butter

1/3

cup honey

2

teaspoons vanilla

1

tablespoon brown sugar

2 1/2

cups large oats

3/4

cup banana chips, chopped or smashed to smaller pieces

1/2

cup chopped, salted peanuts

1/4

cup mini chocolate chips
Instructions
Preheat oven to 325 degrees F. Line a rimmed baking sheet with tin foil and spray with non-stick spray.
In a large bowl, add peanut butter, honey, vanilla and brown sugar. Microwave on high for 30-45 seconds, or until melted. Add oats, banana chips and peanuts and stir until combined. Spread onto prepared baking sheet. Sprinkle chocolate chips over top.
Bake for 18-20 minutes, stirring once if you like smaller pieces, and not stirring at all if you like larger chunks.
Remove from the oven and break apart gently with a spatula, or let cool completely before breaking into pieces if you want large chunks. Store in an air tight container for up to 1 month.
 More granola recipes!
Pecan Pie Granola from House of Yumm
Chocolate Coconut Paleo Granola from Bakerita