These Cherry Cheesecake Crepes are filled with sweetened cream cheese and homemade cherry pie filling, then topped with whipped cream and extra cherries! They are perfect for dessert or a special breakfast or brunch!

I don't know what it is about cherries and cheesecake, but for me it's always been the ultimate combination.
Growing up, if there was cheesecake, it was cherry cheesecake. Not strawberry cheesecake, not chocolate cheesecake, not even Nutella Cheesecake Bars (believe it or not, I lived pretty much my whole childhood without Nutella).
It is still my favorite.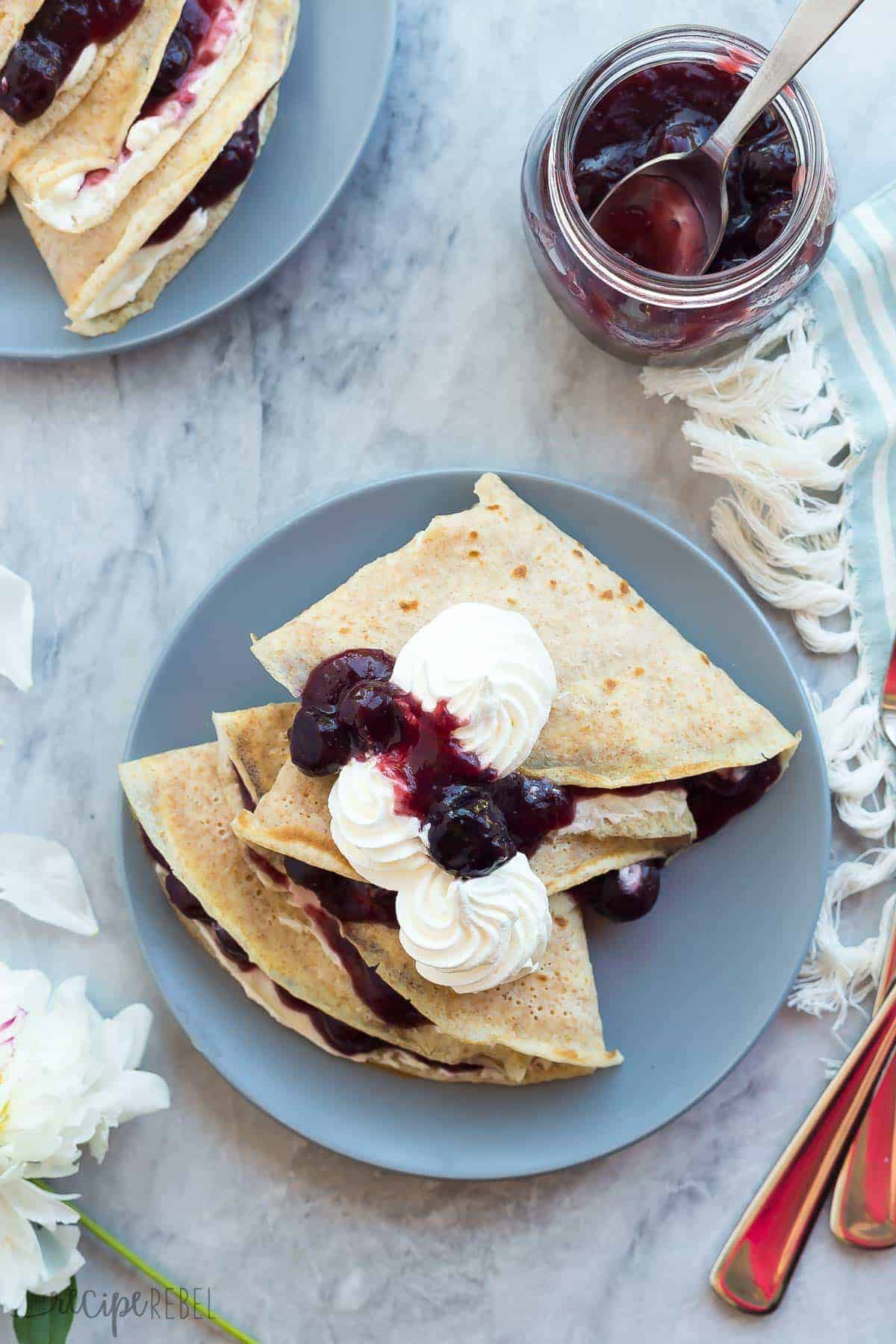 So I have always sucked at making crepes. Luckily, I just finally figured out why.
I was never putting enough batter in the pan! My crepes would be all hole-y and I could never get the batter to cover the bottom of the pan before they were totally cooked. I'm not sure why it took me so long to realize my problem, but I'm glad I did because it means that crepes are back on the menu in full force.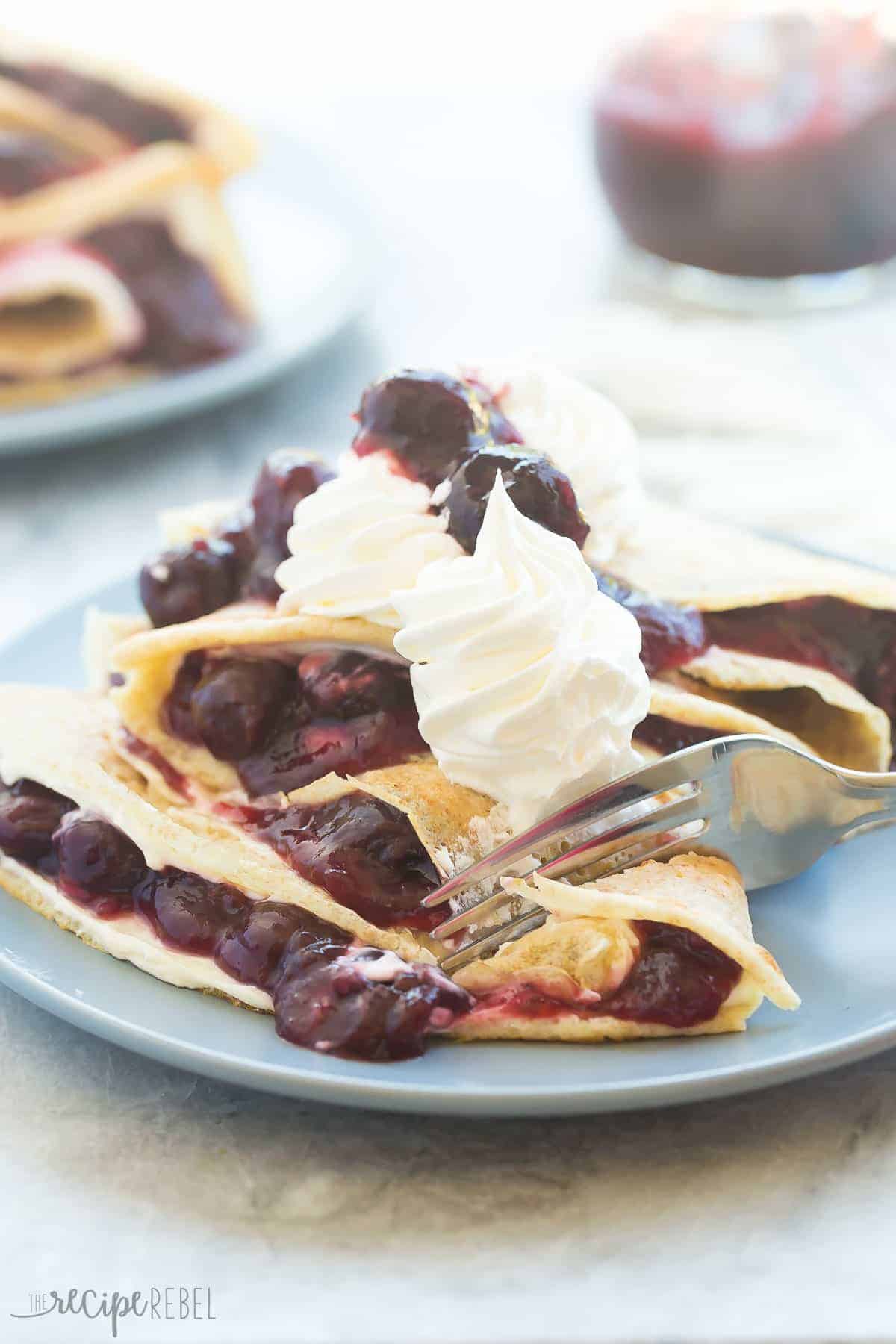 Crepes are awesome because it's actually recommended that you make the batter ahead of time (not that that would stop me from making it right before cooking!), which means they make a great weekend breakfast with little effort in the morning!
For these Cherry Cheesecake Crepes, you can also make the filling, the cheesecake and the whipped cream ahead of time so there is very little to do before you are fully caffeinated! In my mind, the best kind of breakfast 😉
My other favorite thing about crepes? A crepe has pretty much no calories (okay, so maybe 50-75, somewhere in there), which means I don't really feel guilty about loading it with allllllll the good things!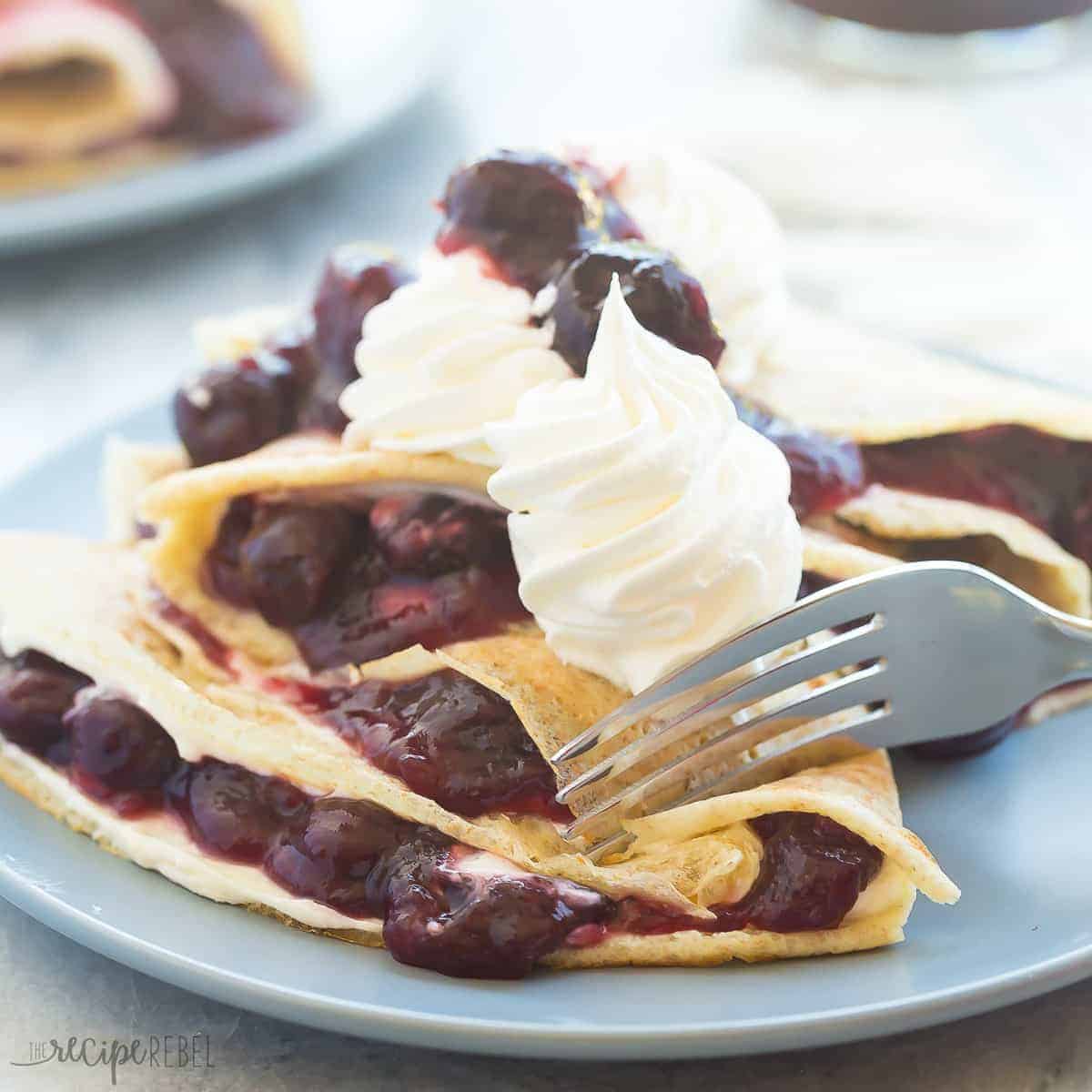 Now, you can buy a fancy crepe pan to use to make crepes, but all I use is a good, solid large non stick pan and it works great! I always make my crepes using my immersion blender — it comes with a large measuring cup and I can blend it and store it right in there!
Ingredients
Crepes
1

cup whole wheat flour (or sub all purpose)

2

eggs

1/2

cup milk

1/2

cup water

1/4

teaspoon salt
Cherry filling
2

cups frozen pitted cherries (or use fresh)

1 1/2

cups plus 2 teaspoons water

1/4

cup brown sugar

2

teaspoons corn starch

1

teaspoon vanilla
Cream cheese
1 8oz

package light cream cheese

1/2

cup powdered sugar

1

teaspoon vanilla
Instructions
Crepes:
Combine all ingredients in a medium bowl and blend with an immersion blender (alternatively, use a blender if you don't have an immersion blender).
Heat a medium skillet over medium heat. Spray with non stick spray and place about ¼ cup of batter in the center of the pan. Gently turn the pan to coat the bottom.
Cook for about 1 minute until starting to brown. Flip the crepe and cook for another 30 seconds.
Continue until all batter is used (you should get about 6 crepes), cover and set aside if serving warm, or set aside in the refrigerator if serving cold later on.
Cherry filling:
In a medium pan, combine cherries, 1½ cups water and brown sugar. Bring to a simmer and cook until cherries are softened and heated through.
Combine corn starch with 2 teaspoons water. Gradually add to cherries, stirring, until you reach your desired consistency. Set aside. (Refrigerate if serving cold)
Cream cheese:
In a medium bowl combine cream cheese, sugar and vanilla. Beat until smooth. Set aside.
Assembly:
Spread one side of each crepe with cream cheese. Top with cherry filling and roll or fold. Top with whipped cream and extra cherry filling if desired.
*If serving these cold, be sure to refrigerate everything until needed.
Recipe Notes
*These crepes are just as good served warm or cold. It's easy to prepare everything ahead of time if you're serving a crowd!
Crepe recipe adapted from AllRecipes.