I came across a veggie-loaded slow cooker tomato soup a couple months ago, and absolutely loved it. But since then it had been bothering me that I haven't come across a good, from scratch tomato soup that was quick and used only one pot. Often you're cooking the soup and adding a roux separately, and I thought, "why couldn't you make the roux first?"
So I tried it, because I really wanted a scratch tomato soup that was quick enough that  you'd never have to settle for the can again.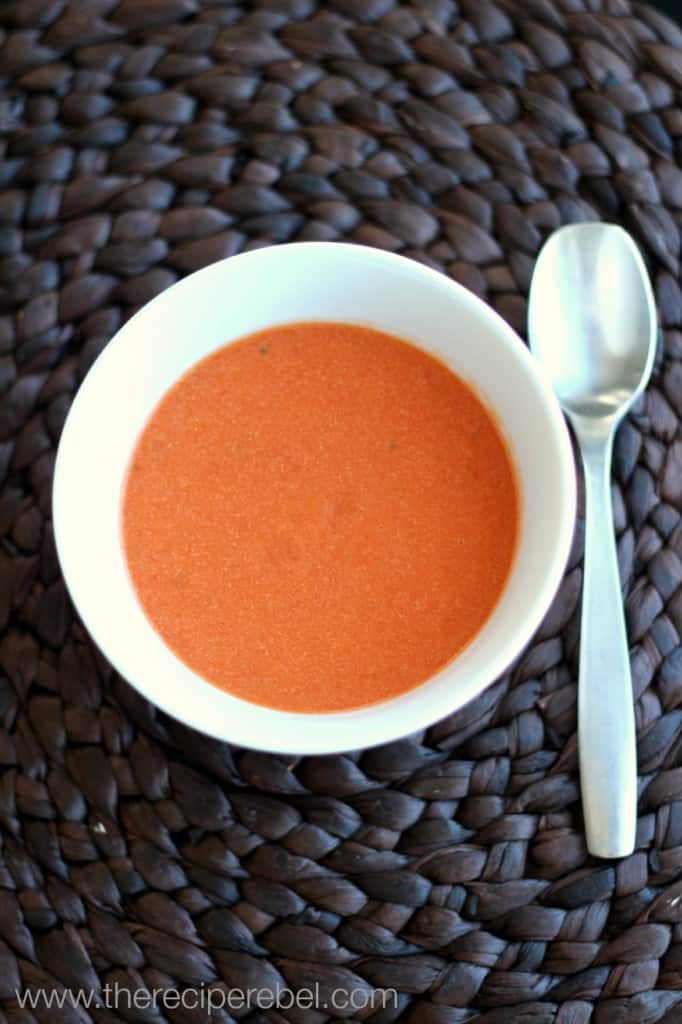 "Quick" and "from scratch" are two words I like a lot.
Now, there is a difference between this soup and one that you make from freshly picked tomatoes, roasted in the oven and pureed. I get that. But sometimes I just need a faster way to make something I love so I can have more time to do other things that I love.
Enter this tomato soup.
I'm not in any way opposed to frozen or canned produce. Here in Manitoba, that's often the best we can get. To make this soup quick and easy and still get fresh tomato flavour, that's the route I took.
Cooking the roux first in the pot saves you a pot and the hassle of having to monitor two pots at the same time. And once you add your tomatoes, tomato paste and seasonings, let it all hang out for a bit and puree it (totally optional of course) — you're done!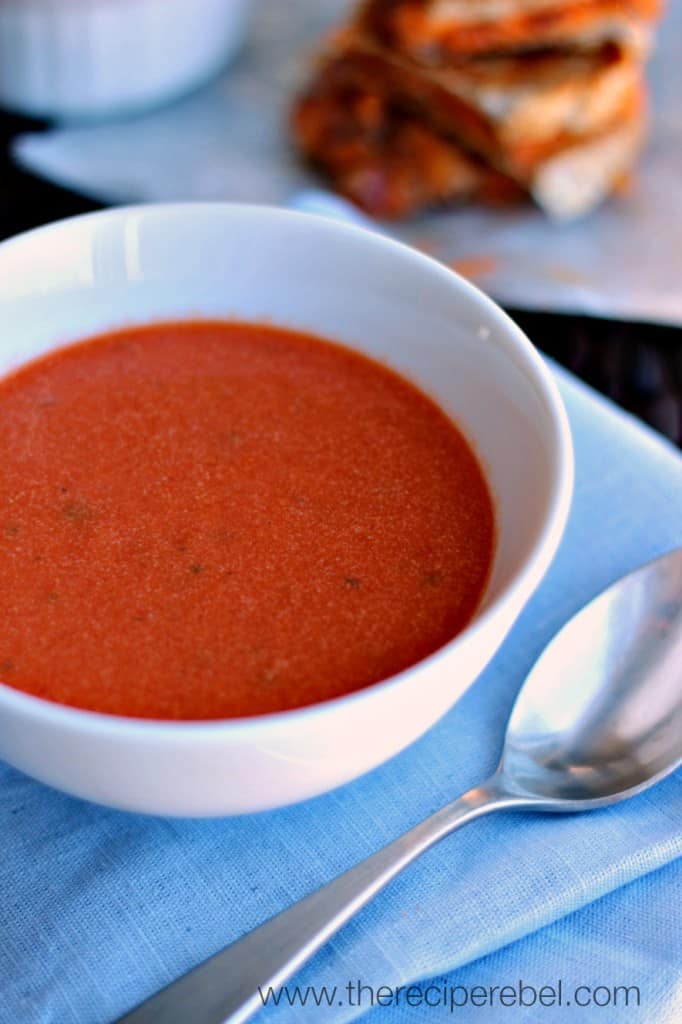 6-8 servings
adjust servings
20 Minute Creamy Tomato Soup from Scratch
Velvety tomato soup made in one pot in 20 minutes --never settle for the can again!
Ingredients
1/4

cup butter

1/4

cup flour

2 1/2

cups milk, divided

1/2

tsp minced garlic

1 28oz

can of diced tomatoes with Italian herbs

1/2

can tomato paste

3

tbsp fresh basil

1tsp

salt

1-2

tbsp sugar, optional and to taste

1/2

- 1 tsp basil pesto,optional and to taste

1/2

cup grated parmesan, optional
Instructions
In a large pot, melt butter. Add flour and whisk to combine.
Add 1 cup of milk and whisk until smooth. Cook over medium heat until thickened, and then add another 1 cup of milk. Cook and whisk until smooth and thickened, and add remaining half cup milk.
Add garlic, basil, tomatoes, tomato paste and salt. Stir in parmesan cheese. Cook 5 minutes on medium heat, stirring often, so flavours can blend together.
Add sugar, pesto and parmesan if desired, tasting as you go.
Optionally, puree with immersion blender until smooth.