Super moist banana chocolate chip muffins made healthier with whole wheat flour, apple sauce and zucchini! Perfect for that summer zucchini and a great back to school snack!
Any time I can hide my vegetables in chocolate, count me in.
I can't honestly say that I eat a lot of zucchini that's not baked into something, but I sure do love it paired with banana and chocolate.
I first made these muffins last summer when I was given some zucchini, and now I wait for zucchini season just so I can stock up the freezer with these muffins. It's also kind of nice that zucchini season and back-to-school season happen at the same time, because these muffins make such an awesome school snack or breakfast.
These muffins have tons of good healthy stuff going on. Zucchini, banana, whole wheat flour, unsweetened applesauce… so I didn't feel too bad adding the chocolate in there, too.
Now, I do my baking a little differently than most. Often in a recipe you'll see the dry and the wet ingredients combined separately and then added together. I totally get why you would do that. That being said, I choose an easier route.
You can blame my mother (surprise, surprise).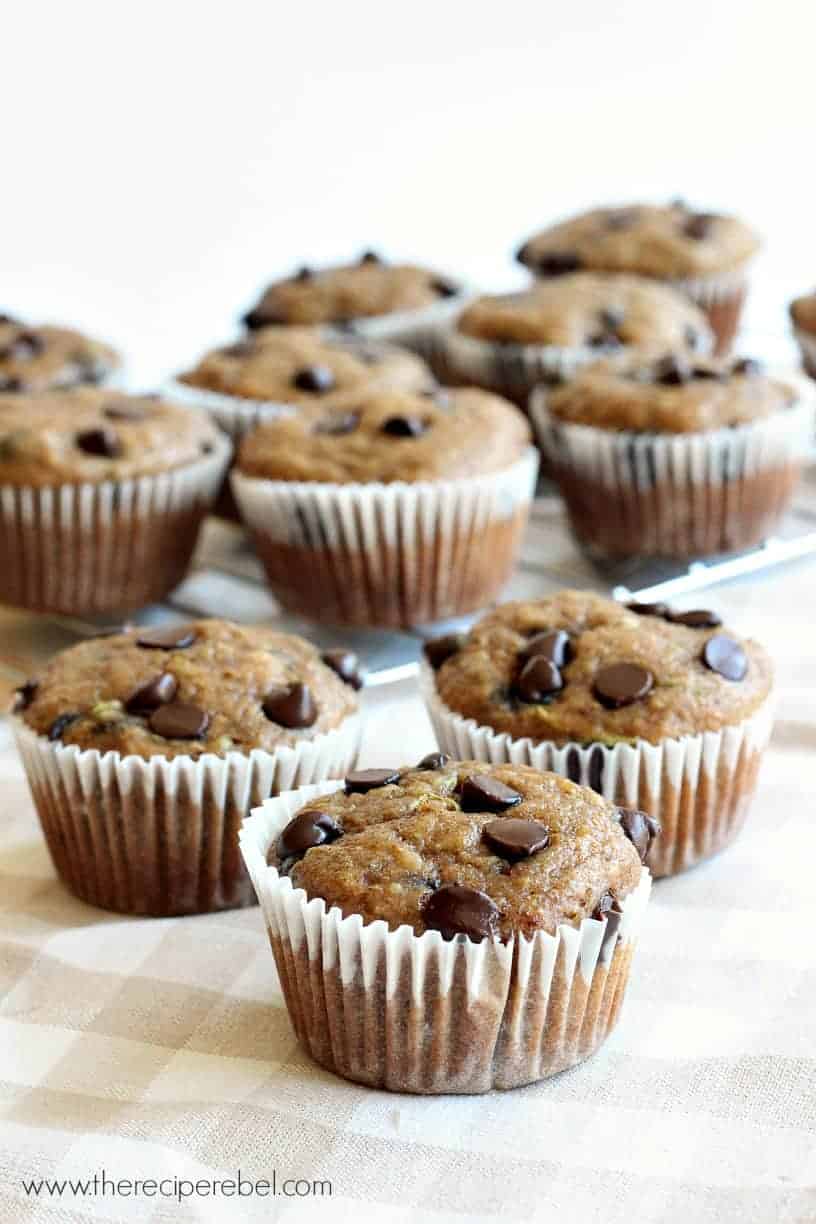 My mom always, always did her cooking and baking using the least amount of dishes as possible. She never combined her dry ingredients before adding them, and it never affected her reputation as a great baker.
I bake the same way. As a rule (with some exceptions of course) I combine my wet ingredients first, then I add my dry ingredients all at once (I can hear some and stir well, but only until just combined.
And I've never heard any complaints.
So, if you're like me, and you hate emptying the dishwasher twice a day (or worse, washing dishes by hand!), then you might be able to see things my way.
This recipe is tied for first place with my other favorite banana chocolate chip muffins. They are so moist, the recipe makes a bunch and they freeze perfectly.
You might also like these Double Chocolate Banana Bran Muffins!
Banana Chocolate Chip Zucchini Muffins
Super moist banana chocolate chip muffins made healthier by using whole wheat flour, applesauce and adding zucchini.
Ingredients
3 overripe bananas (I put mine in the freezer and let them thaw before using)
2½ cups shredded zucchini
2 tsp vanilla
5 large eggs
1½ cups brown sugar
1 cup unsweetened applesauce
½ cup canola oil (or oil of choice)
2 cups all-purpose flour
2 cups whole wheat flour
½ tsp salt
1 tsp baking powder
2 tsp baking soda
3 tsp cinnamon
1½ cups chocolate chips (optional)
Instructions
Preheat oven to 325 degrees F (you can do 350 if using light colored pans) and line 3 12-cup muffin pans with paper liners.
In a large bowl, mash bananas with a whisk. Add zucchini, vanilla, eggs, brown sugar, applesauce and oil and whisk well to combine.
Add flours, salt, baking powder, baking soda and cinnamon all at once and whisk until just combined (you want them evenly distributed, but don't overmix). Stir in chocolate chips if desired.
Spoon batter into paper liners and bake at 325 for 20-22 minutes, until a toothpick comes out clean.
Let rest 10 minutes before removing from the pan to cool completely.