I just think white chocolate goes with Christmas.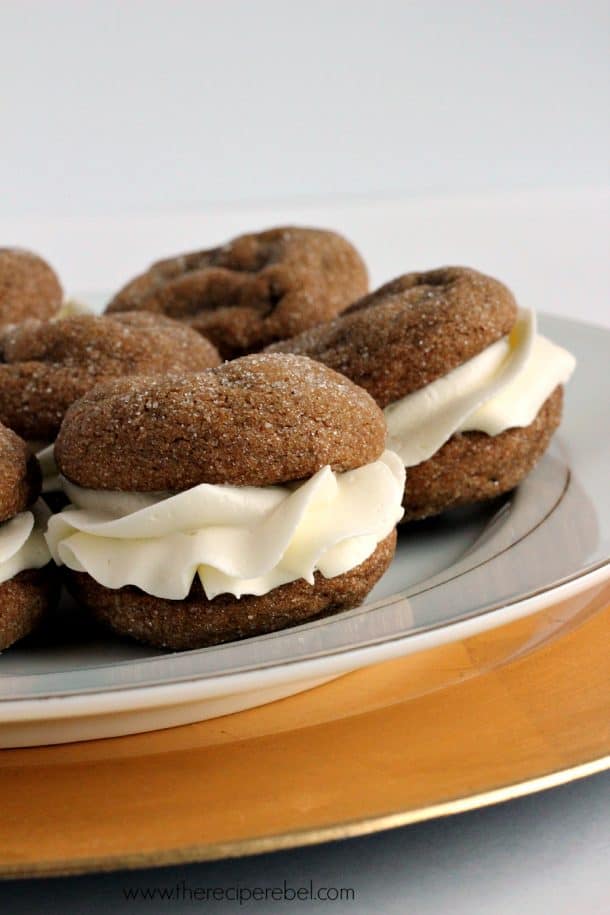 There are so many flavours I love with white chocolate during the holidays: mint, spice, orange, cranberry… I could go on. It just works, right?
Now, I know my share of white chocolate haters. And I get it. It's just not chocolate.
But that rich, buttery, creamy white chocolate complements other, stronger flavours so well that its one of my favorites.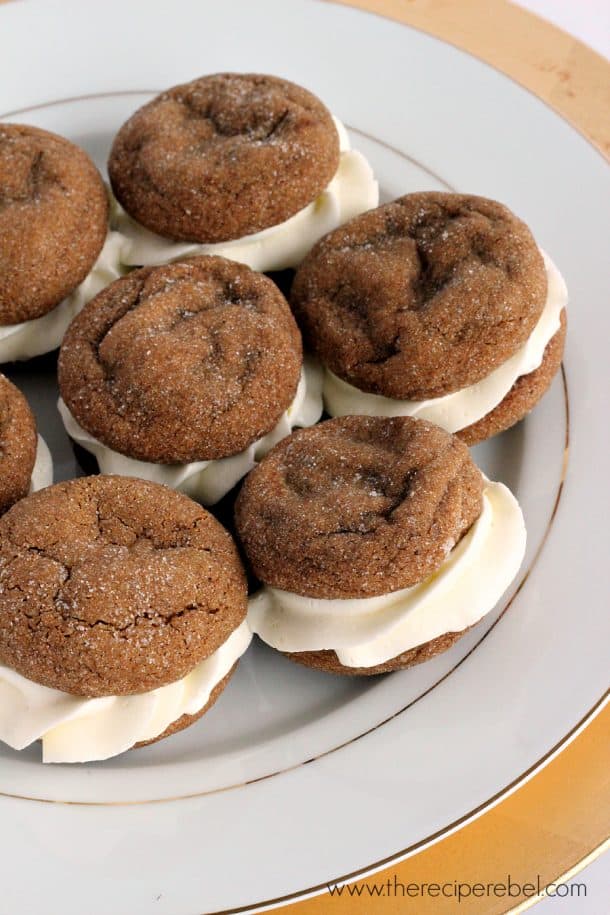 I tend to get one idea stuck in my head, and just kind of carry on with it for quite some time. I made these White Chocolate Hazelnut Truffle Stuffed Gingersnaps a while back, and now with Christmas drawing near, they're all I want.
But I wanted to come up with some new ways to combine those flavours, and I thought of how well my last version of oreos was received. And then I saw Gingersnap Oreos on the shelf in the grocery store the day after Halloween and I was totally pumped.
I was definitely going to make a gingersnap oreo, but I didn't want a spiced filling. It just seems like a lot of spice, right? I wanted something that complemented the spice flavour but that wasn't too overwhelming. Obviously, white chocolate.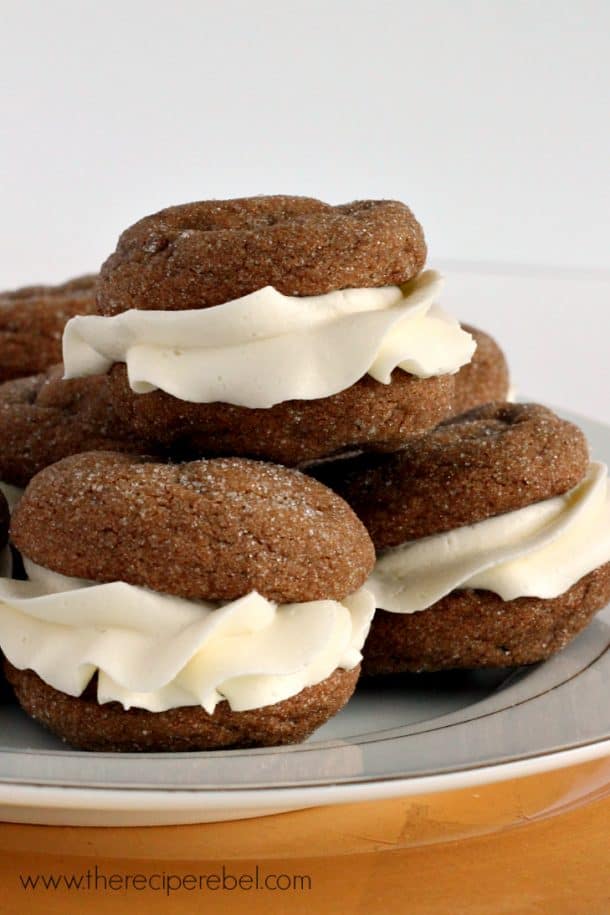 Don't worry, the gingersnaps are soft and chewy, and not crunchy. I've never really been into crunchy cookies. I think that's probably my mother's fault.
Also, the white chocolate frosting firms up a lot in the fridge, so that it's not going to just squish right out when you take a bite. Definitely a must try for Christmas!
30 cookies, 15 oreos
adjust servings
White Chocolate Gingersnap Oreos
White Chocolate Gingersnap Oreos: the perfect smooth, spicy, creamy combination for the holidays! www.thereciperebel.com
Ingredients
Cookies
3/4

cup melted butter

1

cup packed brown sugar

1

egg

1/4

cup molasses

2 1/4

cups all purpose flour

1 1/2

tsp ginger, ground

1

tsp baking soda

1

tsp cinnamon, ground

1/2

tsp cloves, ground

1/4

cup sugar, for rolling
Frosting
1/2

cup white chocolate

1/3

cup milk (or cream)

1

cup butter, softened

2

cups icing (powdered) sugar

1

tsp vanilla
Instructions
For the cookies:
In a stand mixer, combine melted butter and sugar. Beat until smooth. Add the egg and molasses and beat again until smooth.
Add the flour, ginger, baking soda, cinnamon and cloves and beat on low-medium until dough comes together (will be fairly stiff). If dough is not firm enough to roll into balls, refrigerate for 1-2 hours.
Preheat oven to 350 degrees F and roll cookie dough into 1" balls. Roll cookie dough balls in granulated sugar and place on lightly greased baking sheets about 2" apart. Bake for 7-8 minutes, until set. Remove from oven and let cool.
For the frosting:
In a small bowl, microwave chocolate and milk for 45 seconds. Stir until smooth and completely melted, returning to the microwave for another 15-20 seconds if necessary.
In the bowl of a stand mixer, beat butter until smooth.
Add in slightly cooled chocolate mixture, icing sugar and vanilla. Beat on low until combined, scraping down the sides if necessary. Beat on medium-high for 3-4 minutes until light and fluffy.
Pipe or spread onto half of the cookies and top with an unfrosted cookie. Refrigerate for 1-2 hours until the frosting has set. These cookies freeze extremely well, too!
Gingersnap recipe from Taste of Home.
You might also like these holiday cookies!