Perfect chocolate oatmeal no-bake cookies topped with thick caramel, pecans, and a drizzle of chocolate! Taking no-bake cookies to the next level 🙂
There are times, I'll admit, when I come up with a recipe idea and I ask myself, "but, is it too much?"
I answer, "yes," and then make it anyway.
Now, there is nothing wrong with a simple chocolate no-bake cookie. No-bake chocolate oatmeal cookies are one of the best classic cookie recipes. But ever since the popularity of my Chocolate Mint No-Bake Cookies, I've been dreaming up other ways to get creative with them.
This one was a no-brainer. Turtle cookies?? Obviously!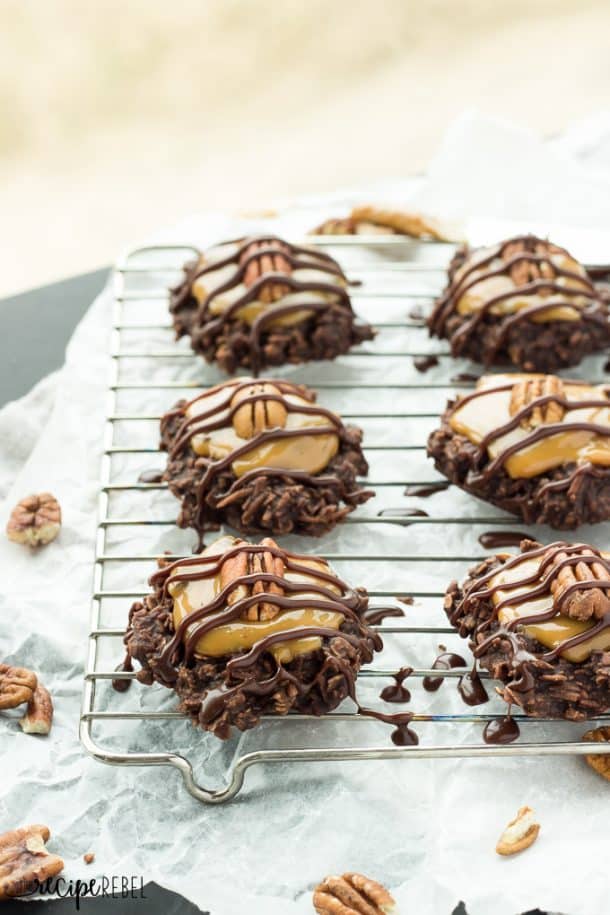 They are crunchy, chewy, chocolatey-caramel perfection. And they are way too easy for their own good!
It's important for the recipe that you use a dulce de leche or very, very thick caramel (like the super easy recipe included!). If you use a caramel sauce, it will slide off and be very messy!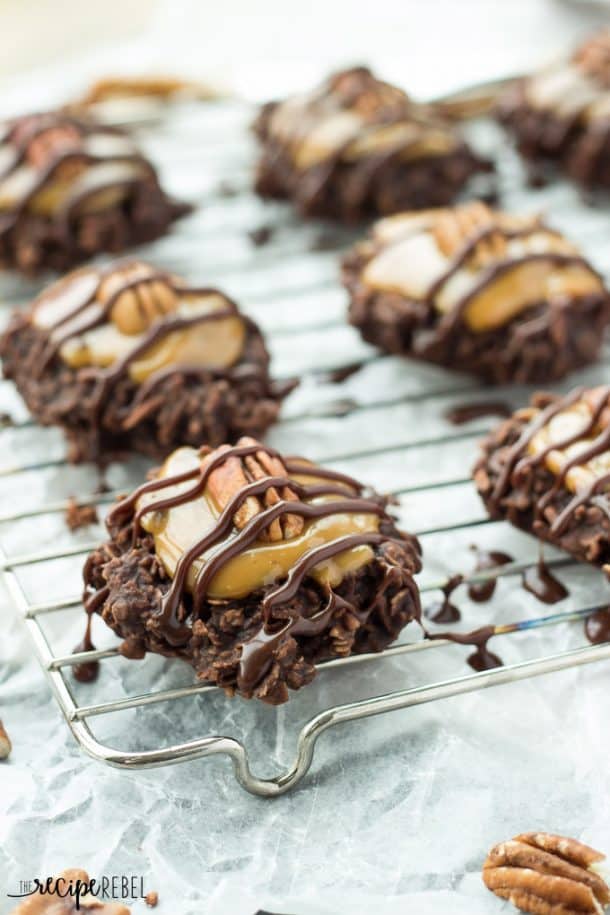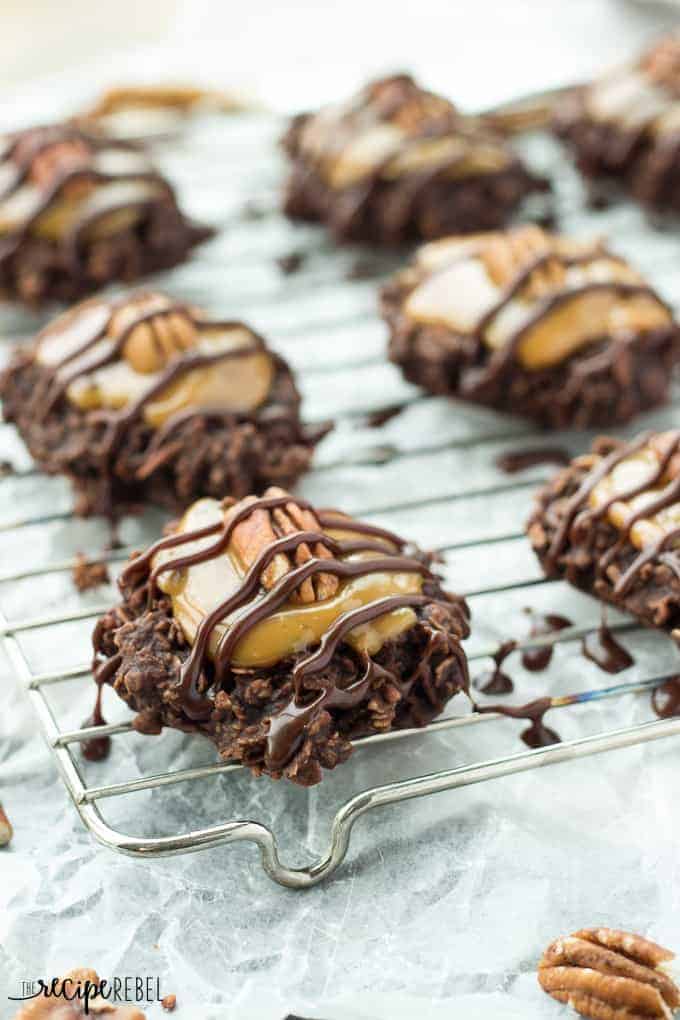 When you're forming the cookies, you ideally want them pretty flat so that it's easy to spread with caramel and the pecan won't slide off the top. If you have time to make a slight indentation before the cookies firm up, that's not a bad idea either!
I made sure the cookie base set up nice and firm so that it wouldn't be a complete mess in your hands. I used quick oats, just because that's what I had, but I don't think using large oats would change much except that you will have even more texture in your cookies.
*To make the Dulce de Leche: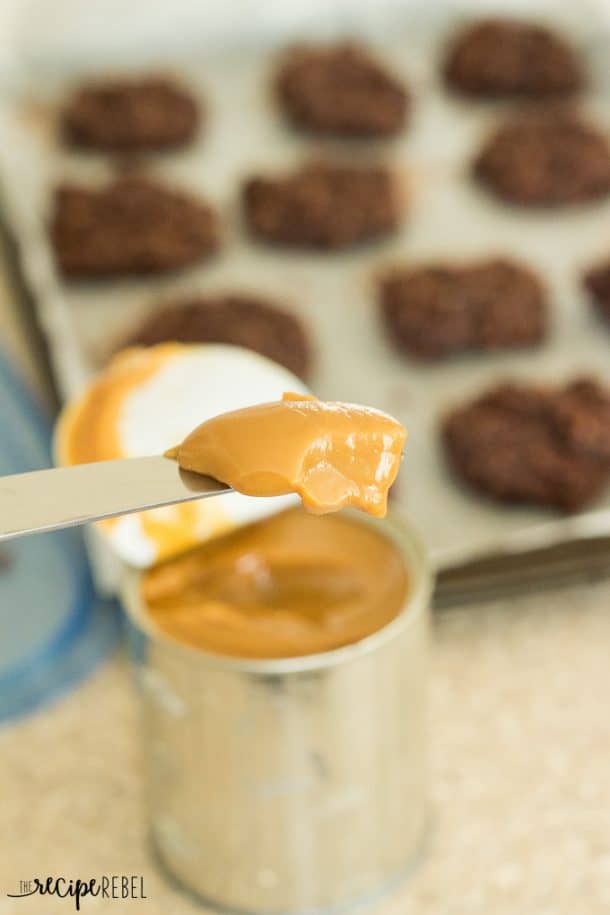 Remove the label from one or more cans of sweetened condensed milk and place in a pot and cover with water. Bring to a boil and simmer for 3 hours, making sure the can is completely covered with water the entire time. Remove from the water and let cool completely before using.
You can make as many as you want and store the unopened cans in the cupboard until ready to use! It's a great thing to make ahead and will give you a nice, thick caramel as pictured.
24
adjust servings
No-Bake Turtle Cookies
No-Bake Turtle Cookies: Perfect chocolate oatmeal no-bake cookies topped with thick caramel, pecans, and a drizzle of chocolate! Taking no-bake cookies to the next level 🙂 www.thereciperebel.com
Ingredients
1

stick (1/2 cup) butter

2

cups granulated sugar

1/2

cup cocoa

1/2

cup milk

1/2

tsp salt

1

tsp vanilla

3 1/2

cups oats (I used quick)

2 1/2

cups shredded coconut

1/2-3/4

cup dulce de leche (see recipe in post)

24

pecan halves

1/4

cup chopped chocolate or chocolate chips

1

tbsp milk
Instructions
Line 2 baking sheets with wax paper and set aside.
In a large pot, combine butter, sugar, cocoa, milk, salt and vanilla. Place over medium-high heat and bring to a boil, whisking often. Boil 1 minute, and then add oats and coconut to the pot and stir until combined.
Drop by tablespoon onto prepared baking sheets and flatten the tops slightly. Allow to cool and set (you can speed this up in the refrigerator or freezer).
Once set, spread each cookie with a spoonful of dulce de leche and top with a pecan half.
Melt together chopped chocolate and milk and stir until smooth. Drizzle over cookies and allow to set at room temperature or in the refrigerator. Store cookies in the refrigerator or freezer.
 You might also like these no-bake treats!
No-Bake Banana Split Cheesecake!
Nutella and Raspberry Swirl Ice Cream Cake with Ice Cream Cone Crust
No-Bake Millionaire's Shortbread Bars from Savory Nothings.
No-Bake Red Velvet Cheesecake Pie from Life Made Sweeter.
No-Bake Cinnamon Roll Breakfast Cookies from Chelsea's Messy Apron.