The best way to reheat pizza so that it is crispy on the bottom, with perfectly melted cheese! Never dry, never soggy!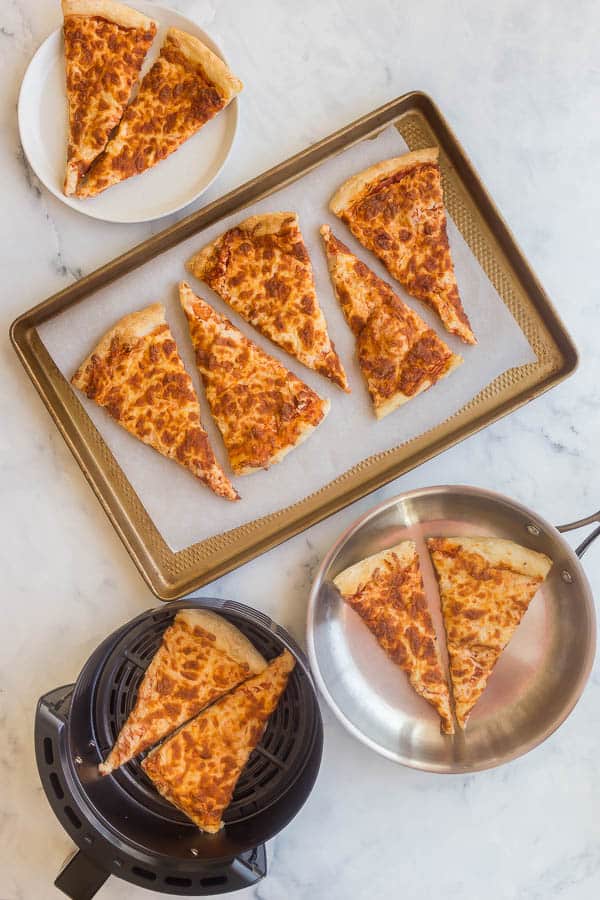 Table of Contents
We are all big pizza fans around here (who isn't?!), and we've never hated having leftover pizza.
But with this month being Pizza Month on The Recipe Rebel (this Quick and Easy Pizza Dough is our 6 Ingredient Staple this month!), I wanted to dive deeper into the different ways to reheat pizza and discover which give the best results.
I have to confess that we used to just microwave our leftover pizza, and yes it was soggy and not anything like fresh pizza, but we still ate it.
Now? I don't think I could ever reheat leftover pizza in the microwave again!
Although there are lots of different methods and theories for reheating pizza, we came out with two clear favorites, and both have their pros and cons.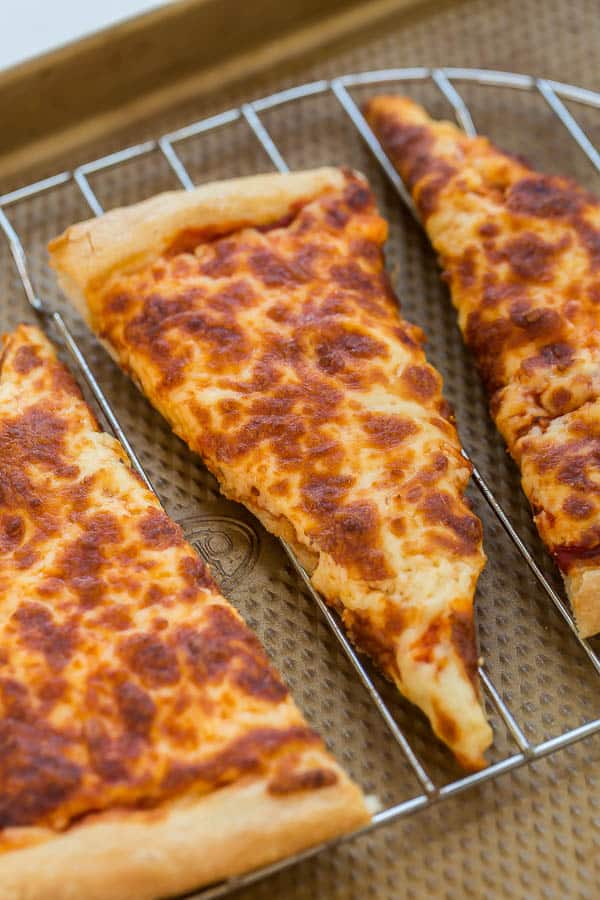 See which were our winners below!
The best way to reheat pizza:
We tried out 5 different methods for reheating pizza, and these were our favorites in order (though if I could just forget that we ever microwaved leftover pizza, I'd happily do it!)
Oven – on a sheet pan and on a rack
Air Fryer
Skillet
Microwave
The oven and the air fryer were our favorite methods.
They both resulted in a crispy crust that wasn't dried out, the pizza was heated through and the cheese was melty.
Not dry and tough, not soggy.
The reason the oven won out the top spot for us is because we are a family of 5. Most of will eat a couple of slices of pizza for a meal, and heating 10 slices of pizza in the air fryer is just painful.
I also found the air fryer crust a touch drier, but overall pretty fantastic.
In the oven, we can throw them all in, and in about 10 minutes we have pizza that tastes as good as it did fresh (seriously!).
Below, I'll go over how we used each method to reheat pizza in detail, so you can see the best results!
How to reheat pizza in the oven: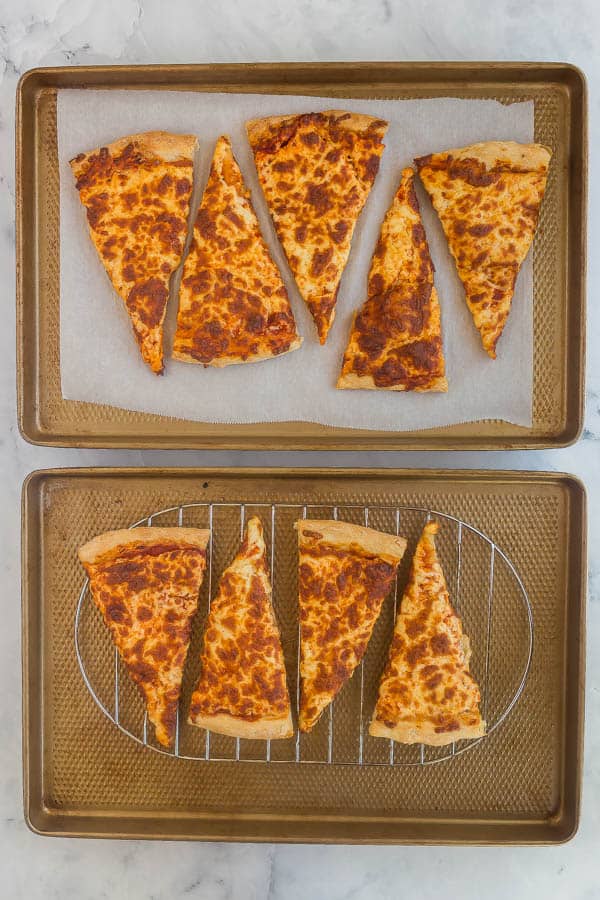 Preheat oven to 350 degrees. You can line a baking sheet with parchment or foil, but it's not necessary (it does make for easy clean up!), or you can place a rack on top.
We found that the rack made for a slightly crisper crust, but only marginally and we really loved both ways.
You can throw your pizza in while the oven is preheating to save time, or you can throw it in once the oven is hot. I haven't found that it made a difference.
Bake for 8-12 minutes, until the pizza reaches your desired temperature and crispness.
I actually prefer not to use my oven on convection mode for this, as the crust gets perfectly crispy without and I find that convection dries food out more.
How to reheat pizza in the air fryer: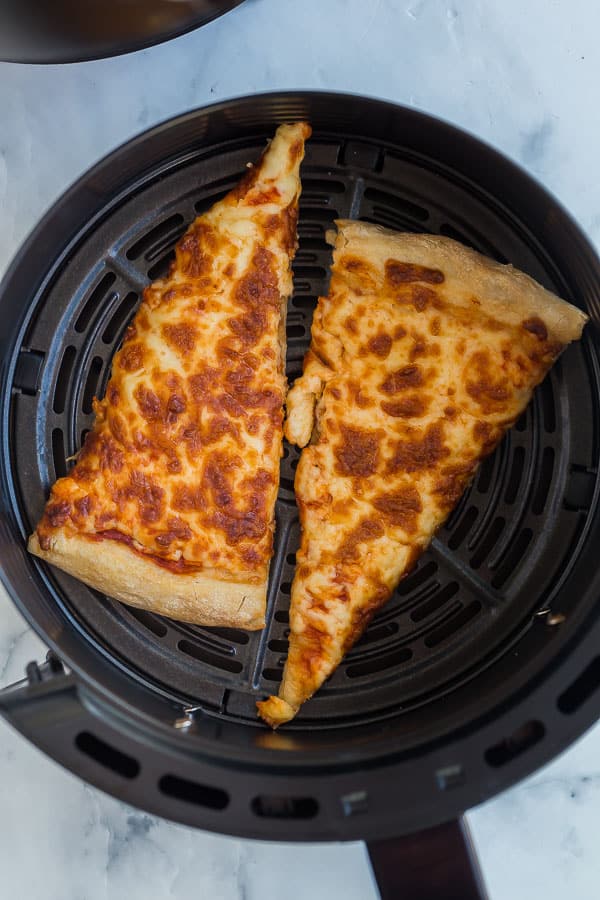 Reheating pizza in the air fryer is perfect when you just need a couple of slices and don't want to heat up your oven.
Preheat your air fryer to 350 degrees for 5 minutes, then place your pizza slices in the basket or on the rack of your air fryer.
Cook for about 5 minutes, putting it back in for a minute or two as needed so that the pizza is crispy on the bottom and heated through.
How to reheat pizza on the stove top: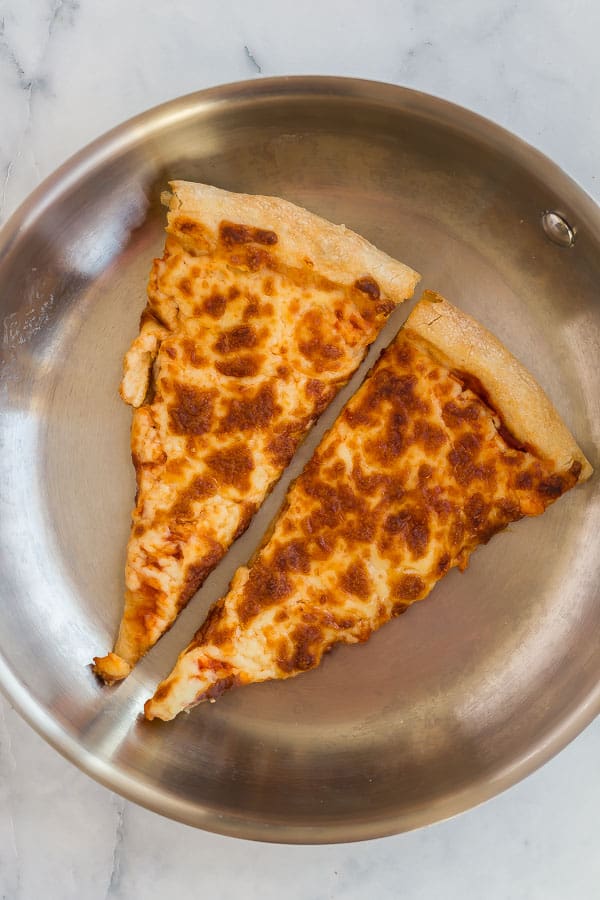 Because we can only do a couple pizza slices in a skillet and we weren't that impressed with the results (there are also more dirty dishes and pans to wash!), the skillet wasn't one of our favorite ways.
It also seemed to take a long time to heat through since the heat only comes from the bottom, until you cover it, and leaving it covered the whole time can result in soggy pizza.
To reheat pizza in a skillet, heat a heavy-bottomed skillet over medium-high heat and add the leftover pizza slices.
Cook until the crust is crispy, then cover to melt the cheese and warm the toppings (you can add a drop of water to the pan before covering if you want to speed things up, just make sure you don't add it close to the pizza crust).
How to reheat pizza in the microwave:
You can reheat pizza in the microwave in 45-60 seconds on high, but this is one method we're never going back to.
If you like your pizza on the softer side, go for it!
The best way to store leftover pizza:
If we're going to have amazing leftover pizza, storing it is half of the battle!
Let the pizza cool completely (at room temperature or in the fridge) before stacking so that the toppings of one slices aren't stuck to the bottom of another.
Place in an airtight container or wrap in plastic wrap (a zip-top bag works well, too) and refrigerate for up to 4 days.
Freezing leftover pizza:
You can also freeze leftover pizza, and I recommend freezing it in individual slices for quick meals.
Simply wrap each cooled slice in plastic wrap, and store all pieces in a zip-top freezer bag.
When you need a quick meal, pull out a slice or two and reheat using the methods above (adding a few extra minutes when cooking from frozen).