This Frozen Ice Cream Dessert Pizza is THE no bake summer dessert you need! A Dairy Queen Copycat Treatzza Pizza, it has an Oreo fudge crust topped with ice cream, fudge sauce and M&M's! 
Follow my Ice Cream and Frozen Desserts board on Pinterest for more like this!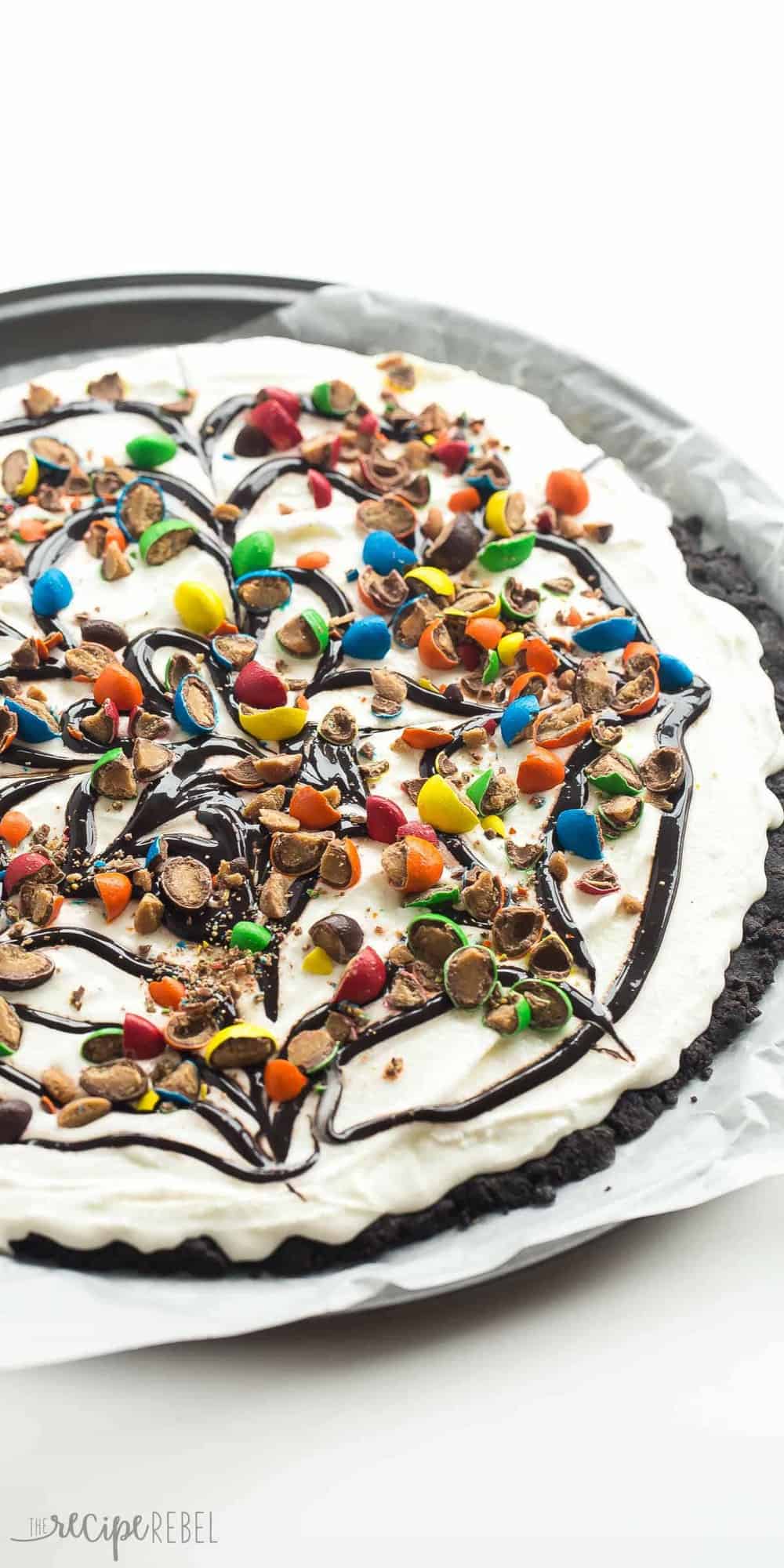 Growing up, I used to love those Treatzza Pizzas from Dairy Queen!
As I was writing this post though, I was wondering if my American friends have Treatzza Pizzas? I tried searching on the Canadian and American DQ web sites and I didn't find much on the American sites. What a shame it would be if you had to live your lives without the Treatzza Pizza!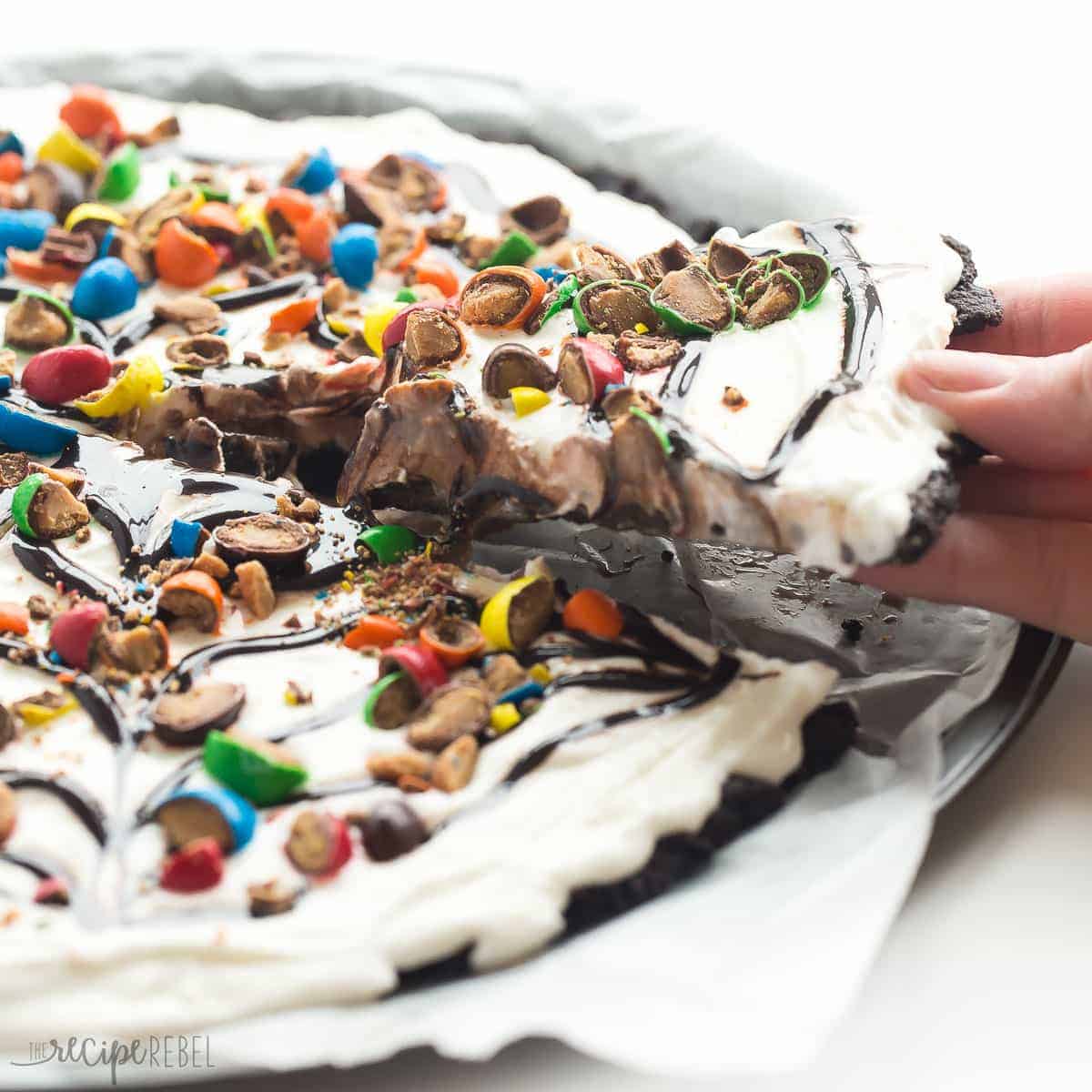 Thankfully, I've brought you a copycat Treatzza Pizza recipe today.
And yes, I'm still terrible at naming recipes. But just in case there were people who don't know what a Treatzza Pizza is, it is a Frozen Ice Cream Dessert Pizza, aka, everything delicious and frosty that you could ever want.
Let's move on.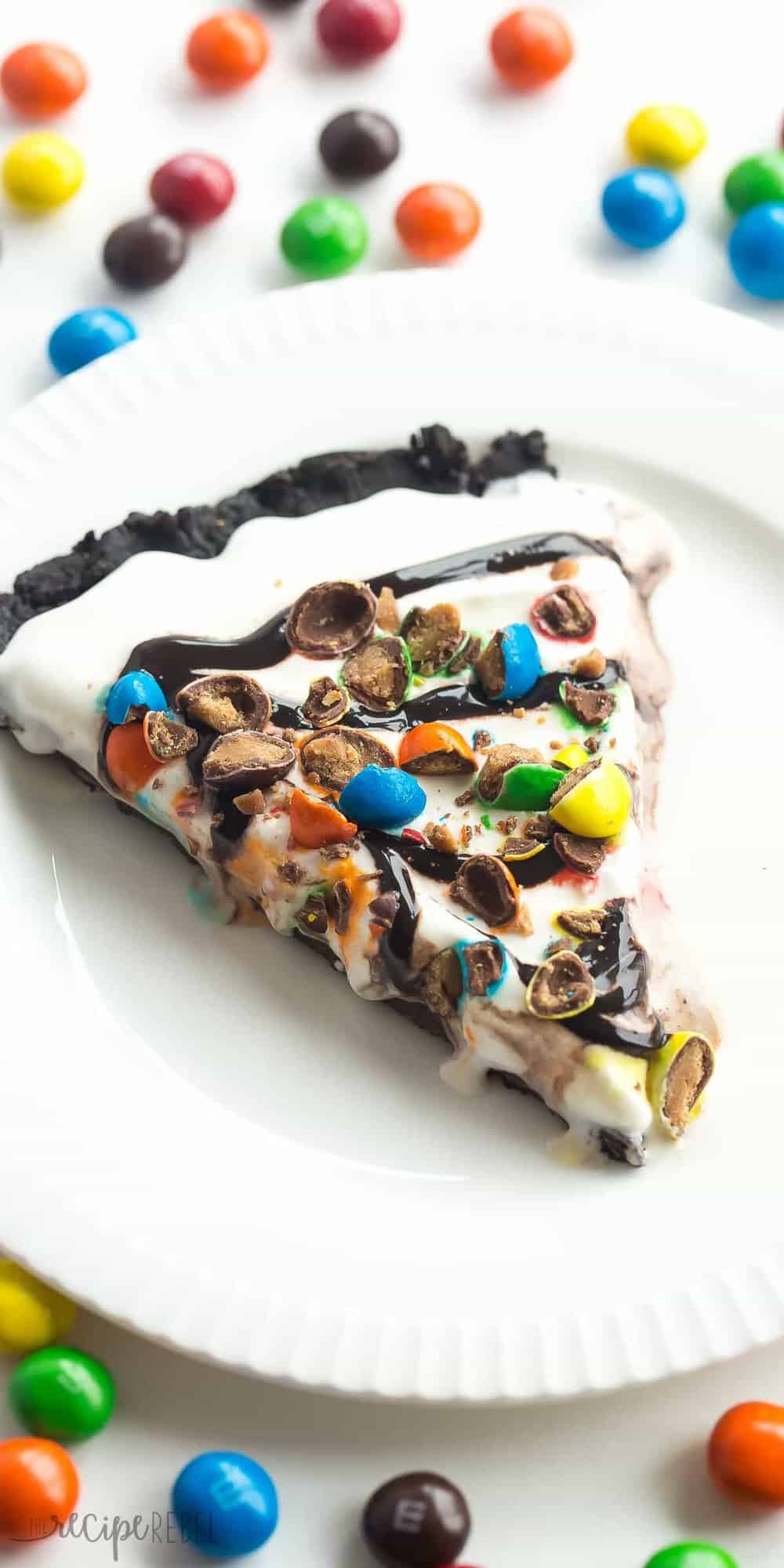 You know I love pizza. I love dessert pizza just as much (like this Nutella Brownie Fruit Pizza?!).
This recipe is super, super simple to make. It's completely no bake, the crust is just crushed Oreos and fudge sauce, and the topping is softened ice cream topped with whatever you want. Use M&M's like I did, or use Peanut Butter Cups, berries, whatever — just as long as it's not too hard to eat frozen! If you're using something pretty firm, you'll want to chop them up so they're smaller bites.
Things I love:
NO BAKE (did I mention that?)
Totally customizable
Super quick prep — 20 minutes max!
4 ingredients!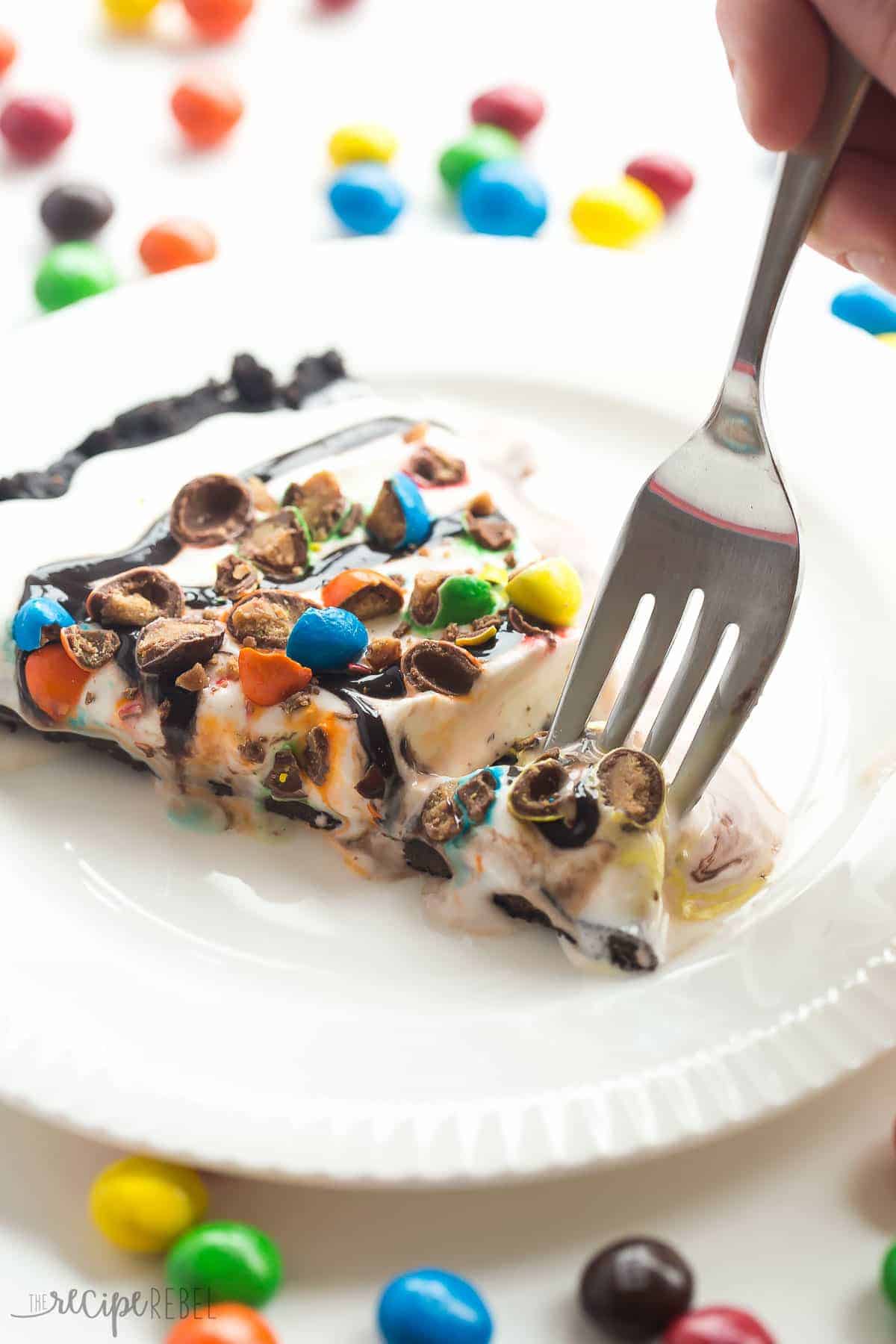 You can use store bought ice cream, or try mixing it up with any number of the ice cream recipes I have here on The Recipe Rebel: Cherry Cheesecake Ice Cream, Cookies 'n' Cream Ice Cream with Nutella Swirl. Coconut Cream Pie Ice Cream…
Feel free to mix and match to your heart's desire! Or make a bunch of crusts and top them with a variety of things — these would be perfect for a summer party or barbecue!
8-10
adjust servings
Frozen Ice Cream Dessert Pizza (Treatzza Pizza!)
This Frozen Ice Cream Dessert Pizza (a Dairy Queen Copycat Treatzza Pizza!) is THE no bake summer dessert you need! An Oreo fudge crust topped with ice cream, fudge sauce and M&M's!
Ingredients
25

regular-sized Oreos -- about one regular package minus 2 for snacking 😉

1/2

cup + 2 tablespoons thick hot fudge sauce

2-3

cups vanilla (or other!) ice cream

2/3

cup M&M's, roughly chopped
Instructions
In a food processor, process Oreos until no chunks remain. Add ½ cup hot fudge sauce and process until it comes together, almost like a dough.
Press the Oreo mixture onto a 12" pizza pan (lined with wax paper if desired) and place in the freezer.
Place your ice cream in a bowl and let sit on the counter for 10 minutes until slightly soft and just spreadable. Remove the crust from the freezer and spread on the ice cream.
Swirl with remaining hot fudge and sprinkle with M&M's. Freeze until firm. Serve immediately upon removing from freezer -- the ice cream layer is thin which means it melts more quickly!
Recipe Notes
If you use a good quality, cream-based ice cream, it will be incredible delicious but will melt more quickly. The more water in an ice cream, the slower it will melt. If you need a few minutes to serve the pizza, you can use an "ice milk" (like a generic ice cream), or simple freeze, remove to cut pieces, then store in the freezer until ready to serve so that the slices are ready to grab.
 More dessert pizzas!
Cinnamon Streusel Dessert Pizza from Life Made Sweeter
Brownie Dessert Pizza from Deliciously Sprinkled
Chocolate Chip Cookie Dough Pizza from Life Love and Sugar