I love soup.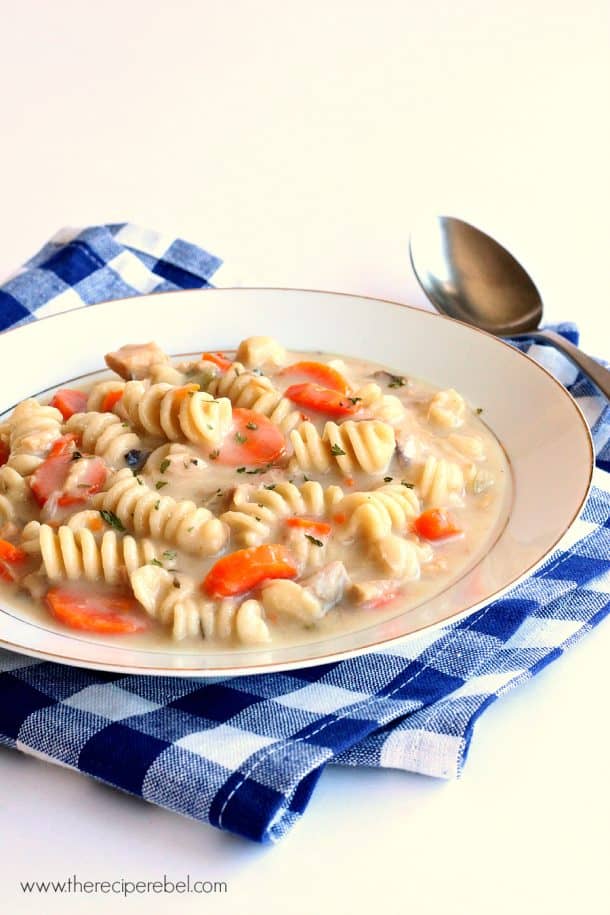 I don't really know why. Maybe because of how well all the flavors blend together after being simmered together for so long. Or maybe because I can hide all the vegetables I want in it and that just adds to the flavour.
Or maybe because I also really like fresh bread. And there is nothing like fresh homemade bread with a good bowl of soup to dunk it in.
I also love my slow cooker.
We will buy a case of whole chickens, 12 at a time, and keep them in the freezer. There is almost nothing better to come home to after a day at work than I slow-cooked chicken. And one of my favorite things to do with the leftovers is make soup. For two reasons:
(a) Homemade Chicken Noodle Soup rocks.
(b)It means I don't have to clean the slow cooker for at least another 24 hours. Because I leave the carcass in to make the broth overnight, and then strain it and add the veggies in the morning. And I'm all about avoiding washing dishes.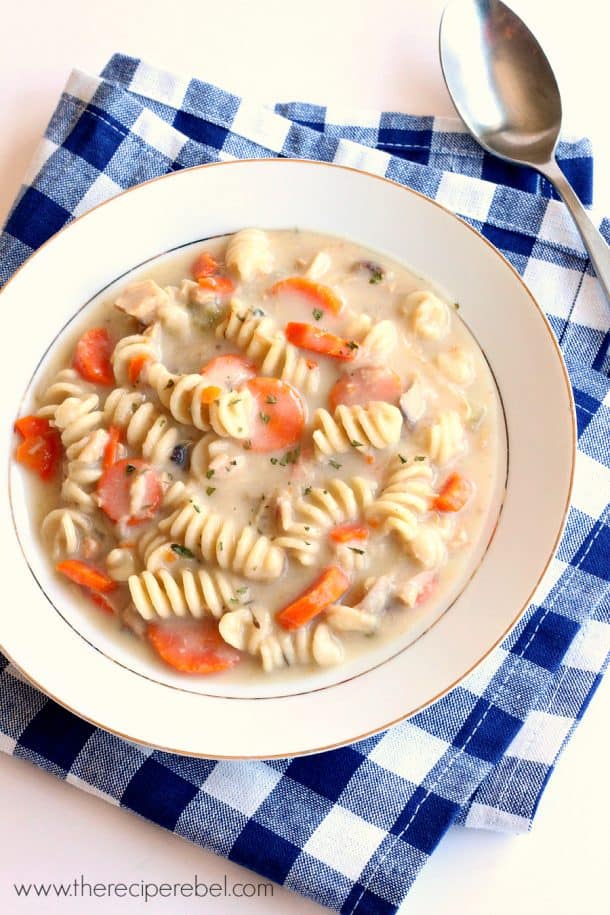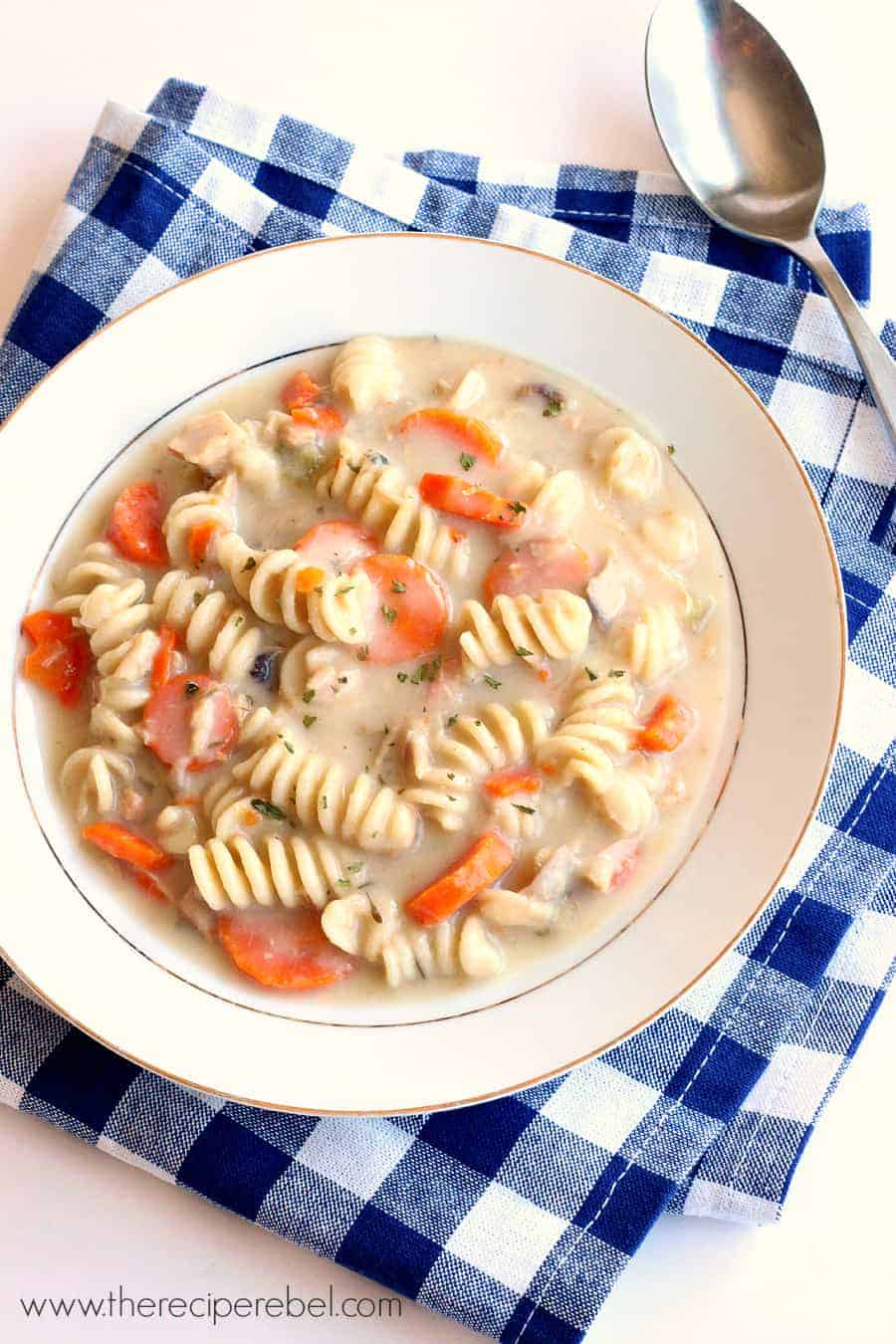 I honestly don't know if I'd ever made a creamy chicken noodle soup before. Which is strange, because I like most food thick, and rich, and creamy. I had seen a lot of recipes for creamy chicken noodle soup, and I was intrigued. I figured it would be super easy to whisk up some milk and flour, and add it in at the end to get a nice thick, creamy soup, so I started looking around to see how others had done it.
I found a lot of recipes just added straight cream at the end. And others melted butter, made a roux, and thickened milk that way before adding it.
I knew I wanted my soup much thicker than it would be if I just added straight cream or milk, and I also knew I didn't want to go through all the effort of making a roux and thickening milk (don't get me wrong — that's normally how I would do it!). So I decided to try whisking up some milk and flour, and see what kind of texture I could achieve like that.
The answer? The perfect thick, rich, creamy texture with minimal effort. Also, it's made in one pot, and that pot is your slow cooker or crockpot. Which makes it perfect for busy days when you still want to eat real food.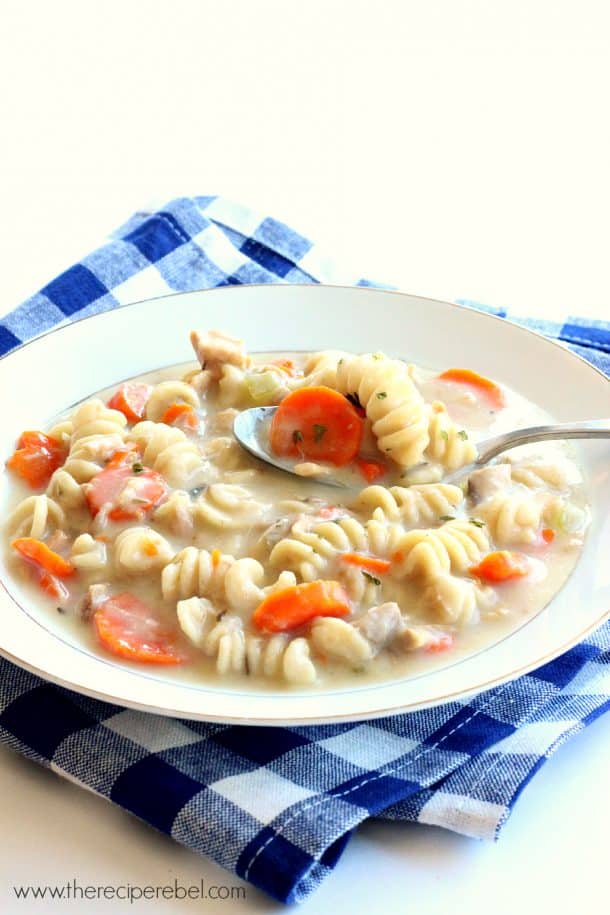 *Remember to save this recipe to your Recipe Box by clicking Save Recipe below so you can find it later!*
6 servings
adjust servings
Easy Slow Cooker Creamy Chicken Noodle Soup
The easiest Slow Cooker Creamy Chicken Noodle Soup -- gets thick and creamy, unlike those recipes that just add milk or cream. Perfect for a chilly day!
Ingredients
5

medium carrots, peeled and diced

1/2

medium onion, diced

3

stalks celery, diced

4

cups diced chicken

2

tsp dried thyme

2

tsp dried parsley

7

cups chicken broth

3

cups whole wheat rotini (or other short pasta)

3

cups milk

1/2

cup flour

salt and pepper, to taste
Instructions
*I like to prepare the carrots through parsley the night before and place them in a large freezer bag in the fridge. Then all I have to do the next morning is dump them in and add the broth.
Add carrots, onion, celery, chicken, thyme, parsley and broth to the slow cooker. Cook 7-8 hours on low.
Turn slow cooker to high. Add rotini or other pasta, and cook 8-10 minutes until nearly cooked.
Whisk together milk and flour (make sure all the flour is absorbed -- you don't want lumps!). Stir into slow cooker. Cover and cook about 10 minutes until thickened. Stir. Add salt and pepper to taste.
If necessary, combine another 1 cup of milk and ¼ cup of flour and stir into soup if you haven't yet reached the desired thickness. Soup will continue to thicken for another 10-15 minutes after you add the milk mixture.