This easy Meatball Recipe is tender, juicy and flavorful! Bake them, fry them, or slow cook — they work with any sauce you enjoy! See step by step recipe video down in the recipe card.
Table of Contents
It's the first Monday of the month which means this easy Meatball recipe is our 6 Ingredient Staple for February!
I've never shared a classic, never fail meatball recipe here on The Recipe Rebel and it was time.
We are meatball-obsessed, and I'm so glad I perfected this recipe!
It's now our first choice when we're making these Slow Cooker Swedish Meatballs and these Slow Cooker Cranberry Meatballs.
Over the last few months, I've been testing these meatballs with different ingredients, different cooking methods, different sauces, to be sure that they are worthy of being your go-to 😉
Although they are made with just a few ingredients, they are perfectly juicy and loaded with flavor! Plus, I've included lots of different ways to make them your own down below.
Bookmark this one, because I've got lots of different recipes to use these meatballs in coming up this month!
How to make meatballs:
Here is a quick overview of what we're doing! See the full recipe in the recipe card down below:
Stir together your bread crumbs and water in a small bowl and let sit while you measure out the rest of your ingredients.
Add your beef, pork, cheese (if using), eggs, Italian seasoning, salt and pepper to a large bowl. Add your soaked bread crumbs and combine — but don't overmix!
Shape into 1″ balls, but don't squeeze together too firmly.
Cook — you can pan fry, bake, or throw into some sauce simmering on the stove top or slow cooker. I've tried it all, and here are my thoughts on what works best!
Cooking options: Baked, Fried, Simmered or Air Fryer:
Baked meatballs:
I almost hate to say this, but baked meatballs were our favorite out of the many, many ways that we tried cooking them.
I found that it was easiest to bake them and get them just perfectly cooked than it was to fry or simmer them — and it's also the most hands off way!
We actually found them even juicier than the ones I simmered in sauce from raw.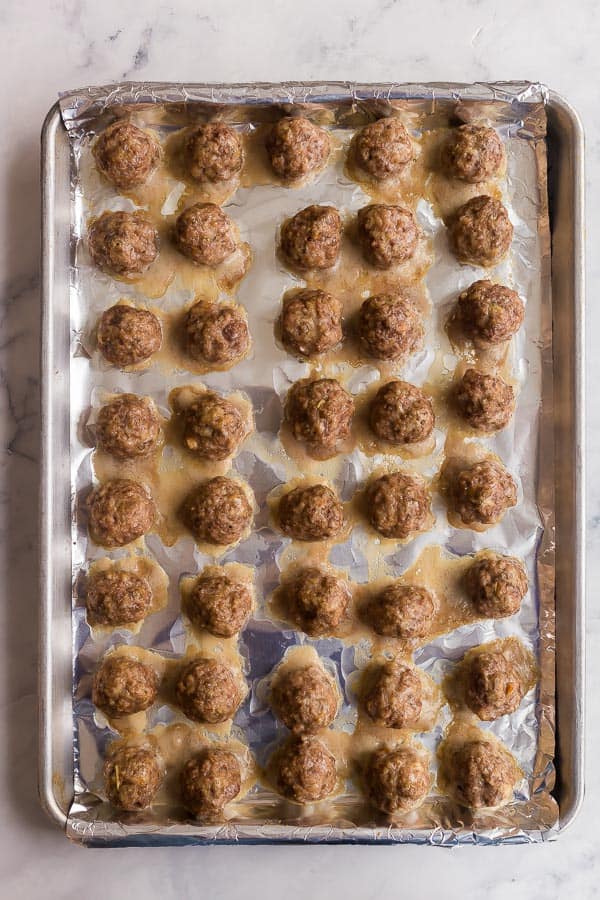 The important thing to remember when baking meatballs is to bake them at a high temperature and only to the point where they are cooked — the longer you bake them after that the more they will dry out!
The recipe below includes my cook time and temperature for best results.
Pan Fried Meatballs:
If you really like that golden crust, you can opt to pan fry your meatballs instead.
However, what I found when frying was that it took some time for the meatballs to cook through after the exterior was browned, which can result in a dry meatball.
If you want to pan fry them, I recommend frying to brown the exterior, then simmering in some sauce to finish cooking.
If you want to pan fry them and cook all the way through, I recommend medium heat and a couple tablespoons of canola oil. Brown on each side and then cover and reduce heat to medium low to finish cooking.
Simmered Meatballs (in sauce):
You can also add these meatballs to a simmering sauce to cook, right from raw!
This was our second favorite way of cooking them, and it yielded pretty juicy meatballs overall.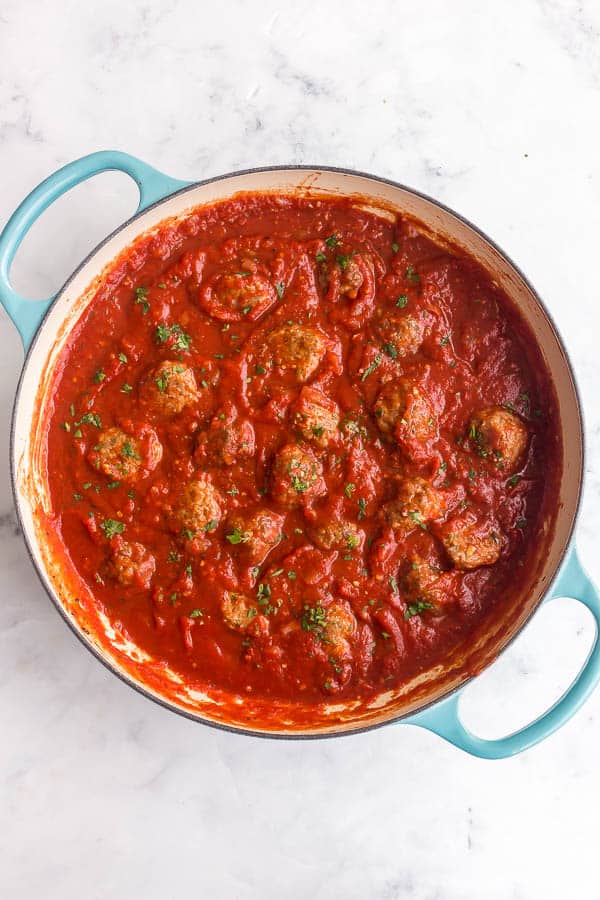 The trick with simmering the meatballs is that your sauce cannot be too hot, or the outside of the meatballs can become dry as it is overcooked. The goal is a low simmer, cover and cook for about 15-20 minutes, flipping once.
Air Fryer:
The Air Fryer is actually one of our two favorite ways to cook meatballs (along with baking them) — the only problem is that our air fryer doesn't fit as many, so it would take quite a few batches.
Since I like to make a bunch at once, the oven is still our preferred method overall. But if you've got an air fryer and don't want to heat up the oven, check out my Air Fryer Meatballs recipe!
Variations and Substitutions for this meatball recipe:
The bread crumbs:
I have found that using fresh slices of bread which are processed into fine bread crumbs yields the juiciest meatballs!
Some recipes call for bread that is torn into chunks and soaked — I don't recommend this method as it leads to unappetizing chunks of overly-moist bread in the middle of your meatballs, rather than an even moisture.
You can swap the fresh fine bread crumbs for dried bread crumbs, seasoned or unseasoned, or Panko bread crumbs and proceed with the recipe as written.
The water:
I know that milk is often used to soak bread crumbs, and you can absolutely swap this water for milk.
Considering that this recipe is part of my 6 Ingredient Staples series, I wanted to see how simple I can make this recipe while still keeping maximum flavor and juiciness! I decided to soak my bread crumbs in water and didn't notice any difference in flavor or texture.
If you are using lean ground meat, you could opt to soak the bread crumbs in canola or vegetable oil to add some fat back into your meatballs — because fat is flavor!
You can use almost any liquid here, even beef or chicken broth would work great and add lots of flavor.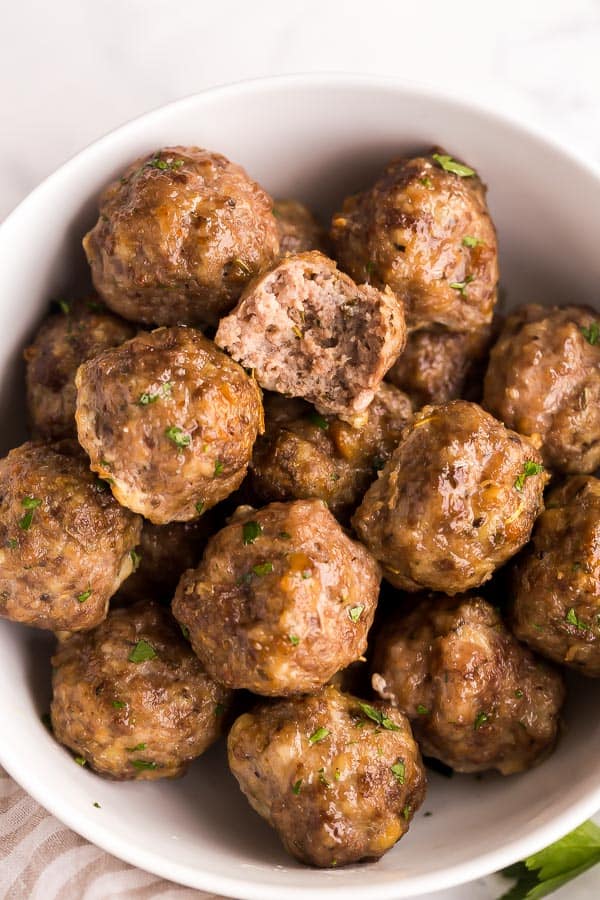 The meat:
Higher fat ground meat will give you the best results in this meatball recipe, as they are juicier and more flavorful by nature. You can always swap the regular ground beef and pork for lean, but keep in mind they will not be as juicy.
You can also swap the beef and pork for almost any ground meat: chicken, turkey, veal, or Italian sausage for an extra punch of flavor!
Again, just keep in mind that the leaner your meat, the less juicy and flavorful your meatballs — not that they won't still be delicious!
The cheese:
Although I'm the kind of person that likes to give a substitution for almost everything, there is a ton of shredded Parmesan cheese in here for a reason — it makes meatballs delicious!
It adds flavor and moisture, so freshly grated is best.
I tested this recipe with 2 cups cheese, 1 cup cheese, and no cheese — both 1 and 2 cups of cheese had a deliciously cheesy flavor. 2 cups cheese is definitely for Parmesan cheese lovers and best served with tomato sauce!
1 cup gives a light, cheesy flavor that we love with spaghetti and creamy sauces.
Parmesan cheese in sweet and sour meatballs is a strange combination, so if you want to make all-purpose meatballs, I recommend leaving it out. They will still be delicious!
The seasoning:
I kept my seasoning simple for a reason, but there are lots of ways you can mix it up!
Add in minced garlic, fresh chopped herbs, dried basil, or red pepper flakes for some spice! You could even add in a teaspoon of hot sauce if you like things on the hot side.
How to serve these meatballs:
These meatballs are great with a wide variety of sauces, or on their own! Here are a few ideas:
How to freeze meatballs:
I absolutely love having a big stash of homemade meatballs in the freezer — they're perfect for adding to a simmering pot of sauce or soup for quick weeknight meals!
To freeze, simply bake until cooked through and allow to cool for 20-30 minutes.
Place in an airtight container or (even better!) zip top freezer bag — making sure to squeeze all the air out before sealing completely. Label, place in the freezer and freeze up to 3 months.
When ready to eat, you can simply toss right from frozen into whatever sauce you have simmering. Heat through and serve.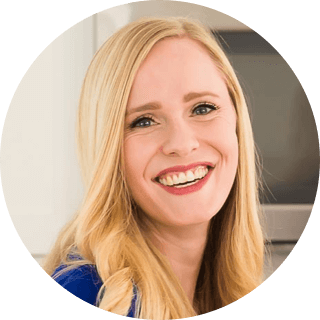 Pin this recipe to save for later
Pin this recipe to your favorite board
Easy Meatball Recipe
This easy Meatball Recipe is tender, juicy and flavorful! Bake them, fry them, or slow cook — they work with any sauce you enjoy!
Print
Ingredients
2

slices

soft bread

(about 120 grams or 1.5 cups fresh. fluffed bread crumbs – **see note)

¼

cup

water

1

lb

ground beef

1

lb

ground pork

1

cup

shredded Parmesan cheese

(fresh if possible)

2

eggs

2

teaspoons

Italian seasoning

1

teaspoon

salt

½

teaspoon

pepper
Instructions
Preheat oven to 425 degrees F and line a baking sheet with tin foil — optional but helps with clean up!

Tear bread into small pieces and place in a food processor (a blender may work). Process until the bread is in fine crumbs and combine with water. Stir and let sit for a few minutes. (*If you do not have a food processor, you may also mash the bread with the water until it is in fine crumbs).

In a large bowl, combine beef, pork, cheese, eggs, Italian seasoning, salt, pepper and soaked bread until just combined — don't overmix!

Shape into 1.5-2" balls (I get about 40 this way, but you can get up to 60 if you shape them into 1" balls) and place 1" apart on the baking sheet.

Bake for 10-15 minutes (longer for 2" rounds, shorter for 1" rounds), until a meat thermometer reads at least 160 degrees F in the largest meatballs (a meat thermometer is your best chance at having perfectly cooked meatballs!)

Remove from the oven and let cool slightly. Add to your favorite sauce, or let cool for 20-30 minutes before placing in a freezer safe bag or container and storing in the fridge or freezer.
Notes
*Nutrition information is per meatball if 40 meatballs are made
** I know it's tempting to swap fresh bread crumbs for dried, but I recommend fresh bread if you can. It adds so much moisture! If you need to swap for dried, I would start with 1 cup dried bread crumbs, and add enough liquid so that they are soaked but not sitting in water. You will need more than ¼ cup liquid because they will absorb more (they are drier) than fresh bread crumbs.
Nutrition Information
Calories:
77
cal
|
Carbohydrates:
1
g
|
Protein:
5
g
|
Fat:
6
g
|
Saturated Fat:
2
g
|
Cholesterol:
27
mg
|
Sodium:
121
mg
|
Potassium:
73
mg
|
Fiber:
1
g
|
Sugar:
1
g
|
Vitamin A:
35
IU
|
Vitamin C:
1
mg
|
Calcium:
36
mg
|
Iron:
1
mg
Keywords
baked meatballs, meatball recipe, meatballs
Want to save this recipe?
Create an account easily save your favorite content, so you never forget a recipe again.
Tried this recipe?
Tag @thereciperebel or hashtag #thereciperebel —
I love to see what you're making!
Tag @thereciperebel