Soft homemade crepes filled with sweet ricotta cream and chocolate chips, topped with whipped cream and more chocolate chips. A breakfast version of an Italian favorite!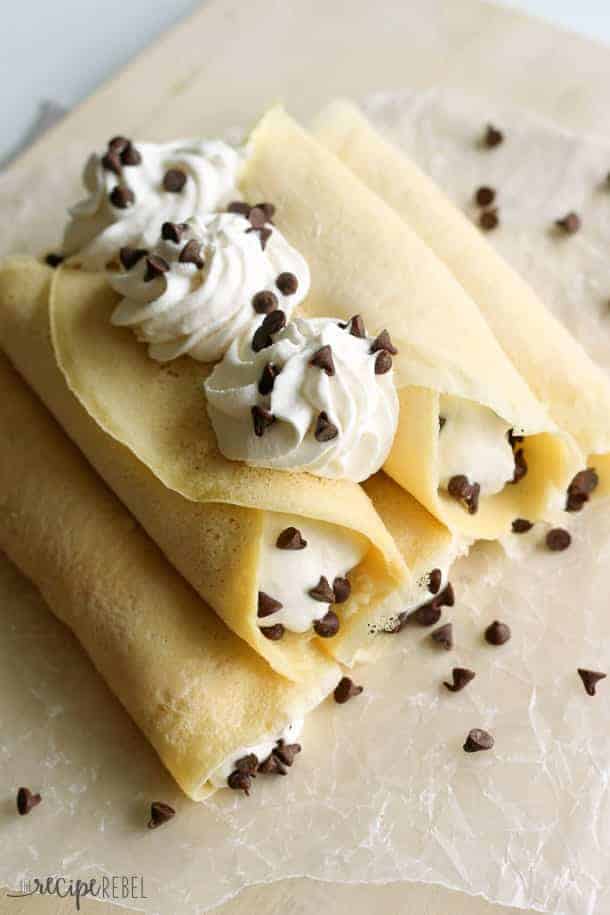 What is the best thing you've ever eaten?
My husband and I went to Europe for 3 weeks (France, Spain, Italy, Monaco, Croatia) in the summer 3 years ago. It was one of the best decisions we've ever made.
There are probably people who hesitate to spend a good amount of money on experiences. I am not one of them.
I'm sure I got my travel bug from my mother. Though we had never  crossed any oceans when I was younger, my mom made sure we were going somewhere every somewhere, often for 3 weeks at a time. The East coast, the West coast, California (Disneyland!), Yellowstone, Mexico. This summer, we traveled with my family to Florida (Disneyworld — of course!) and on an Eastern Caribbean cruise.
Our memories of Europe are ones we will never forget, and we wouldn't trade them for anything. Not even the money we paid to get over there.
I had done tons of research before we went. From the restaurants in the areas we would be staying, to things to do and see, to things you must eat in each city we would be visiting. So I knew before we got to Sicily that it is Cannoli that you cannot leave without trying.
We had done our best to make sure we covered the essentials in the other cities we were in. Macarons and Pain au Chocolate in Paris. Pan con Tomate, Tapas and Sangria in Spain. Gelato. Pizza and Pasta in Italy. More gelato.
So we couldn't go to Sicily and not try it.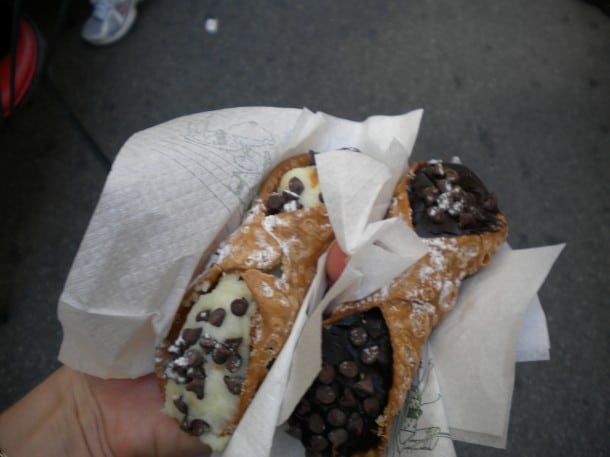 That was my "best thing I've ever eaten" moment.
Sweet, creamy ricotta filling with chocolate chips stuffed inside a thin, fried shell and dipped in chocolate. How can you put  a price on that?
I have never dared to make my own cannoli. I mean, the filling is pretty straightforward — but the shells? (a) I'm a little intimidated and (b) would it ever compared to the little cannoli stand outside the Greek Theatre in Taormina? I don't know if I can chance the disappointment.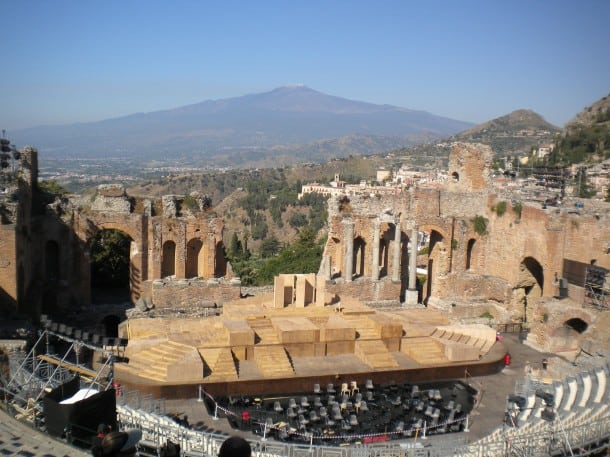 This recipe makes cannoli more accessible and less time consuming. I know you're not getting the crispy, deep-fried shell, but it's an easy sacrifice for the time and effort you won't be putting into these.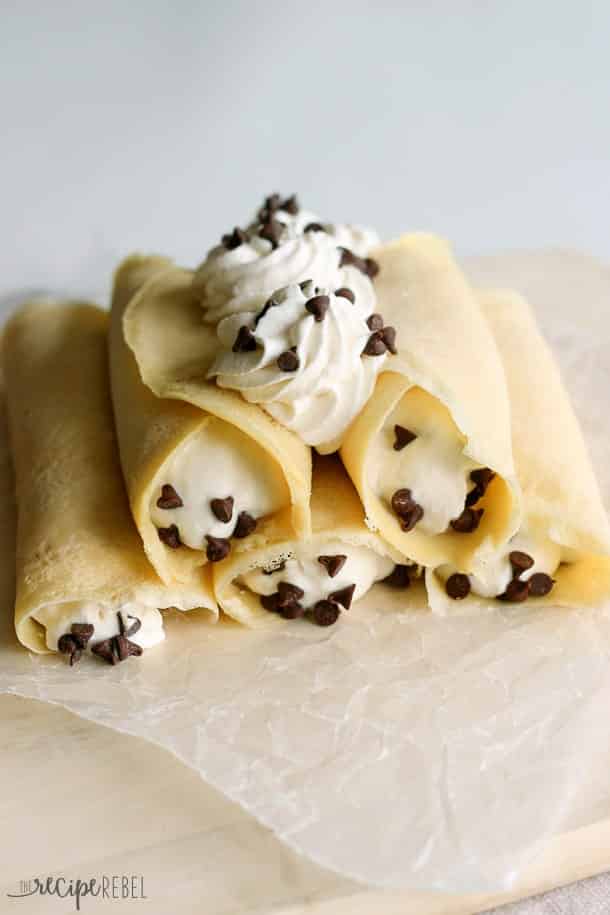 I made one batch of crepes using this recipe, and I saved about half for these crepes. The rest we ate while they were hot for breakfast. The full recipe makes about 12-14 crepes (depending how big you make them), so if you don't want half for breakfast, feel free to halve the recipe. If you want 12-14 cannoli crepes, just double the filling.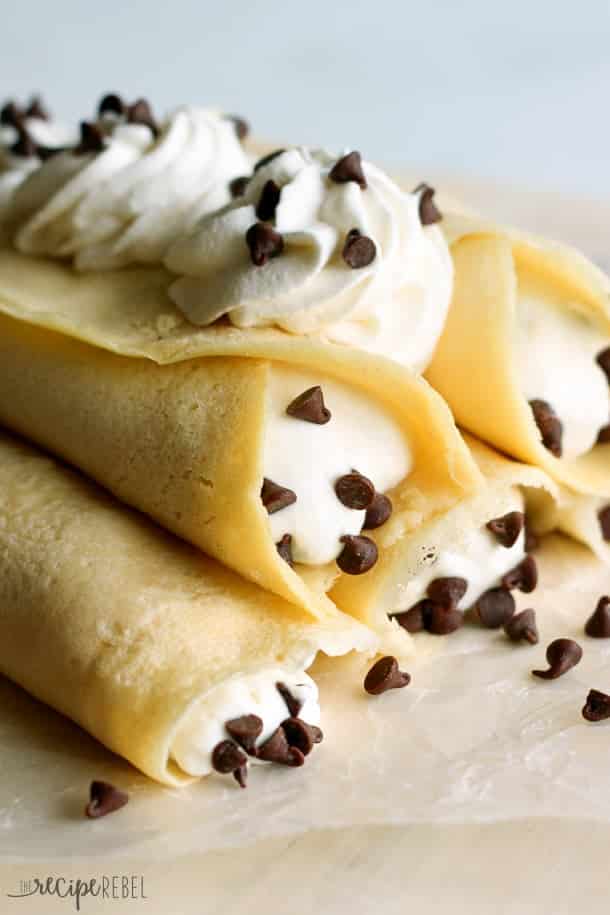 6-7 canonoli-filled crepes
adjust servings
Cannoli Crepes
Creamy cannoli filling stuffed inside soft crepes topped with whipped cream and chocolate chips. An easier spin on traditional cannoli!
Ingredients
Crepes
2

large eggs

3/4

cup milk (I use 1%)

1/2

cup flour (I use whole wheat)

1

tsp sugar
Filling
1 1/2

cups ricotta cheese

1/4

cup sugar

1

tsp vanilla

1

cup sweetened whipped cream (1/2 cup heavy cream whipped with about 3 tbsp sugar) or substitute whipped topping

1/3

cup mini chocolate chips

Additional whipped cream and chocolate chips for garnish
Instructions
Crepes:
In a blender (I use my individual blender and it has a pour spot right on it!), combine eggs, milk, flour and sugar. Blend until smooth and refrigerate 30 minutes. Blend for another 30 seconds after removing from the fridge.
Heat a small pan over medium heat and spray with non-stick spray. Pour a small amount of crepe batter into the pan and tilt the pan to cover the bottom. Cook for 2-3 minutes before flipping, and cook another 1-2 minutes on the other side, until light golden brown. Remove to a plate.
Repeat until all batter is used.
Filling:
In a medium bowl, combine ricotta, sugar and vanilla. Puree with an immersion blender until smooth and combined* (you could also use a food processor or blender).
Fold in whipped cream and chocolate chips.
Divide filling between crepes and roll up. Top with additional whipped cream and chocolate chips if desired.
You might also like these Strawberry S'more Crepe Enchiladas!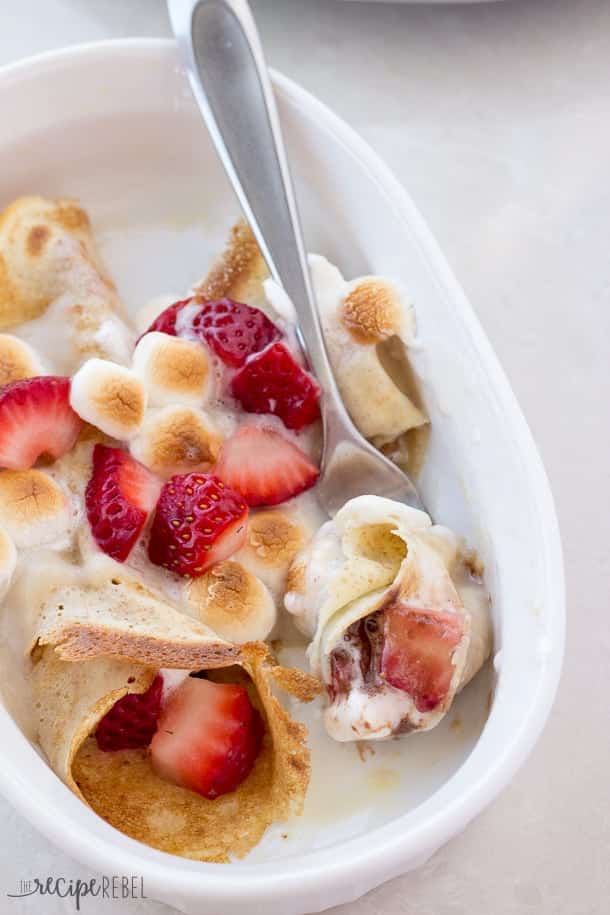 Or this Light Overnight Caramel French Toast!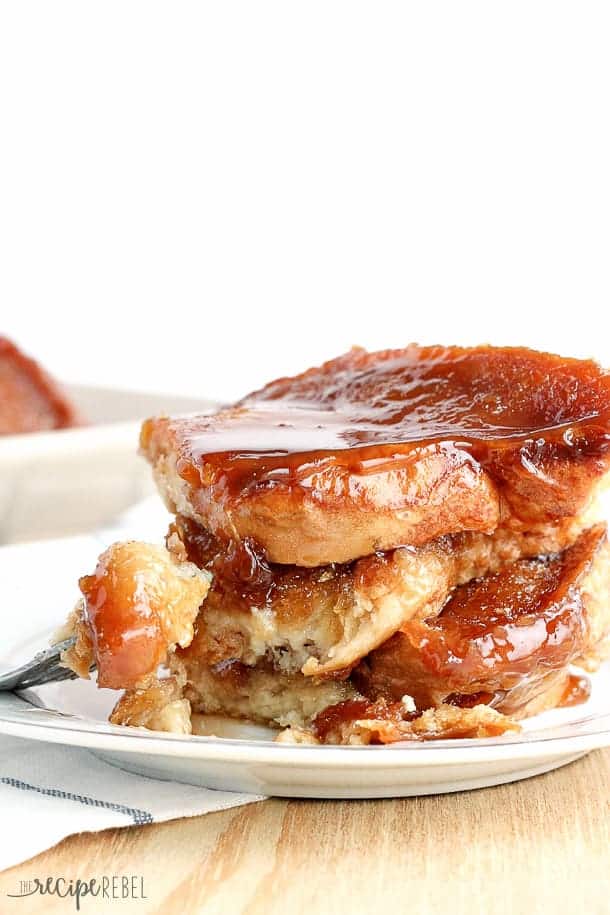 More cannoli desserts!
Cannoli Poke Cake from Life, Love and Sugar
Mini Cannoli Cheesecakes from Will Cook for Smiles
Sopapillas with Cannoli Cream and Fresh Fruit from Cooking and Beer