These Bread Machine Rolls are soft, buttery rolls that are perfect every time! Use whole wheat or all-purpose flour, a bread machine or a stand mixer!
*Stand mixer instructions are included down with the recipe.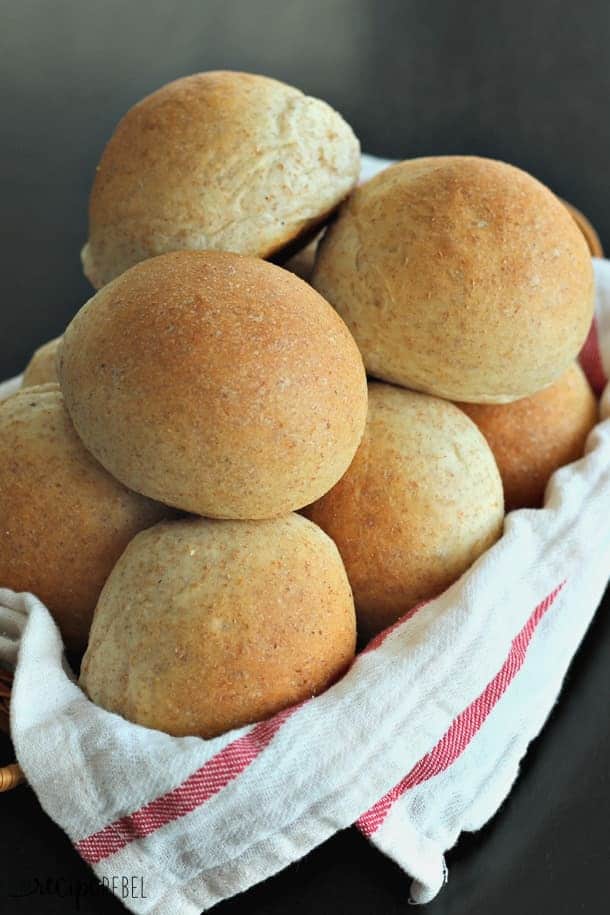 How many jokes about buns is an appropriate number in one post? These are the softest buns I've ever had. Generally, I like my buns a little firmer (insert an acceptable number of groans and eye rolls here).
I've been making/attempting to make buns for what I feel has been quite some time. My first batch of buns was at least 5 years ago. And they were similar to dry baseballs.
I've come a long way since then. I had come a long way before I ever tried this recipe, but this recipe knocks everything else I've done out of the park. These buns are, dare I say it, PERFECT. Every. Single. Time. Maybe it's my bread machine's incredible patience, and my inability to match the bread machine's dedication to kneading and creating the ideal environment for rising bread dough. Good bread dough needs time. Something that I can never seem to get enough of.
My mom always had the best buns. With this recipe, I feel like we're almost on an equal playing field, except that I leave the hard labour to my trusty bread machine while she kneads hers by hand.
It's not like I've never used my Kitchenaid and a dough hook, or even my own two hands, to make bread dough before. And it's not like those buns didn't turn out just fine, soft and delicious. But the bread machine just makes it so easy! (*Note, since I wrote this post, my bread machine has died and now I make this recipe every time in my stand mixer!)
I first tried this recipe 3 weeks ago, and since then I've made them 4 times. Four. Times.
I can't get enough.
My only beef is that I wish I had a bigger bread machine so I could make more than 18 from one recipe. Though they are quick enough that you can easily whip up a batch every week. You really don't want to try making a bigger batch of these at one time unless you have a massive bread machine — with one recipe the dough is always busting out of the top (quite literally) by the end of the dough cycle.
The first time I made these, I had some bread flour so I used that. The second, third and fourth time I used the ingredients listed below. I don't like to buy special ingredients if I don't have to, and bread flour isn't something I use regularly. I did not notice a difference between batches. The recipe turns out just as well for me with 75% regular whole wheat flour, and who doesn't like a little extra fiber and protein?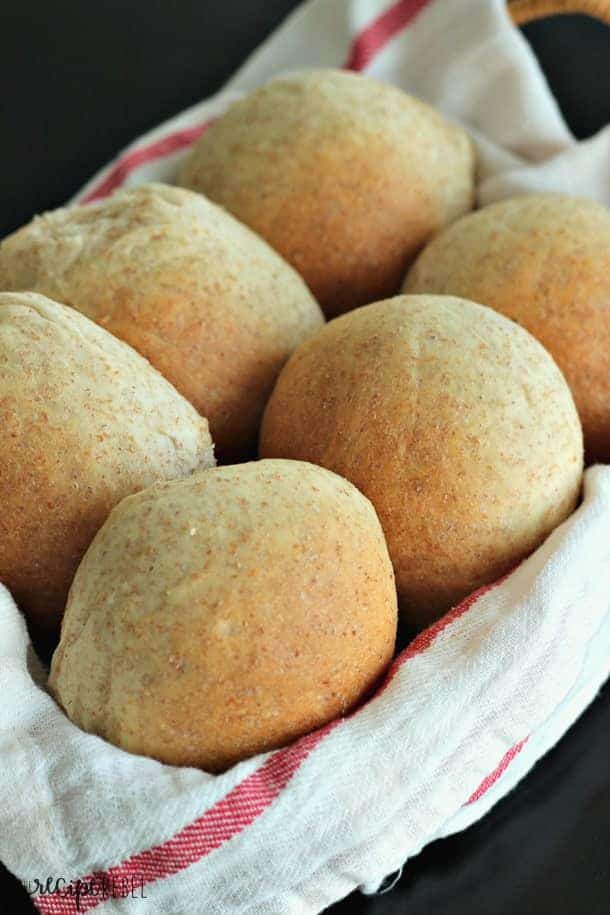 Here's a little visual on how I roll my buns. First, pinch off a section of dough. Making a circle with your thumb and first finger to "grip" what will be the outside of your bun, "stuff" all the yucky uneven dough into what will be the "inside" of your bun. Continue "stuffing" until the outside of your ball is nice and smooth. Pinch the end shut and roll around in your hands to smooth out the little lump left behind. Don't add flour unless it's too sticky to work with.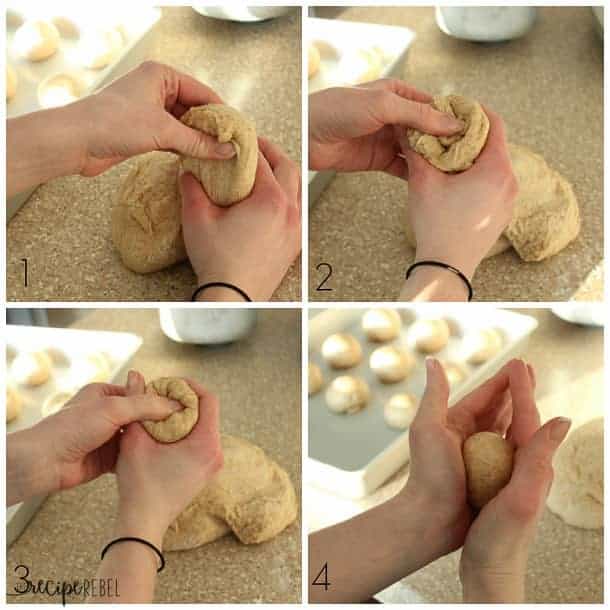 **STAND MIXER INSTRUCTIONS:
1 cup warm milk
1/4 cup granulated sugar
3 teaspoons instant yeast
2 eggs
1/2 cup butter, room temperature
3/4 teaspoon salt
3 cups whole wheat flour (Or use all purpose)
1 cup all purpose flour
In the bowl of a stand mixer, add the warm milk, 1/4 cup sugar and yeast. Let sit for 5-10 minutes until it starts to bubble.
Add the butter, eggs, and salt and beat on low for a few minutes until the eggs are mixed in and the butter is broken up (a little chunky is okay!)
In the stand mixer with the dough hook attachment, gradually add the flour until a smooth dough forms — it should pull away from the sides of the bowl but a little sticky is okay.
18 buns
adjust servings
Buttery (Whole Wheat) Bread Machine Rolls
Light and fluffy whole-wheat buns made with help from the bread machine.
Ingredients
1

cup warm milk (I put mine in the microwave for about 30-45 seconds)

1/2

cup butter, room temperature

1/4

cup granulated sugar

2

eggs

3/4

teaspoon salt

3

cups whole wheat flour

1

cup all purpose flour

3

teaspoons instant yeast

1/4-1/2

cup additional milk or water
Instructions
Place all ingredients in (in order given), in your bread machine. Start the Dough setting. Always check after 5 minutes to see if it needs more liquid or flour -- you don't want it too dry. Add the additional ¼ - ½ cup milk or water if the dough doesn't seem to be coming together well. I always err on the side of it having a little extra moisture.
When cycle has finished, remove from the pan.
Shape pieces of dough into balls and place in a greased pan, leaving about an inch in between. (See photos above)
Cover and let rolls rise until doubled (about 30-45 minutes).
Preheat oven to 350 degrees F. Bake approximately 20 minutes or until they are a light golden brown. Remove from oven and let cool slightly. Serve warm or at room temperature.
Recipe Notes
If you are baking frozen buns, you will need to leave out to thaw completely and then rise. This will likely take about 12 hours.
Recipe adapted from Mom Advice.
Looking for something to put on them? Try this Slow Cooker Honey Balsamic Pulled Pork!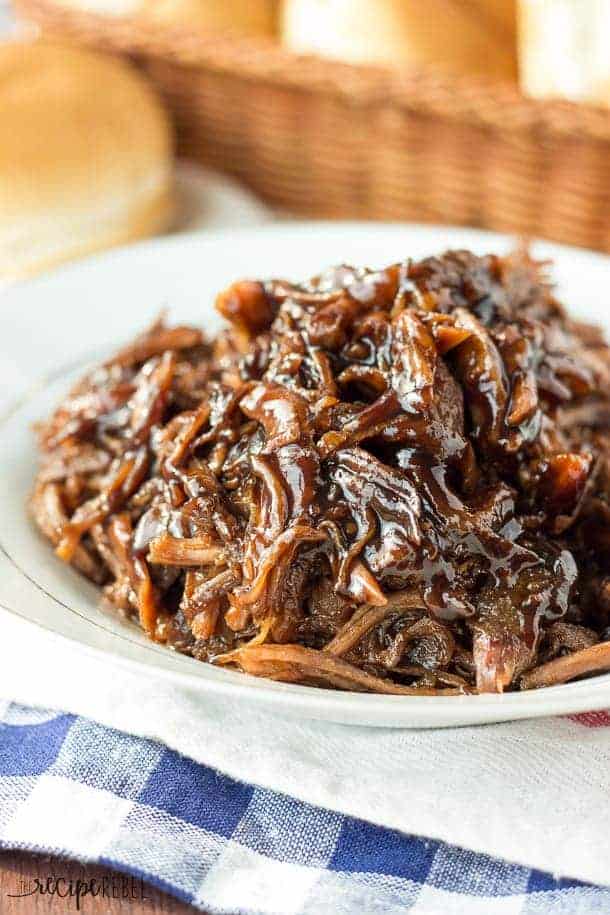 You can also use this recipe to make this Glazed Lemon Monkey Bread!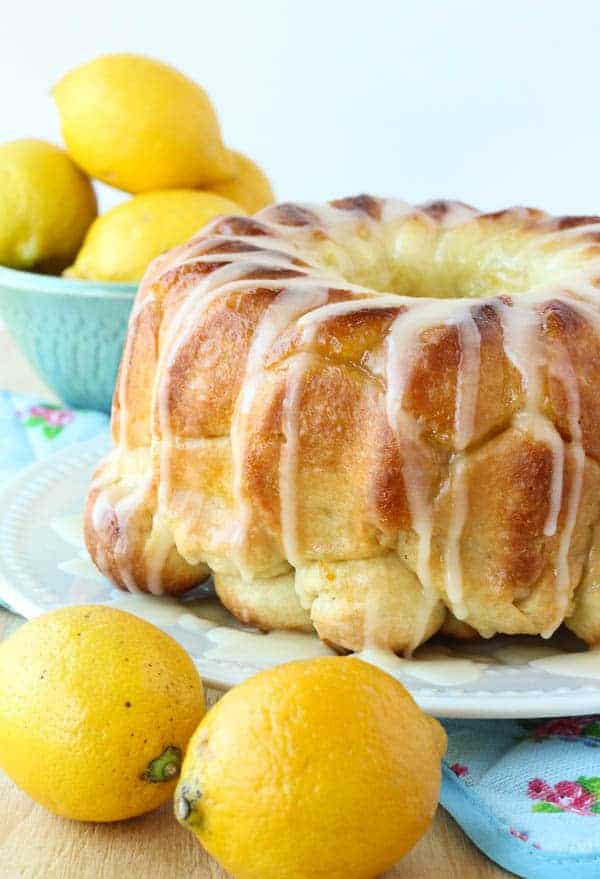 More great baking recipes!
Cinnamon Roll Swirls from Savory Nothings.
Chocolate Peanut Butter Cinnamon Rolls from Food Faith Fitness.
Nutella Rose Buds from Will Cook for Smiles.