A fruity, juicy filling on a buttery shortbread crust — the perfect dessert for Spring or Summer! Change up the juices and fruits to suit your tastes, or use what you have! This recipe makes a large pan so it's perfect for a potluck or family barbecue.
You know that time when you were about half way through a recipe and you went to grab one of the essential ingredients from your fridge and it just was not there? And you swear that you just bought some and it's probably hiding on you somewhere, and that's understandable because you just moved (almost 3 months ago…)?
Me neither.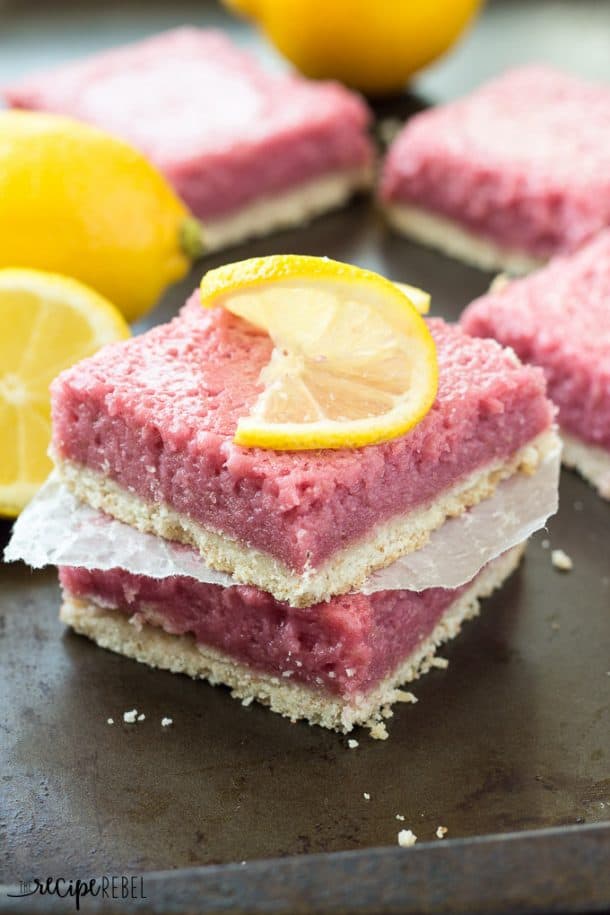 Kidding. Story of my life.
And it's not like I don't try really hard to keep my fridge, pantry and freezer stocked. It's just that I'm sometimes still in disbelief about how quickly we can go through food, seeing how it is just myself, my husband and our little girl who are eating it.
There are times when I'm struggling to push my shopping cart piled high with groceries through the aisles of the supermarket, putting every ounce of my strength into each turn, and I feel like people watching must think I have 5 kids at home.
Those are the people without kids, obviously, because people with kids know.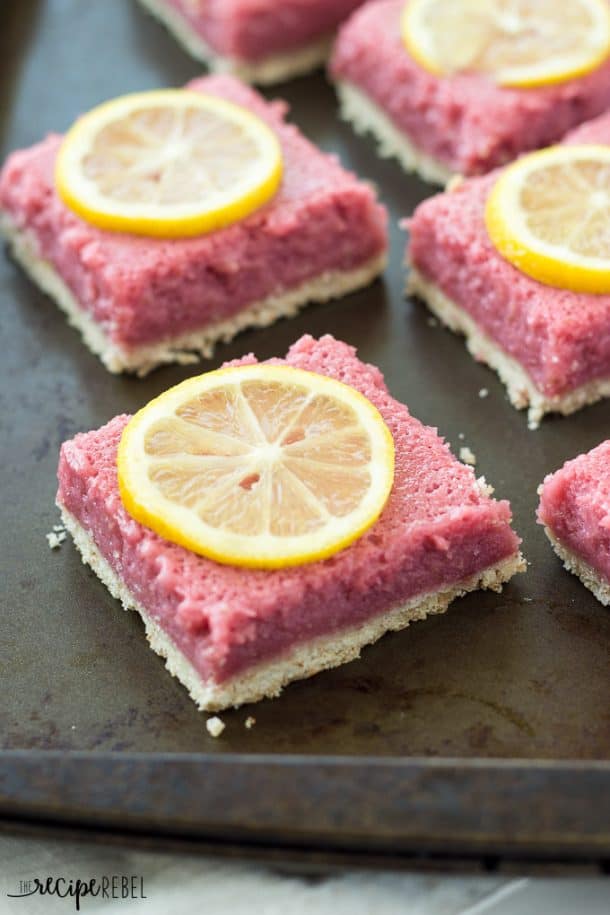 Clearly I need to be more on top of my game, and maybe I wouldn't be stressing half-way through each recipe thinking "what am I going to substitute for that??" and frantically searching my kitchen for something appropriate.
Then again, I'm not sure what I would call myself if I ever was completely prepared for a recipe or didn't add my own touch to everything that comes out of my kitchen, so I guess I'll just carry on and pretend like it's an integral part of my kitchen personality.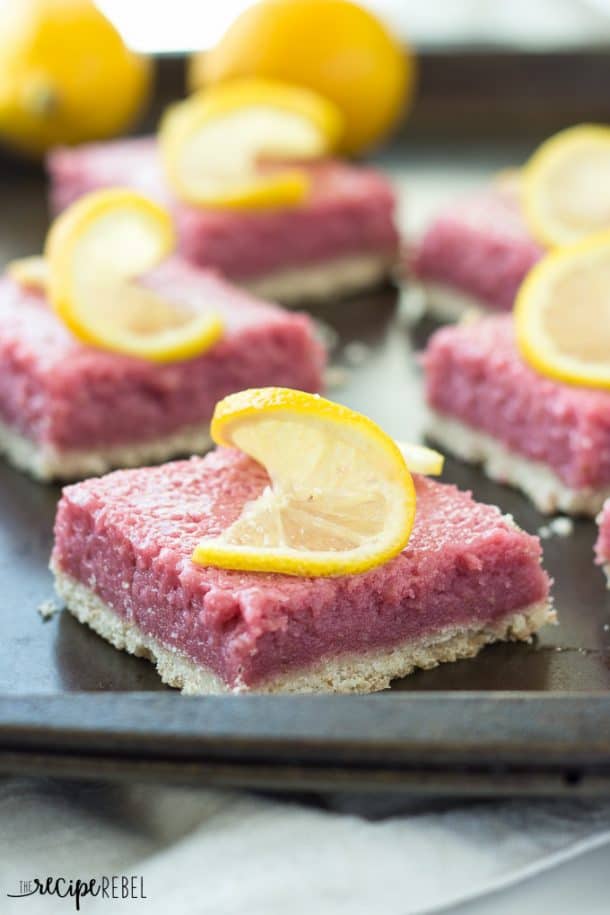 All that being said, I was so happy with the way these turned out in the end. I didn't have enough lemon juice to stick with a strawberry lemon bar, so I substituted some pineapple juice and I loved the result!
These bars taste like summer. They're perfect for Spring, when you're still willing to turn your oven on and maybe fresh strawberries haven't quite reached your area yet. Perfect for when you're longing for a taste of fresh, fruity perfection!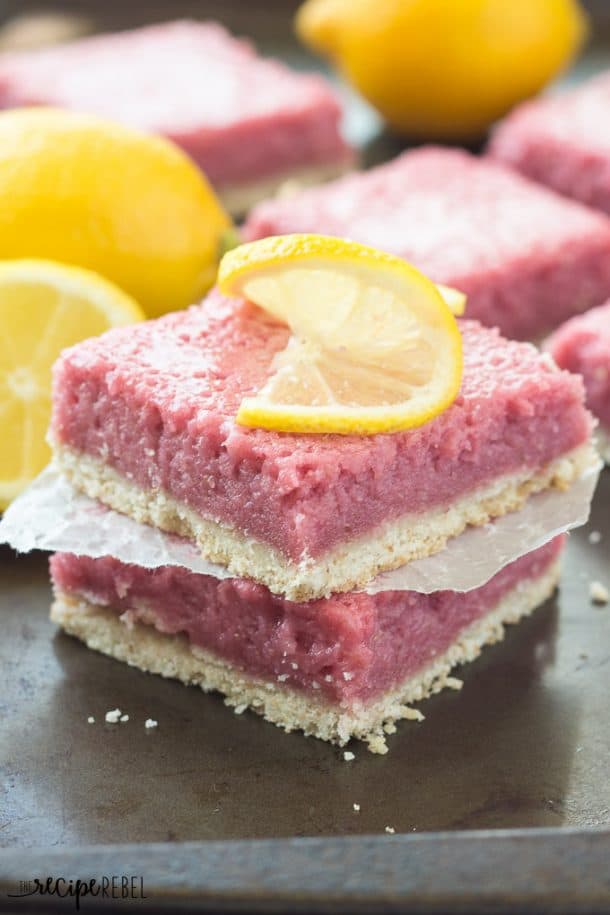 *Recipe and photos updated June 12, 2015 from original from March 25, 2014.
1 9x13" or 10x15" pan (about 20-25 bars)
adjust servings
Strawberry Pineapple Lemonade Bars
Fresh and fruity bars flavoured with strawberry, pineapple and lemon -- a taste of summer!
Ingredients
For the crust
1

cup butter (2 sticks), softened

1/2

cup sugar

2

cups flour

Pinch of salt
For the filling
3

cups sugar

5

eggs

1/2

cup lemon juice

3/4

cup unsweetened pineapple juice

1 1/3

cups all-purpose flour

pinch of salt

3.5-4

cups strawberries* (*I used frozen, thawed. Fresh would also work, but you might have more trouble getting the juice out. Or substitute any berries you like)

icing sugar, for dusting
Instructions
Preheat oven to 350 degrees F (If using a dark non-stick pan, I recommend baking at 330-335 degrees F and adding a few extra minutes). Line a 9x13", 10x15" or 12x16" pan with tin foil and spray with non-stick spray. I've used a 9x13" and a 12x16". The bars pictured were made in a 12x16" pan, and they're plenty thick!)
Combine butter, sugar and salt in a stand mixer. Add in flour and beat until just combined (mixture will be crumbly). You can always combine the mixture with your hands.
Press evenly in the bottom of the pan. Bake 10-15 minutes, until crust feels slightly dry on top.
Combine sugar, eggs, flour, juices and salt in a large bowl with a whisk. Puree berries in a blender, food processor or Magic Bullet (I got 2.5-3 cups berry puree). Press through a sieve or fine mesh strainer into the bowl with the egg mixture. Whisk to combine. Pour into crust and bake 30-45 minutes until filling is completely set. A 9x13" pan will need between 40-45 (mine baked 43 minutes) minutes and a 12x16" pan needed about 30 minutes.
Cool completely before cutting into bars (I let mine sit in the fridge for a couple hours after they come to room temperature). Dust with icing sugar if desired.
Recipe Notes
*The second time I made these I used half whole wheat flour and they were still great!
*You can use more or less of whichever juices you desire! Feel free to mix and match.
Recipe adapted from Sophistimom.
You might also like these Lemon Berry Cheesecake Trifles!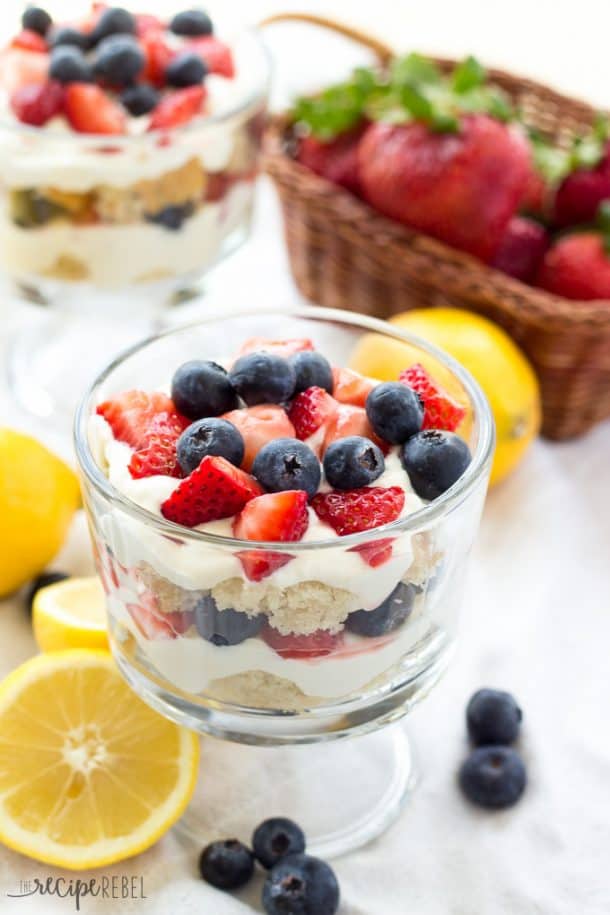 Or this Glazed Lemon Monkey Bread!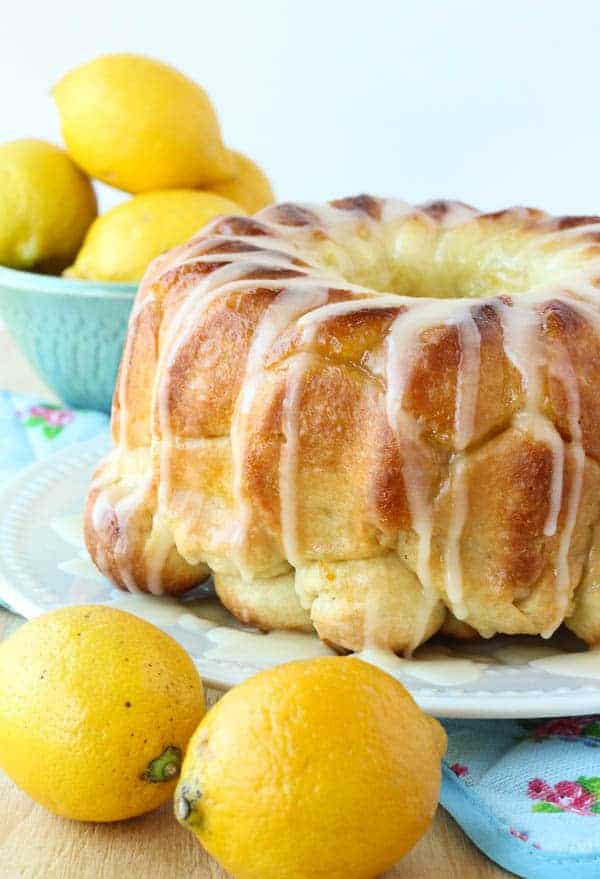 More Spring treats from friends!
Pineapple Upside Down Monkey Bread from Lemon Tree Dwelling.
Berry Lemon Cheesecake Cookie Cups from Life Love and Sugar.
Berry Limeade Bars from Mariah's Pleasing Plates.