Sweet and spicy slow cooked chicken makes taco night new again. I love using my crockpot for easy, weeknight meals!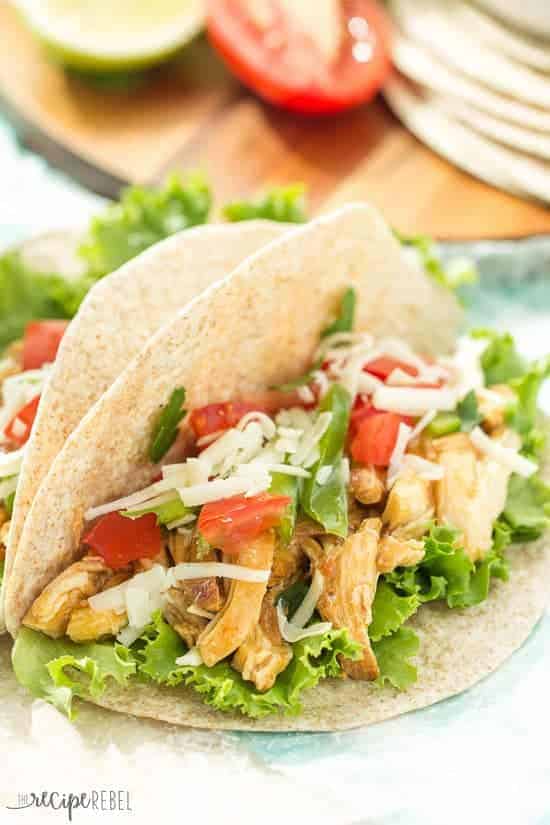 So this was the first time a bottle of Sriracha sauce ever made it into my house.
Am I crazy? Have you guys been loving on this stuff for a while now?
I have to admit, I still find it craaaaaazy spicy. I'm not putting the stuff undiluted onto anything that's going into my mouth.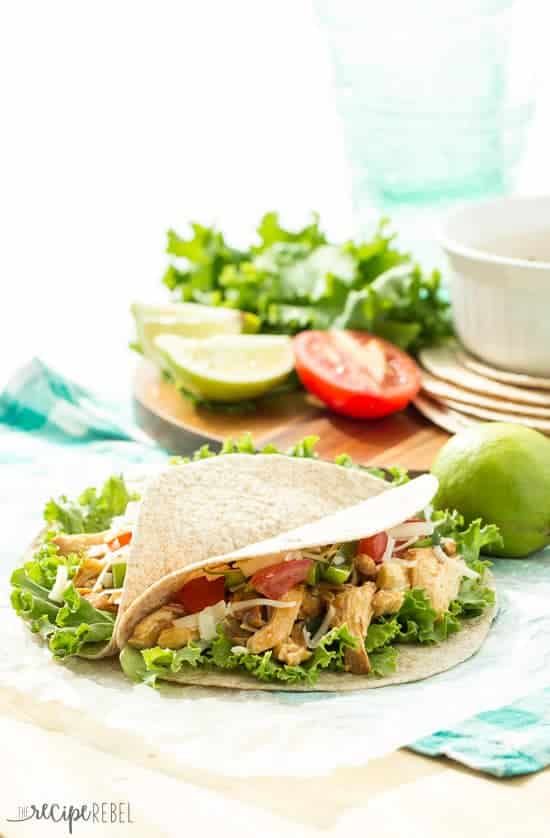 But after I saw a recipe for Grilled Honey Sriracha Chicken in the Better Homes and Gardens September issue (page 109!), the wheels started turning. I love a good sweet and spicy anything, and I could totally see how the honey and the lime would balance the sriracha beautifully.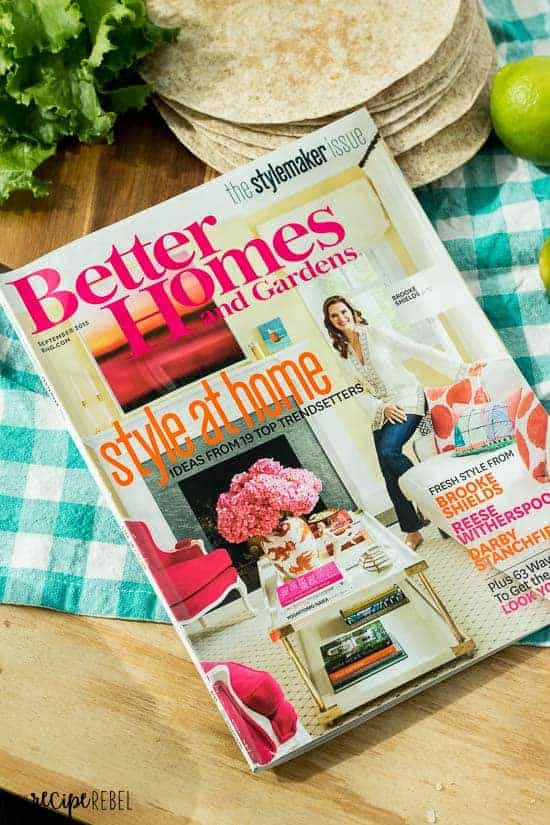 It's September though, and I already find myself craving fall comfort food and hearty slow cooker meals. I figured this honey sriracha business would make a mean taco. I was right.
When I'm looking for new recipe ideas, one of my favorite places to go is to my cookbook and magazine stash. There is just something way more relaxing about perusing a physical book or magazine, and flipping pages, than scrolling through recipes online.
How about you? Are you the same way? Better Homes and Gardens is offering a 1 year subscription right now for $4.99 USD, so you can have your dinner inspiration sent straight to your mail box every month! Just use the coupon code reciperebel when you place your order.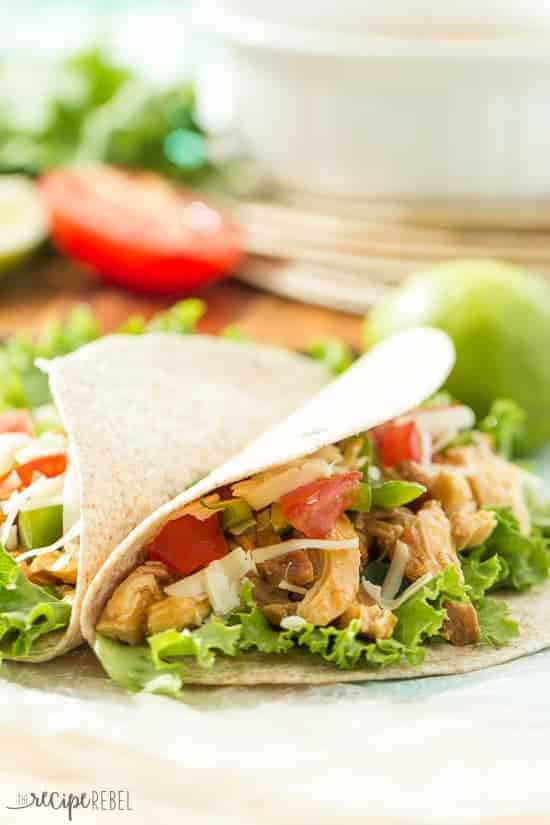 This is one of the reasons I don't think I can ever own a Kobo/Kindle/Kaboodle ever in my life. I have a think for print literature, and I don't see myself ever feeling differently.
So when I got the opportunity to turn to the gorgeous Better Homes and Gardens magazine for some inspiration this month, I was thrilled. I just love looking through the recipes and dreaming up different ways to make them my own.
I had about 8 different ideas written down, but I went for the sriracha. I guess I had to see what all the fuss is about!
I toned my sauce down quite a bit, but you can easily taste as you go and up the sriracha if you need to! If you find it's not as spicy as you'd like it in the end, feel free to drizzle some on top of your tacos before you devour them.
Right now Better Homes and Gardens is offering a 1 year subscription for $4.99 ($1 off the online price!)  with the coupon code reciperebel and I kind of think that's an offer you shouldn't refuse. Sitting back with a magazine and a cup of coffee/tea/beverage of choice is one of the best ways to relax and gather some inspiration for dinner or to get those things done that you've wanted to do for a long time! You can get it here.
Here's my take on the Honey Sriracha Grilled Chicken: Slow Cooker Honey Sriracha Chicken Tacos!
Slow Cooker Honey Sriracha Chicken Tacos
Sweet and spicy slow cooked chicken makes taco night new again. I love using my crockpot for easy, weeknight meals!
Ingredients
3 boneless, skinless chicken breasts
1/4 cup Sriracha sauce
1/4 cup honey
2 cups chicken broth
4 tbsp lime juice
1-2 tbsp corn starch
1-2 tbsp water
Whole wheat tortillas
Lettuce
Tomatoes
Sliced peppers
Shredded cheese
Fresh lime wedges
Directions
Place chicken breasts in the bottom of the slow cooker.
In a medium bowl, combine Sriracha sauce, honey, chicken broth and lime juice and whisk until smooth. Pour over chicken.
Cook on low for 5-6 hours or until chicken shreds easily (I had mine on Low for 6 hours and then Warm for 2-3 hours and it was still perfect and juicy!). Remove chicken from the slow cooker and shred.
Strain cooking liquid into a medium pot and heat to simmering over medium heat. Combine 1 tbsp corn starch and 1 tbsp water and whisk into the cooking liquid. If you want the sauce even thicker, combine remaining 1 tbsp each corn starch and water and add to the cooking liquid. Taste sauce and adjust seasoning as desired, adding more Sriracha, honey, or lime if needed (I added an extra squeeze of lime to mine).
Stir together shredded chicken and thickened sauce. Serve on tortillas with lettuce, tomatoes, peppers, cheese and fresh lime wedges (and extra Sriracha sauce if desired!)
Recipe Notes
This is an easy dish to make ahead: simply stir together the sauce the night before and leave it in the fridge. In the morning before you head out just add the chicken to the slow cooker and dump the sauce over.
*Note: Nutrition information is estimated and will vary depending on the exact serving size, types and brands of products used.
Loading nutrition data...
 More Sriracha love!
Zesty Sriracha Shrimp and Quinoa from Julie's Eats and Treats
Easy Sriracha Ham from The Food Charlatan
Sweet and Spicy Sriracha Bacon Chicken Bites from The Gunny Sack
This is a sponsored post written by me on behalf of BHG. The opinions and text are all mine.