These Samoa Shortbread Bars come have a shortbread crust, easy caramel filling and are topped with chocolate and toasted coconut! A DIY Girl Scout cookie in bar form 😉
*Post and photos updated from March 27, 2014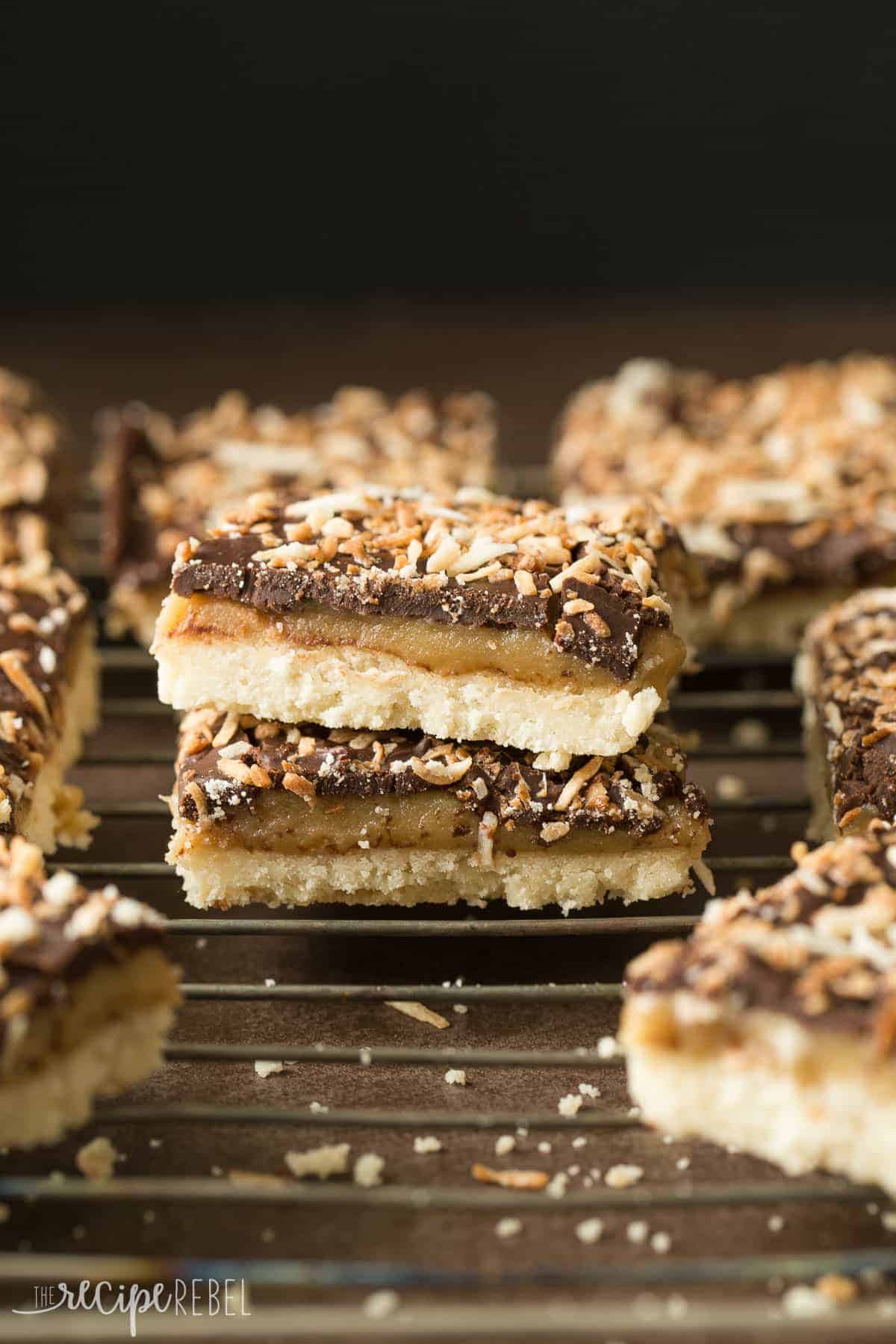 I'll be the first to admit I don't love shortbread.
Generally, I just don't like food that is hard. And shortbread is hard.
I'd much rather be eating a gooey, slightly underbaked chocolate/peanut butter/butterscotch/white chocolate chip cookie. Or pretty much anything that is soft, gooey or chewy-in-a-good-way. And a hard, crunchy crust that's topped with a gooey, caramel filling? That's the way to my heart.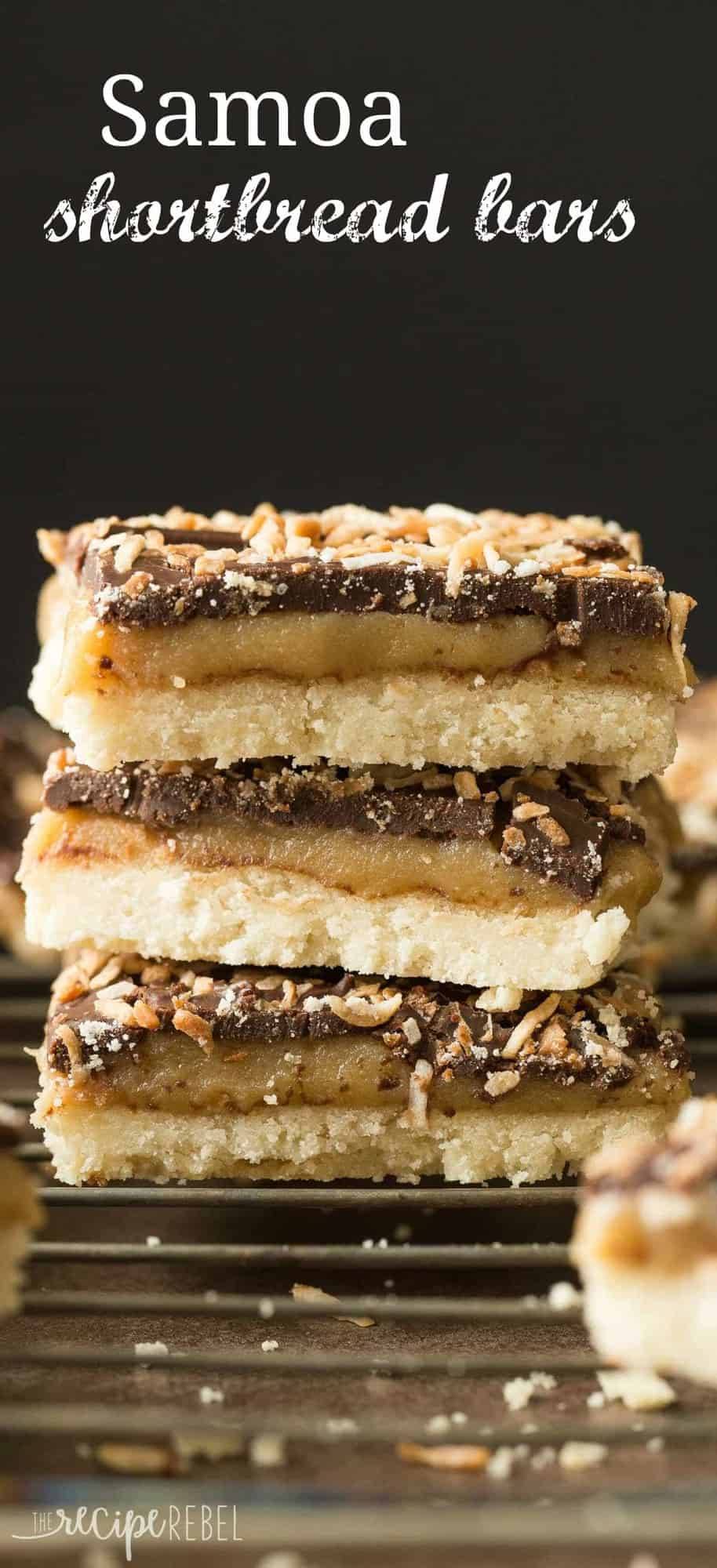 I guess I get that from my mom. She is one to always knock a couple minutes off the bake time and hold on to some of that gooey-chewy goodness. Growing up, her buns and her cookies were always, always perfectly baked. Think not a second past light golden brown.
I find that I now set the timer for a good 5-10 minutes shorter than what the recipe calls for and then anxiously watch the oven for that perfect second.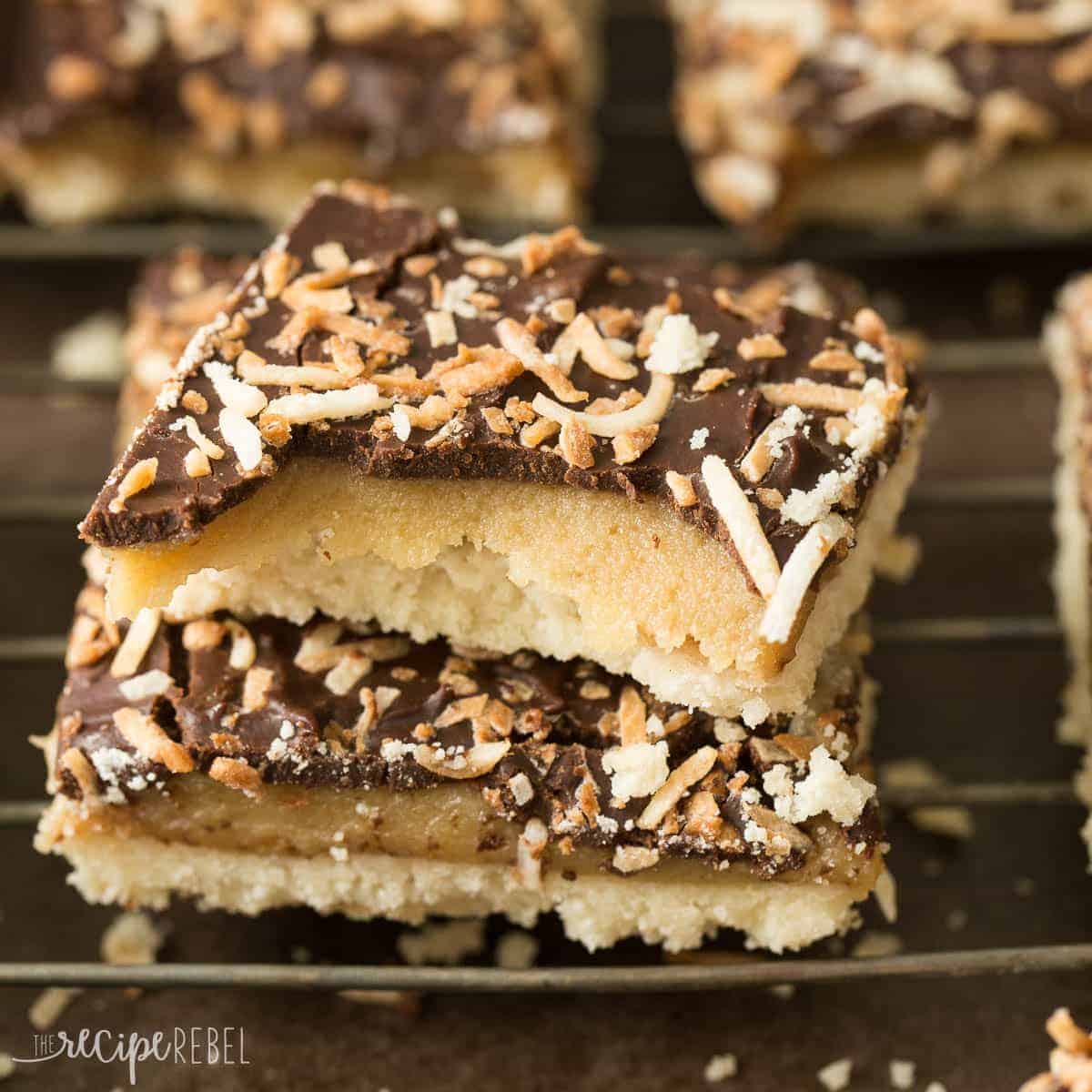 But as a mother of a toddler, and the queen (I wish) of multi-tasking, sometimes I wander a little too far or get a little too busy doing other things and time slips away from me.
And then I am bolting for the kitchen and pulling my pans out as quickly as I can, dramatically wailing, "it's BURNT!" for my audience of two and putting on my biggest "I'm-just-a-big-failure" pout.
This is when my husband walks over and says, "it's golden brown."
And I reply, "it's dark golden brown!"
*Sigh* Oh… the dramatic lives we live.
Anyway, back to these shortbread bars. Plain shortbread is a no for me. But a shortbread crust designed to be an edible plate for caramel, toasted coconut and chocolate? Divine.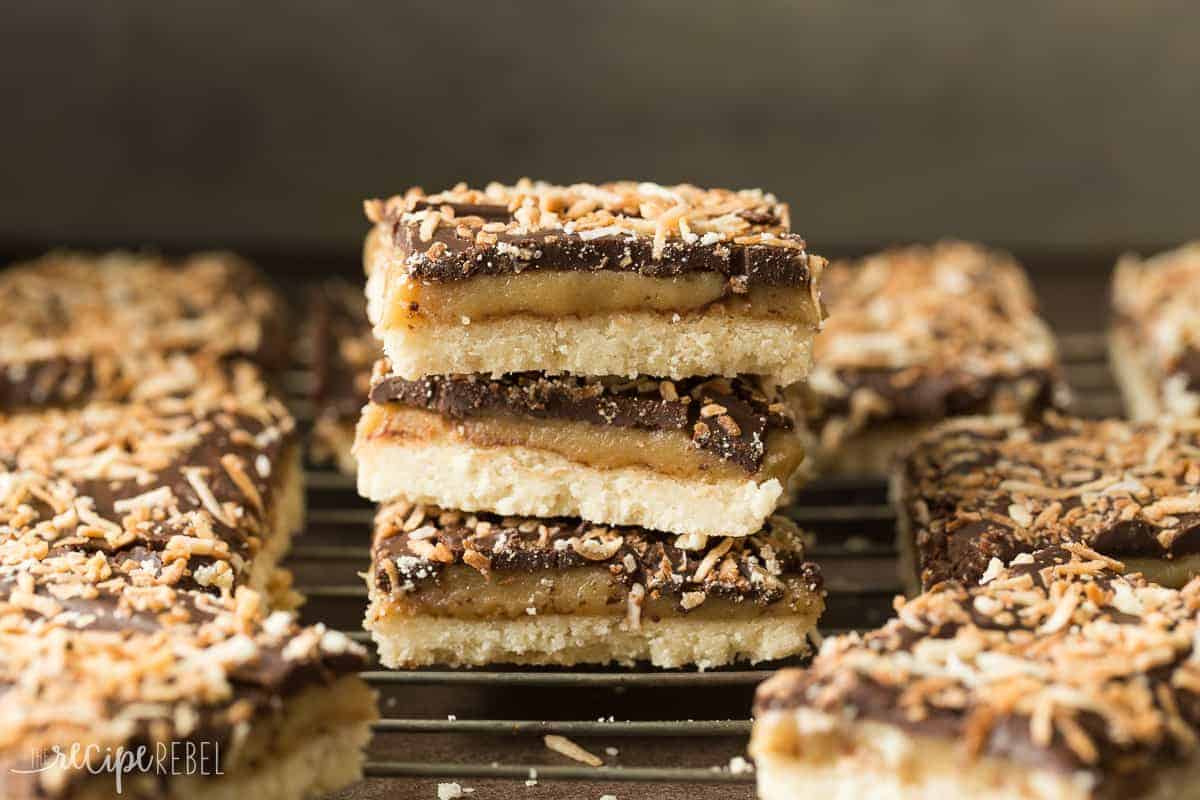 My mom often made these when we were growing up, minus the toasted coconut. I was dreaming of these bars when I thought since the chocolate and caramel were already there, it was a shame not to have any toasted coconut. I am a bit of a samoa fanatic. These bars are samoa heaven.
To see instructions for toasting coconut, see my No-Bake Samoa Cookie recipe.
Samoa Shortbread Bars
Gooey caramel, toasted coconut and semisweet chocolate sitting on a buttery shortbread crust.
Ingredients
For the base
1 cup butter (2 sticks), softened
1/2 cup sugar
2 1/2 cups flour
For the filling
1 cup toasted sweetened, shredded coconut
1 cup brown sugar
4 tbsp corn syrup
1 cup butter or margarine
1 can sweetened condensed milk
1/2 tsp coconut extract
For the topping
1 1/2 cups semisweet chocolate chips
2 tbsp butter
Directions
Preheat oven to 350 degrees F.
Combine butter, sugar and flour for base in a stand mixer and mix until crumbly (you can also do this with a pastry cutter or your hands). Press into the bottom of a 10x15" pan (you could use a 9x13", but you will have thicker bars).
Bake 12 minutes or until slightly golden. Remove from oven, sprinkle with ½ cup coconut, and let cool while you prepare the filling.
Combine sugar, corn syrup, butter, and sweetened condensed milk in a large pot. Heat over medium heat until it comes to a boil, watching carefully and stirring often.
Boil 5 minutes, stirring constantly. Add coconut extract. Pour over the coconut on the crust. Let cool completely before add the chocolate.
In the same pot, melt the chocolate and butter slowly over low heat, stirring often. Spread over the caramel layer and sprinkle immediately with the rest of the toasted coconut, pressing it lightly into the chocolate.
Cool completely before cutting into bars.