So we were on holidays a couple of weeks ago and my parents took the whole family on an Eastern Caribbean cruise.
My husband and I had been on one other cruise together, a Mediterranean cruise, and I really enjoyed it. Mostly, I enjoyed being able to eat whatever I want, almost whenever I want, and as much as I want.
I mean that's, really what vacation is all about, right? The food?
Anyways. I guess I enjoyed myself a little much.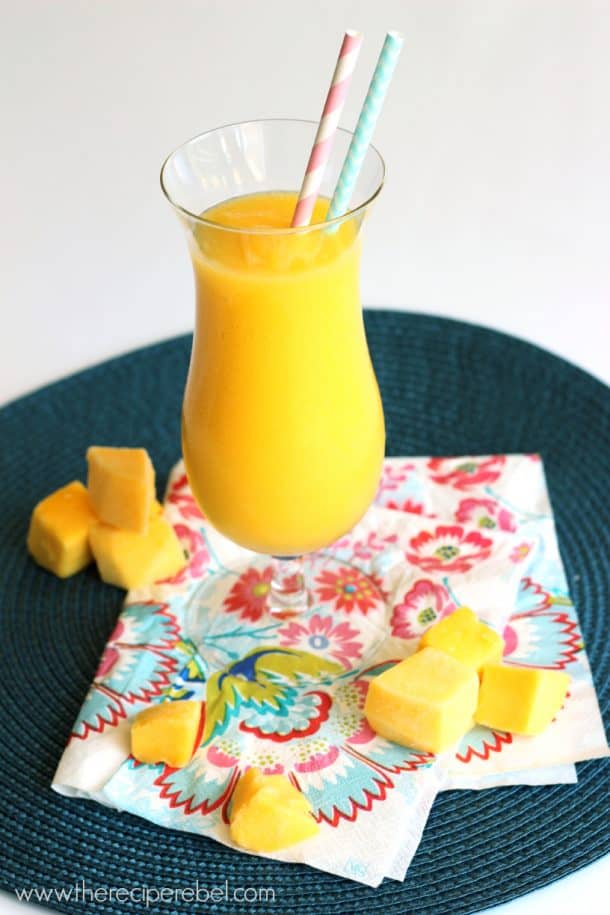 Being pregnant, I am supposed to gain about a pound a week. I always aim to stay pretty close to that, because otherwise when the baby comes out I find out how much was really chips and ice cream. And I can eat a lot of chips and ice cream these days.
So let's just say I was a little bit over my goal. My pregnant body lets nothing slide.
And, again, I'm not into crazy diets or extreme measures, but I figured it'd probably be good for me if I try to balance out the hundreds of pieces of cake, bowls of ice cream, burgers and fries with a little extra produce now that I'm home and don't have someone who's going to make me 6 different kinds of chocolate cake to try every day.
I enjoy baking, but it's summer. And I'm lazy.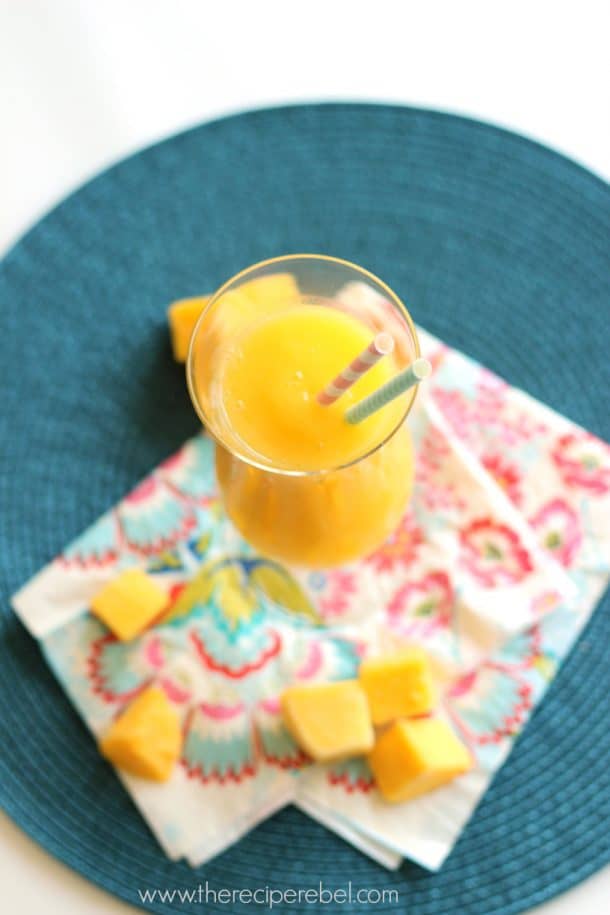 So I found some frozen fruit on sale and decided to stock up to use it in drinks and smoothies. My blender and my slow cooker are tied for Favourite Summer Appliance. I love icy drinks.
I usually go for a homemade frappucino of some sort, but I drank a little extra coffee this morning to gear up for Potty Training Day #2 (which is a whole other story) and I'm also supposed to be limiting my caffeine intake…
I know you're all like, "Woman, this is hardly a recipe. There are 3 ingredients, only 2 of which really count, and the other 2 can be swapped out for just about anything."
It's true. But I've never made anything like this before. And it's fizzy, icy, fruity refreshment. And it's summer. And if you use diet soda or sugar-free juice, it's under 100 calories. So here it is.
Ingredients
1

cup frozen mango

1

cup lemon lime soda (diet or regular)

1/2

cup ice
Instructions
Blend all ingredients together until smooth.
Yep. That's it.
Recipe Notes
*You can obviously swap out the mango for any frozen fruit, and the soda for any flavour or juice, and increase the amounts as you like.