A light, luscious, no bake Lemon Cheesecake with a secret ingredient that makes it even healthier! Top with whipped cream and fresh berries for the perfect Spring or Easter dessert.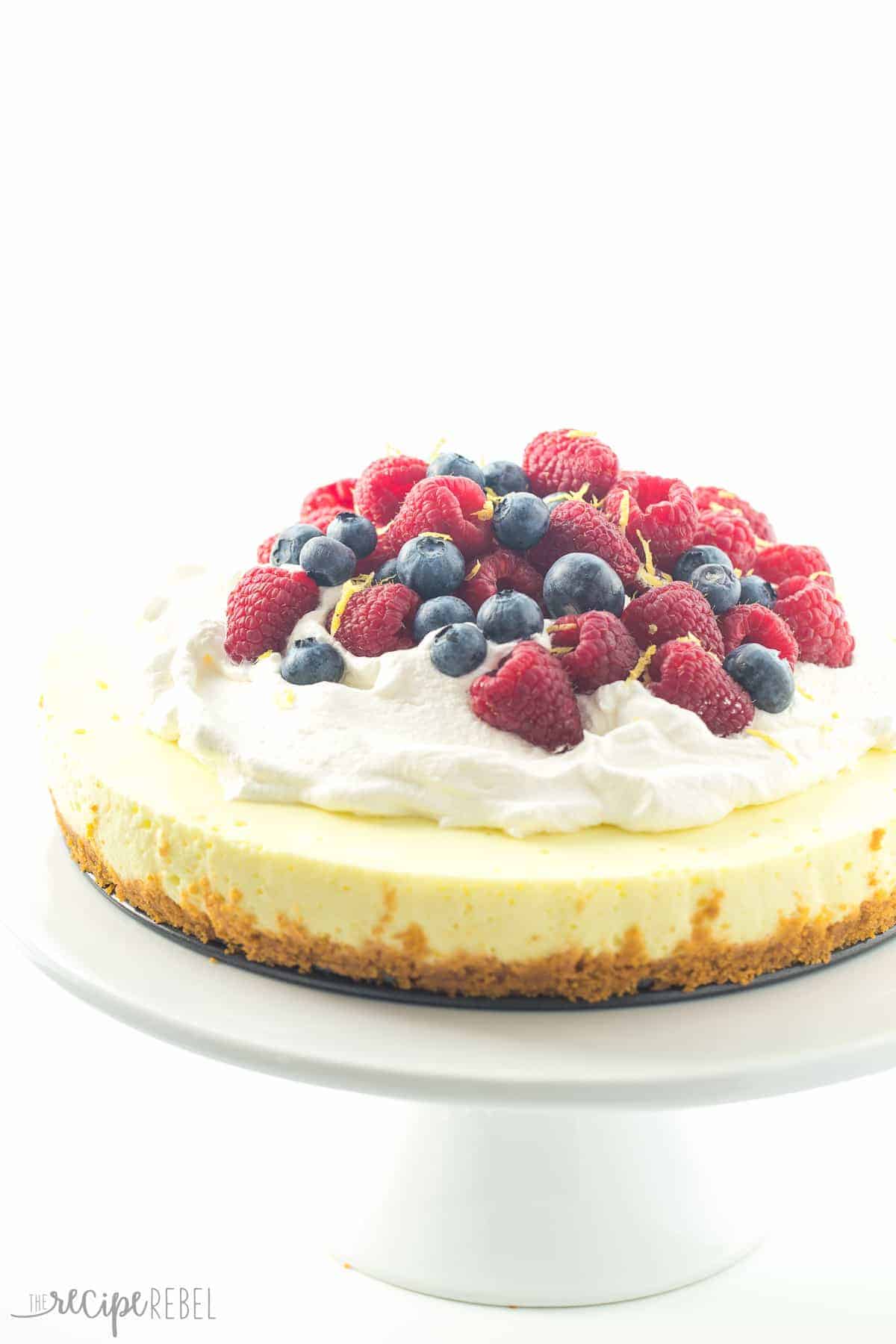 Hands up, lemon lovers!
So, I'm a big time Lemon Lover (Lemon Monkey Bread, Lemon Blueberry Doughnuts, Lemon Chicken — you name it). But it hasn't always been this way.
And no, I'm not going to tell you the story of how I used to hate lemon every single time I make a lemon dessert. Maybe I'll save that story for my lemon dessert next week 😉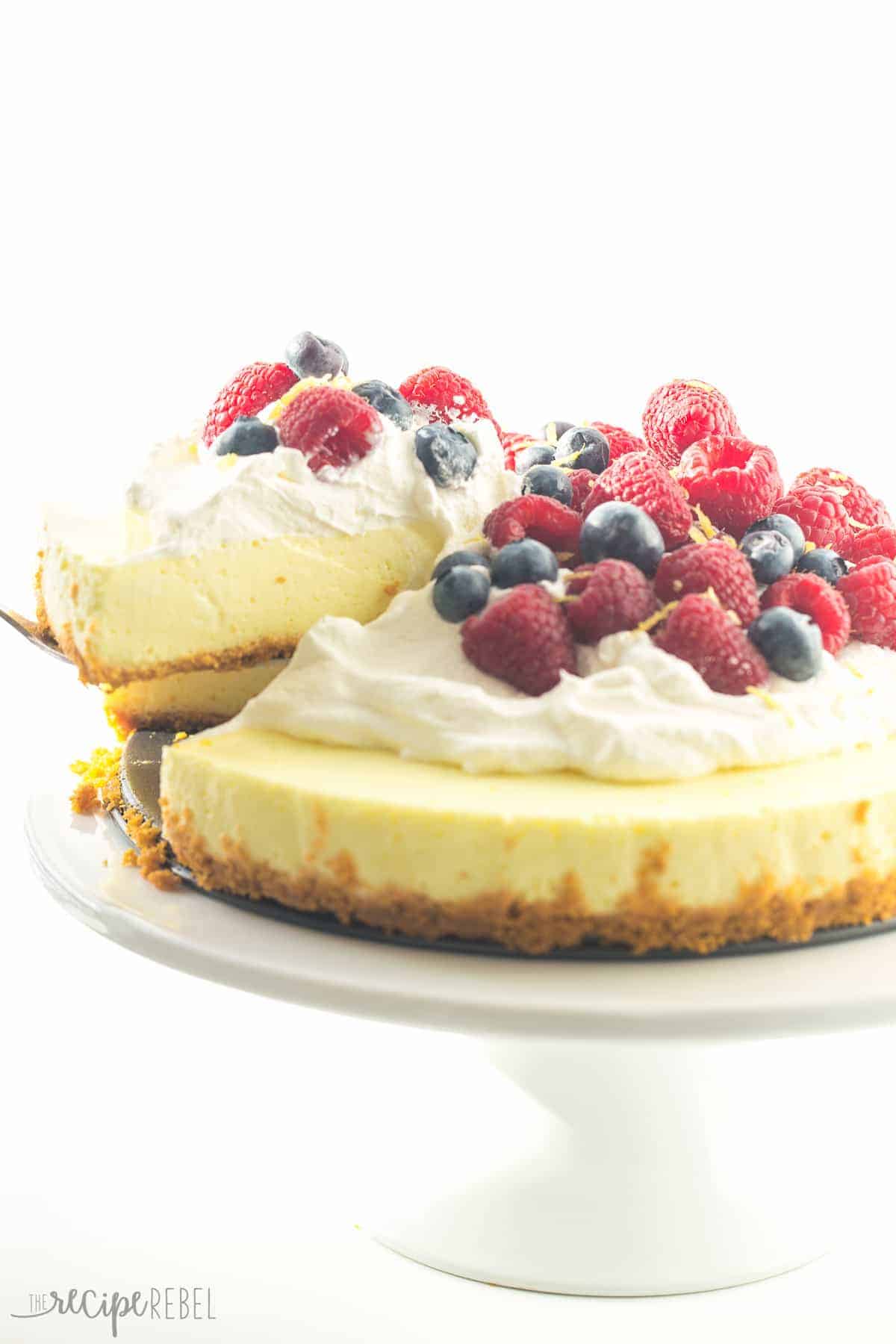 Now, before you go and skip ahead to the recipe and get all mad about it, let me just tell you one thing: this recipe uses lemon JELLO.
And if that's something you're vehemently opposed to, that's okay. You are probably not going to want to make this recipe. (But stay tuned for my next lemon dessert coming next week which is the real deal and totally, unbelievably delicious!)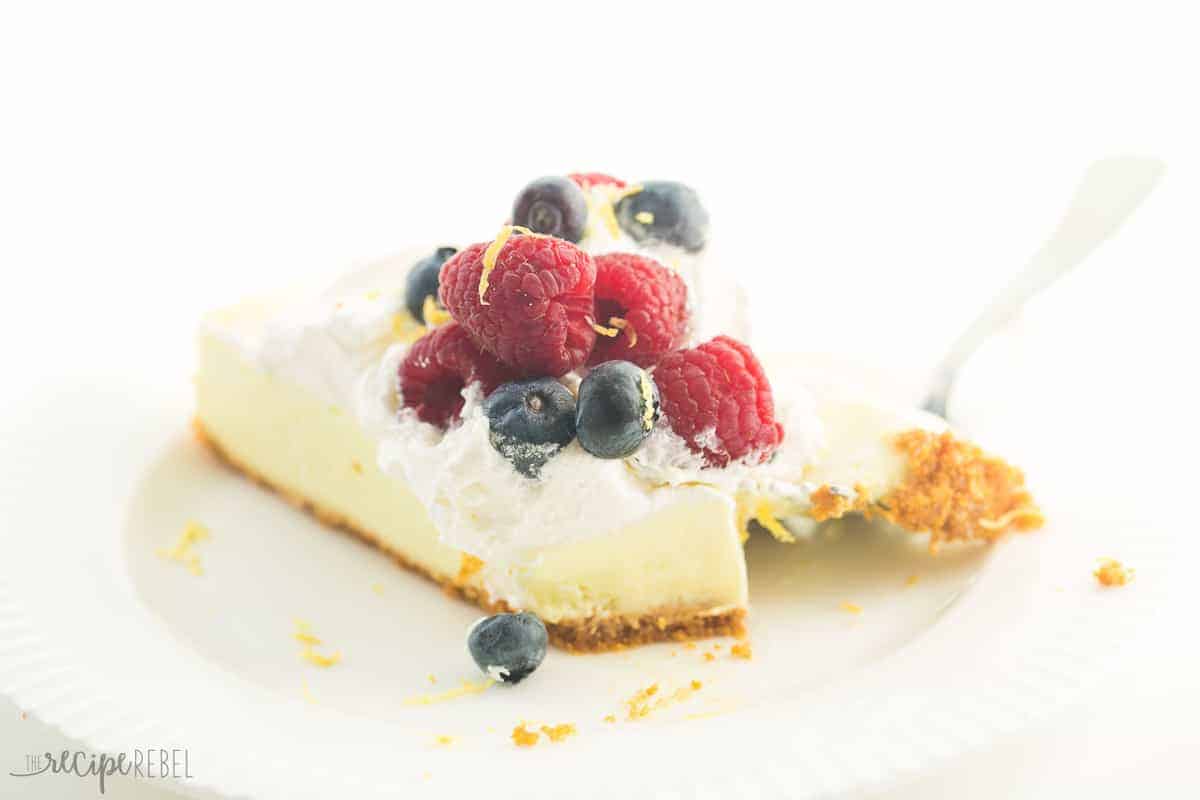 I cook and bake the way my mom and my grandma cooked and baking when I was growing up. Most of the time, I cook and bake completely from scratch, from whole foods and real ingredients. And although my cupboards are full of cake mixes and emergency boxes of KD, I don't use them very often at all. That being said, occasionally I do, when I'm in a hurry and sometimes when I'm not.
Because I don't feel that the occasional box of Jello in a dessert is going to kill me or drastically change my quality of life. I take good care of my body, and I enjoy the foods I want to enjoy in moderation (and sometimes in reckless abandon).
That being said, if you maybe just don't like the lemon Jello flavor, you could easily substitute any flavor you like! Raspberry or strawberry would be awesome with some fresh berries on top!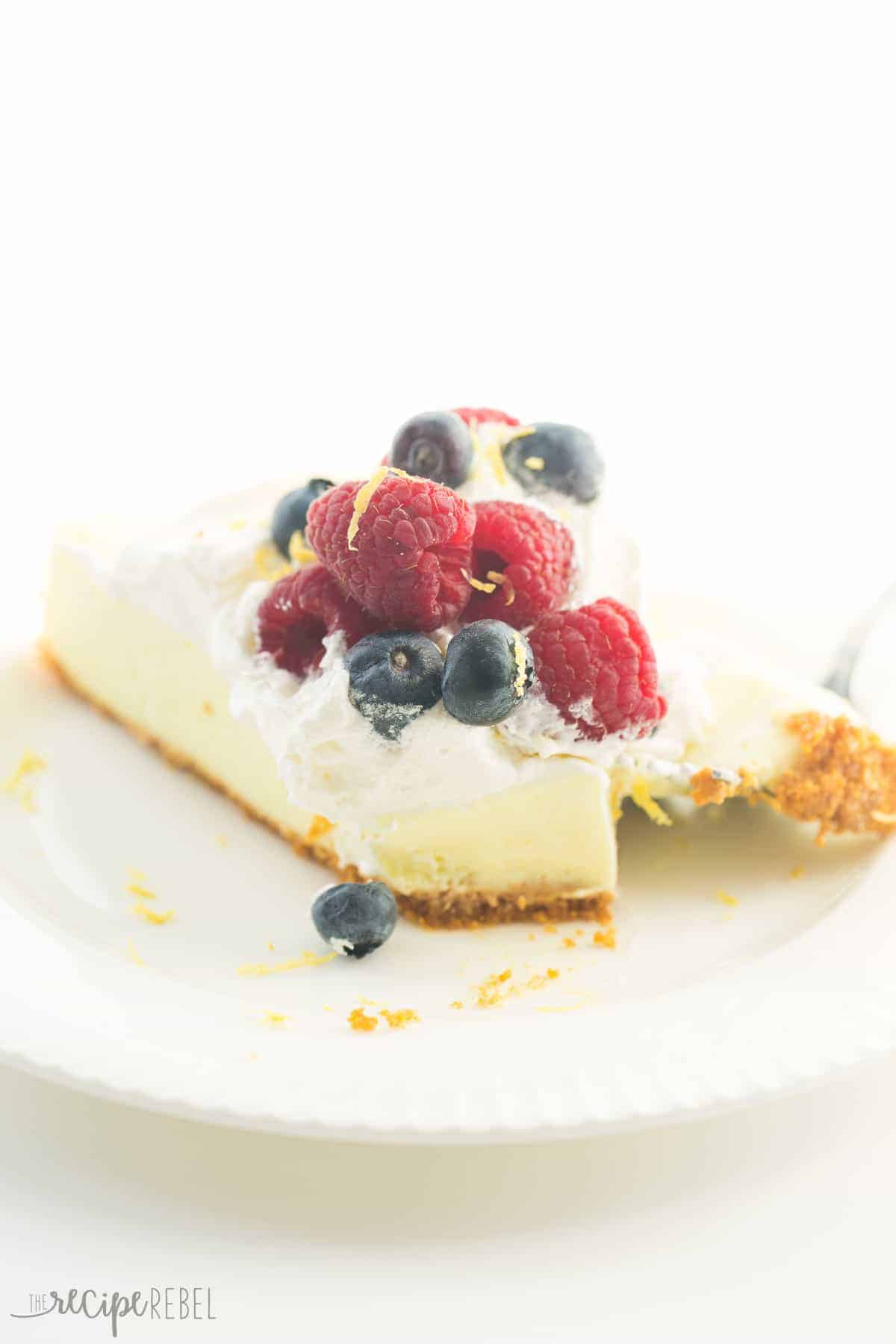 This recipe swaps out the traditional cream cheese for low fat cottage cheese, and though I am a stubborn Cottage Cheese Hater, I will actually use cottage cheese in recipes when it's pureed and completely smooth (like these Light Chocolate Cheesecakes!). It makes for a creamy cheesecake high in protein and still gives you the tangy cream cheese flavor.
And unlike my Almost No Bake Mint Chocolate or Turtle Cheesecakes, this one is completely no bake, which means the crust isn't baked to begin with! You can really go either way on any of the "no bake" cheesecakes though. Baking the crust for 10 minutes will help it stay together — so if you want to remove the cheesecake completely from the Springform pan, baking the crust for 10 minutes in a 350 degree oven is probably not a bad idea. But if you'd rather not turn on the oven? Don't! The cheesecake as shown here was not baked at all.
12 servings
adjust servings
Light No Bake Lemon Cheesecake
A light, luscious, no bake Lemon Cheesecake with a secret ingredient that makes it even healthier! Perfect for Easter or Spring!
Ingredients
1

package (4 serving size) lemon Jello powder

1

cup boiling water

1

cup graham cracker crumbs

2

tablespoons butter, melted

1

tablespoon canola oil

3

cups low fat cottage cheese

1/4

cup granulated sugar

Whipped cream or whipped topping

Fresh berries and lemon zest for garnish
Instructions
In a medium bowl, whisk together lemon Jello powder and boiling water until smooth. Set aside to cool slightly.
In another medium bowl, combine graham cracker crumbs, butter and canola oil. Press firmly into the bottom of a 8 or 9" Springform pan (a pie plate would work just as well!).
Add cottage cheese and sugar to a blender and puree until completely smooth. Add the Jello mixture and puree until combined. Pour into prepared crust and refrigerate until completely set (at least 4 hours).
Run a knife around the inside edge of the Springform pan to loosen the cheesecake. Remove the sides of the pan and garnish with whipped cream, fresh berries and lemon zest.
Recipe adapted from Taste of Home.
Lemon Cheesecake Bars from The Creative Bite
Lemon Raspberry Cheesecake Squares from Live Well Bake Often
No Bake Meyer Lemon Cheesecake with Chocolate Ganache Layer from Floating Kitchen