These Instant Pot Baked Potatoes are so easy, you'll never go back to the oven! Cook them with or without foil — they're tender in just minutes and perfectly fluffy and creamy! Includes step by step recipe video.
So here we are — right smack in the middle of an Instant Pot craze. I'll be the first to admit that I haven't always been on board with the thing, but I've given it a good shot and there are some things that I definitely love to cook in there.
These Instant Pot Baked Potatoes were one of my very first experiments in my pressure cooker, and one of the things that made me fall in love with it!
(Next was this Creamy Instant Pot Chicken Noodle Soup, this tutorial on How to Cook Frozen Chicken Breasts in the Instant Pot, and this recipe for Instant Pot Taco Meat from Frozen Ground Beef!)
I've used my Instant Pot 4 times in the last 3 days, and although there will be more Instant Pot recipes coming your way, I want them to be perfect before they show up here.
Pressure cooking has been a huge learning curve for me, as I'm sure it is for most people.
Thankfully, with electric pressure cookers it can be pretty easy, provided you have clear directions to follow — and follow them! (<– this one is difficult for me!)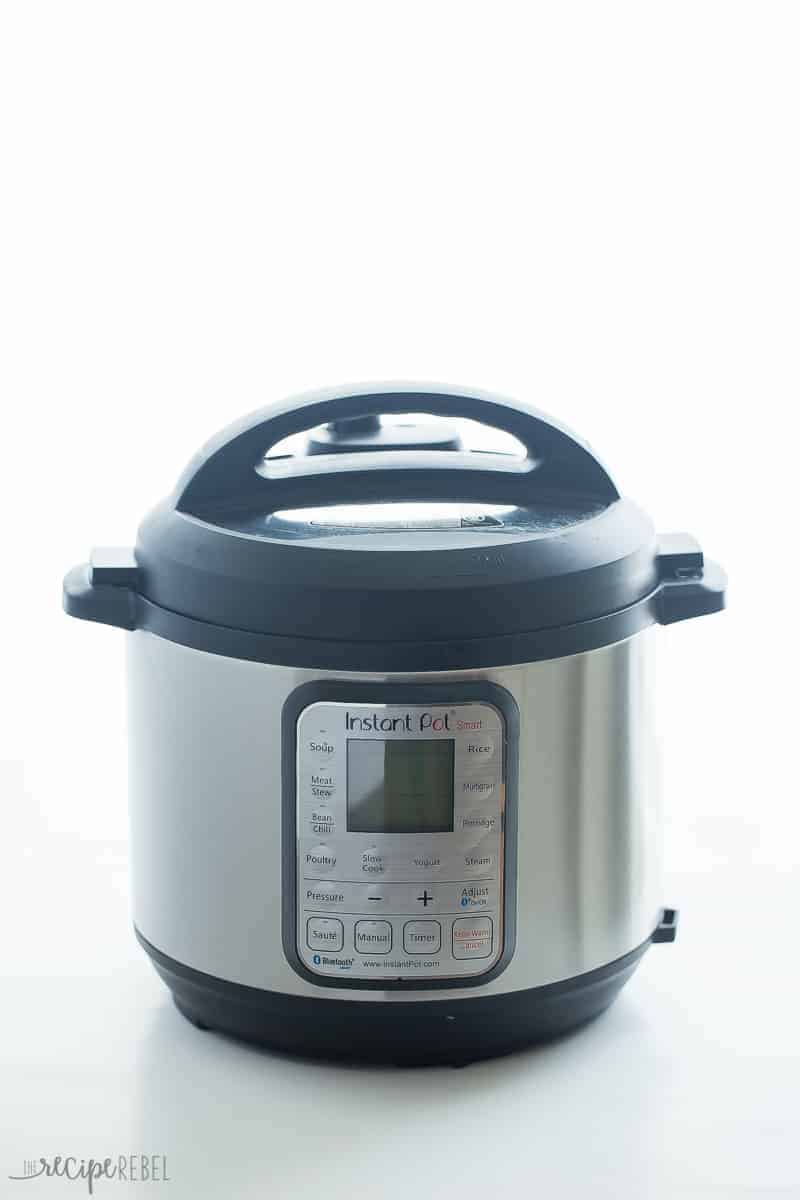 With a skillet or the slow cooker, it's pretty easy to just throw in random ingredients and see how it goes, and you can adjust things as you go.
With the Instant Pot, it's not quite so easy, because it takes so long to build pressure and release pressure before and after cooking time, you really want to make sure you get it right the first time (or plan ahead and give yourself an extra 30-45 minutes before you need to eat, just in case!).
I've had my share of dinnertime disasters that end up only being cooked an hour or two after supper is finished! We're going to try to avoid that here 🙂
I've made my share of things that are not that great. Instant Pot Baked Potatoes? Not the one I expected to win me over.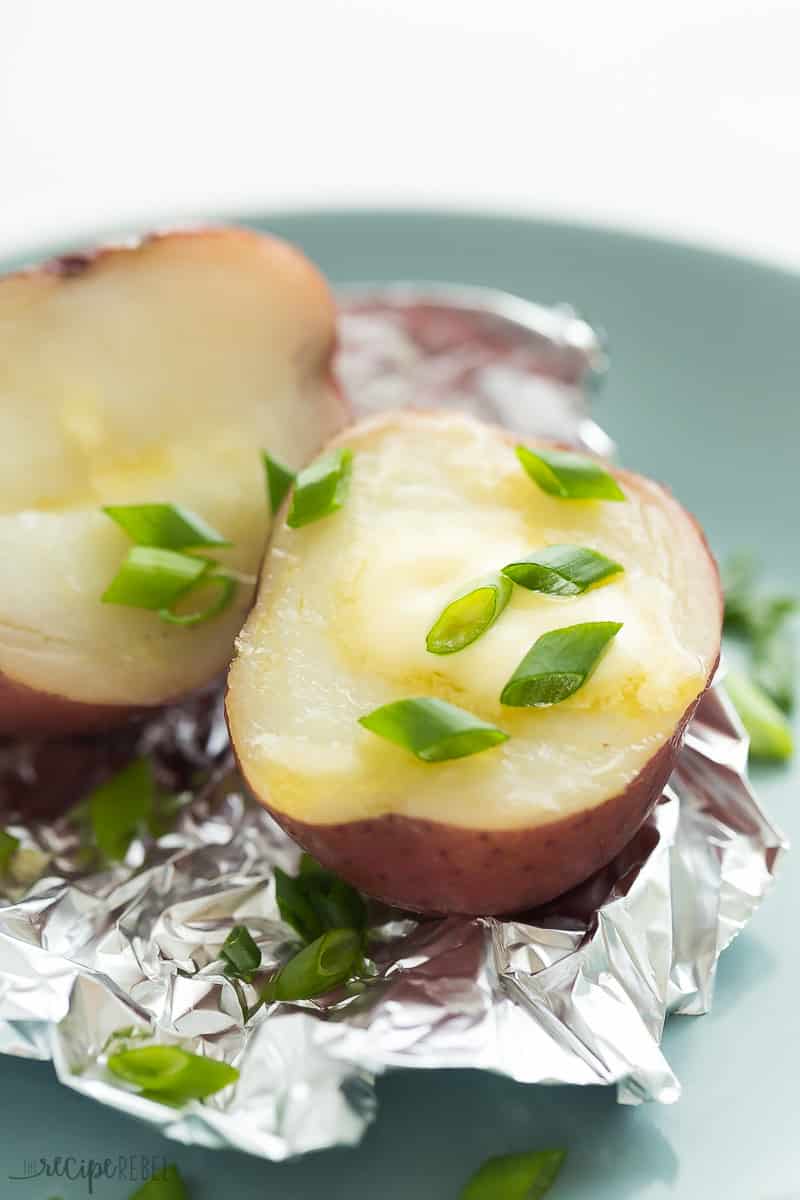 But they're amazing.
Baked potatoes can take forever in the oven, we all know. But in the pressure cooker? Minutes!
Tips and Tricks for Making these Instant Pot Baked Potatoes:
Wrap them in foil or just throw them right in the pot — I know a lot of people don't like cooking in foil and that is fine! I like to do foil when feeding a crowd because it makes it easy for everyone to grab one and go, but this is not necessary if it's something you don't like to do. The foil also keeps the seasoning, heat and moisture in after cooking.
Season before (in the foil!), or season after. You can slice the potatoes in half before wrapping and season with salt, pepper and other herbs and spices.
Make a little, or make a lot! Stacking the potatoes won't add any time to the cooking process.
Use red or russet potatoes. I just love red potatoes, for pretty much everything, but I know traditionally russet potatoes are preferred for baked potatoes. Since these potatoes won't get a crispy skin (thanks to all that steam), I prefer to use red potatoes because they have a smooth skin and creamy texture.
These potatoes turn out so creamy and fluffy thanks to the steam in the pressure cooker, I think they are 10 times better than any oven baked potatoes! If you try them, I'd love to hear how you like them or what your favorite Instant Pot recipes are!
If you don't have an Instant Pot and you're curious about them, this is the one I have (affiliate link).
Three Ways to Make Instant Pot Baked Potatoes:
You sure love your baked potatoes! I wanted to throw out three different ways to do them up, but I'd love to hear what you pile on yours!
Classic Loaded Baked Potato: with sour cream, bacon, cheddar cheese and green onions.
Mexican: with taco ground beef, cheddar cheese, and tomato salsa (throw some sour cream on this one, too, if you like!)
Broccoli Alfredo: with Alfredo sauce, steamed broccoli, and Parmesan cheese!
Watch the recipe video and see how to make them!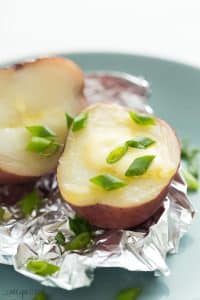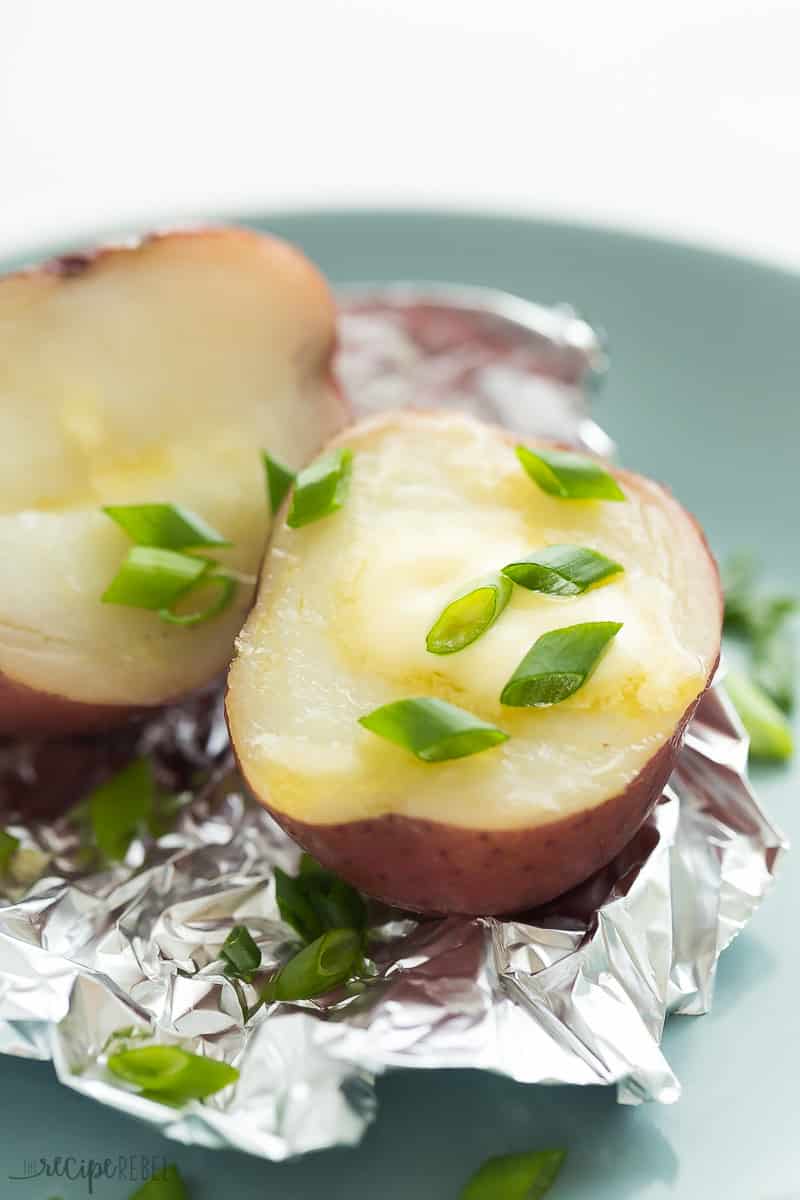 Print
Pin Recipe
Instant Pot Baked Potatoes Recipe
These Instant Pot Baked Potatoes are so easy, you'll never go back to the oven! Cook them with or without foil -- they're tender in just minutes and perfectly fluffy and creamy!
Ingredients
8

medium red potatoes

russet potatoes always work great

1

cup

water
Classic Loaded
1

tablespoon

bacon

cooked and crumbled

1

tablespoon

cheddar cheese

shredded

1

tablespoon

sour cream

1

teaspoon

green onions

sliced
Mexican
2

tablespoons

ground beef

cooked and crumbled with taco seasoning to taste

1

tablespoon

cheddar cheese

shredded

1

tablespoon

salsa

mild or extra spicy!
Broccoli Alfredo
1

tablespoon

Alfredo sauce

2

tablespoons

broccoli florets

steamed

1

tablespoon

Parmesan cheese

shredded
Instructions
Place the rack in the bottom of the Instant Pot and pour 1 cup of water in the bottom.

Optional: Wrap each potato in a small piece of foil and place on top of rack (stacking them is fine -- I get about 7 flat on the rack), or skip the foil and just place them on the rack.

Place the lid on the Instant Pot and switch the valve to sealing.

Press Manual, leave the Instant Pot at high pressure (the default), and set the time at 15 minutes for small potatoes, 17 minutes for medium potatoes, or 20 minutes for large potatoes. The Instant Pot will begin heating and building pressure, and this will take about 8-10 minutes. It will then begin counting down from 15 until the potatoes are cooked.

When the timer beeps, press Cancel and either allow the Instant Pot 10 minutes to naturally release pressure before opening the valve to venting and removing the lid, or do a quick release and open the valve after pressing Cancel. If you do a quick release, be careful as the steam is hot and comes out quickly. I like to use a towel to do this.
Notes
If you like, you can split the potatoes and add butter and salt in the center so that they will season as they cook. Then wrap in foil and continue with the recipe.
Nutrition (this is an estimate)
Nutrition Facts
Instant Pot Baked Potatoes Recipe
Amount Per Serving
Calories 149
% Daily Value*
Sodium 40mg 2%
Total Carbohydrates 34g 11%
Protein 4g 8%
* Percent Daily Values are based on a 2000 calorie diet.