Perfectly moist grilled chicken in a sweet and tangy honey balsamic sauce — a great way to spice up your grilling this summer!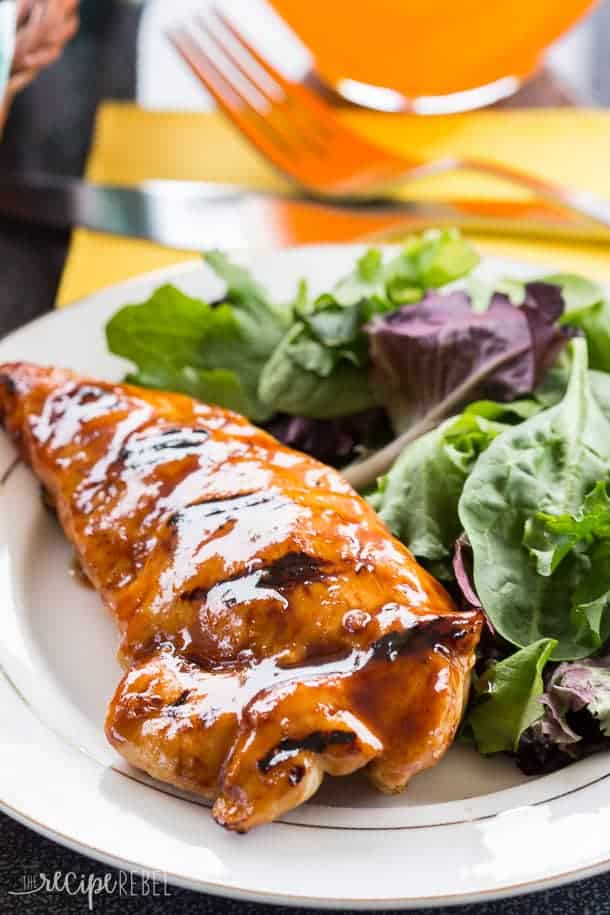 In case you haven't realize, honey balsamic sauce is pretty much my favorite thing. It is definitely my favorite sauce to eat on pretty much any kind of meat. Okay well this Pineapple Brown Sugar Barbecue Sauce is tied for first.
You could easily just grill up some chicken and smother it in some store bought barbecue sauce, but there is just nothing like this sweet and tangy balsamic sauce. You need to try it!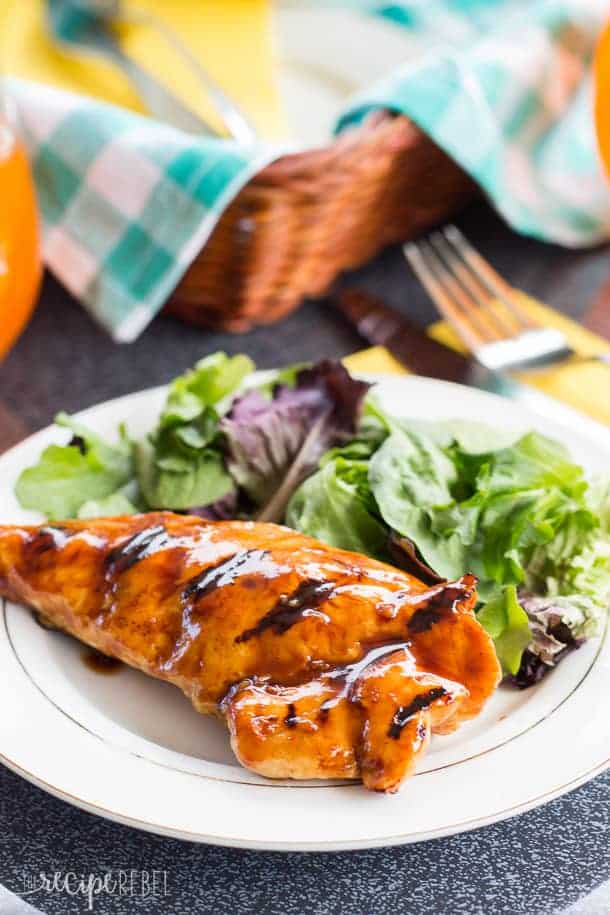 Now I'm going to try to be less annoying saleswoman and more like a normal human being. Let's just say, I love it.
Another thing I'm loving this summer is eating outside on the deck.
If you asked my husband, he'd probably tell you that I'm not really an outdoorsy person. That I'd prefer to sit inside, in My Spot on the couch, than do anything outside.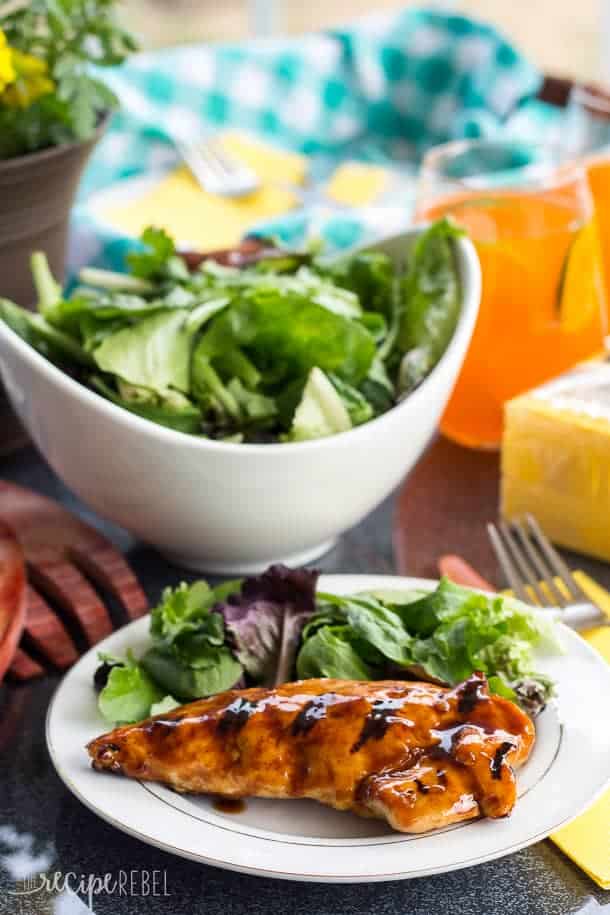 And he's not wrong, I mean, I like a nice climate-controlled room as much as the next person. And I kind of dislike bugs. And mosquitos. And bees. And the wind. And dirt. But this year is different.
I've been at home on maternity leave since the beginning of December, and I've spent much of time inside blogging looking after my new baby. I would never argue the fact that I'm a Winter Indoorsy Person (you Californians and Floridians can laugh all you want — your winter is not my winter!).
But the arrival of warm sunshine, green grass and perfect temperatures has me yearning to shut off the computer and head outdoors. We have been eating a good number of our meals outdoors, and I love it! Normally our al fresco meals are just "grab your plate of food and head outside", but every once in a while it's nice to actually wipe the table and use real plates and stuff.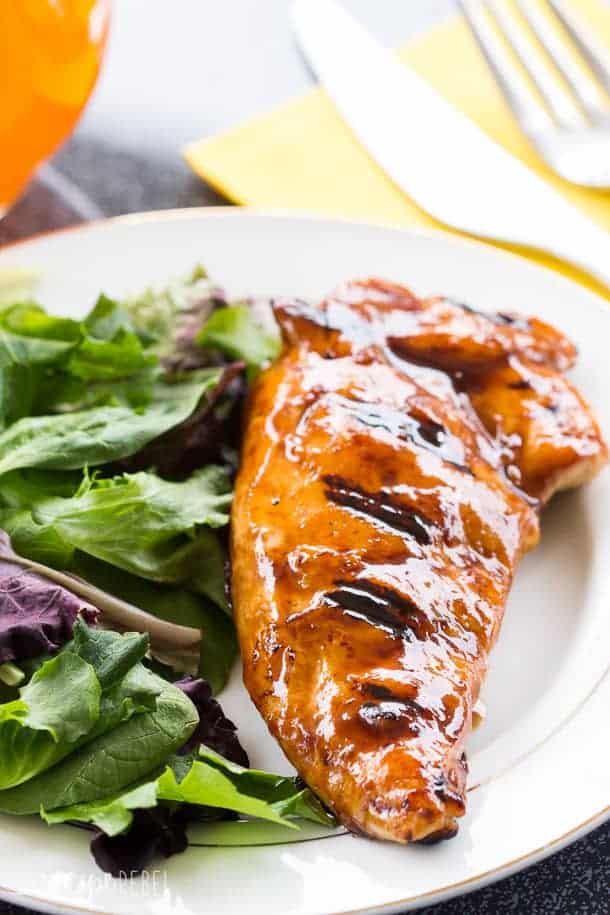 I was sent these fun yellow napkins (seriously the softest napkins you've ever felt) from Renova and I just thought they gave me a good excuse to clean off the table outside and put out a real spread for the family. They add such a fun pop of color to the table!
Add a salad, some flowers and something fruity for sipping and you have a pretty great summer meal!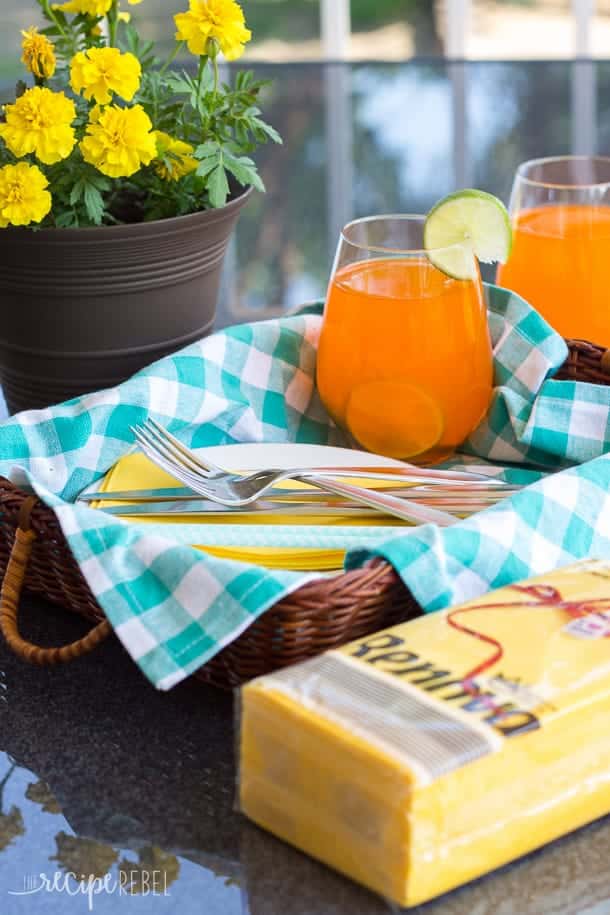 They have some other colors and patterns that you can grab online here. There really is something for every occasion — a barbecue or birthday party, or just something new to add some fun color to your kitchen and the rest of your home. You can also find a store near you here.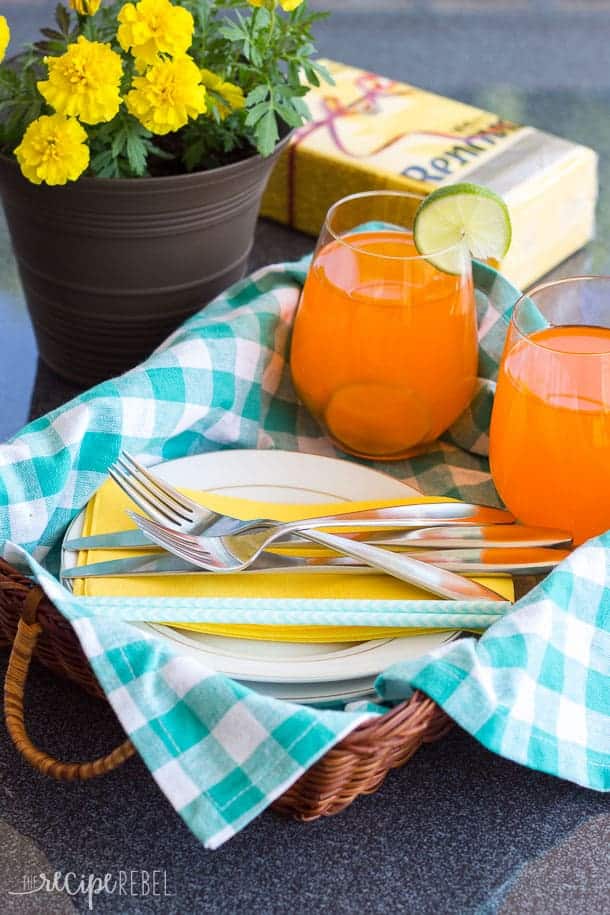 Also keep up with the fun (like napkins made with your Instagram photos?!) on their Facebook page here!
Honey Balsamic Grilled Chicken
Perfectly moist grilled chicken in a sweet and tangy honey balsamic sauce -- a great way to spice up your grilling this summer!
Ingredients
1 1/3 cup balsamic vinegar
1 cup ketchup
1/2 cup packed brown sugar
1/2 cup honey
1 1/2 tbsp Worcestershire sauce
3/4 tsp salt
a pinch of black pepper
1 1/2 tsp minced garlic
4-6 chicken breasts
Directions
Make your sauce: Add the vinegar, ketchup, brown sugar, honey, worcestershire sauce, salt, pepper and garlic to a medium saucepan and bring to a boil over medium heat. Simmer over medium heat for about 15-20 minutes, until thick and syrupy, whisking occasionally. Set aside as you cook your chicken (this can be made in advance and refrigerated).
Preheat the grill to about 450 degrees F. Grill chicken on one side for 10 minutes, flip and brush with sauce. Cook another 10 minutes or until a meat thermometer inserted in the thickest part of the breast reads at least 165 degrees F. Brush the other side with sauce and serve with remaining sauce on the side (because you will want to!).
Recipe Notes
This recipe makes a good amount of sauce -- if you want only enough for the chicken, you can probably halve it. But once you taste it I'm sure you'll want to put it on everything!
Looking for a great side dish? How about this Warm Maple Bacon Potato Salad!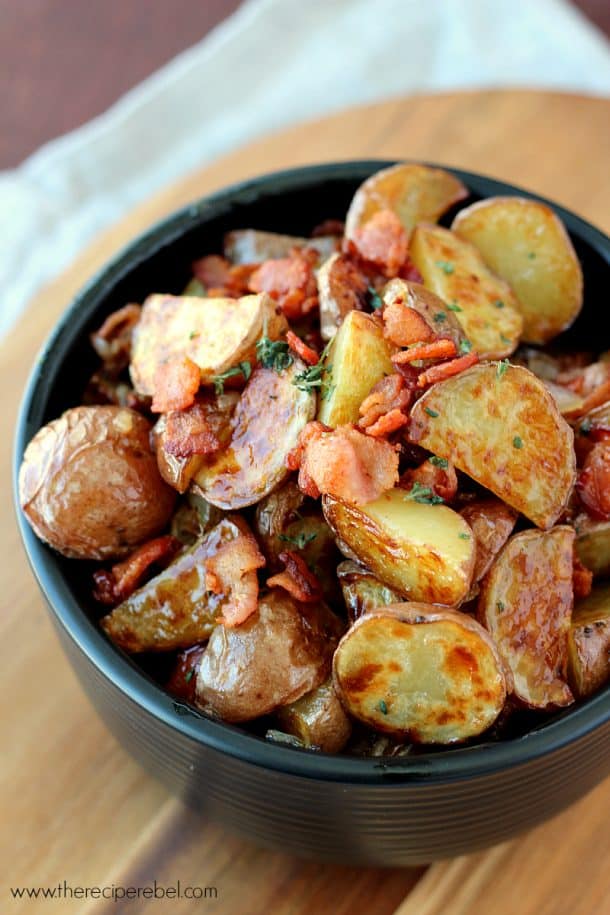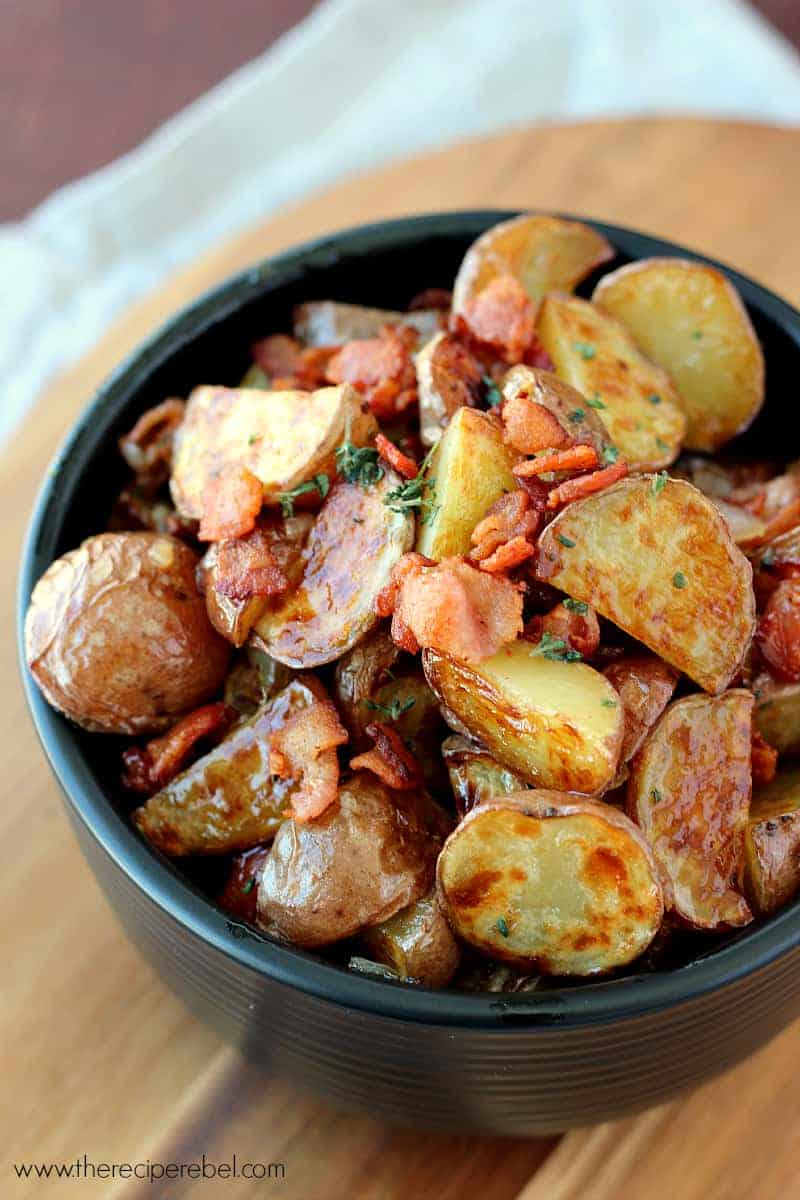 A dessert? How about this Nutella and Raspberry Swirl Ice Cream Cake!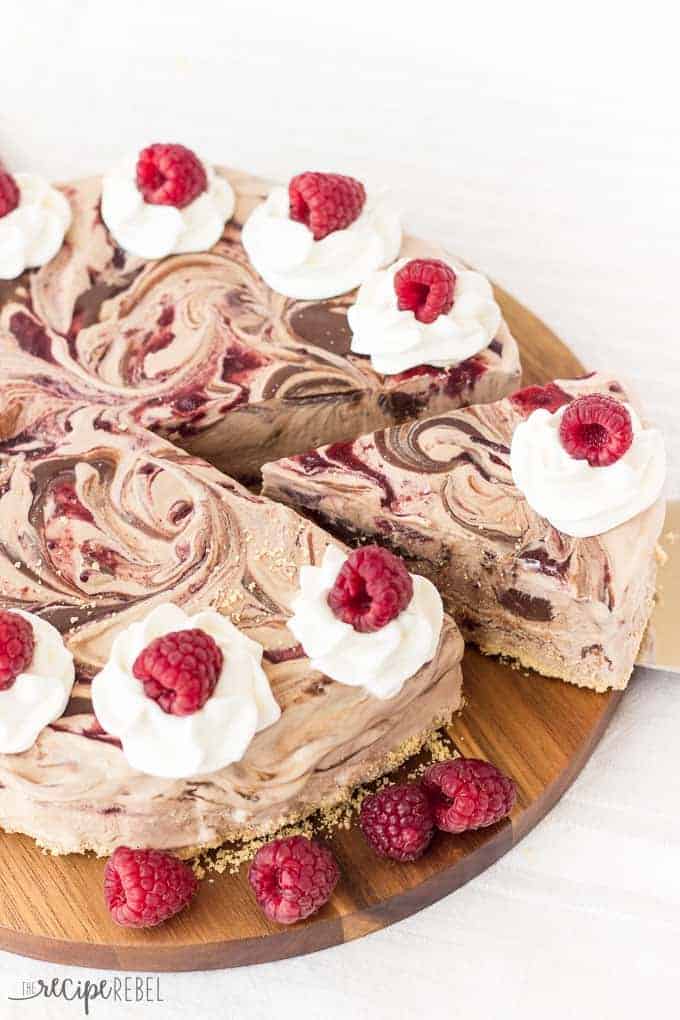 You might also like these great grilling recipes!
Grilled Fish Tacos with Lime Cabbage Slaw from Cooking Classy
Grilled London Broil from Spicy Southern Kitchen
Grilled Shrimp Tacos from Hip Foodie Mom

This is a sponsored conversation written by me on behalf of RENOVA. The opinions and text are all mine. Restrictions apply.