Let me first just say that you're going to have to forgive me for the many imperfections in my buttercream roses.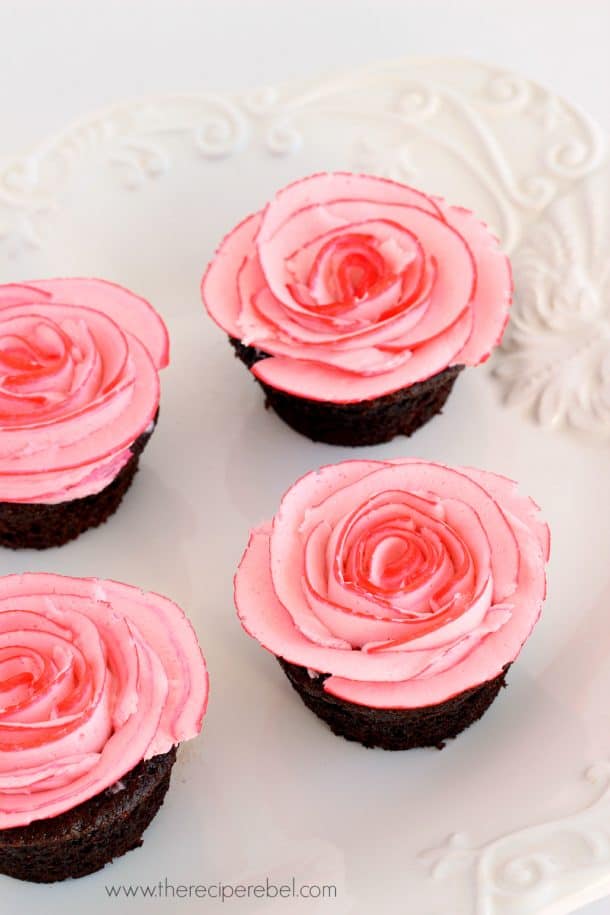 I'm going to go ahead and claim that it makes them more realistic, because how often do you see a live rose with perfectly smooth edges?
Just work with me.
And if I've had trouble forming sentences lately, it's because I'm going on a few measly hours of sleep. Night after night.
I thought that I was tired before our sweet babe arrived.
And, you know, I think I'd be fine if it was only the baby that woke me up in the night. But our toddler has been waking for nightly bathroom breaks and my husband is a sleep walker/sleep talker.
Apparently lack of sleep makes his sleep walking/talking habits worse.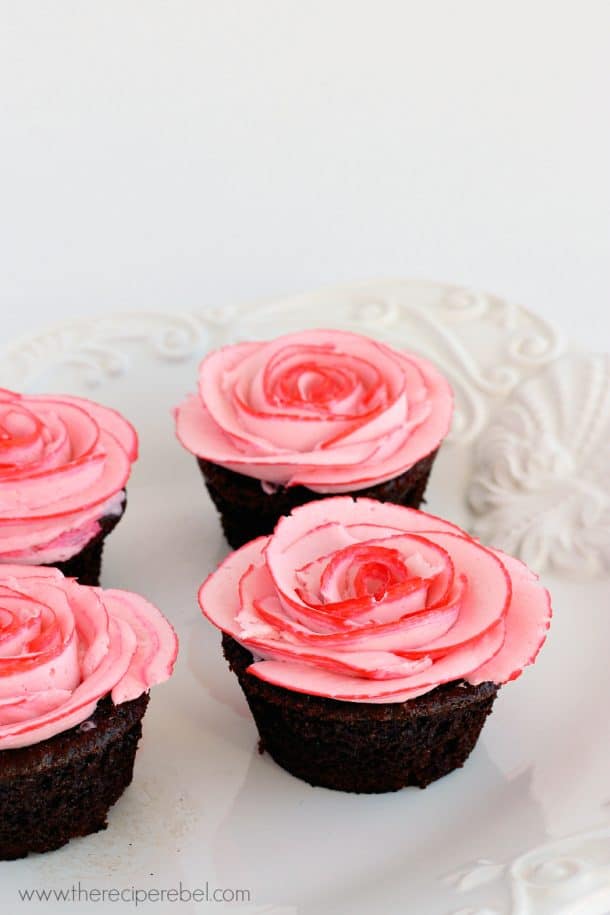 I'll wake up and find him with a book open in bed, in the dark. I'll wake up and find him searching for the baby in our bed (we are not co-sleeping).
The good thing is he's pretty obedient when he's sleeping walking, and he'll never remember if I use a less-than-pleasant tone when directing him back to bed.
A simple, "put the book away and go to sleep!" is usually enough.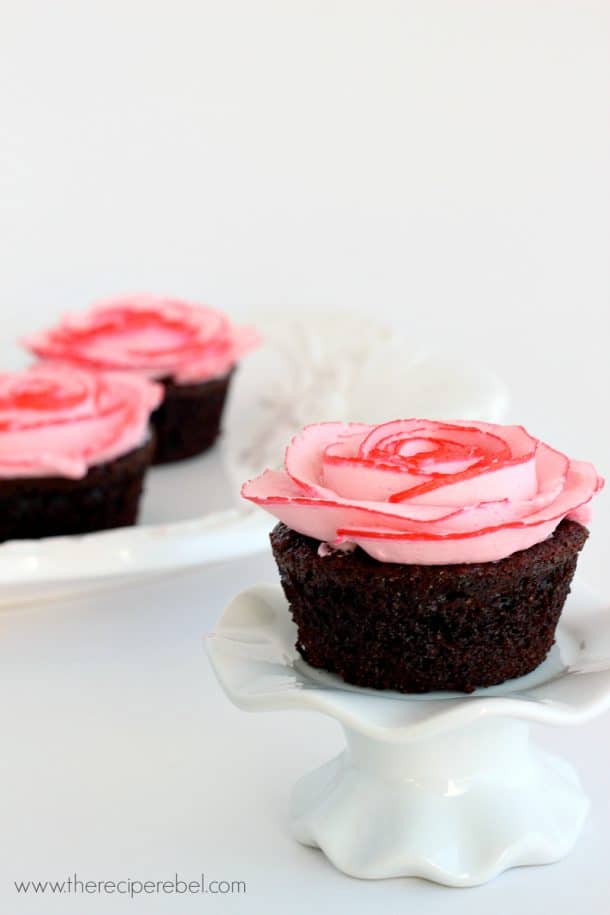 So, I created a tutorial for this piping technique way back, but I wanted to make some for Valentine's Day and redo the pictures, adding some more detailed ones. My description focused a lot on text in my first tutorial, and I wanted to give more visual instructions instead.
But first — super moist, fudgy chocolate cupcakes!
I found this recipe on Glorious Treats but it's originally from Hershey.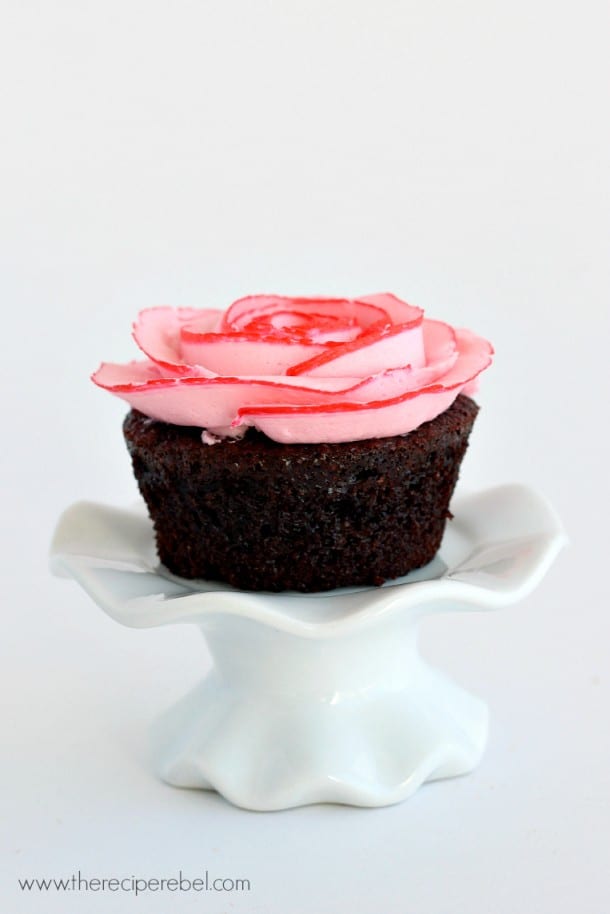 Fudgy Chocolate Cupcakes with Two-Tone Roses
Ingredients
2 cups sugar
1 3/4 cups all purpose flour (I used whole wheat)
3/4 cup unsweetened cocoa
1 1/2 tsp baking powder
1 1/2 tsp baking soda
1 tsp salt
2 eggs
1 cup milk (I used 1%)
1/2 cup vegetable oil
2 tsp vanilla extract
1 cup boiling water
Frosting
1 1/2 cups butter, room temperature
2 tsp vanilla
5 cups powdered icing sugar
2-3 tbsp milk
gel icing color as desired (see pictured below)
Directions
Line two muffin pans with paper liners (for 24 cupcakes) and preheat the oven to 350 degrees F.
In a large bowl, combine sugar, flour, cocoa, baking powder, baking soda and salt with a whisk.
Add eggs, milk, oil and vanilla and whisk well, until completely combined.
Add boiling water and whisk slowly until smooth -- the batter will be thin.
Pour batter into muffin cups, about ⅔ full.
Bake for 18-22 minutes (I baked mined exactly 18 minutes and they were perfect).
Remove from oven and set aside to cool before frosting.
Frosting
In the bowl of a stand mixer, beat butter until smooth.
Add vanilla and one cup powdered sugar. Beat on low until combined. Continue adding sugar, one cup at a time, and beating on low until combined.
When all sugar has been added, beat on medium-high for 2-4 minutes, until smooth and fluffy, adding milk if needed to reach desired consistency.
Do not refrigerate before piping as it will stiffen as it's cooled.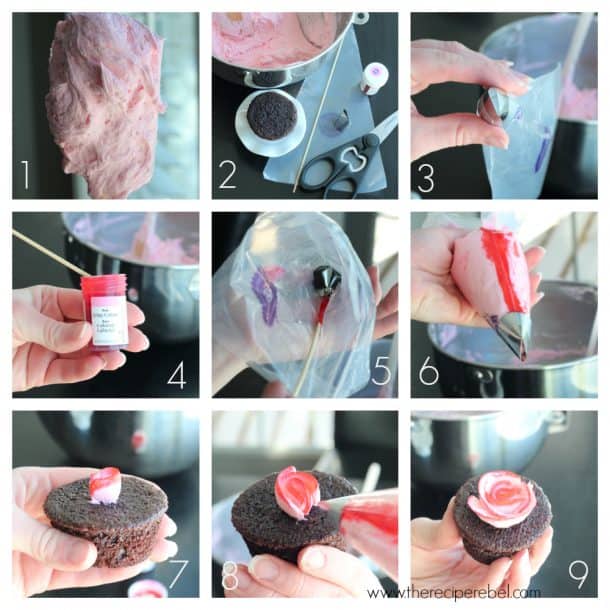 TWO-TONE ROSES
You want your frosting to be nice and thick — if you take a large scoop on your spatula, it shouldn't droop or sag at all if you life it straight up or turn it over.
You will need: cupcakes and frosting, a long skewer, additional gel icing color, large piping bag, a petal tip (I used a Wilton 125), scissors to cut the end off if using a disposable bag.
Place the petal tip in your piping bag, and line the narrow end up with one of the seams of the piping bag.
Dip your skewer into the icing color.
Using your skewer, create a line of icing color along the seam aligned with the narrow end of the petal tip. The narrow end of the tip will be the tops of your petals, so this is where you want your line of color.
Carefully fill your piping bag with frosting, trying not to smear your line of icing color. If you do, don't worry. They don't have to be perfect. My line looks pretty thick, but it won't be that thick when you're piping.
Pipe a small circle in the center of your cupcake, with the narrow end facing straight up. Make it as tight as possible — this will be your bud.
Create petals around your bud by making small half circles of frosting, with the narrow end pointing straight up and the wide end against the base of your bud. *It's important never to complete one full circle. Start the next petal in the middle of the one before, so they overlap and look somewhat natural.
As you continue making petals, slowly angle the narrow end of your petal tip out, so that your tip ends up horizontal by the time you reach the edge of your cupcake.