I know, I'm way behind.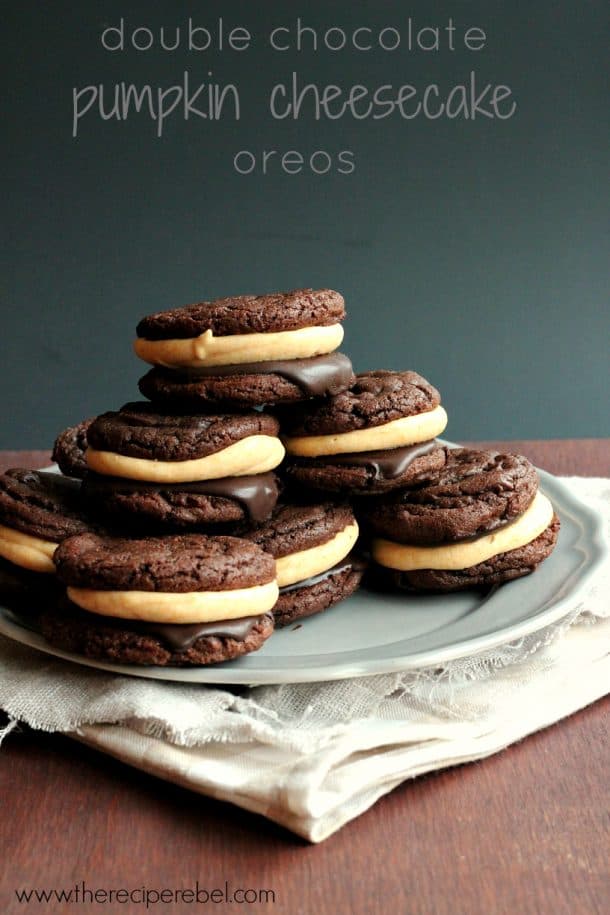 Most food bloggers have been posting pumpkin recipes since the end of August. There are a couple of reasons why it's taken me so long to jump on board.
#1. Summer here is so fleeting, I like to live in the moment a little and enjoy it while it lasts. Which totally explains why I post rich, hearty, comforting meals all throughout the summer….
#2. I'm not pumpkin's biggest fan.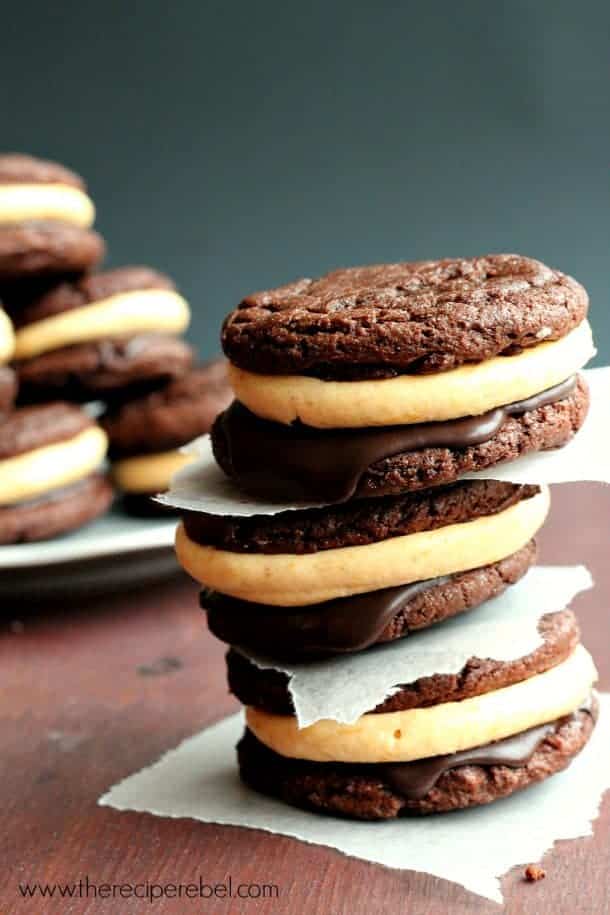 It's not that I hate pumpkin or I won't try something if it's pumpkin, it's just not something I wait for every year, you know? Fall also means apples and grapes, and I would take either of those over pumpkin.
Now, don't go thinking I would share something with you that wasn't absolutely delicious, or that I would share something with you that I hadn't even sampled myself. I tried them, and I enjoyed them.
That being said, if I'm offered a slice of apple pie or a slice of pumpkin pie, I'm going for the apple every time.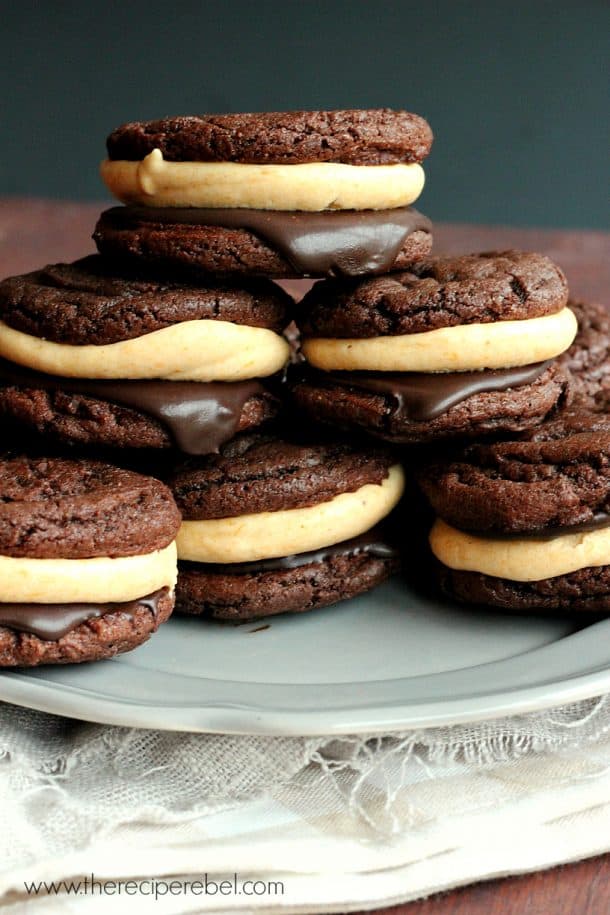 This is another recipe adapted from my grandma's cookbook. I know cream cheese frosting isn't a traditional oreo filling, but it's the way I've always made them, and we've been going nuts for them ever since I was little. I thought it would be easy enough just to make some oreo cookies with pumpkin cream cheese frosting, but I really wanted to add a slather of chocolate ganache.
I mean, more chocolate is always better, right?
*Remember to save this recipe to your recipe box by clicking the Save Recipe button below!*
About 20 sandwich cookies
adjust servings
Double Chocolate Pumpkin Cheesecake Oreos
Ingredients
Cookies
2

packages chocolate cake mix (I used Devil's Food Cake)

4

eggs

2/3

cup oil
Ganache
1

cup good quality chocolate chips or chopped chocolate

1/4

cup milk or cream
Frosting
1 8oz

package cream cheese

5

cups icing sugar

3/4

cup canned pumpkin

1/2

tsp cinnamon
Instructions
For the cookies:
In a stand mixer, combine all 3 ingredients and beat until cookie dough comes together (it will easily).
Scoop into 1" balls and bake at 350 degrees F for 8-10 minutes, until the tops appear dry and cookies are slightly puffed (they will settle down).
Set aside to cool.
For the ganache:
In a small pot, combine chocolate and milk or cream. Cook and stir over low heat just until smooth.
Set aside to cool to room temperature.
For the frosting:
Beat cream cheese in a stand mixer until smooth. Add icing sugar, pumpkin and cinnamon and beat until smooth and fluffy. If frosting is too thin, add another ½-1 cup of icing sugar.
Assembly:
Make sure you have an even number of cookies.
Spread ganache on half of the cookies. Spread frosting on the other half.
Place on a baking sheet lined with wax paper and place in the freezer for 1 hour*.
Stick a cookie with ganache and a cookie with frosting together and gently press together. Store in the refrigerator or freezer.
Recipe Notes
*Because of the cream cheese, the cookies will need to be stored in the refrigerator. For this reason I use a softer ganache and softer frosting, so that they are the right consistency out of the fridge. The cookies will be easier to assemble if the ganache and frosting have chilled.