A simple yet decadent and impressive treat for Valentine's Day or any day! Because no bake is always better 🙂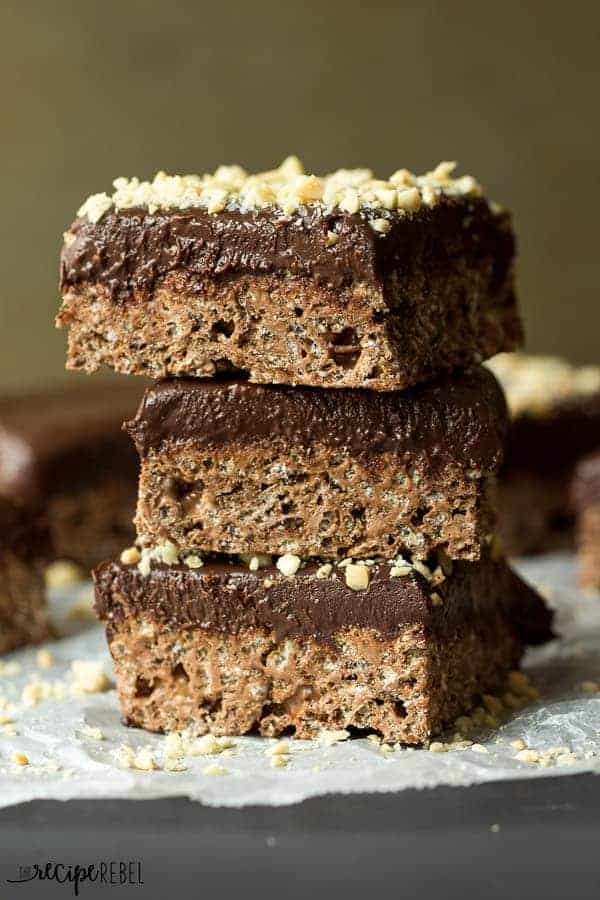 Though I've shared plenty of no bake dessert recipes here on The Recipe Rebel, this is my very first Rice Krispie Treat recipe. Kind of a big deal, right?
The reason is I actually don't make Rice Krispie cake really ever, at all. I'm just not a fan, you know? I mean it's great for the kids, and it's easy (as long as you get the perfect amount of ooey gooeyness!), but I just find them a little…. blah.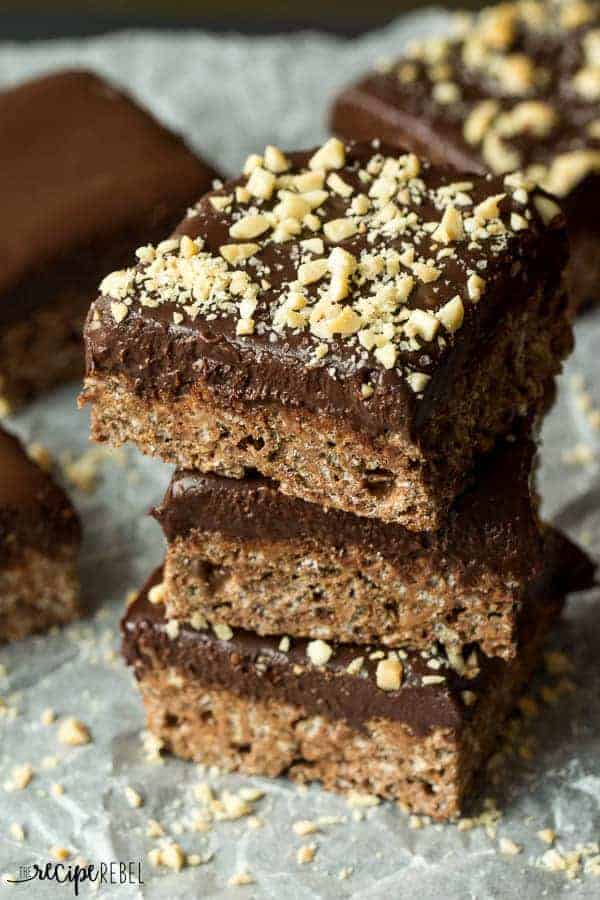 But Chocolate Truffle Rice Krispie Treats? Definitely not blah.
They are chocolate Rice Krispie Treats, topped with a rich, decadent chocolate truffle layer (and yes, you're going to need a good amount of chocolate for that layer…), and you can top them with any kind of chocolate truffle coatings you prefer: a dusting of cocoa, chopped nuts, sprinkles — whatever you want! Because they are pretty sweet, I highly recommend something crunchy and salty: crushed pretzels or finely chopped salted peanuts work great! And if you go the sweet route, a sprinkling of coarse salt really gives a nice contrast to the sweetness.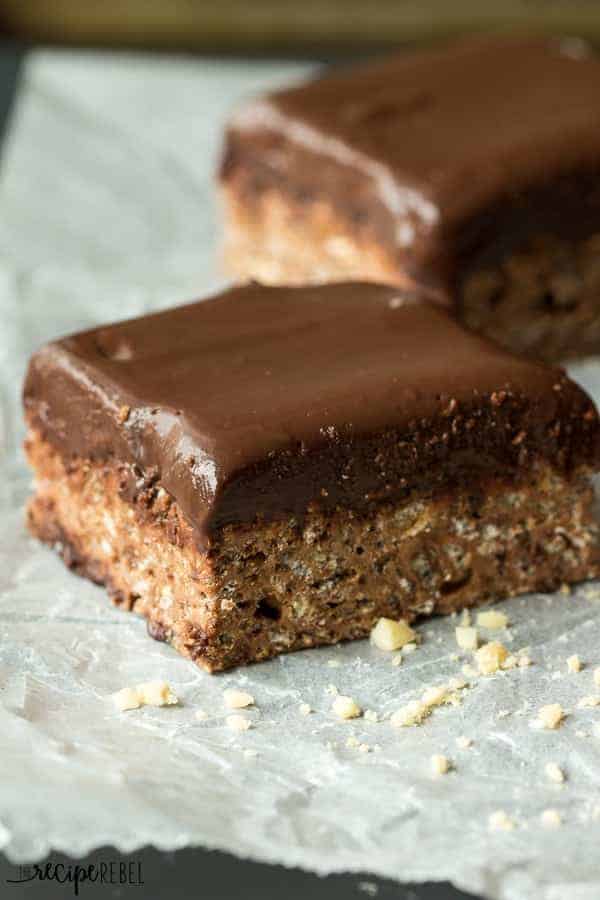 Rice Krispies freeze perfectly, so even though the recipe makes a 9×13″ pan and you'll cut them into fairly small pieces, they are perfect for sharing or for keeping in the freezer!
They would also be great with some mint, orange or other flavor of extract in the truffle layer — feel free to experiment with different flavor and topping combinations!
36 bars
adjust servings
Chocolate Truffle Rice Krispie Treats
A simple yet decadent and impressive treat to add to your holiday baking platter! Because no bake is always better 🙂
Ingredients
1/4

cup butter

8

cups mini marshmallows

1

tablespoon cocoa powder

1/2

cup semisweet chocolate chips

6

cups Krispie rice cereal (regular or chocolate)

1/2

teaspoon salt
Truffle layer
1 1/2

cups 10% cream (you can go heavier if you wish)

3 1/2

cups good semisweet chocolate chips or chunks (or dark or milk if you wish)
Optional toppings: chopped nuts, sprinkles, cocoa powder, chopped pretzels, toffee bits, etc.
Instructions
Line a 9x13" pan with tin foil and spray with non stick spray. Set aside.
In a large microwave-safe bowl, combine butter and marshmallows. Microwave on high for 1 minute, stir. Microwave on high for another minute if necessary to melt the marshmallows. Stir until smooth.
Add in cocoa powder and ½ cup chocolate chips and stir until smooth and chocolate is melted (work quickly). Stir in Krispie rice cereal and salt until totally combined. Pour into prepared pan and smooth with wet hands and set aside.
Truffle layer:
In a small pot, heat cream until bubbles appear around the edges. Remove from heat and stir in 3½ cups chocolate until smooth. Let sit for 5-10 minutes to thicken and cool slightly before pouring over the Krispie treat layer. Sprinkle with desired toppings and refrigerate until set.
 More chocolatey treats!
Grandma's Hot Fudge Sundae Cake
Gluten Free 3 Layer Chocolate Cake from She Likes Food
Easiest Ever Chocolate Honey Bake from Savory Nothings
No Bake Strawberry Chocolate Ganache Pie from Life Made Sweeter