Chocolate cake or brownies layered with no-bake blackberry cheesecake and homemade chocolate pudding — a rich, chocolatey, fruity dessert that's perfect any time of the year! Make from scratch or use optional shortcuts to keep things quick and easy!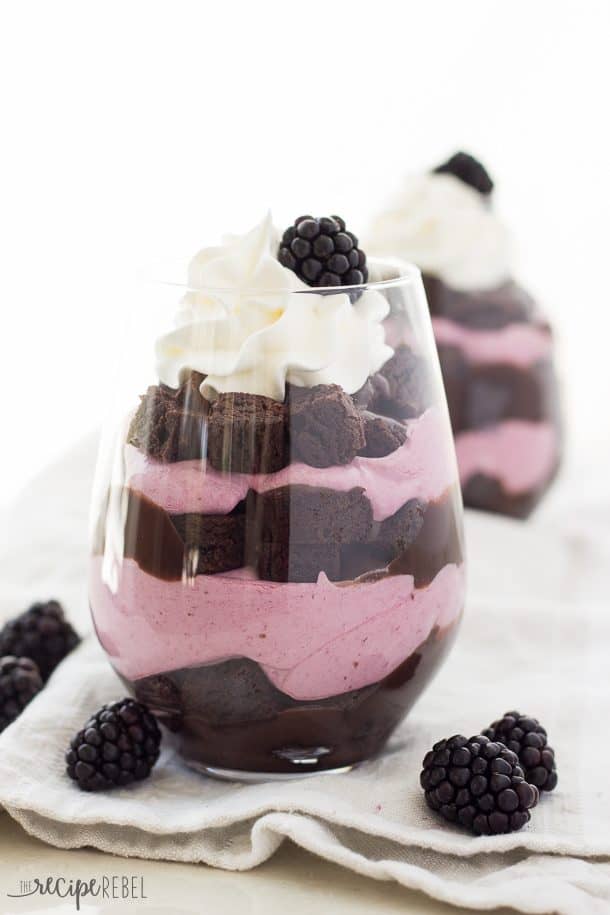 This is another one of my recipe redo's, and can I just say I was SO happy to update this one?
When I started following the recipe (yes, my own recipe!) I was thinking, "this is way more complicated than it needs to be!" I changed the ingredients and the method quite a bit this time, but only to make it so much simpler and easier to follow!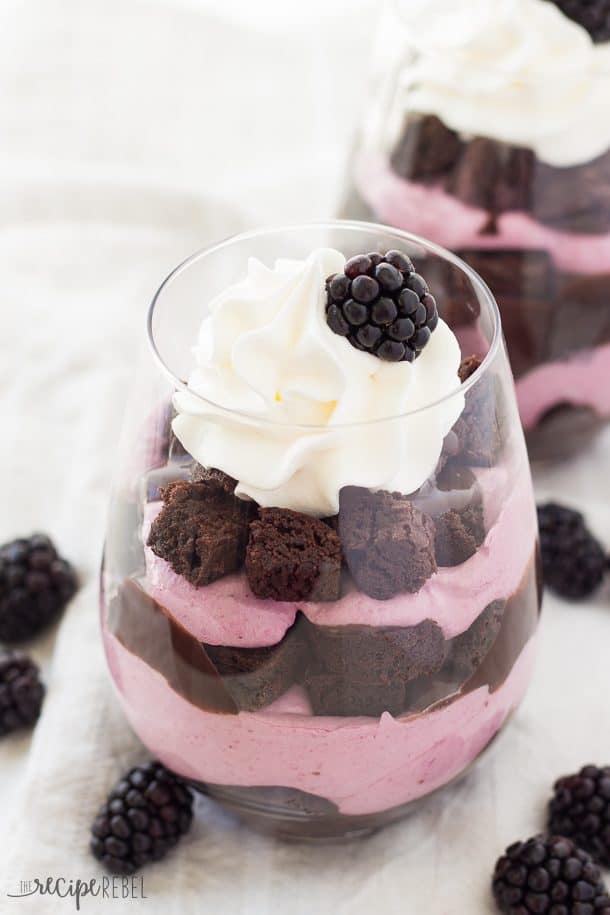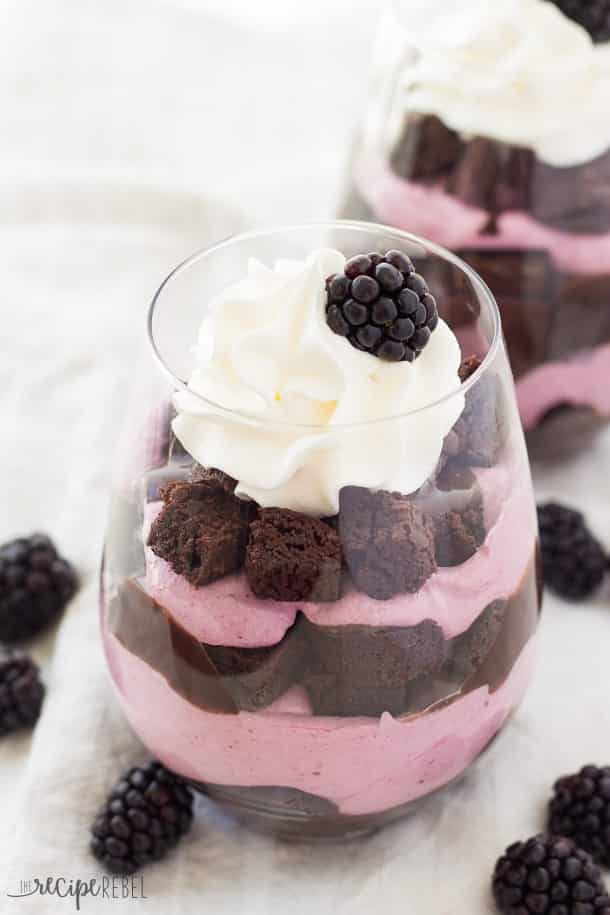 This recipe was probably my 10th or 12th recipe on the blog, and I had written it when I was still mostly writing recipes for me (and maybe my mom). I added things when I was making it and I'm not sure why they were in there. More than likely I had opened my fridge and said, "oh hey — I've got 3/4 cup of leftover vanilla pudding and some blackberries and some chocolate cupcakes that were a little too fluffy to be cupcakes — let's make trifle!"
The flavors were great, though, and I wanted to streamline things a little when I redid it and, taking out unnecessary ingredients and steps that were making things complicated.
There are several ways that you can go the extra mile and do everything from scratch, or take some shortcuts to make things even easier. I will include those options just above the recipe!
I used some leftover brownies that I had in the freezer as my "cake"' — the BEST brownies ever, might I add. You can use chocolate cake instead, but for me, fudgier is always better!
The pudding is a little softer than one you would make if you were making pudding just to eat, but I love the way it sneaks into all of the cracks in your brownie cubes!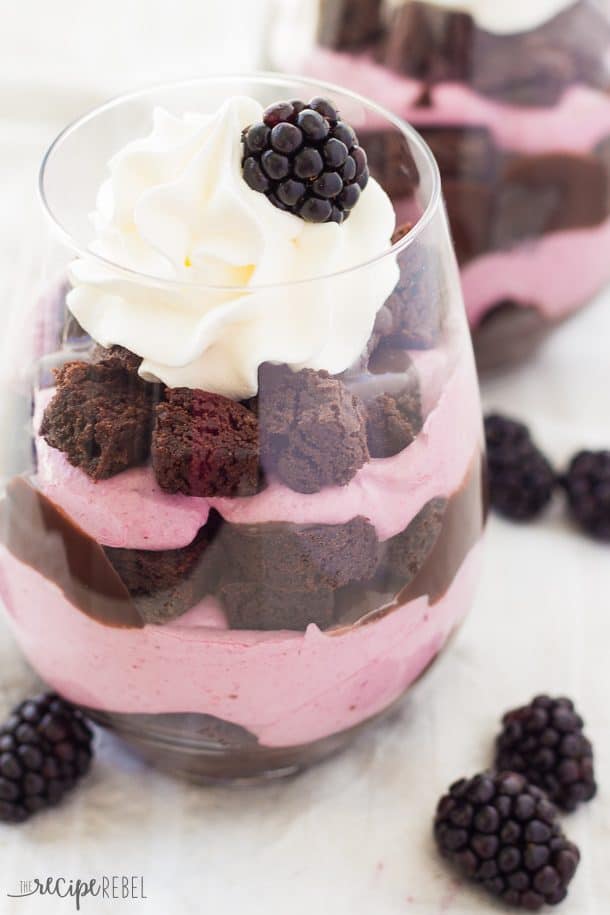 Here are some different options shortcuts you can use if you're short on time or you just want to avoid the oven!
Pudding:
You could use 1 box of instant chocolate pudding (note that it well set much more quickly than cooked pudding)
You could use prepared chocolate pudding off of the shelf.
You can make the homemade chocolate pudding in the recipe.
Brownies:
You can make my favorite brownie recipe here> (I actually used the leftover brownies from this Nutella Brownie Fruit Pizza!)
You can make a brownie mix.
You can make your favorite cake recipe or chocolate cake mix.
Or you can make things super simple and buy some two-bite brownies from the store and chop them up!
Cheesecake:
There's really no way to cheat on the cheesecake, unless you were to stir in some seedless blackberry jam instead of pureeing and straining the berries.
Whipped Cream:
Whip your own cream and sweeten with sugar.
Use store-bought whipped topping.
8-10 servings
adjust servings
Chocolate Blackberry Cheesecake Trifles
Chocolate cake, homemade chocolate pudding and a blackberry cheesecake mousse create a rich and fruity trifle.
Ingredients
For the Blackberry Cheesecake Mousse
1 8oz

package cream cheese (I used light)

1/2

cup powdered icing sugar

1 1/2

cups blackberries (could substitute any berries you like)

2-3

cups whipped cream or whipped topping
For the Chocolate Pudding
1

cup sugar

1/2

cup cocoa powder

1/4

cup corn starch

pinch of salt

3

cups milk
For the trifle
1 9x13\"

prepared brownie or chocolate cake

Whipped cream

Additional blackberries if desired
Instructions
For the mousse:
In a stand mixer or large bowl with electric mixer, beat cream cheese until smooth. Add sugar and beat until combined.
Puree blackberries and press through a fine mesh strainer into the cream cheese. Beat until combined.
Fold in whipped cream, carefully turning the mixture over with a spatula until combined.
Refrigerate until you are ready to assemble.
For the pudding:
Combine sugar, cocoa, corn starch and salt in a large pot. Slowly whisk in milk. Cook over medium heat stirring often. As mixture begins to thicken, whisk constantly.
Transfer to a bowl and press plastic wrap onto the top of the pudding. Set aside to come to room temperature(you can refrigerate to speed up the process!)
Assembly:
Cut brownie cake into cubes. Layer first cake, then pudding, then mousse, creating as many layers as you desire. Top with whipped cream and fresh blackberries if desired.
Homemade Pudding recipe from Whipperberry.
You might also like this Nutella Brownie Fruit Pizza!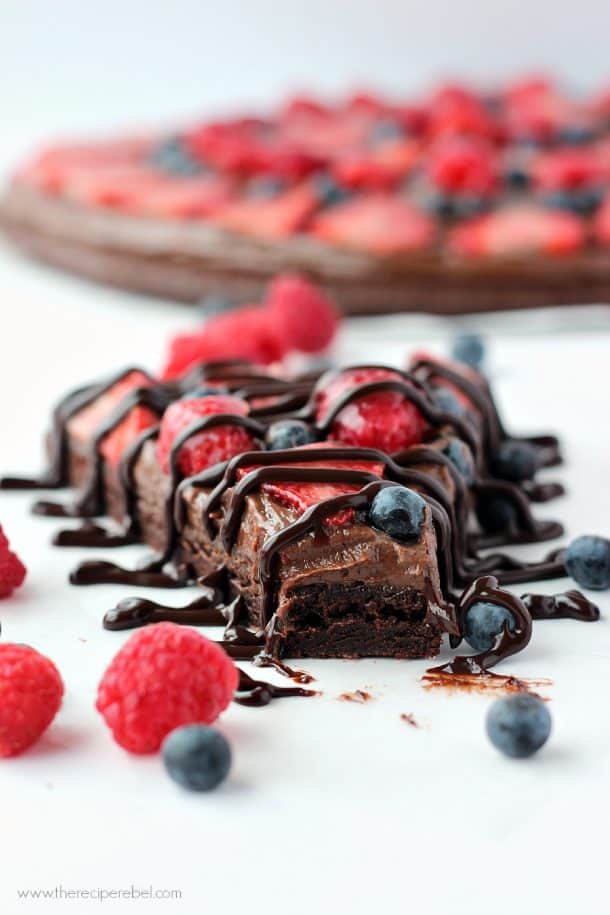 Or these Triple Chocolate Raspberry Cookies!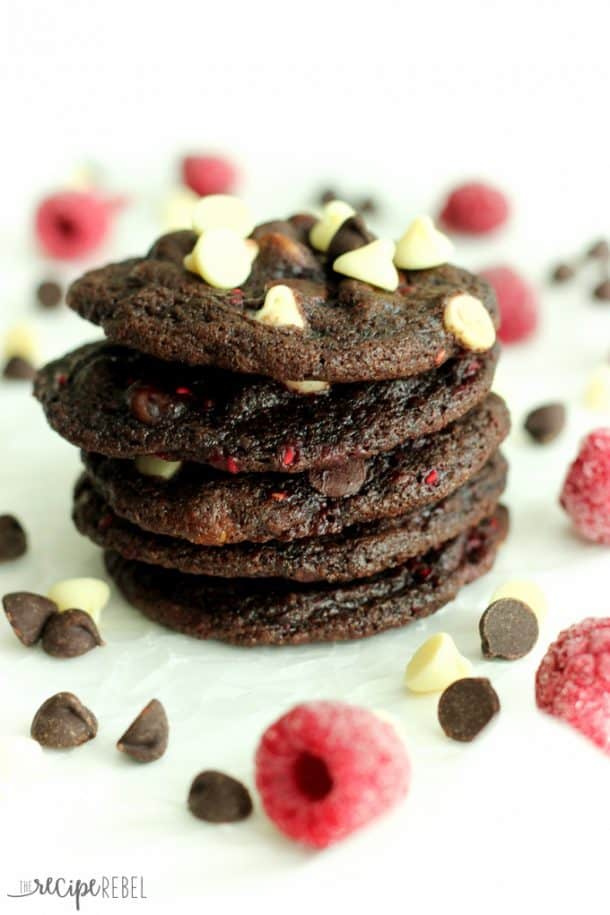 More chocolate and berries!
Chocolate Berry Tart from Bakerita.
Mixed Berry Crisp With Chocolate and Pecans from She Likes Food.
Chocolate-Covered Strawberry Tarts from Chelsea's Messy Apron