These Cheesy Mashed Potato Pancakes are one of the best ways to use up leftover mashed potatoes! Just 5 ingredients and a few minutes prep.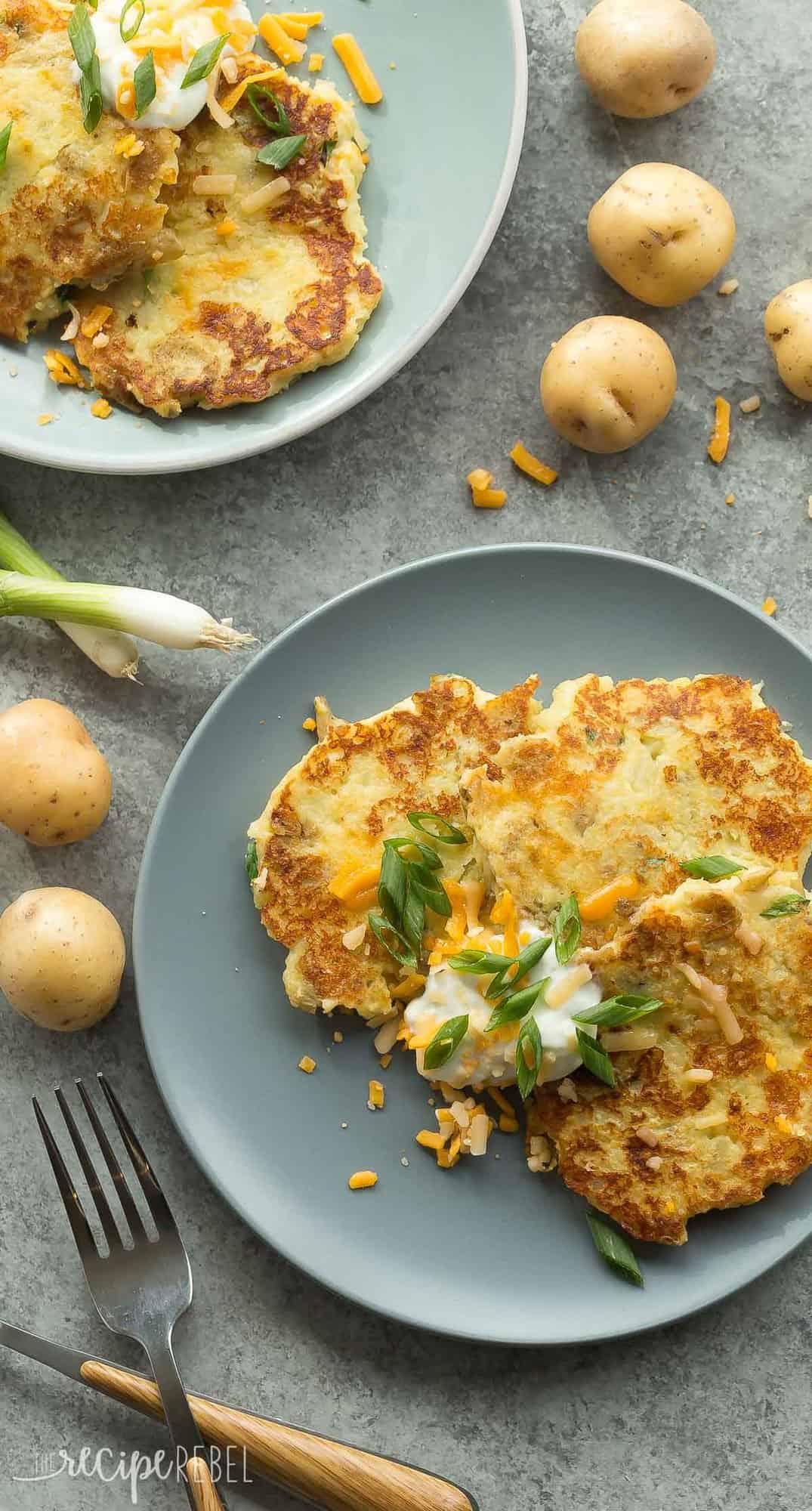 SO. December.
How's that going for you?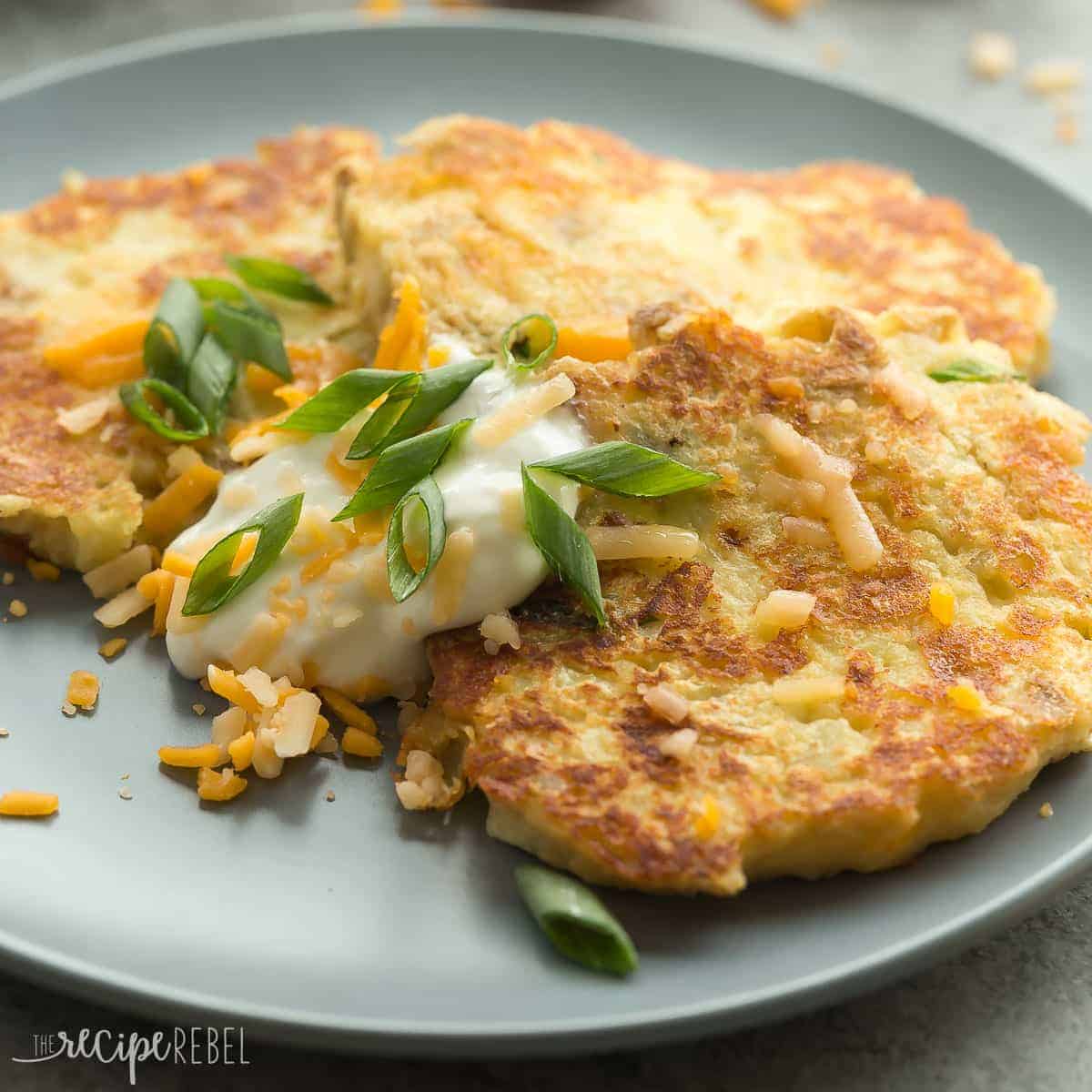 I feel like I've been doing okay so far, my commitment to find you more comfort food recipes made healthier is helping to keep me on track.
Because in the deep, dead cold of December, a girl needs her comfort food, right?!
I am that girl who will never give up her favorite foods, and so compromise is my new favorite word. A compromise that don't feel like a compromise. Potato pancakes are right up there on the list!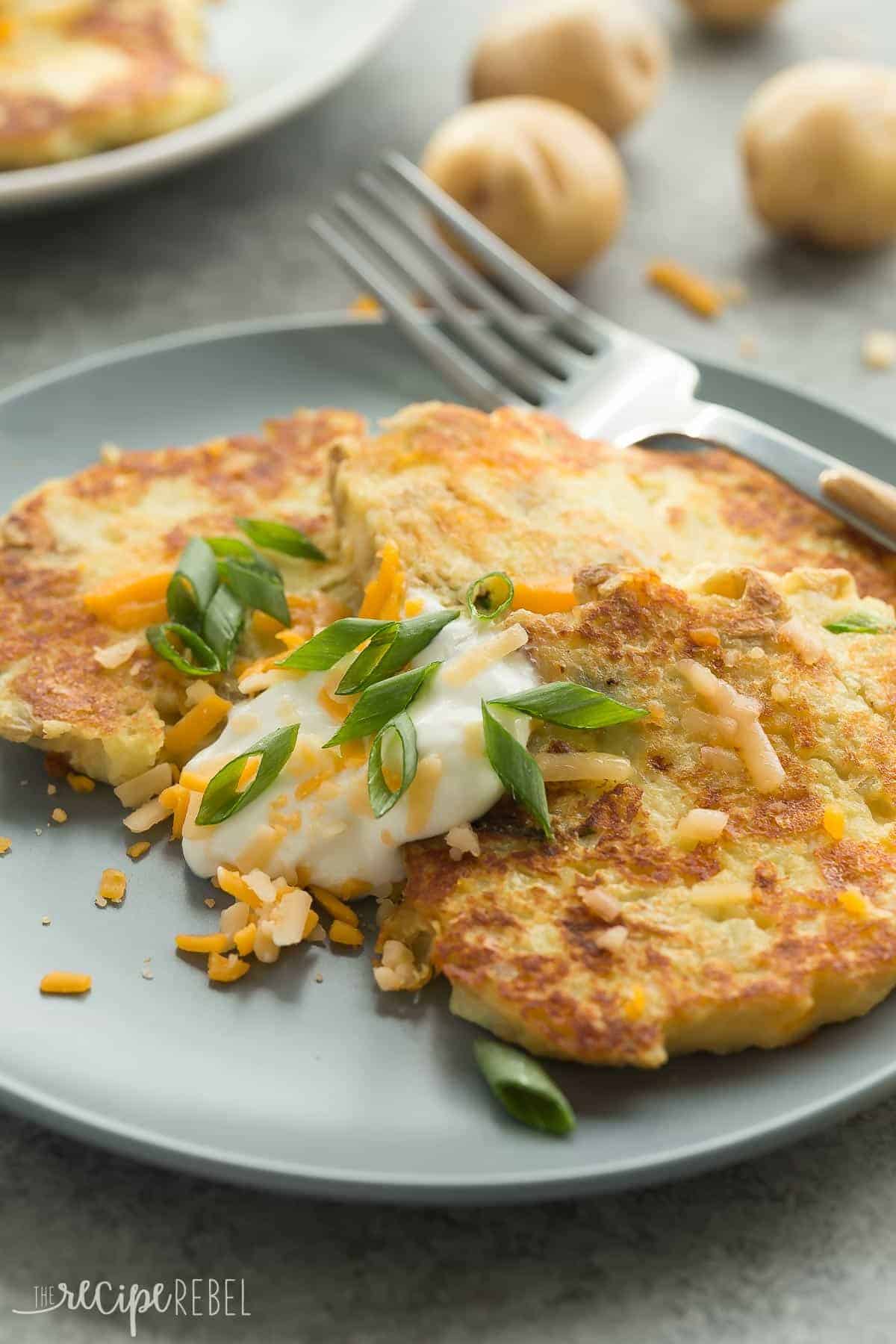 These Cheesy Mashed Potato Pancakes are so simple to make — just some leftover mashed potatoes (or freshly mashed!) and a handful of ingredients, a hot griddle, and a flipper. They are creamy on the inside, crispy on the outside and they go perfectly with just about anything. They could be breakfast with a side of bacon or sausage, or dinner paired with a roast, salad and some veggies!
If you're using leftover mashed potatoes that had liquid added to them, be sure to read my notes in the recipe about adding flour. You're going to want the consistency just right for these or they will fall apart on you. You want your mashed potatoes to be not too sticky — if in doubt, add a tablespoon of flour and go from there. And be gentle when you're flipping! The result will be worth it 🙂
*This post is sponsored by The Little Potato Company as part of my ambassadorship with them and I was compensated for my time — thank you for supporting brands that support The Recipe Rebel!
6 pancakes
adjust servings
Cheesy Mashed Potato Pancakes
These Cheesy Mashed Potato Pancakes are one of the best ways to use up leftover mashed potatoes! Just 5 ingredients and a few minutes prep.
Ingredients
1/2

(1.5lb) bag (340g) Little Potatoes (I used Baby Boomers)

1

large egg

1/2

cup shredded cheddar cheese

1

green onion, sliced

1/2

teaspoon salt

flour -- optional (see notes)
Instructions
In a medium pot, place potatoes in cold water and bring to a boil over high heat. Reduce to medium heat and simmer for about 10 minutes, until tender. Mash well and cool to room temperature. (*see notes for using leftover mashed potatoes).
In a large bowl, combine mashed potatoes, egg, cheese, onion and salt.
Heat a griddle or large frying pan to medium-high and spray with non-stick spray. Scoop potato mixture onto hot griddle and press down to flatten.
Let cook for 4-5 minutes until very golden and crispy, then flip and cook another 4-5 minutes until golden brown. Serve with sour cream, cheese and green onions or top as desired.
Recipe Notes
If you're using previously seasoned mashed potatoes, you may want to skip the salt. If your potatoes were mashed with another liquid such as broth or milk, you will want to add 2-3 tablespoons flour to your potatoes before making your pancakes.