Soft, buttery pecan cookies topped with brown sugar frosting and more pecans — one perfect cookie! Great for Christmas baking or any day of the year!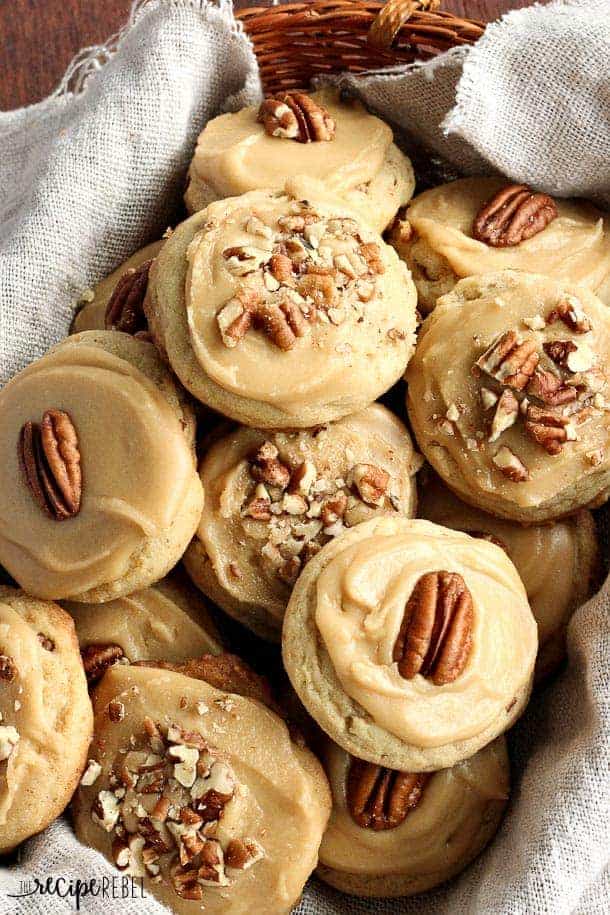 I know what you're thinking.
I'm all about a dense, chewy, fudgy cookie. And these cookies are soft and fluffy.
I'm all about chocolate. And these are, well, not.
And I totally wish I could deliver a batch of these to all of you personally so that you could understand just how good they are. But I can't.
You're just going to have to make a batch for yourselves and thank me later.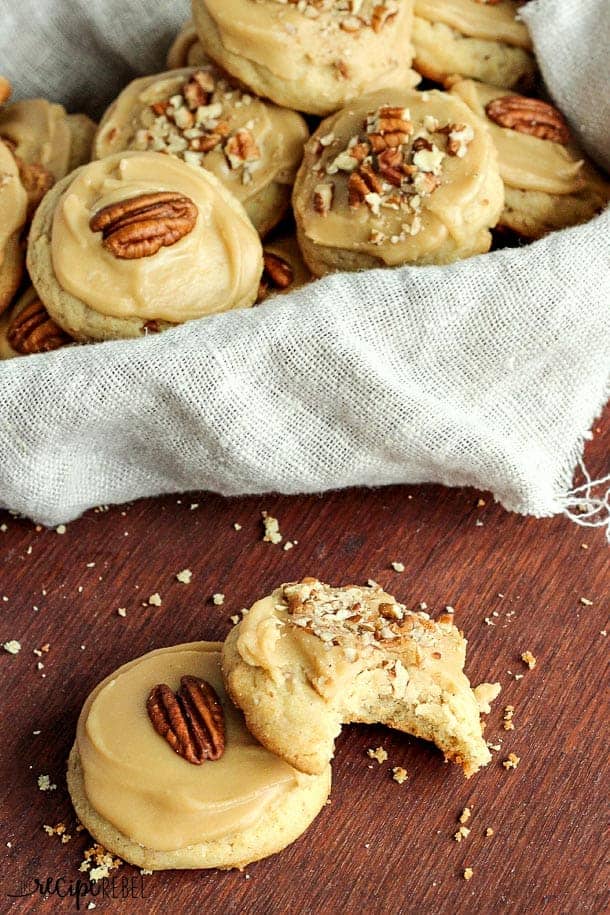 Yes, they're soft and fluffy instead of dense and chewy like most of the cookies I make. But they're filled with brown sugar. And they're topped with brown sugar frosting. And pecans. Pee-cans.
Sorry, I'm Canadian.
But I tried to channel my secret inner Southern girl when I made you these praline-inspired cookies.
Now, when you make these, there is just the perfect amount of frosting for the cookies plus about 3 tablespoons. Feel free to spoon those right into your mouth.
Oh my word. Brown sugar frosting is my new favorite thing.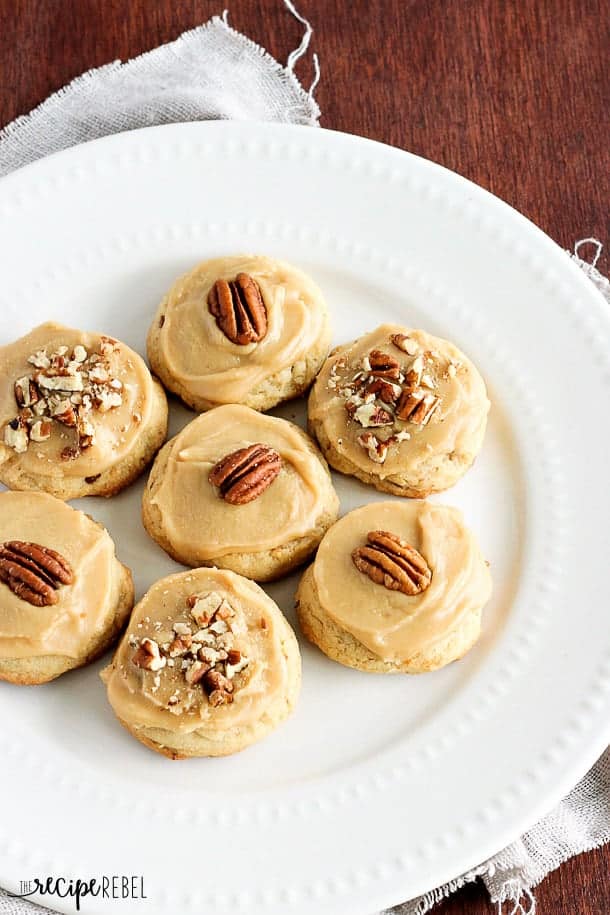 It's so easy because the sugar and milk are melted together, and everything else can just be stirred in. But then, with 5-10 minutes it's firmed right up so you can stack them right away. And if your frosting gets a little cool and difficult to spread, just pop it in the microwave for 10 seconds and you're good to go (I actually had to do this twice while making these).
Christmas or not, you need these in your life.
And for your holiday brunch or party? You need to try this Easy Spanish Potato Omelette!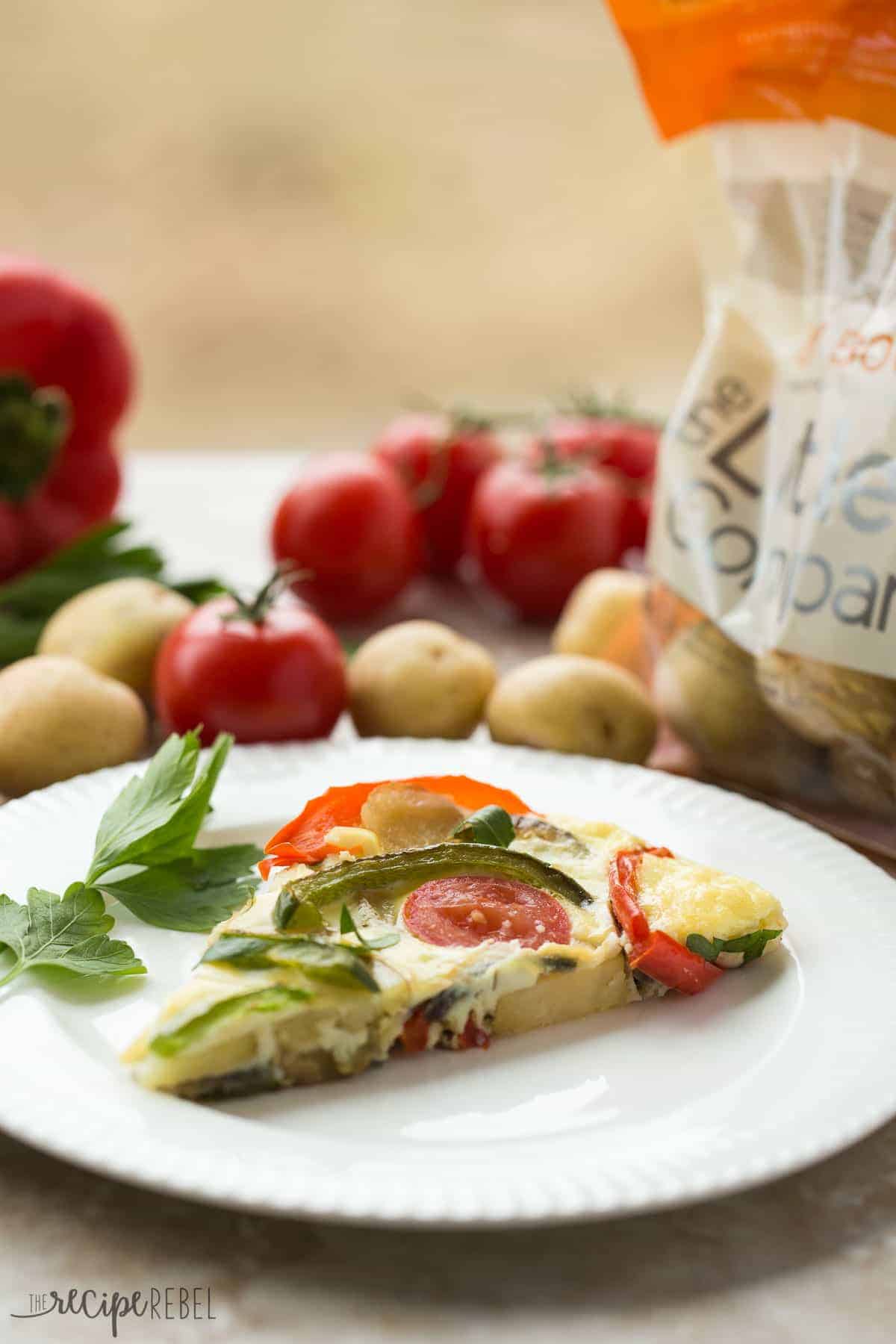 3 dozen
adjust servings
Brown Sugar Pecan Cookies
Brown Sugar Pecan Cookies: soft, moist pecan cookies topped with an easy brown sugar frosting. Perfect for Christmas or holiday baking!
Ingredients
Cookies
1

cup butter or margarine, softened

1/2

cup granulated sugar

1/2

cup packed brown sugar

1

large egg

1

tsp vanilla

2

cups flour (I did 50% whole wheat, 50% all-purpose, but you could use all-purpose)

1/2

tsp baking soda

1/4

tsp salt

1/2

cup finely chopped pecans

36

pecan halves or chopped pecans, toasted, optional
Frosting
1

cup packed brown sugar

1/2

cup milk or cream (I use 1% milk)

1

tbsp butter or margarine

2

cups powdered sugar, sifted
Instructions
Cookies:
In the bowl of a stand mixer, beat butter and sugars until light and fluffy. Add in egg and vanilla and beat until combined.
Add in flour, baking soda, and salt beat until combined. Stir in chopped pecans.
Cover and refrigerate 30 minutes (or more).
Preheat oven to 350 degrees F.
Shape into 1" balls (I used a 1 tbsp cookie scoop) and place a couple inches apart on lightly greased cookie sheets or parchment paper. Bake 10 minutes or until set (not glossy at all in the middle) and lightly browned at the edges. Cool before frosting.
Frosting
Combine brown sugar and milk in a small pot over medium heat. Bring to a boil and boil 3-4 minutes, stirring constantly. Remove from heat and stir in butter.
Stir in 1½ cups powdered sugar and whisk or beat with a mixer until smooth. If frosting is too thin, add more sugar, but keep in mind it will firm up dramatically within a few minutes.
Spread each cookie with about 1 tbsp frosting and top with a pecan or chopped pecans. Let frosting set before storing.
Recipe adapted from Southern Living Christmas Cookbook.
You might also like these Butter Tart Squares!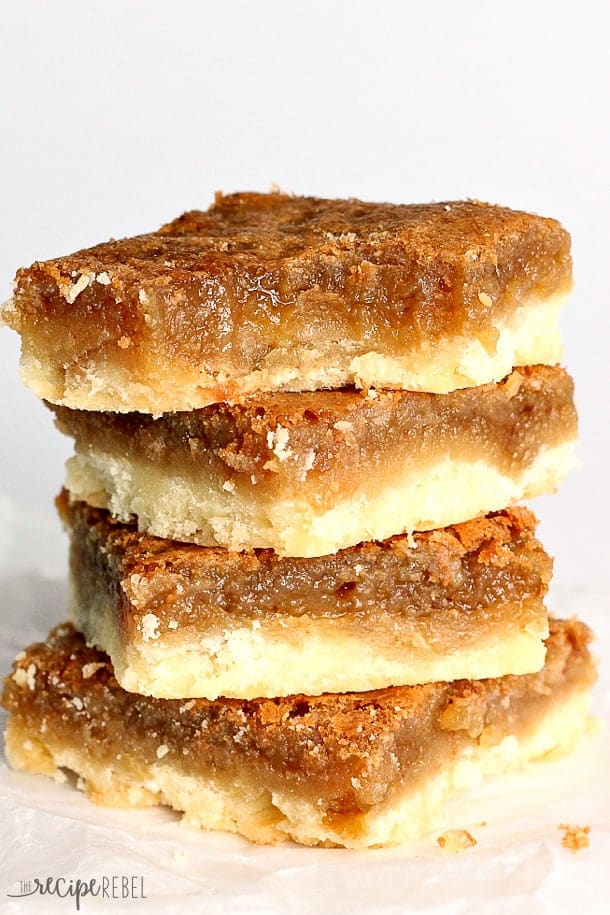 Or this Light Overnight Caramel French Toast!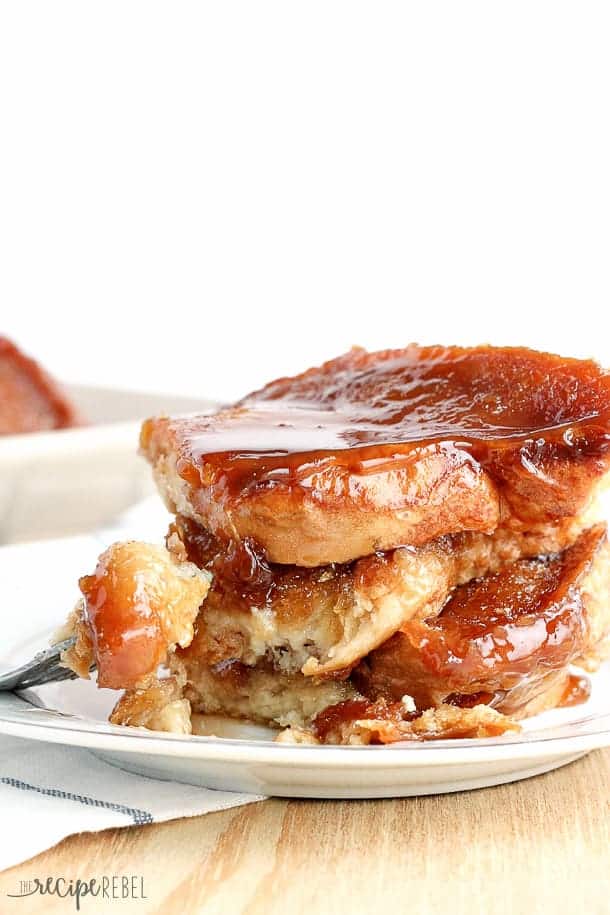 More great pecan recipes from friends!
Maple Pecan Buttercream Frosting from The Food Charlatan
Pecan Pie from House of Yumm
Pecan Pie Baklava from Crazy for Crust