Come on now.
Pasta. Cheese. Tomato Sauce. Cheese. Italian Sausage Meatballs. Cheese. What's not to love?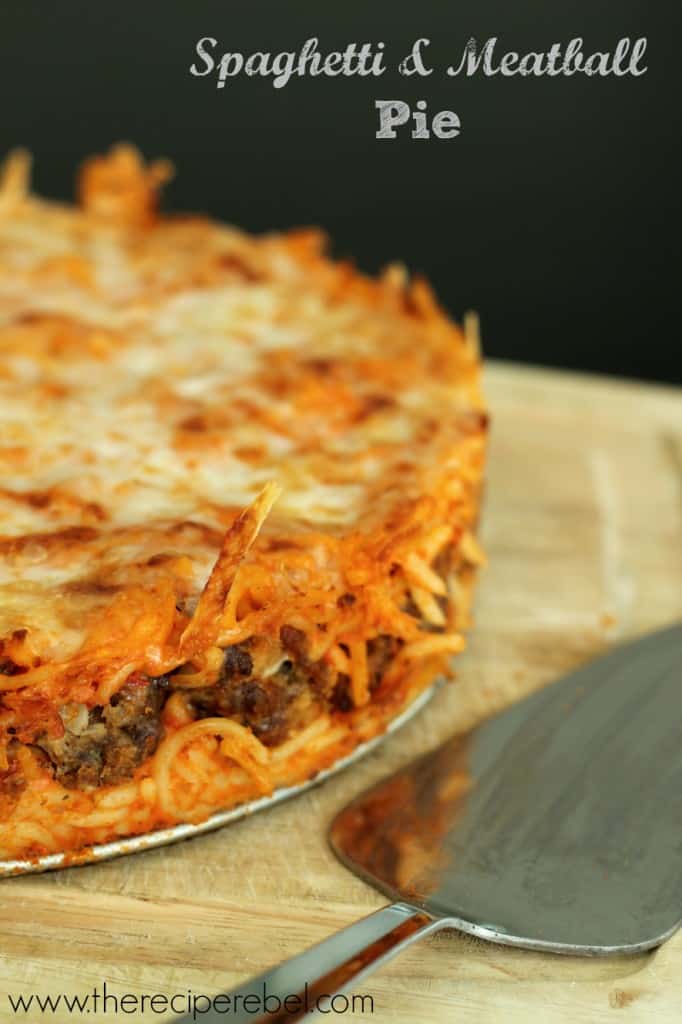 I'm a little nutso for Italian food. Which puts me in the bad books, I guess, according to all of the anti-wheat literature springing up in the last couple of years. I refuse to rule out any foods completely (except broccoli), and instead focus on making as much as I can from scratch from whole foods and trying to eat just enough vegetables to balance out my sometimes excessive sugar intake.
This recipe has intrigued me since I pinned it a few months ago. But it's something you've got to make when you've got leftover spaghetti and meatballs, because who really wants to mix, roll and cook meatballs; cook pasta and let it cool; combine the ingredients for the recipe, and then wait for it to bake for an hour and five minutes? And who has leftover spaghetti and meatballs to begin with? This is a great recipe for using up leftovers in a new and creative way.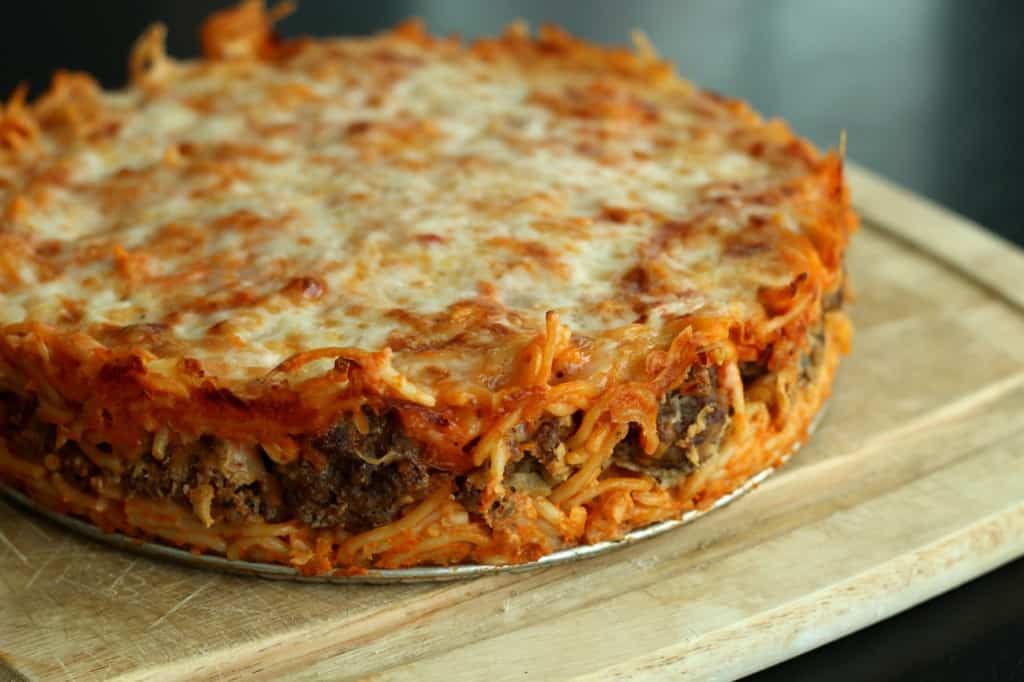 I made my own meatballs using half homemade Italian sausage and half ground beef, using this recipe as my inspiration. I've never made my meatballs with Italian sausage before and, let me tell you, that was a win. Just incredible flavour.
I cooked two full pounds of spaghetti, and saved about half for this recipe. I didn't have any homemade tomato sauce so I used Classico Fire-Roasted Tomato and Garlic sauce — delicious.
And the cheese.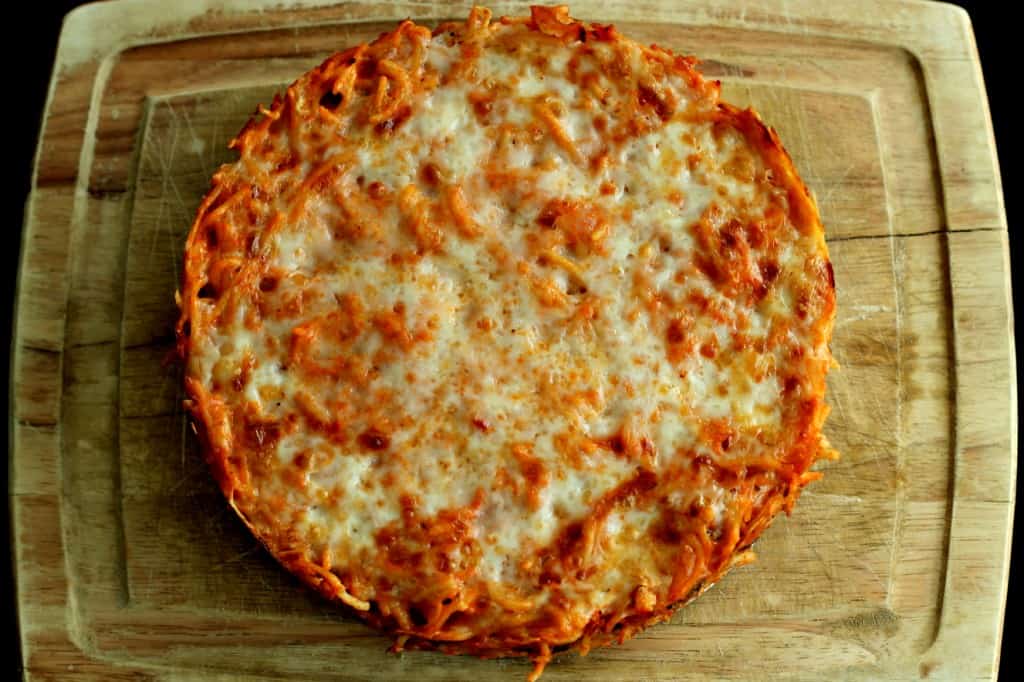 Would you believe I don't really like cheese? I mean, I'm all about melty cheese, but I cannot eat cold cheese. That being said, the cheese makes this dish. No skimping. I used a full 2 and a half cups, with an added half block of cream cheese. It is so divinely creamy.
Anyway, if I continue down this path you're going to find me with my head stuck in the fridge nibbling at the leftovers. Next time you make spaghetti and meatballs, save some for this.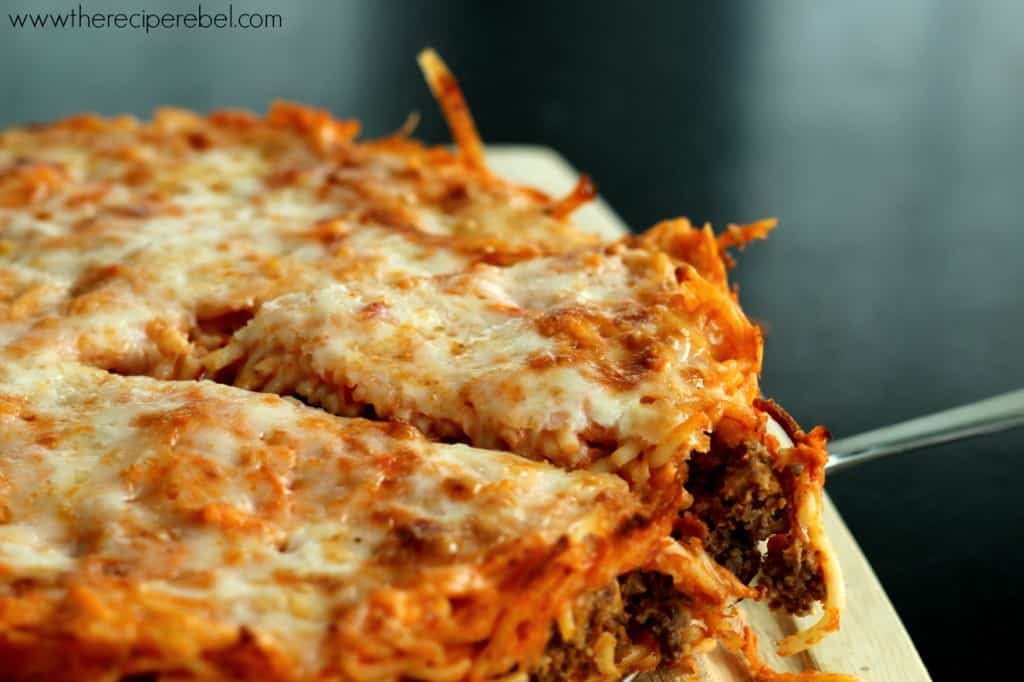 1 9" Springform pan (8-10 servings)
adjust servings
Spaghetti and Meatball Pie
A delicious way to use up leftover spaghetti and meatballs!
Ingredients
Filling
1

pound leftover cooked spaghetti

1 1/2

cups leftover tomato sauce

2

eggs, beaten

1/2

block cream cheese

1 1/2

cups grated mozzarella cheese

20

medium size cooked meatballs, chopped

(optional) 1 cup fresh veggies such as tomatoes, zucchini, etc.
Topping
1

cup grated mozzarella cheese
Instructions
Preheat oven to 350F. Spray a 9-inch springform pan with non-stick cooking spray; set aside.
In a large bowl, soften cream cheese in the microwave for 15 seconds. Add the eggs and whisk until combined and smooth.
Add pasta, sauce, and cheese; stir to combine. Pour half of the spaghetti mixture into the prepared springform pan, add chopped meatballs and optional veggies (if using).
Add remaining spaghetti mixture, and top with 1 cup mozzarella cheese (press everything down to make it compact). Cover springform pan with foil and place on a sheet pan.
Bake for 55 minutes, remove foil and broil until the cheese browns nicely on top. Remove from oven and rest for 15 minutes (if you remove the sides before 15 minutes it might not cut as nicely).
Recipe Notes
You could also make this in a regular 9x13" pan.
Adapted from ButterYum.