*I received free product to sample and use for recipe development in this post. All opinions are 100% my own.*
So I haven't eaten a lot of Filipino food in my days.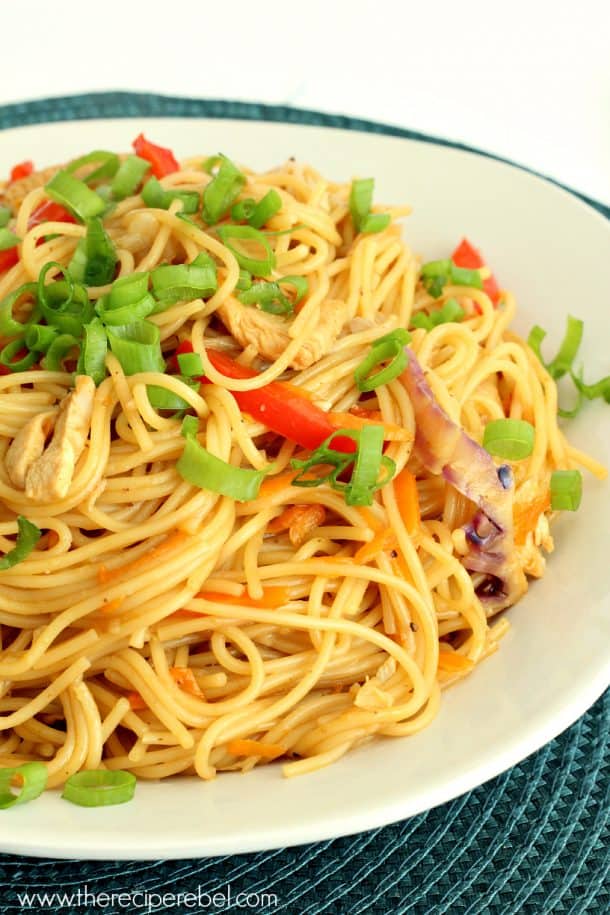 It's not that I've made a special effort to avoid it, it's just that growing up in a small town you've got limited options for dining out. You can go to the cafe, and get some chicken fingers and fries, or the Chinese restaurant for, you guessed it, Chinese food.
I've always loved the sweet and sour and spicy thing that a lot of Asian food has going on. That perfect balance of flavours.
So I was super excited when I got the opportunity to try out some Filipino cooking sauces and marinades from Pulo Cuisine.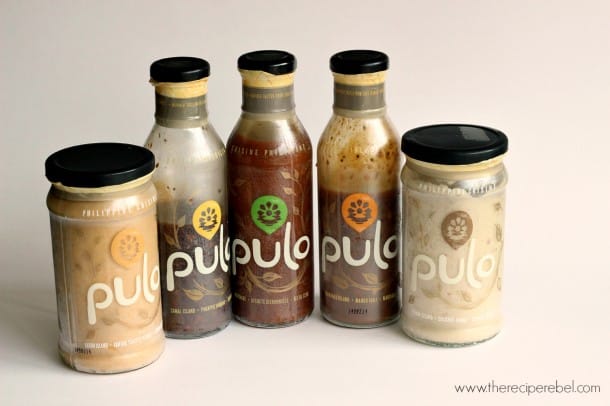 You can see we've been making our way through them, trying them out in different dishes!
I started looking into what exactly Filipino food is. And I found out that it's a mix of Asian influence and Spanish, that they make sweet spaghetti with hot dogs, and that some staples are chicken, pork, vinegar, and garlic.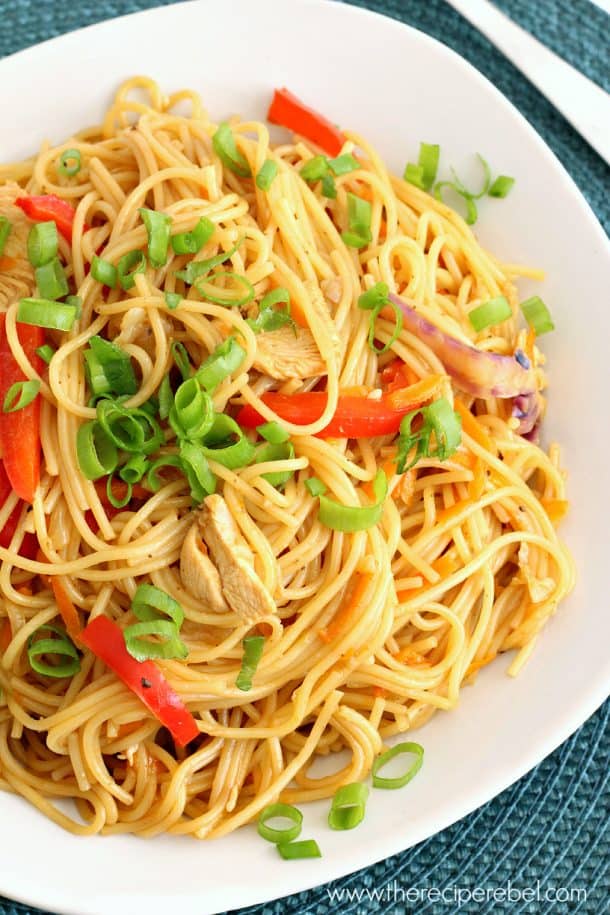 It sounds like an epic combination to me.
I was sent two different cooking sauces (Coconut Adobo and Kare Kare Toasted Peanut) and three different marinades (Mango Chili, Pineapple Tamarind, and Lemongrass Atsuete) from Pulo Cuisine to try out and create some recipes with.
While I was doing some research on Filipino food, I found some recipes for Pancit and, well, I really like noodles. I thought a version of Pancit was definitely going to be the first route I'd go.
Pancit is a noodle dish made with sliced vegetables like cabbage, onions, carrots and peppers as well as garlic and soy sauce. I thought it would pair really well with the Mango Chili marinade.
I marinated some chicken with the Mango Chili marinade. Then I fried it up in a large pot, added some thinly sliced or shredded veggies, some noodles, broth and some traditional (and maybe some untraditional!) seasonings, and let it cook until the noodles were tender and coated in a thin sweet, sour and spicy sauce.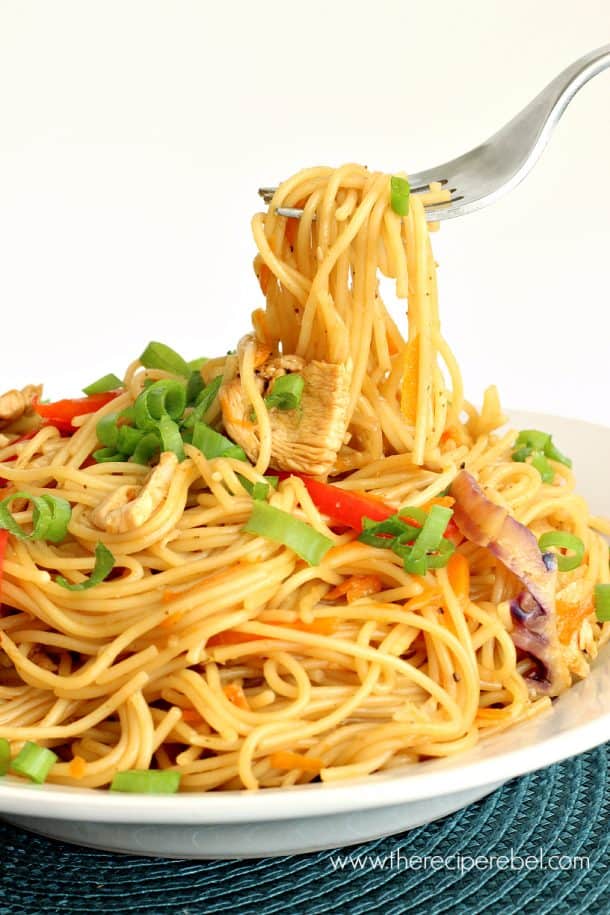 My taste testers gave it their nod of approval.
Which in my house means all I heard from the two-year-old during dinner was, "yummy noodos! Yummy noodos!"
So if you're a connoisseur of Filipino food, or you're new to the party, you definitely need to get your hands on some of these delicious marinades and sauces and make yourself some incredible food.
And if you're feeling really adventurous, I bet this pasta would be delicious with any of the marinades!
5-6 servings
adjust servings
One-Pot Mango Chili Chicken Noodles
A sweet, sour and slightly spicy one-pot noodle dish that's ready in 30 minutes or less. Perfect for weeknights!
Ingredients
2

chicken breasts

1

cup Mango Chili marinade from Pulo Cuisine

1/2

onion, thinly sliced

1

red pepper, thinly sliced

2

medium carrots, shredded

2

cups shredded cabbage or cole slaw mix (dry)

4

cups chicken broth

1/3

cup soy sauce

1/4

cup Mango Chili marinade

2

tbsp brown sugar

1/2

tsp minced garlic

1 454g

box spaghettini or vermicelli

salt, to taste
Instructions
Thinly slice chicken and place in a ziploc bag with the 1 cup marinade for at least 1 hour (refrigerated).
Place chicken and marinade from bag into a large pot and cook over medium-high heat about 3 minutes. Add the onion, pepper, carrot and cabbage or cole slaw mix and cook another 2-3 minutes, until chicken is cooked and vegetables are started to become tender.
Add chicken broth, soy sauce, marinade (from the bottle, and not leftover from the chicken), garlic and noodles. Bring to a boil and cover, reducing heat to medium-low.
Simmer, stirring often, for 10-15 minutes until noodles are tender. Salt to taste.
Recipe Notes
*If you're in a rush, you could skip marinating the chicken, but it definitely adds a lot of flavour to the dish!