More than 65 ideas for healthy food swaps we can make this month, and next month, and as long as those resolutions last 😉 These are tips and tricks from readers of The Recipe Rebel on healthier choices when it comes to the things we're cooking up.
Happy January!
Did you guys make any resolutions this year? I don't usually make any formal resolutions, but I am a fan of starting fresh after the holidays, filling my fridge with good food and getting back to routine.
It also happened that my baby girl was 6 weeks old on December 23, which means I had to wait until Christmas to really get into any exercise routines anyway. I definitely used that as an excuse to indulge and enjoy, but I am so ready for some healthy changes and to get moving again!
This was the first week of school here, and my first real week back "at work", which means that the hubs has the kids downstairs for a few hours while I work on the computer. I'm excited to show you everything I have for you this month!
Please note: I personally do not cut out any specific food groups or take part in any radical diets. There is a difference between "low sugar" and "low calorie" and "healthy", and every type of recipe or swap suits a different person and their needs. Please acknowledge as you read this that not every swap is right for every person, and I'm thankful for everyone who contributed and for everyone who is trying to make healthy changes this month. I am not a dietician or nutritionist, this is simply a compilation of reader tips to inspire healthy changes now and throughout the year.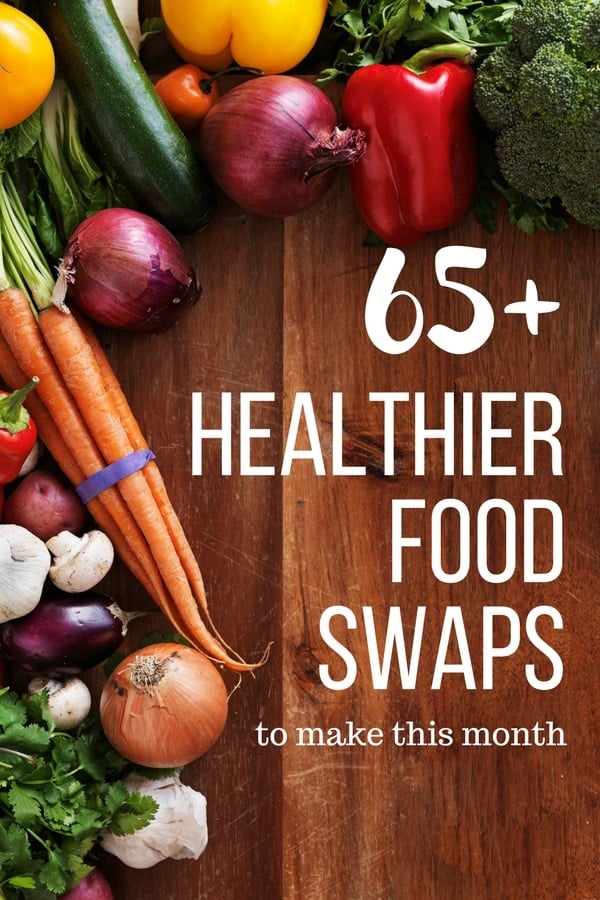 Getting those fruits and veggies
Fresh fruits and veggies v. canned – Mary from Georgia
Switch from drinking orange juice in the morning with all of the sugar to V8 tomato juice – Jo from Arizona
Cauliflower rice instead of potatoes – Carol
Swap Potato Chips for some Kale Chips – Tammy from GA
Morning Star Farms makes a very good veggie sausage. Will be serving those for breakfast instead of pork sausages – Curt from Texas
Add roasted vegetables to all your pasta, rice and quinoa dishes. It add so much more nutrition and flavor. – Jennie from Ontario
Added shedded zucchini to homemade burgers, helps hold the burger together and helps give an extra veggie serving with supper. – Renay from Saskatchewan
Have one purely vegetarian meal a week and cut down on some of the more rich dishes – Hope from Texas
I'm going to swap out regular pasta and swap in vegetable noodles! – Marie from Washington
Cauliflower for rice – Collyn from UT
When I go shopping for the week, and I enter the produce section, and I look for one extra item (in addition to what I intended to purchase) that is full of healthy nutrients to add to my menu for the week. I take it home and I use it during the week. Regardless of how it needs to be prepared, it adds to the nutrition of the week. It really helps me! – Dezi from Oklahoma
Spiral zucchini spaghetti for white pasta – Juanita from CA (Charlie from Iowa also makes this swap!)
Swap potatoes with sweet potatoes – Sandi from AZ
Swap jicima for french fries – Mary from Ohio
Trade in for your side of potatoes for a salad – Sandra from KY
Cauliflower for Mashed Potatoes – Sherry from N.C.
Instead of cheese and crackers for a snack, try cheese and apple as an alternative. – Kim from Ontario
I use avocado to add creaminess and texture to smoothies, sandwiches, and salad dressing. I use them instead of oil, mayonaise, milk. – Jacquie from Ontario
I learned the value of taking prebiotics and probiotics daily. Bananas are prebiotics, and they are easy to incorporate into your diet – Joansy from Indiana
Dairy
Swapping dairy for coconut milk – Allison from VA
Cottage cheese instead of ricotta in lasagna – Darlene from PA
I like to switch low fat cream cheese for some of the high fat cream in skillet recipes – Jane from ON
In recipes that call for sour cream or mayonnaise, substitute plain low-fat Greek yogurt. The end result will be lower in fat and higher in protein with this ingredient substitute – Lisa from TX (Nita from MB recommended the same swap!)
Swap dairy milk out for almond milk and save on a significant amount of calories! – Athena from B.C.
Cut out excess sugar
Not really a swap; we are doing Whole 30 and eliminating sugar. Many of us in the house seem to be having digestive issues so we are going to eliminate sugar and eat basic for 30 days – Tawni from Arizona
Trade in sugar loaded foods for fresh fruit – Tina from Vermont
Try more sugar free recipes, using natural sweeteners – Mary
Greek style yoghurt, if I run out of homemade, because there is no added sugar. Just reading the label of most brands would shock people when they see how much added sugar there is in most yoghurt!! – Lindy
Purchase a Sodastream if you are a pop/soda drinker. Get the bubbles not the sugar and it pays for itself in no time – Bev from ON
More water; no soda – Cyndi from Ohio
Frozen seedless dates as "caramels" instead of, well, caramels. – Alicia from Texas
Kesha from NC is swapping milk chocolate for dark chocolate.
Maple syrup instead of sugar – Julia from Ontario
Switching out my heavy sugar induced creamer in my morning coffee with half of what I usually do but with Almond Milk – Kaelen from Minnesota (Cara also shared this: I plan on swapping out my flavored coffee creamer, to half and half. It has slightly more fat but my carbs go from 4 g per serving to 1g per serving)
Yonanas instead of ice cream – Jonnie from AB
Lighten up your favourites
Stevia instead of sugar – Margaret from Mississippi
Smoothies made with frozen fruit and fresca instead of yogurt. Way less calories! – Katie
use lettuce wraps in place of bread on sandwiches & burgers – Becky from CA
Grab a cup of tea instead of dessert – Julie from Ontario
Applesauce instead of oil – Esther from Michigan
Not really a food swap, but more of an eating swap…I've focused on eating healthy before but frankly, smaller portions is my swap! Best of both worlds — enjoy the food, just swap smaller portions. – Brianne from Iowa (Margret from FL is on the same page!)
Cut Carbs- nothing drastic but with the holidays and countless sweets – reducing our carbohydrate intake for the next couple months is the plan! – Amy from NS
Swap the bagel for an english muffin. Swap the glass of OJ for an orange. – Starla from Georgia
Snack attack
Swap out chips for popcorn – Sandy from Iowa
Use hummus (any flavor!) instead of other creamy condiments on sandwiches for extra boost of protein, and less salt/artificial ingredients. – Lori from Texas
Almonds for snacks instead of chips – Mary from Massachusetts
I am going to take raw nuts with me when I am doing a lot of running so that when I get hungry I eat something healthy and filling – Diana from B.C.
Fresh Fruit in place of chips – Sharon from Tennessee
Veggies as snack foods! – Keely from AB
Protein
Substitute greek yogurt for sour cream for extra protein whenever possible
Less breads more proteins…carbs make me want to eat more however eating proteins satisfies me so much more – Joyce from Manitoba
One healthy food swap we can make this month is ground turkey for ground beef & meatless Monday's – Nicole from CA (Wendy from AZ also swaps out beef and pork for ground turkey!)
Try using lentils or black beans instead of your meat in a recipe. I make sloppy joes, chili and spaghetti sauce with red (or brown) lentils. It's much healthier. – Deborah from Ohio
Eat more fish for protein – Tanya from MA
Cut back on red meat consumption – Stephanie from OH
Swapping beef for more chicken and fish – Erin from AZ
Cook bulk chicken breasts in a slow cooker or Instantpot and then shred it and bag it in enough servings for your family for various meals: BBQ chicken for sandwiches, enchilada chicken salad, etc. – Dawn from CA
Healthier cooking techniques
Swapping out fried food for healthier cooking techniques – Darlene
Skip the fast food and cook healthy meals at home – Lori from Ohio
Use avocado oil instead of any cooking oil, no taste, can be used to fry/saute or in recipes for baking without adding any odd flavor. Also can be spritzed on foods in an air fryer to add crispiness – Judy from Michigan
Going to use coconut oil when I pop popcorn in place of butter – Toni
Use olive oil and sea salt instead of butter – Heather from OH
When buying canned tomatoes, beans or other veg, look for the "no salt added" variety – Alisha from BC (or use fresh instead, as Karin from PA suggested!)
More Paleo/Keto foods – Lynn from FL
More fresh food less take out – Terri
try balsamic vinegar for dressings instead of using store bought – Tracey from MB