Disclosure: I am part of the Campbell Company of Canada Ambassador program with Mom Central Canada and I receive special perks as part of my affiliation with this group. The opinions on this blog are my own.
Another way I love experimenting in the kitchen is trying a recipe for something that I don't usually use a recipe for.
Like tacos.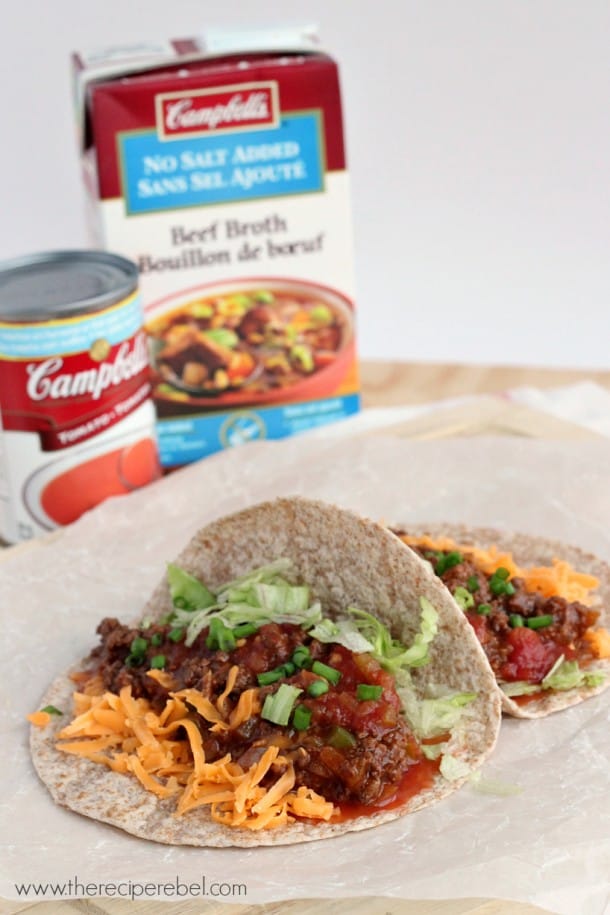 When I make tacos for dinner, it's usually just some meat, taco seasoning or a combination of spices, cheese, salsa, tortillas. Honestly? I don't even add lettuce or sour cream. And I'm not sure if a taco in a soft tortilla counts as a taco.
What do you guys think? Is a taco in a tortilla just a burrito?
Let me just say, I have a two and a half year old. I can't see hard taco shells anywhere in our near future.
But you should totally use whatever your family enjoys. After all, the shell/wrap is a just a vessel to fill with this incredibly tasty taco meat and all of your favorite toppings.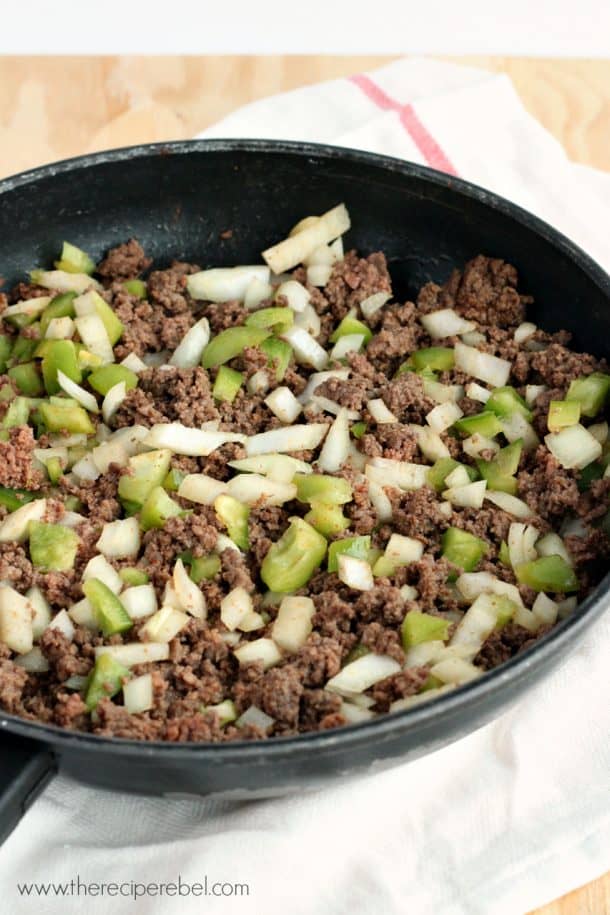 I know around the holidays you're probably not going to see a lot of taco recipes popping up on Pinterest. I know it's going to be turkey all day every day. And turkey leftovers. And how to freeze leftover turkey.
But I know that you're probably not actually going to be eating turkey for 3 weeks straight (are you?!), and I find at this busy time of year it's so nice to have some quick, hearty meals in your back pocket. Especially when you need a little change.
When I looked at the ingredient list for this recipe, I thought it didn't really look like much. The only seasoning on the meat was chili powder, plus the onions and peppers. Normally when I make tacos, I've got all kinds of spices going on.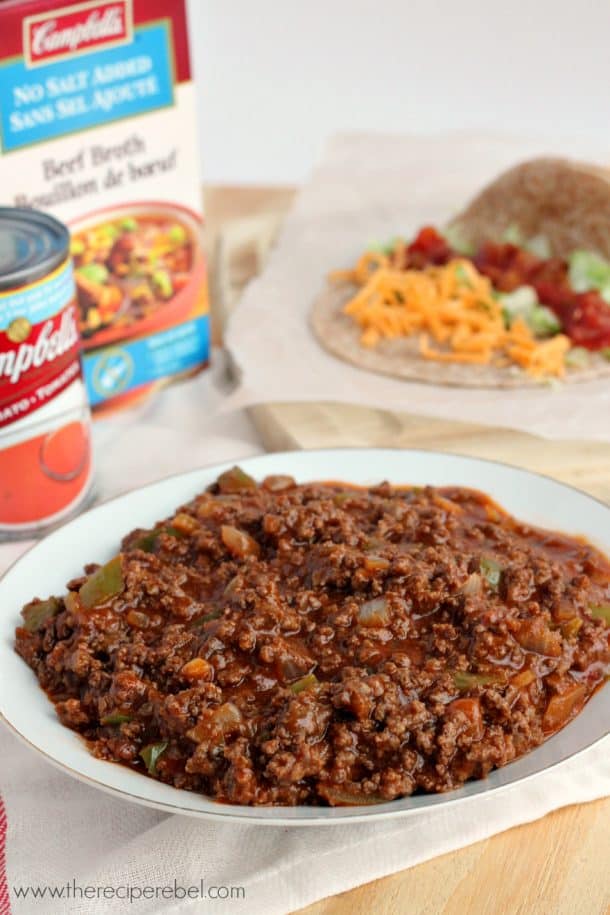 Now, that being said, I think the best recipes are the ones that don't look like much, that only have a few simple ingredients but have big flavour.
This is definitely one of those recipes. These are maybe the best tacos I've ever made.
No seriously.
The tomato soup and broth make them so moist and saucy, and not dry like we would normally eat our taco meat. And between the chili powder, onions, peppers and the extra spice from salsa, they have tons of flavour.
I don't know if I can ever go back now! Totally Simple to Make, Easy to Love.
Find more quick and flavorful recipes on the Cook with Campbell's web site!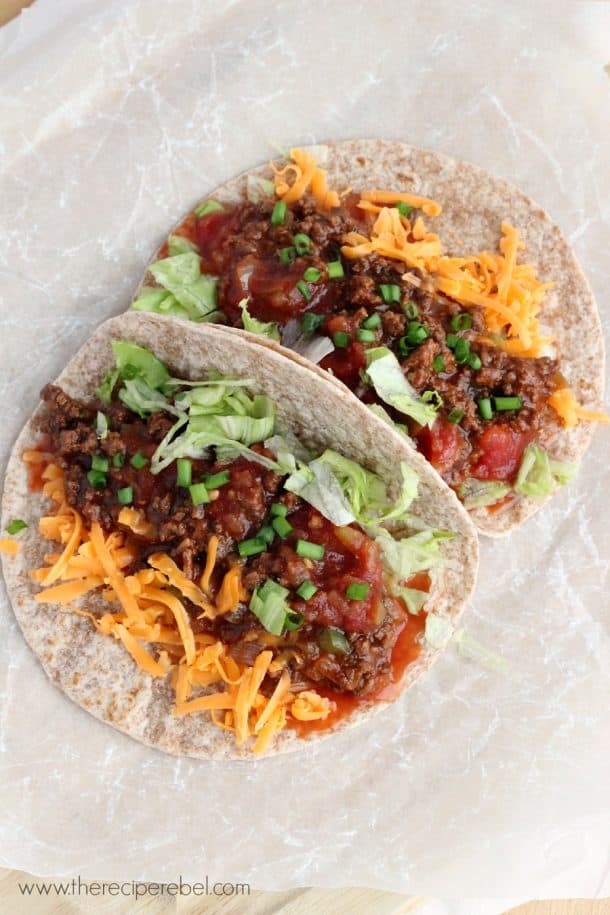 4
adjust servings
Classic Weeknight Tacos
Classic Weeknight Tacos: an unexpected twist on classic tacos. Super simple and so full of flavour!
Ingredients
1

tbsp canola oil

1

lb lean ground beef

4

tsp chili powder

1

Small onion, chopped

1

green pepper, chopped

1

can (284 mL) Campbell's® Tomato with Basil & Oregano Soup

1/2

cup Campbell's® Ready to Use Beef Broth

8

Small soft tortillas or taco shells

1/2

cup Shredded lettuce (1 tbsp per taco)

1/2

cup Shredded Cheddar cheese (1 tbsp per taco)

1/4

cup Sour cream ( 1/2 tbsp per taco)

1/2

cup Chopped tomato (1 tbsp per taco)

1/4

cup Chopped green onion ( 1/2 tbsp per taco)
Instructions
Heat oil in a large, nonstick skillet set over medium-high heat. Crumble in ground beef; season with chili powder blend. Cook, stirring and breaking up beef, for 5 to 7 minutes or until browned. Stir in onion and pepper. Cook, stirring occasionally, for 3 to 5 minutes.
Reduce heat to medium-low. Pour in soup and broth; bring to a simmer. Cook, stirring often, for 5 to 7 minutes or until sauce is thickened. Remove from heat.
Fill tortillas or taco shells with shredded lettuce and some of the beef mixture. Garnish with Cheddar, sour cream, tomatoes and green onion as desired.
Find the original recipe here.