So my husband brought me a 28 pound watermelon a couple days ago.
I thought that we had bought a nice fridge before we moved into our new house at the end of December. And suddenly… it looks pretty small.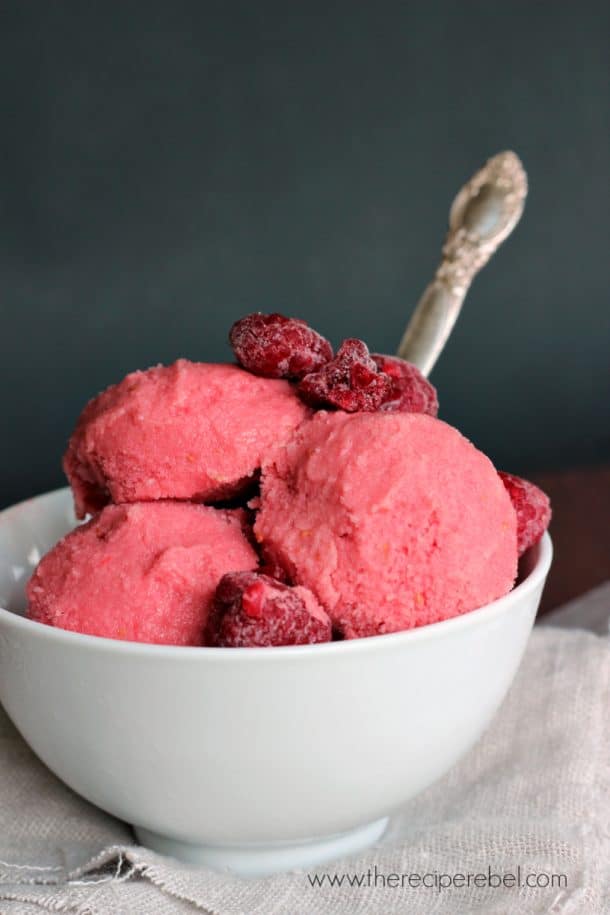 I started cutting up half of it once my daughter had gone to bed, and that took me about an hour. I thought that I should just cut it into small chunks and deseed it while I'm at it so that it actually gets eaten.
I took out a container to put some in.
And then I took out 3 more.
If you follow me on Instagram, you saw just how much watermelon I got from a measly half.
So I asked you on Facebook how you store it and what you do with it, because I just couldn't see us polishing this off before it was past its peak. I got lots of suggestions, but I really wanted to do something with raspberry.
I'm loving the way raspberries complement so many other flavours. Strangely enough, I'm not really into eating raspberries by themselves.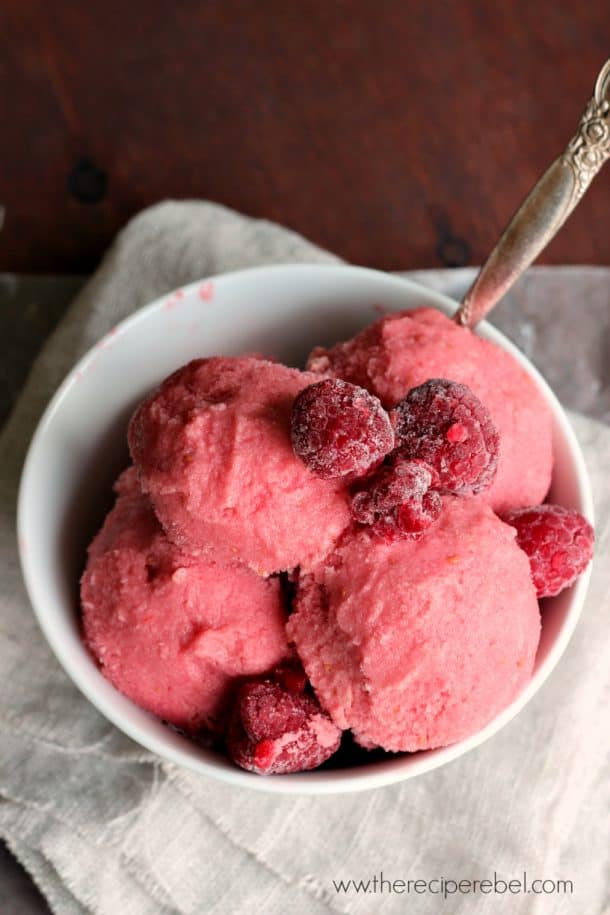 This is definitely a sorbet, and not an ice cream, because there isn't any cream or milk in it. It has a bit of an icy texture, though I like to eat mine at soft serve consistency, so I take it out after about 7 hours or just let it sit on the counter for 20 minutes before dishing it out. I had half a container of whipped topping sitting in my fridge, and I know it's not the same as real cream, but it gives it just a little bit more of a creamy texture.
It's the perfect fresh and fruity way to end a summer meal!
approximately 2 litres
adjust servings
Raspberry Watermelon Sorbet
A cool, creamy raspberry watermelon treat -- the perfect end to any summer meal.
Ingredients
1

cup water

1

cup sugar

2

cups frozen raspberries

6

cups watermelon

2

tbsp lemon juice

2

cups light cool whip
Instructions
In a small pot, combine water and sugar and bring to a boil. Boil until sugar is dissolved, then set aside to cool.
In a food processor, puree raspberries and watermelon. Add lemon juice and cooled water.
Add cool whip and puree until combined.
Place in a freezer safe container in the freezer. Freeze until desired consistency.
Recipe Notes
*Optional: Stir every 1-3 hours to prevent it from getting too icy. I froze mine for 7 hours, stirring about 3 times, and then placed back into the food processor to get a creamier texture. You can skip these steps, but they help achieve a creamy consistency.