*This post was sponsored by Almond Breeze. All opinions are my own.*
There are some really brave and admirable pregnant women who will go caffeine free throughout their pregnancy.
I am not one of them.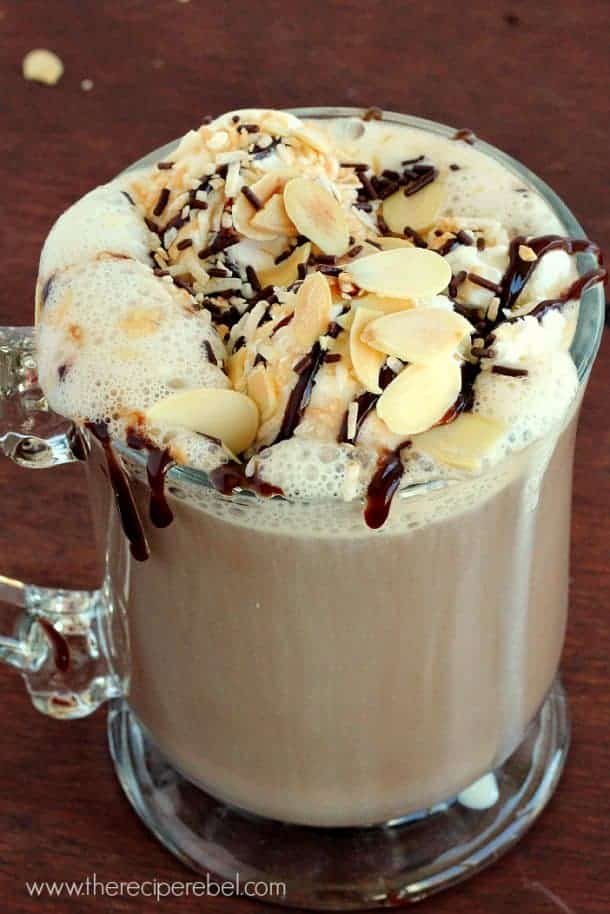 You might think that's absolutely horrible. In fact, it's much, much safer than the other option, which is an un-caffeinated me (and, yes, I know that's not a word).
I told my husband the other day that having my cup or two of coffee in the morning is actually the responsible thing to do, because I wouldn't want to see what my morning drive to work would look like minus the caffeine.
I'm 33 weeks pregnant, and lately I feel like I could sleep until 9am if I was ever allowed to. Which, to me, is super late, because I have always been an early riser. That is, before I was a mother.
So Almond Breeze so kindly sent some almond milk for me to try out and make some recipes with, and it was actually the first time I tried almond milk. I wanted to do a drink recipe first, and I'm sure it's wonderful in smoothies and cold beverages, but hey — it's the end of October in Manitoba. A nice, steaming cup of something rich and chocolatey is where it's at.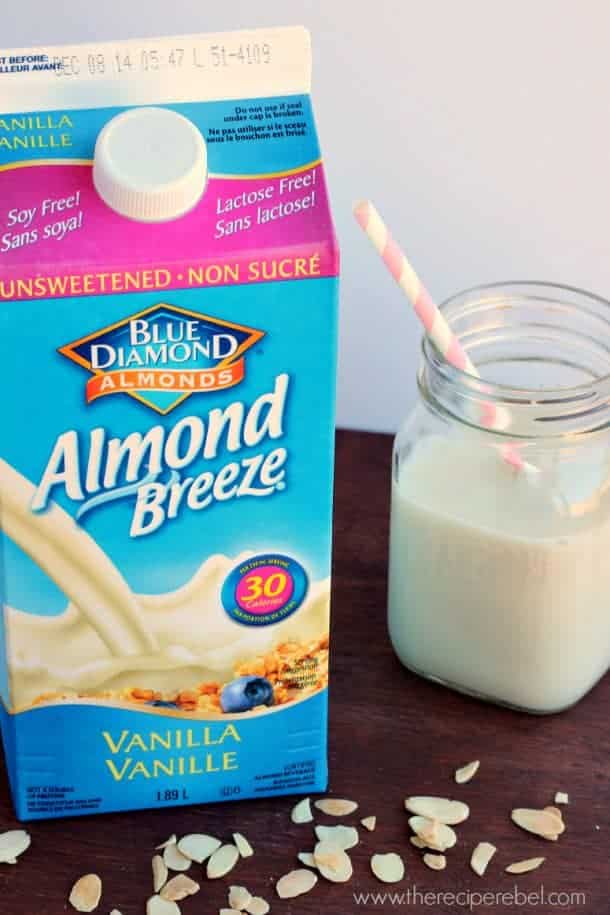 And you know how there are those days when you know it's either going to be a cup of coffee or a nap? Or maybe even both? It was definitely one of those days. So I went for the caffeine.
My daughter and I sampled 3 kinds of Almond Breeze one afternoon: original unsweetened, vanilla unsweetened, and vanilla sweetened.
Now, this was my first experience with almond milk but not my first experience with lactose-free milk. Growing up, we went through a lot of milk in my family. In fact, I hated water. I would never drink water unless I was playing sports. Milk was just what we drank.
A few years ago, I was feeling sick a lot so I asked my doctor about it and she suggested I lay off the dairy milk for a while. But I couldn't live without any milk, so I bought lactose-free milk for a while. And I've got to say, it just doesn't compare. It's bitter and not something I would drink plain.
And I think that's why the Vanilla Sweetened Almond Breeze was my favorite. I mean, I'm sure that's probably what you would have guessed, if you follow my blog at all, but it's just totally, incredibly delicious. It's like a treat, really. The one thing I missed when I was drinking lactose-free milk was that slight sweetness, and the Vanilla Sweetened definitely has that.
Now, keep in mind that the Vanilla Sweetened has no more sugar than a regular serving of 1% milk, it has 30 fewer calories and is packed with all kinds of good things, like Omega 3's and calcium. And for those reasons, I actually like it more than regular dairy milk, even though I incorporated dairy milk back into my diet long ago.
We also like the Vanilla Unsweetened, and I think the Original Unsweetened would be awesome in savory dishes or smoothies.
How was that for a tangent?
So this beverage.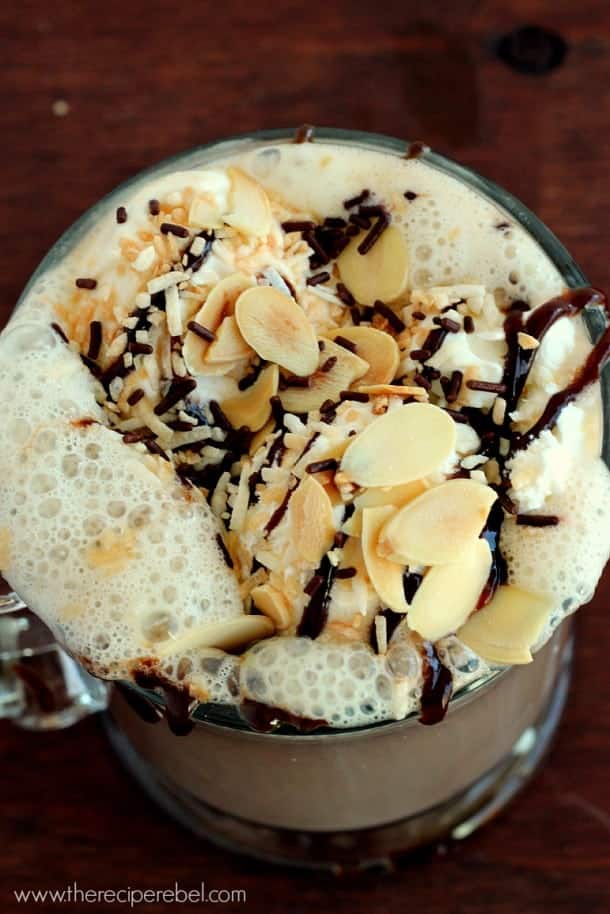 It's SO good. I am a big lover of anything Almond Joy, and that's the first place my mind went when I thought of almond milk. You could definitely make this caffeine free by substituting the coffee for more almond milk. You could also make this completely dairy free by choosing a hot chocolate mix with no dairy.
1 large serving or 2 small servings
adjust servings
Almond Joy Mocha
Almond Joy Mocha: rich, creamy with all the almond, coconut and chocolate flavor you love from an Almond Joy. Perfect for a cool evening!
Ingredients
1

cup vanilla unsweetened (or sweetened) Almond Breeze

1 1/2

cups leftover brewed coffee

2

tbsp hot chocolate powder

1/2-3/4

tsp coconut extract (you could also add in coconut milk)

whipped topping or whipped coconut cream

toasted coconut, toasted almonds, chocolate sauce and chocolate sprinkles for garnish
Instructions
In a small pot, combined Almond Breeze, coffee, hot chocolate powder and coconut extract. Heat over medium heat until hot.
Pour into one large mug or two smaller mugs, and top with whipped topping and garnishes as desired.