Pulled pork is one of those things I can eat all week and not complain about it.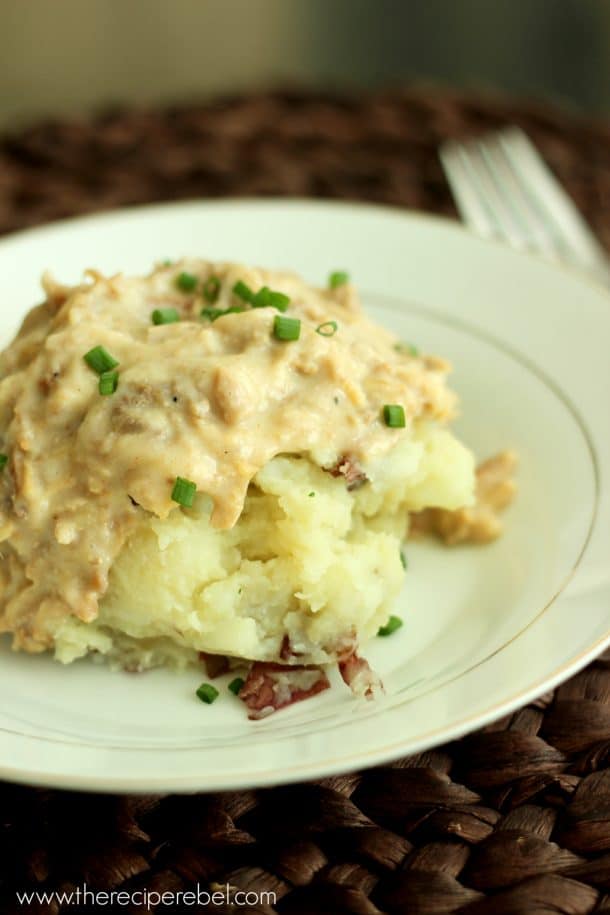 I think it must be the sauce, because we really like sauce. Pulled pork is usually covered in some thick, delicious, sweet and sour and smoky sauce that I just can't get enough of.
That being said, earlier this week I had made pulled pork with this Pineapple Brown Sugar BBQ sauce, but instead of dumping the sauce over the whole mound of shredded meat, I pulled out 1-2 pounds of dry shredded pork to experiment with. My roast was huge, likely a good 5 pounds, and I thought 5 pounds of the same thing in one week was probably too much.
It has been really nice not to cook all week, even if I have to eat the same thing every day.
But eventually Thursday rolled around, and there was only about 1 serving of my Pineapple Brown Sugar pulled pork left. And two people.
So I thought about it for a long, long time…. trying to think of some genius idea that would wow you all as well as my 2 year old.
I thought about Pulled Pork Chili (not that exciting), and Pulled Pork pizza (too late for that), Pulled Pork Soup (it was 34 degrees Celsius… or A LOT Fahrenheit), Pulled Pork over perogies, Pulled Pork pasta…. You have no idea how long I thought about this. I went through every possible combination of ingredients in my house.
And then it was 5:00.
And I'm one of those people who eats supper super early. I blame it on my toddler, but really I'm just hungry a lot.
And then I thought of these Smothered Pork Chops I've made a couple times and really enjoyed…. and I thought it might just work. It's still pork, after all. Surely the flavours would work just as well, regardless of what shape my meat was in.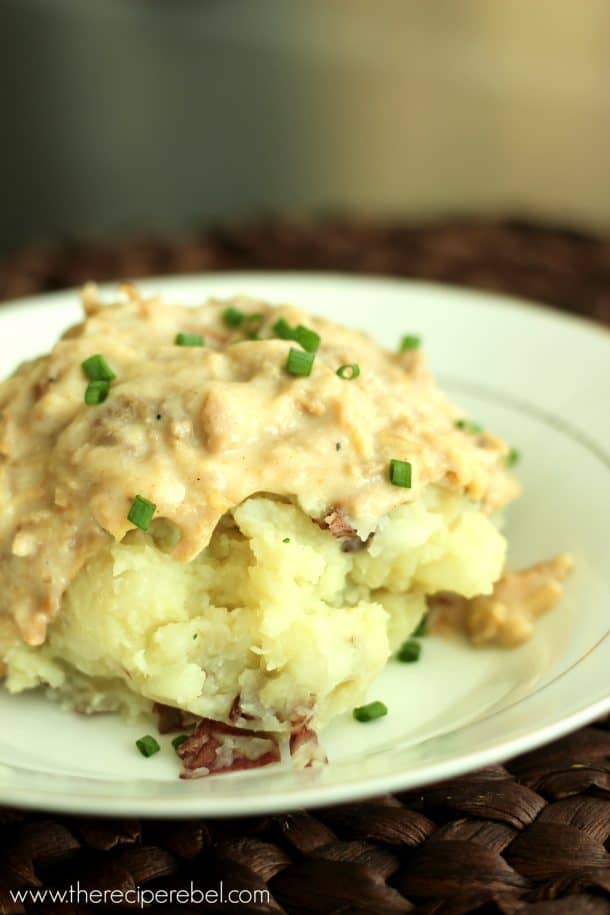 So I made some creamy, savory, spicy gravy and added my shredded meat.
"This is yummy," she says.
Enough said.
This meal is so quick and easy, especially if you set aside some cooked pork earlier in the week. It's a great way to mix things up a little when you're making shredded pork anyway!
For instructions on how I cook my shredded pork, see this recipe.
5-6 servings
adjust servings
Smothered Shredded Pork
The creamy gravy over this pork has so much flavour -- it was a hit in our house!
Ingredients
1/4

cup butter

1/4

cup flour

1 1/2

cups milk

1/2

cup chicken broth

1

tbsp onion powder

1

tbsp garlic powder

1/4-1/2

tsp cayenne (if you like things a bit spicy, go for the full 1/2 tsp)

3/4

tsp salt

a pinch of black pepper

1 1/2

- 2 lbs cooked, shredded pork
Instructions
In a medium pan, melt butter. Whisk in flour and cook 1 minute over medium heat.
Whisk in1 cup of milk and cook until thickened. Whisk in remaining milk, and cook until thickened. Add chicken broth and cook until thickened.
Stir in onion powder through black pepper, and cook 1-2 minutes so flavours can mingle a little while.
Stir in cooked pork and heat through.
This is awesome served over mashed potatoes, but would be great with rice as well!