Hello friends!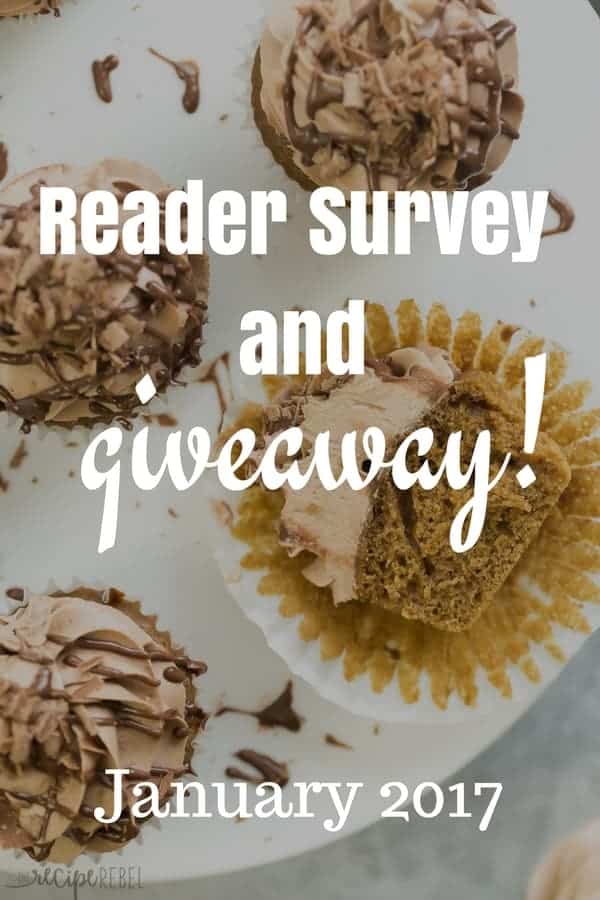 It's a new year, and I'm excited to be jumping into my second year of being a full-time home cook, recipe developer, dish washer, video producer, picture taker, social media fanatic, and story teller (not to mention mom, aka: snot wiper, taxi driver, ouchie kisser and schedule juggler).
So much has happened this last year that I am incredibly grateful for — dreams that I didn't even know I had came true!
And (are you ready for the cheese??) I couldn't have done any of it without you.
I am not going to go on and on (and on and on and on) here about how much you mean to me, how much I love bringing you my favorite recipes and seeing you actually make them — instead, I would love to pick your brain about the things you like, don't like, want to see, and don't want to see so that I can continue to make TRR even better and more useful for you.
I will love you forever if you could take this itty bitty survey for me — it's super simple and quick, and you can enter to win a $50 Amazon gift card at the end!
Giveaway is open to citizens of the U.S. and Canada (gift cards will be for amazon.com or amazon.ca accordingly) over the age of majority, excluding Quebec. Giveaway is open from when this post goes live until January 9 at 11:59pm CST. A winner will be chosen at random and notified by email if an email is left.