This is big news. BIG. News.
I made you a healthy cake.
No lies. Look at that cake — don't believe me?
I seriously SKIPPED my Sunday afternoon nap to write this post for you guys. That's a big deal. This cake is a big deal.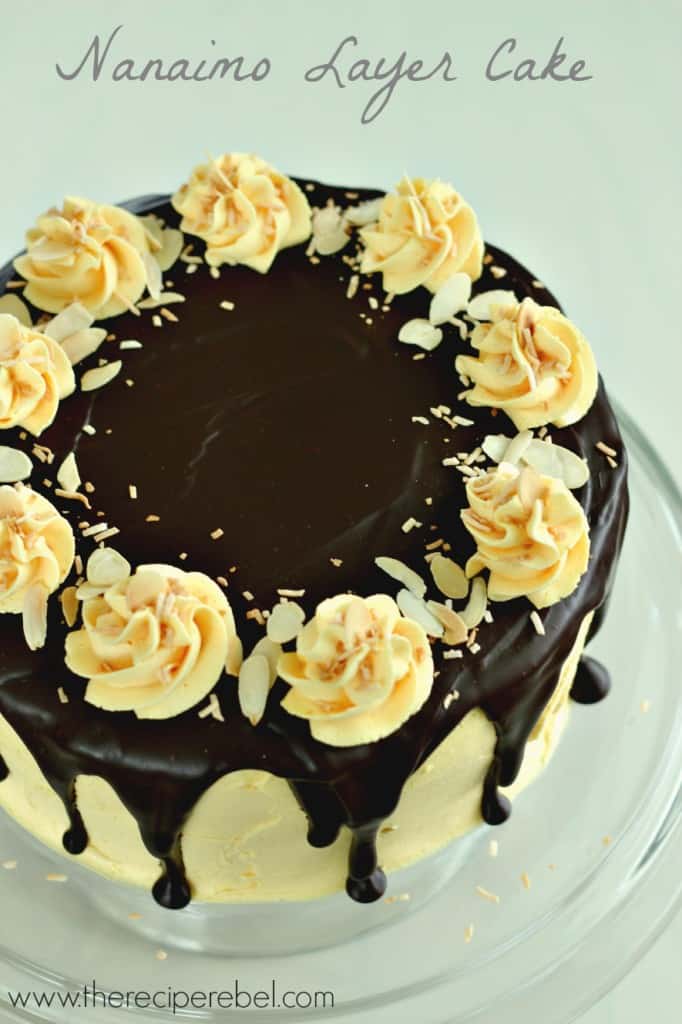 Would you believe that that cake is entirely gluten-free? It's made with lentils. I made you a gluten-free, lentil chocolate cake.
If you know me at all, you know that I'm pro-gluten. Pro-bread. Pro-cake. Pro-cookies. Pro-baked goods.
See, Canadian Lentils was having this competition, and I thought, "I should do that. I can do that." There were five categories, but since I'm not very experienced with cooking with lentils, I thought I'd stick with the baking and leave the other categories to the experts. Not that I'm an expert in baking with lentils, but I figured I had a better shot (given my history with baked goods) at that than anything else.
Anyway, so this cake is made with lentils.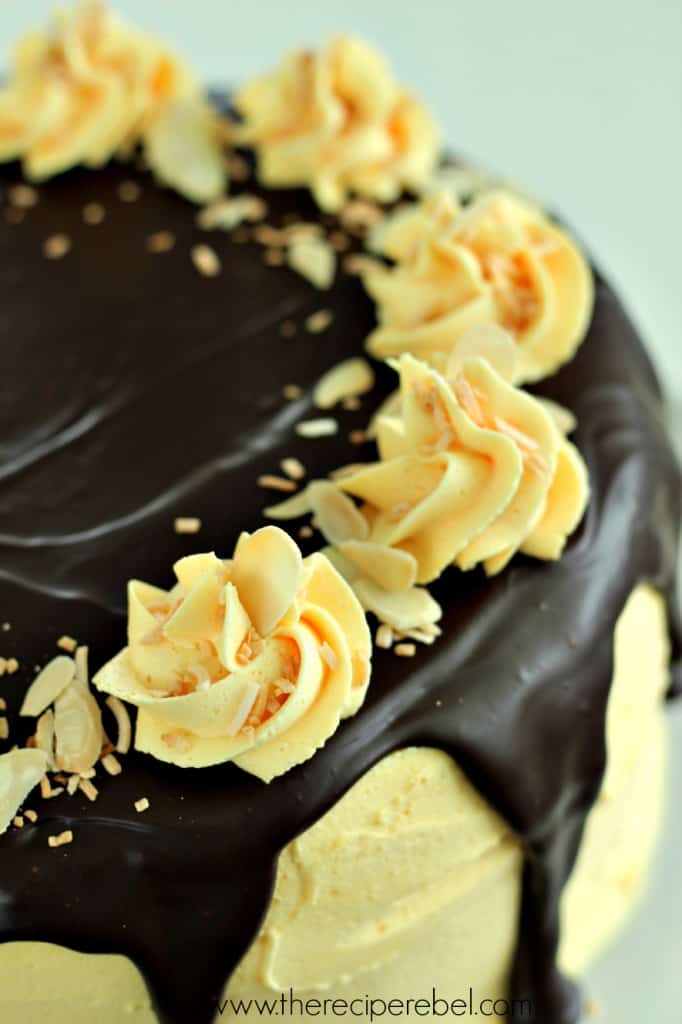 RIGHT?!?!
So I cook my lentils, puree them, add the rest of your usual suspects to the batter, and pour it into some 8″ cake pans. And cross my fingers and hope for the best.
Yesterday, I frosted it with a seriously incredible nanaimo bar frosting. I thought, this is a Canadian competition, so I am going all out Canadian. For those of you who don't know, a nanaimo bar is a Canadian bar that has a base layer of chocolate, coconut, and almonds. Then there is a custard layer made with vanilla custard powder (I use Bird's Custard Powder). It is all covered with a chocolate ganache.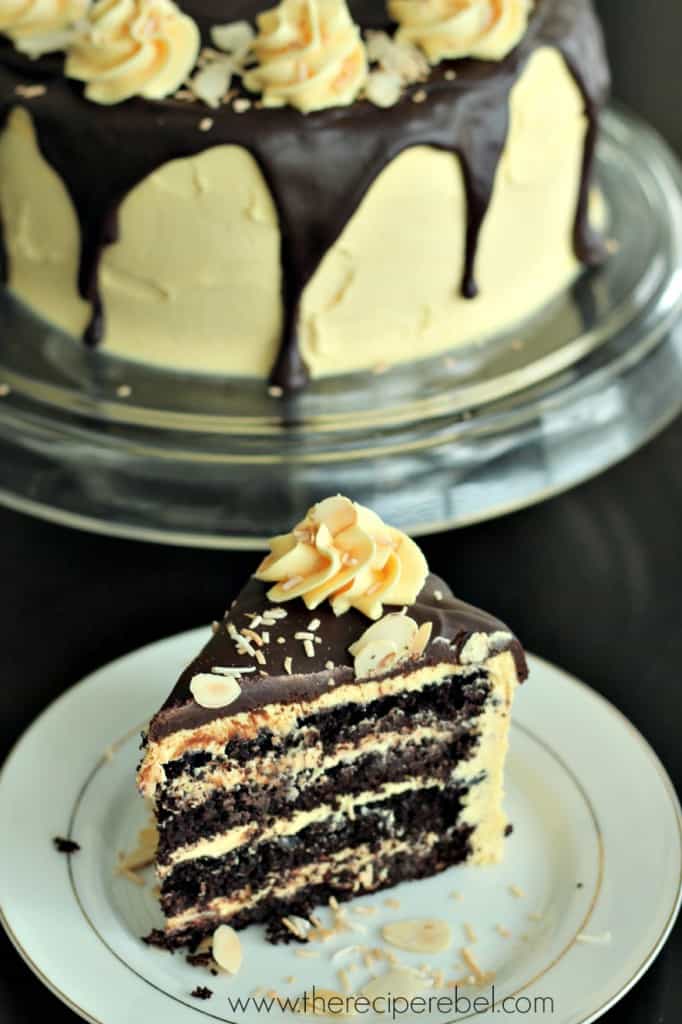 So I cut my cakes in half and ended up with 4 layers. I'm all about a good cake-frosting ratio. I don't like there to be too much cake in between frosting layers. I frosted all layers and the outside. Then I made some ganache to pour over it.
I'm going to make a confession. I used milk in this ganache. I've used milk in ganache before. I honestly don't think there's anyone who could tell the difference. But if you've got cream, you go ahead and swap out the milk. My feelings won't be hurt.
I piped some more frosting on the top (see paragraph re: cake-frosting ratio). And I sprinkled with some toasted coconut and toasted almonds, because those are in a traditional nanaimo bar. If you're not into coconut or almonds, just leave it off. If you'd like a little more, you could sprinkle some on top of your layers.
SO. All of that was yesterday. I took some pictures because, of course, that comes first. It looked beautiful, but I was a little worried that I had wasted perfectly good frosting and ganache on a lentil cake. I thought if it wasn't edible, I could maybe scrape the frosting off. I even made a back-up competition entry.
Last night, we had a birthday party for supper and when we got home I just wasn't hungry enough to try the cake. And I would have to be pretty hungry to want to eat lentil cake.
As I could avoid it no longer, I popped open the container and grabbed a fork. I wish you could have seen the look of absolute glee on my face as I told my husband, "this is REALLY good!"
You guys. If I didn't tell you that it was a gluten-free lentil cake, you would never know.  It is that good.
I continued my exclamations: "it tastes like CAKE!"
I am a new believer in gluten-free, lentil cake. My husband agreed. You would never know what it's made of unless you were told. I would not lie to you guys about cake.
So, thank you, Canadian Lentils, for making me a believer.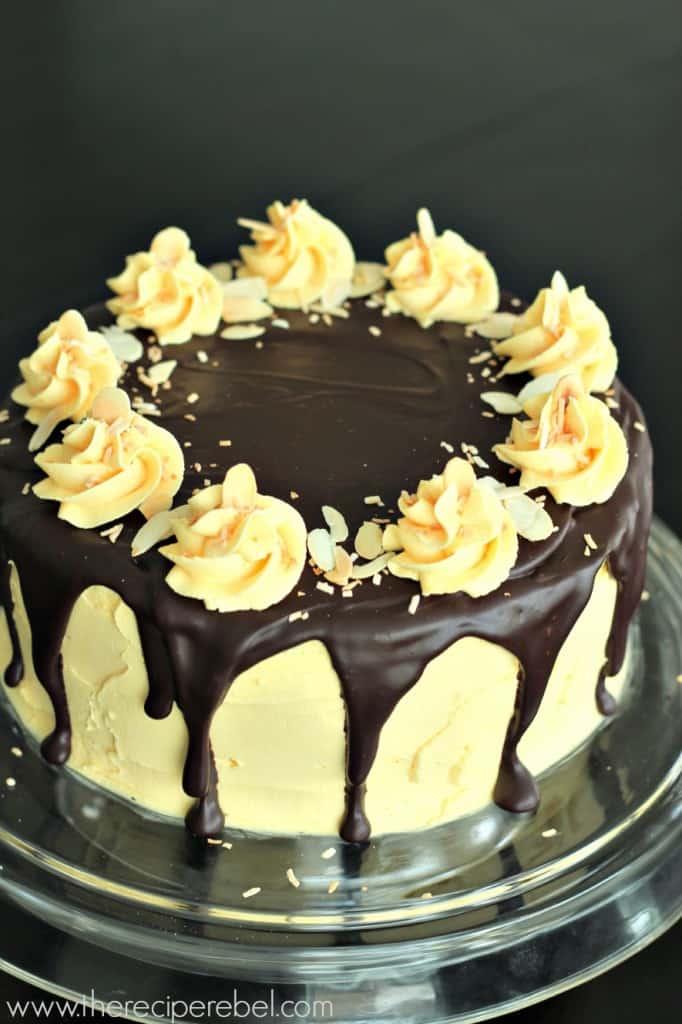 *A note about gluten: Bird's Custard Powder, which I use, lists corn starch as one of the main ingredients. Pure corn starch is indeed gluten-free, but it's hard to say whether the corn starch in the custard powder is entirely gluten-free. If you are severely allergic, you will want to double check the ingredients on your custard powder.
12-16 pieces
adjust servings
Nanaimo Layer Cake
Stunning gluten-free nanaimo bar layer cake made with lentils. Chocolate lentil cake, nanaimo bar frosting and chocolate ganache. *Check custard powder to ensure it is gluten-free -- see note above recipe.
Ingredients
For the cake
1

cup split red lentils, dry

2

cups water

1/3

cup milk

4

eggs

2

tsp vanilla

3/4

cup melted butter

1/2

cup brown sugar

1/2

cup granulated sugar

1

cup unsweetened cocoa

1

tsp baking soda

1 1/2

tsp baking powder

1/2

tsp salt
For the frosting
1 1/2

cups butter, room temperature

1/2

cup milk

3/4

cup vanilla custard powder

3

cups icing sugar
For the ganache
1

cup semisweet chocolate chips

1/3

cup milk
Garnishes
Toasted coconut (optional)

Toasted almonds (optional)
Instructions
For the cake:
Spray two 8" round cake pans with non-stick spray and line with wax paper (cut to fit). Spray the wax paper with non-stick spray.
In a medium pot, bring lentils and water to a boil. (*Note: feel free to use canned lentils if you wish. You will need 2 cups cooked in the end). Boil over medium heat about 15 minutes, until lentils are soft and the water is gone. Remove from heat and puree in a Magic Bullet, blender or food processor. (I like the Magic Bullet for things I want super smooth -- use whichever appliance you have that will get the best results). Set aside to cool slightly.
Preheat oven to 350 degrees F.
When slightly cooled (about 10-15 minutes), add milk, eggs and vanilla to blender or food processor along with the lentils. Puree until smooth, about 30 seconds.
Add remaining ingredients (butter through salt) and puree until smooth, about 20-30 seconds.
Divide batter between the two pans and bake at 350 degrees F for 20-25 minutes, until a toothpick comes out clean.
For the frosting:
In the bowl of a stand mixer, add butter, milk, custard powder and sugar. With the whisk attachment, beat on low for a couple minutes until the icing sugar is mostly incorporated.
Stop the mixer and scrape down the sides. Beat on medium-high until light and fluffy. (*Note: colour will become significantly lighter throughout the process. Make sure you beat the frosting until light and fluffy). Set aside.
Assembly:
If desired, slice each cake into two to make 4 layers (completely optional). Place one cake layer down and frost the top. Repeat until all layers are used.
Frost the top and sides of the cake.
Chill at least 1 hour before topping with ganache.
Make the ganache:
In a pot over low heat, add the chocolate and milk (you can also do this in a double boiler or the microwave). Heat on low, stirring constantly, until melted and smooth. If ganache appears too thick, add a couple tsp more milk.
*You do not want your ganache to be so thin that it runs right off the cake.
Allow ganache to cool about 15-20 minutes so that it doesn't melt your frosting and so that you can more easily control the flow down the sides.
Remove chilled cake from the refrigerator and slowly our ganache on top of cake, a little at a time. Slowly bring the ganache to the edge of the cake, and allow some rivers of chocolate to flow over the sides.
Chill cake in the refrigerator before garnishing as desired.
Also see it here on The Weekend Potluck and Link Party Palooza.