Easy homemade, no-churn maple ice cream sandwiched between 2 soft and chewy brown sugar blondie layers and coated in toasted walnuts – the perfect summer treat!
*I received this maple syrup free from Pure Infused Maple Syrup for recipe development. All opinions are my own.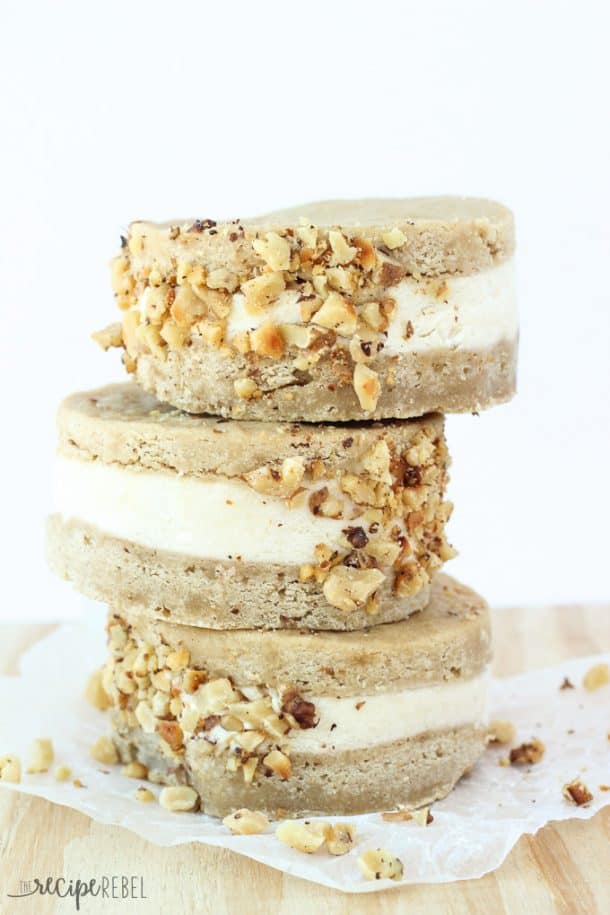 I remember, when I was in high school, going to the French festival in the city and making maple taffy suckers with some maple syrup, snow, and a popsicle stick. I don't know if you can really call yourself a Canadian until you've had maple syrup on snow.
Or poutine or a butter tart.
All pretty crucial parts of the Canadian identity. Which brings me to this maple syrup.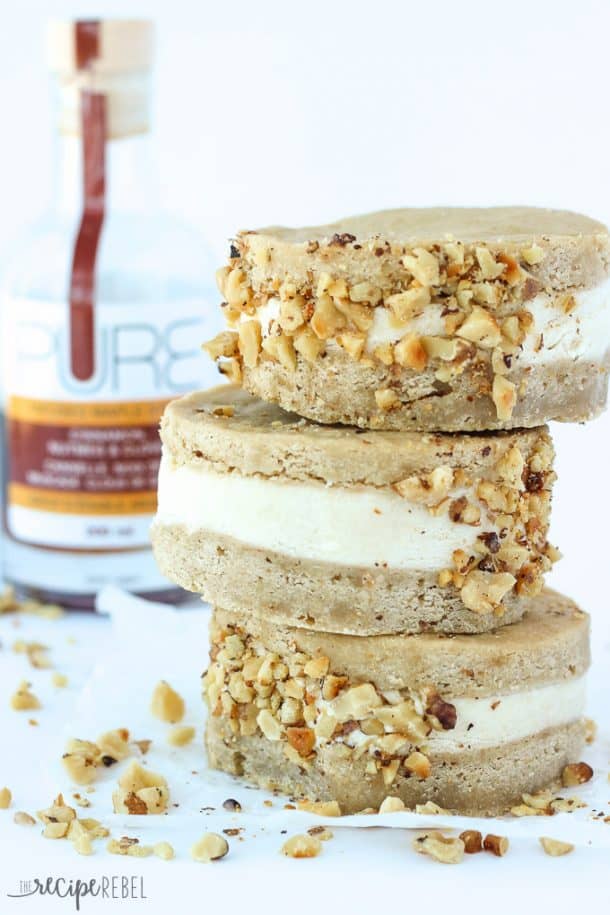 I was sent 5 bottles of Pure Infused Maple Syrup to taste and play around with in the kitchen. The maple syrup comes straight from beautiful Nova Scotia and infused with all kinds of other incredible things (the five flavors include Cinnamon, Nutmeg and Cloves; Vanilla, Cinnamon and Star Anise; Lavender and Chai; Chipotle and Lemongrass; and a Maple Syrup, Ginger and Apple Cider Vinegar Gastrique).
I started with the first 3. You know, pouring myself some maple syrup in a spoon and slurping it up like a normal person.
I was really impressed with all the flavors! I didn't think I would like the Lavender and Chai as much as I did. It seemed like a bit of an interesting combination, but it pairs so well with the maple.
At first I was thinking of grilling something, but I think the syrup would be pretty fantastic simply brushed on a piece of meat or seafood and grilled, and I figured I wanted to get a little more adventurous than that.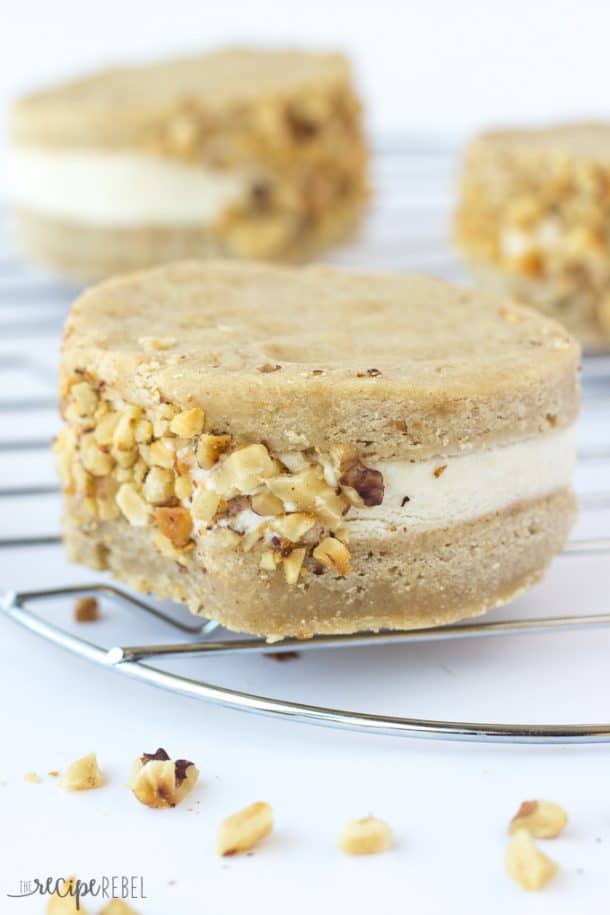 The first dessert that popped into my head is the Maple Walnut Blondie – I had just skimmed past a recipe on Pinterest the other day and I know it's a crazy good combination. I'm also going through a bit of an ice cream phase right now at home (more of those recipes will be coming soon!).
I remembered these Carrot Cake Ice Cream Sandwiches my friend Izzy at She Likes Food had made around Easter, and how absolutely adorable they were, and I knew I had to try making a Maple Walnut Blondie version!
I just love the idea of using a cake/brownie/blondie for ice cream sandwiches – it's super fun, and the blondies stay soft enough that you can easily bite them, and the ice cream doesn't come squishing out the sides.
I wanted to be as cool as Izzy so I tried cutting them out using a circle cookie cutter. My cookie cutter was way too short! I actually cleaned out a tin can and took both ends off and used that as my cutter. Just be careful because the edges are sharp! If you're not into making everything harder than it needs to be, you can just use a knife and cut them into bars. They will still taste just as good!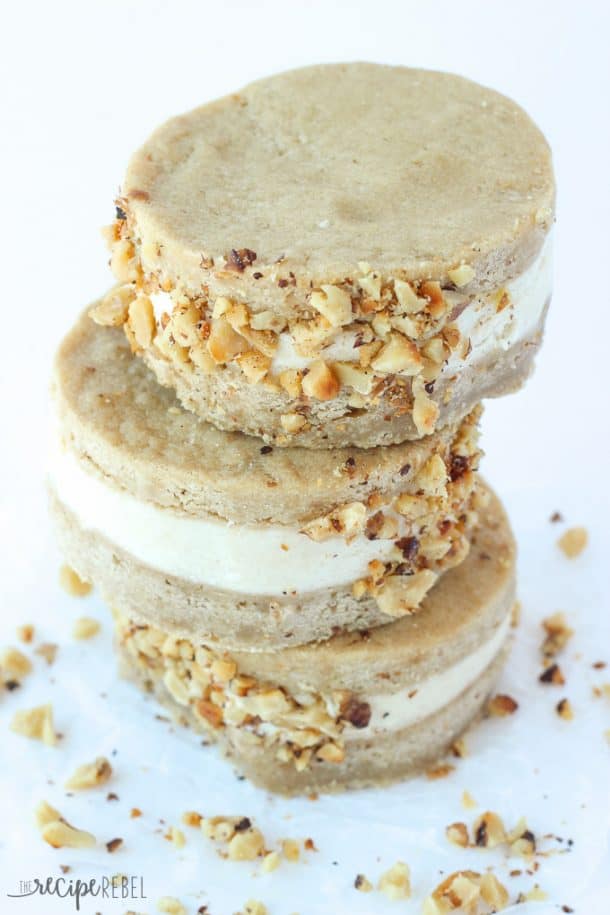 The maple ice cream would be just as good with the Lavender & Chai or the Vanilla, Cinnamon and Star Anise. I actually had a hard time choosing which one to put in it!
Maple Walnut Blondie Ice Cream Sandwiches
Ingredients
For the blondies
2

sticks (1 cup) unsalted butter, melted

2

cups lightly packed brown sugar

2

large eggs

3

tsp vanilla

1/2

tsp salt

2

cups all-purpose flour
For the maple ice cream
3

eggs

1

tsp vanilla

3/4

cup Cinnamon, Nutmeg and Cloves Pure Infused Maple Syrup

1/4

tsp salt

1

cup whole milk or light cream

1

1/2 cups whipping cream, whipped

1/2

cup finely chopped, toasted walnuts
Instructions
For the blondies:
Preheat the oven to 350 degrees F. Line two 8x12"* pans with parchment paper or tin foil and grease with non-stick spray. Set aside.
In a large bowl, stir together the melted butter and brown sugar (I use a whisk). Stir in eggs and vanilla until totally smooth.
Stir in salt and flour until combined (batter will be thick). Spread half into each prepared pan.
Bake for 12-15 minutes, until a toothpick inserted in the center comes out clean. Set aside to cool.
For the ice cream:
In a medium pot (off the heat), whisk together eggs, vanilla, maple syrup, salt, and milk. Over medium heat, whisking frequently, cook the egg mixture until thickened (this might take some time – be patient!). Pour into a large bowl and set aside to cool.
When the egg mixture is cooled to room temperature, fold in whipped cream carefully.
To make the sandwiches:
Remove both blondie layers from the pans and peel off the parchment. Place one sheet of parchment back in the pan. Flip one blondie layer upside down (so the top is on the bottom of the pan) and place in the pan. Spread the room temperature ice cream over top evenly. Top with remaining blondie layer. Cover with plastic wrap or tin foil and freeze a least 8 hours or overnight.
Remove frozen blondies and ice cream from the freezer and cut into bars or circles as desired. Roll in toasted walnuts.
Recipe Notes
*You could probably use 2 9x13" pans, but keep in mind you'll need to take some time off of the baking pan and your blondies will be thinner than what is pictured.
I used my favorite blondie recipe for these, which is from Inspired Taste.
And here is my giant ice cream sandwich cutter!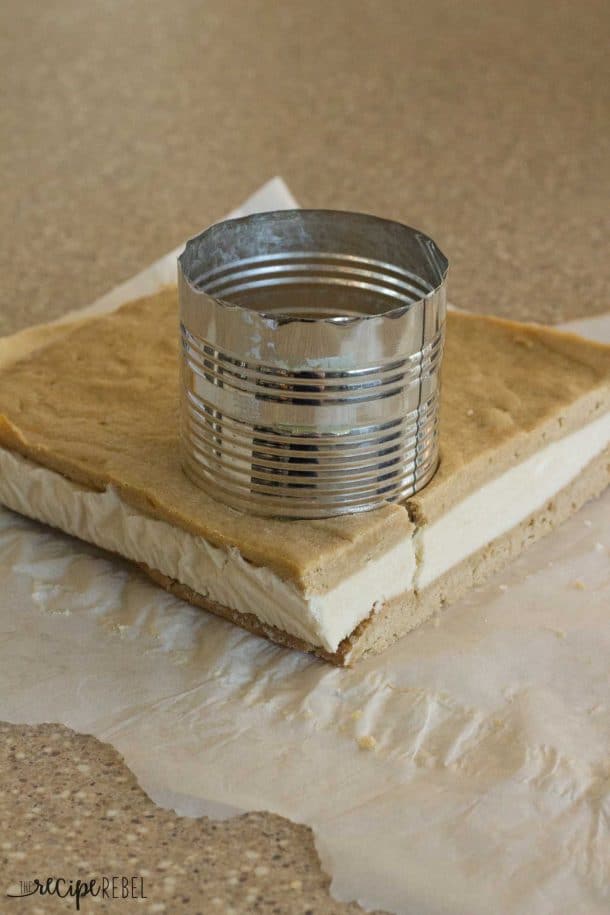 More frozen treats for summer!
Sensational Strawberry Lemon Slush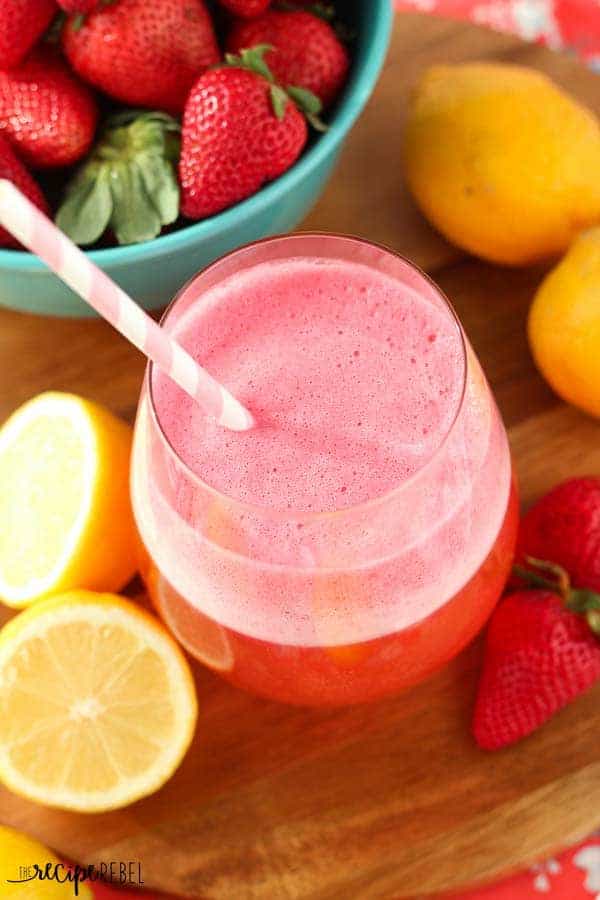 Chocolate Peanut Butter Ice Cream Sandwiches from Sweet and Delish.
Peanut Butter Cup Ice Cream Sandwiches from The Gunny Sack.