I feel like I'm not a very good food blogger.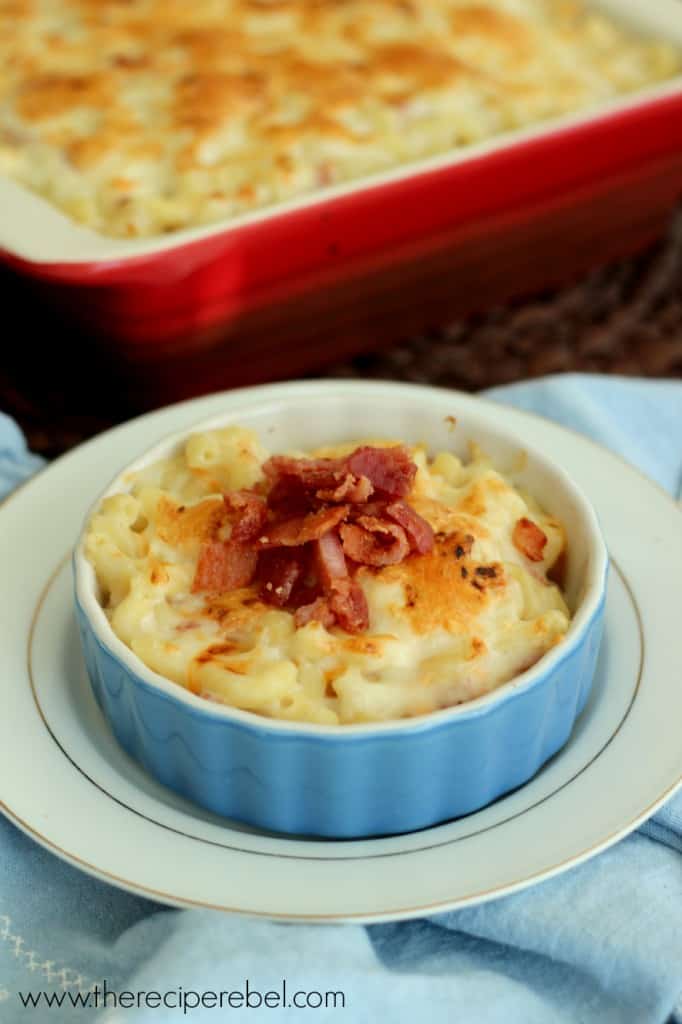 All over Pinterest I see nice springy recipes, things with lemon and fresh berries and fresh vegetables. Things that are in season in other parts of North America. But certainly not in Manitoba. I mean, we take what we can get.
Here in Manitoba, we're just hoping the snow will be all gone by the middle of May. Such is life.
And so, I start feeling a little guilty about posting all these hearty, comforting meals when most of you are thinking bathing suit season. Around here, bathing suit season starts about June 30.
The truth is, that even if the snow was actually 100%  gone and it was shorts-and-tank-top weather, I'd probably still be making chowder and mac and cheese.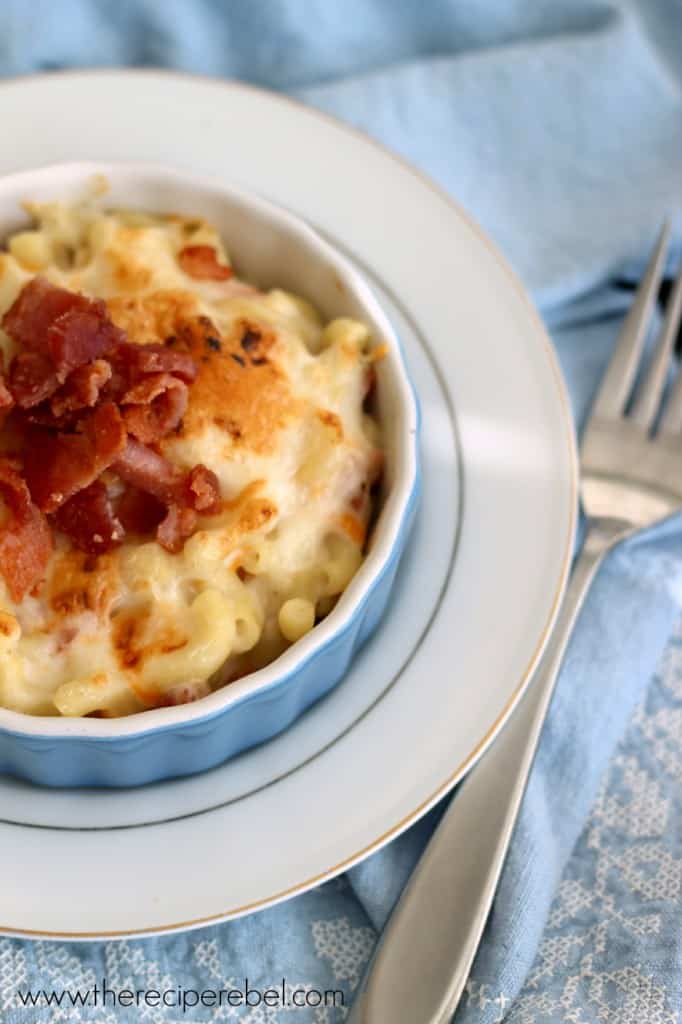 Because I like chowder and mac and cheese.
And I would happily eat chowder and mac and cheese all year round.
So I'm hoping that I'm not the only one, and that somewhere out there someone sees my posts and pins and thinks, "I could really go for something warm and cheesy." Because apparently it's a theme I've got going on now.
But I promise I'll try to fake it being spring every now and then and make some things with a little less cream and cheese in them.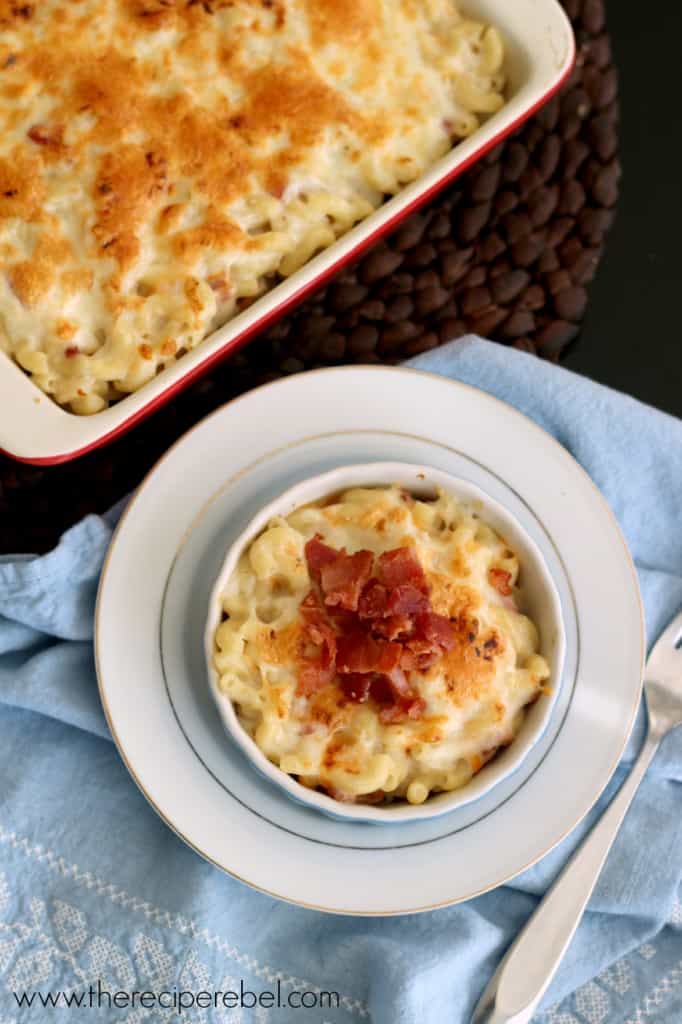 A while back, I made a breakfast mac and cheese with breakfast sausage and bacon and it got me thinking about adding different flavours to your average mac and cheese. Then I made my Bacon Jam Grilled Cheese, which pairs sweet and smoky bacon jam with sharp cheddar and I got to thinking about adding maple syrup and bacon to some regular mac and cheese.
Because, around here, I put sugar in pretty much everything.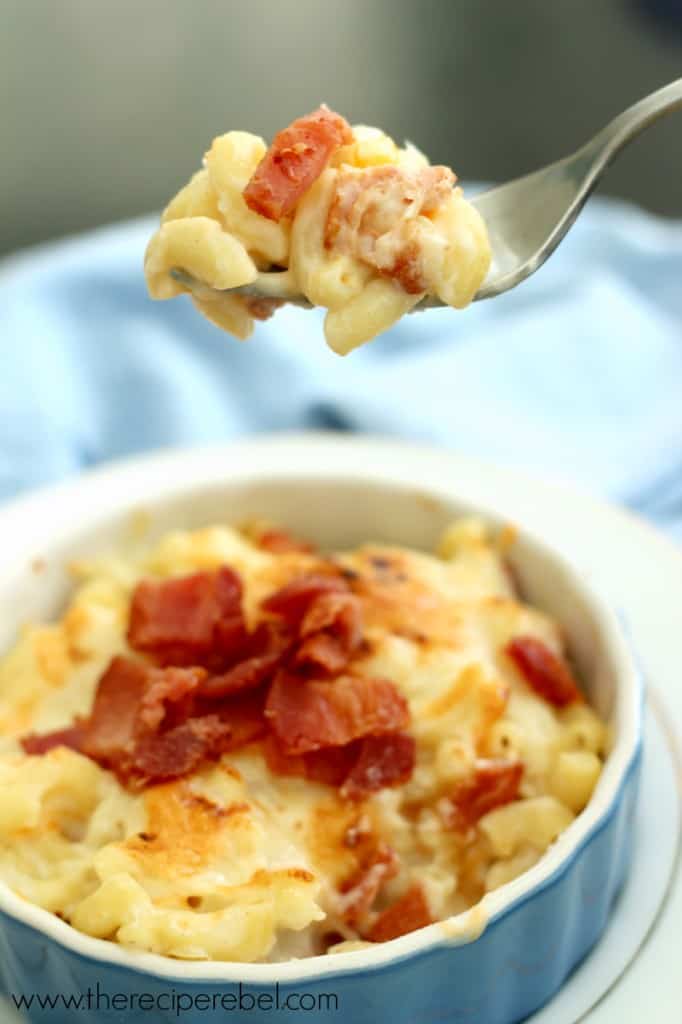 Though I promise to make some healthier things for you every now and then, just to balance things out.
This mac and cheese has a slight sweetness from the maple syrup and a nice smokiness from the bacon that I think really pair well with  cheese. What kind of new flavours do you add to your mac and cheese?
2qt casserole: about 8 side servings or 6 main dish servings
adjust servings
Maple Bacon Mac & Cheese
Traditional mac and cheese with an unexpected flavour combo -- maple and bacon! For breakfast, lunch, dinner, whatever 🙂
Ingredients
1

lb macaroni (I use whole wheat, 1 regular-sized box)

4-5

slices bacon, chopped into small pieces

1/3

cup butter

1/3

cup flour

3 1/2

cups milk

1/4

cup maple syrup

1 1/2-2

tsp salt (to taste)

2

pinches red pepper flakes

2

cups shredded mozzarella or cheddar cheese, divided
Instructions
In a large pan, cook bacon until browned and somewhat crisp. Remove bacon from fat and drain on paper towel. Set aside.
Drain fat from pan and white out with a paper towel. Return the pan to the stove and melt ⅓ cup butter over medium heat (alternatively, you could use ⅓ cup drained bacon fat). Add flour and stir until combined. Cook 1 minute.
Add milk, 1 cup at a time, whisking after each addition until smooth and thickened.
Add maple syrup, salt, red pepper flakes, cooked bacon and 1 cup shredded cheese. Stir until melted and combined. Set aside.
Preheat oven to 350 degrees F.
Cook pasta according to directions on box. Drain.
Combine macaroni and sauce in the pot and pour into a greased 2qt casserole dish or a 9x9" pan. Top with remaining shredded cheese. Bake for 20-25 minutes until pasta and sauce are hot and bubbling.
Broil for 2-3 minutes until cheese is lightly browned.