Hello friends and Happy New Year!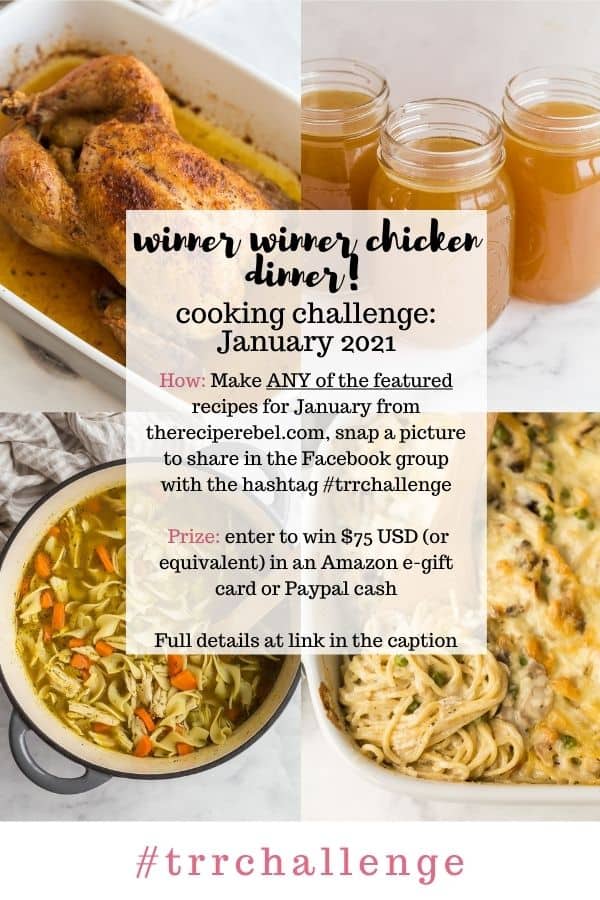 My Facebook group is one of my favorite places on the internet, with people joining in to share photos for the giveaway, ask questions, share advice and just generally be awesome.
I love seeing what you guys are cooking, whether they are The Recipe Rebel recipes or something else!
What is The Recipe Rebel Cooking Challenge?
It's a chance for you to test drive one of my recipes, take a picture (it doesn't have to be pretty!), post a picture in the Facebook group, and enter to win a prize!
It is so helpful for me to see how my recipes turn out for you and to hear about what changes you made or would make.
I get great feedback and know how to make my recipes even better, and you get a chance to win!
What's new with the cooking challenge for 2021?
While the cooking challenge has been wide open (and any recipe from The Recipe Rebel could be used to enter) for the last number of months, we are going back to a theme that will match the Six Ingredient Supper each month.
There will be 3-5 featured recipes per month that will count as an entry into the giveaway, and it will work like this:
1st Monday of the month: a new 6 Ingredient STAPLE recipe will be posted — these are classic recipes that open up a ton of other possibilities once we have mastered them. Simple classics that can be repurposed in a ton of different ways!
Every following Monday, I will post a new recipe showing you how to take our 6 Ingredient Staple and turn it into something new.
So the recipes for the January 2021 Cooking Challenge are:
Perfect Roast Chicken – live on January 4
Homemade Chicken Stock – live on January 11
Chicken Noodle Soup – live on January 18
Chicken Tetrazzini – live on January 25
All recipes will be linked in the Facebook group when they are live and ingredient lists will be posted in advance so you can do your shopping!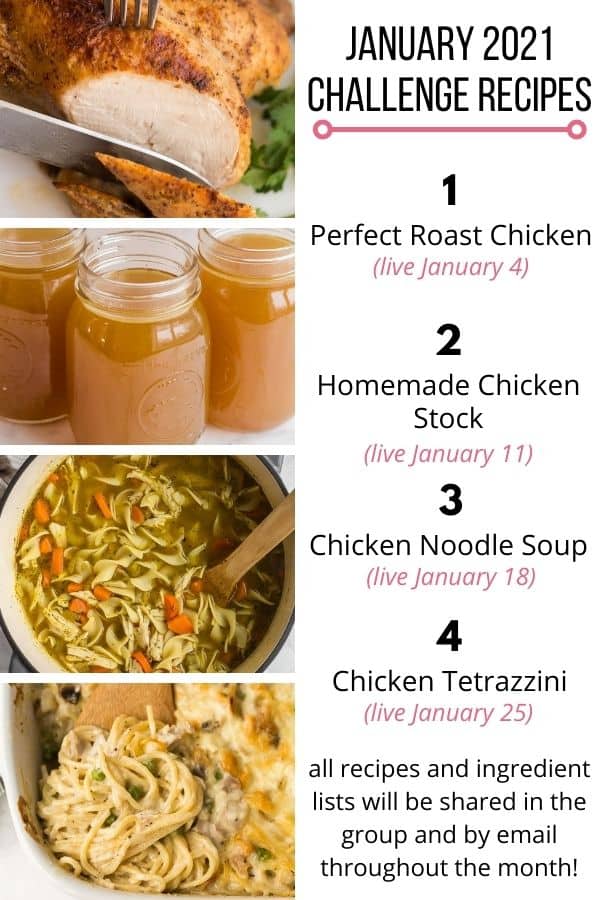 What is the prize? How do I enter?
For January 2021, I'm giving away one $75 USD Amazon gift card or Paypal cash (or the equivalent in CAD) — so you can treat yourself to whatever your heart desires! A new kitchen appliance, tool, gadget or groceries!
To enter, simply make any of the featured recipes from The Recipe Rebel listed above (again, you can put your own spin on it or swap in things you have), take a picture, and upload it to the Facebook group with the hashtag #TRRchallenge.
Keep in mind that this year, we will be focusing on specific featured recipes tied to our 6 Ingredient Staple — so not anything goes, but I hope it will be fun!
Rules and regulations:
Giveaway is open to any residents over the age of majority in their country of residence, excluding the province of Quebec. Giveaway is open from the time of posting until January 31, 2021 at 11:59 pm CST.
Winner will be selected at random and notified within 48 hours of the contest ending. Facebook winner will be notified by a comment and tag. Winner must correctly answer a skill testing question and respond within 48 hours of initial comment by direct message or a new winner will be chosen.