My second preview of How to Make Food Look Good! See some of the mistakes I made in my first round of photos, what I learned and how I fixed them (and have a giggle at my expense)!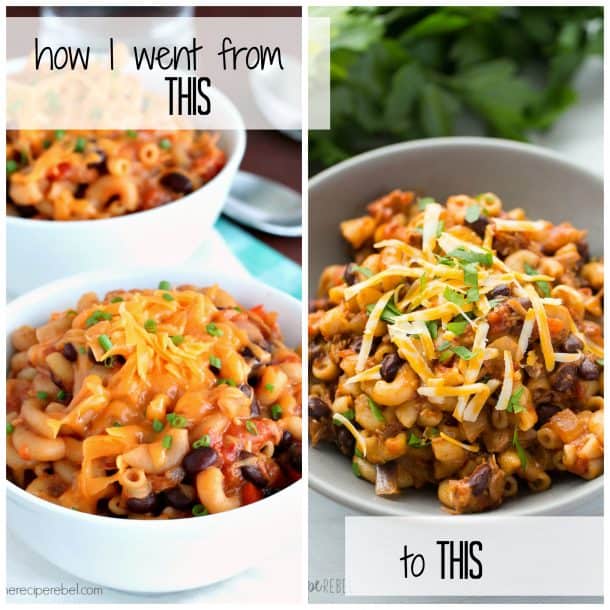 I'm back with the second preview of my eBook (How to Make Food Look Good) coming out next week Wednesday, January 20! If you missed the first one, you can see my first preview and the transformation of my BBQ Chicken Jalapeno Poppers here.
Because I gave you a bit of an overview of what the book is going to include last week, this week I'm just going to get right into the goods — my Slow Cooker BBQ Chicken Chili Mac transformation!
This is one transformation I was ecstatic to have done. I was so super proud of the recipe — it was one I came up with my just throwing a bunch of things in the slow cooker and it worked, and it was delicious. I wanted the world to see how delicious it was!
BEFORE: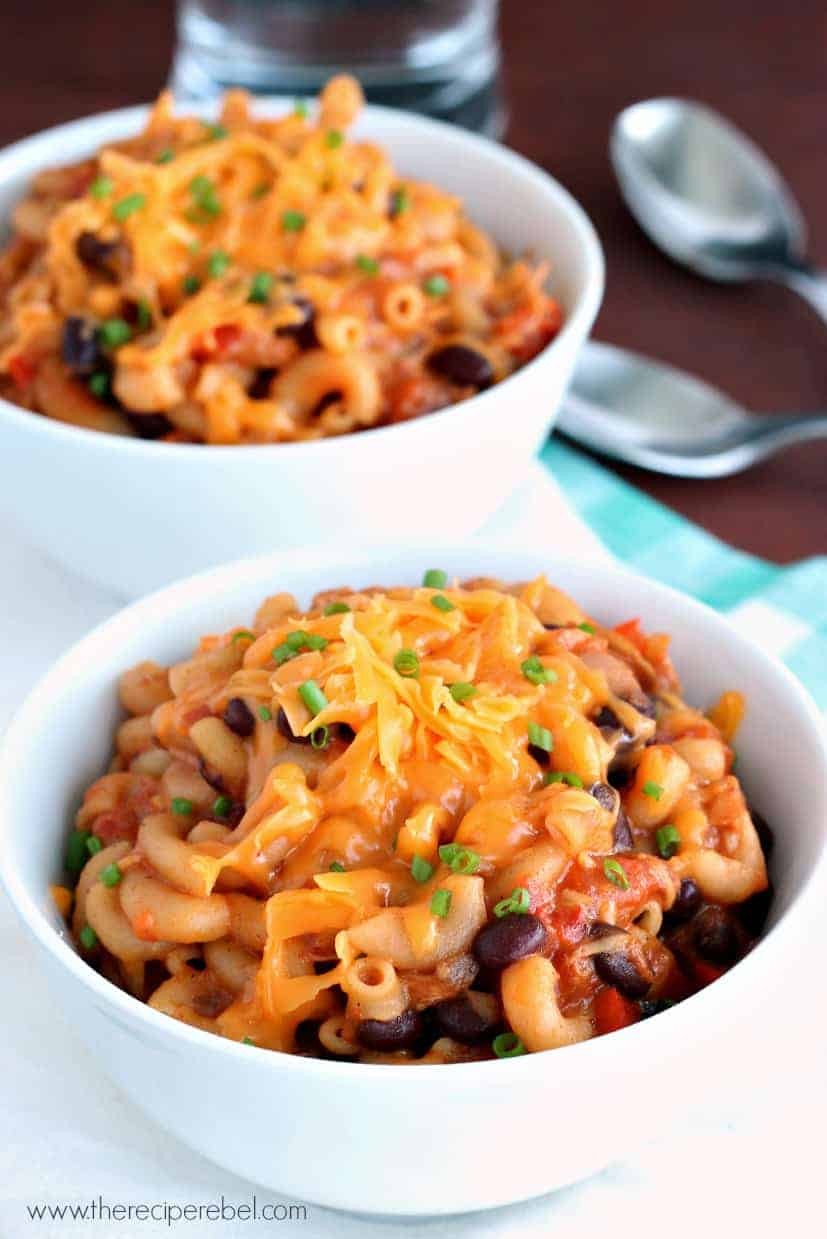 What went wrong:
The white balance is off
The side of the bowl where the light was coming in is overexposed
That congealed cheese
Poor composition
It's unclear
What's the best feature:
It's a meal in one! It's hard to pick the best feature in a dish like this, where everything is cooked in the slow cooker or a big pot until it all kind of blends together — they're generally not that attractive to begin with. The veggies, which would normally bring a pop of color, are cooked until they blend in with the rest of the dish. That's why, in dishes like these, it's important to garnish the dish and give the viewer a focal point, without overdoing it (see congealed cheese above!).
AFTER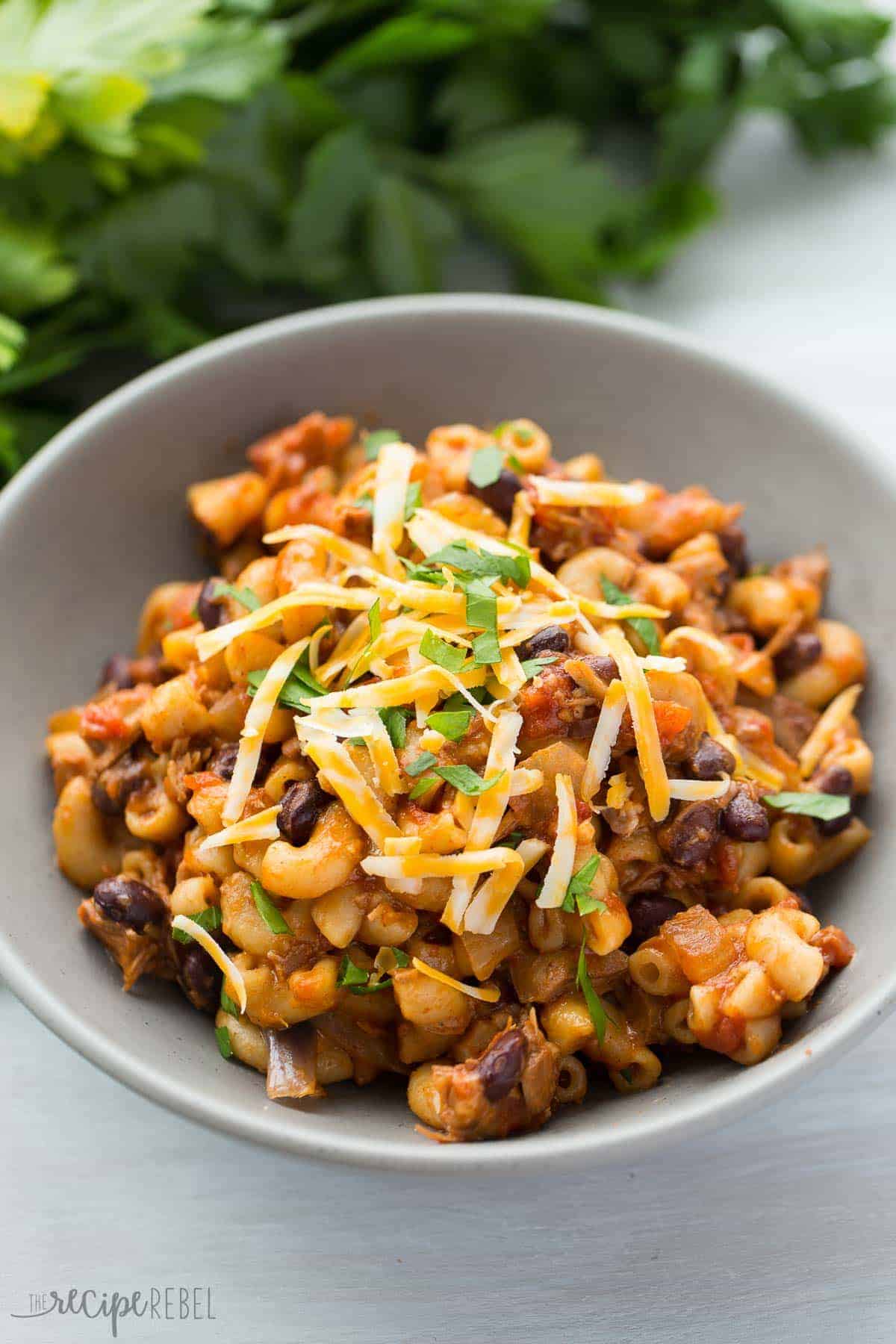 Color:
I'm loving this grey bowl lately and how it provides a nice, neutral background to any dish. It has a wider opening so you can actually see what's in it. I kept the background neutral, as well as the bowl so there was no competition with the food, and because the food itself is pretty brown. All of this brown food on a brown background might have been a little much. I like to use grey as a cooler neutral color in cases like this.
In dishes as brown as this one, a splash of something fresh can really make it pop. A sprinkle of fresh herbs on top and a bunch in the background are all you really need to give the dish some great contrasting color. In the first photos, I attempted to do this but my chives were much too small to really add anything to the dish. In the second, the parsley is larger and really adds visual interest instead of disappearing into the dish.
Texture:
Cold, congealed cheese is never a look you're going for. In my second set of photos, because I photographed the chili mac first in the slow cooker (as you can see here), the dish was a little cooler when I got around to photographing it in the bowl. Because of this (and because I've pretty much given up on eating a hot meal right after it's prepared!), the cheese I added to the dish didn't melt. I added much less so that it's not melting, congealing, and completely covering the actual dish we're talking about.
Placement/Angle:
I took out a lot of the extra things that weren't working. I could have added things back in to make up for it, but I was only going to quickly snap some (clear!) new photos so that we could eat. To keep things simple, I added only a bunch of herbs in the background and got in close to focus on the food. I took the photo and the same angle — standing close to the table, looking down at the dish — but because I chose a bowl with a wider opening, you're getting a better look at what's in it and you're not distracted by excess props and busyness.
Stay tuned for the launch of How to Make Food Look Good next Wednesday, January 20! There might even be cake…. 😉