The first preview of my ebook How to Make Food Look Good: sharing the mistakes I made when I first started taking pictures of food, what I learned from them and how I fixed them so that you don't have to do the same!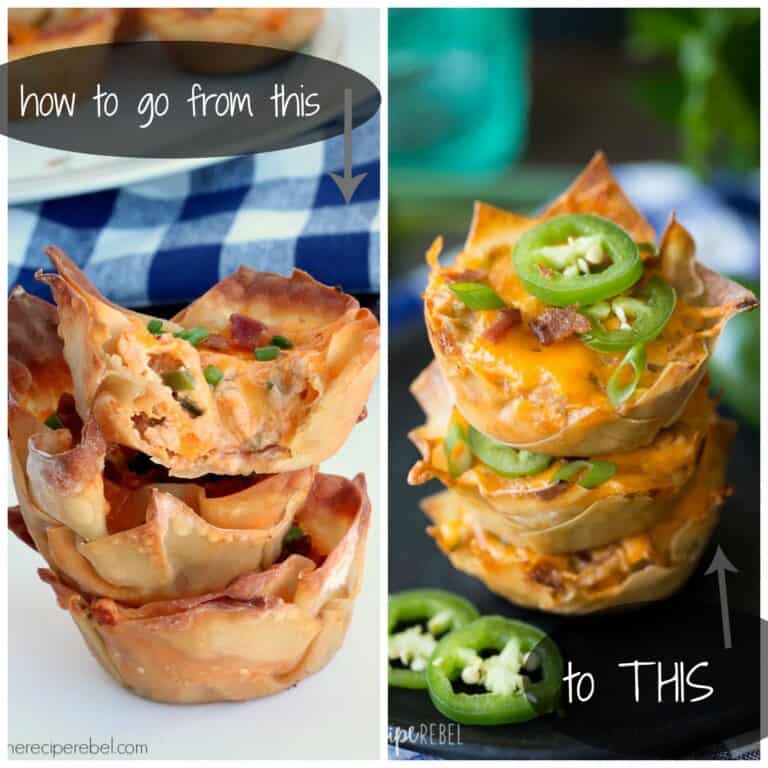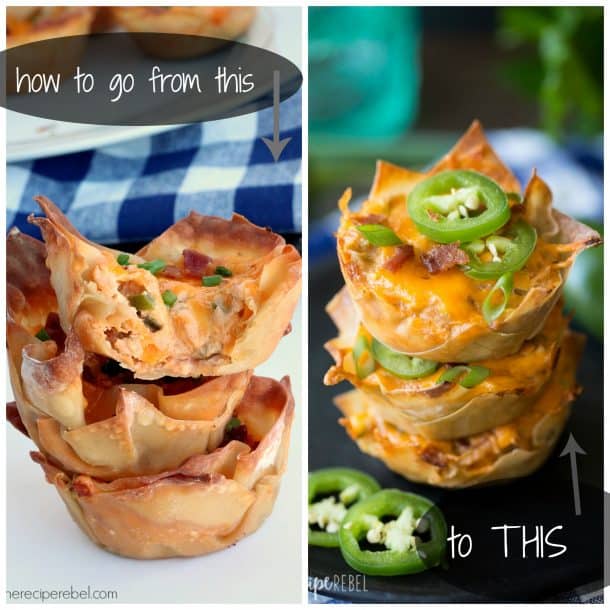 Hey friends!
So, this is a little different than my normal posts. If you're a blogger (or just interested in blogging), you may have noticed I started a series last fall on Blogger Resources.
I'm switching gears a little bit to tell you something super exciting: I wrote a BOOK!
That's right — 63 pages of my wisdom and ramblings just for you!
It will be available January 20, as I'm just in the process of getting the last few loose ends tied up. For now, I want to tell you a bit about it and give you some previews so you know exactly what it will be like and if it's the book for you.
In the Spring of 2015, one year after I started blogging, I started working my way through old posts, rephotographing and updating them. When I was doing this, it became clear just how much I had learned about making food look good and, even though I had had a DSLR camera before I started blogging, taking nice pictures of food wasn't as easy as I thought it would be.
It's hard to make certain foods look food, but when you're publishing a recipe web site and you want people to make those recipes? It is so important that you can.
A couple months into this journey I decided to write a book about it. It had become easy for me to see the mistakes I had made when I started, and how I fixed them in the end. I'm not a trained photographer, and I don't have expensive props or backgrounds. I have a good camera (for me, that's a non-negotiable, but I know others can take great photos without), but I don't spend a lot of money on the extras.
My ebook, How to Make Food Look Good, goes through the transformation of 17 sets of recipe photos, and I show you 3 things for each set:
what went wrong in the first place,
what the best feature of the dish is,
how I chose to accentuate that feature.
So I've chosen 2 sets of recipe photos that aren't in the book to go through and show you exactly what the book will be like. That way, you can easily decide if it's something you want to invest in (though I'd say it's worth the investment even if all you want to do is have a giggle at the horrible photos that I started with!).
So let's do this! When the book is released, I'll give you some more information about the extras that are in it, along with my photography set-up process and how I make my own photography boards.
The first redo I'm going to show you is for my BBQ Chicken Jalapeno Popper Cupcakes.
Here's what I started with: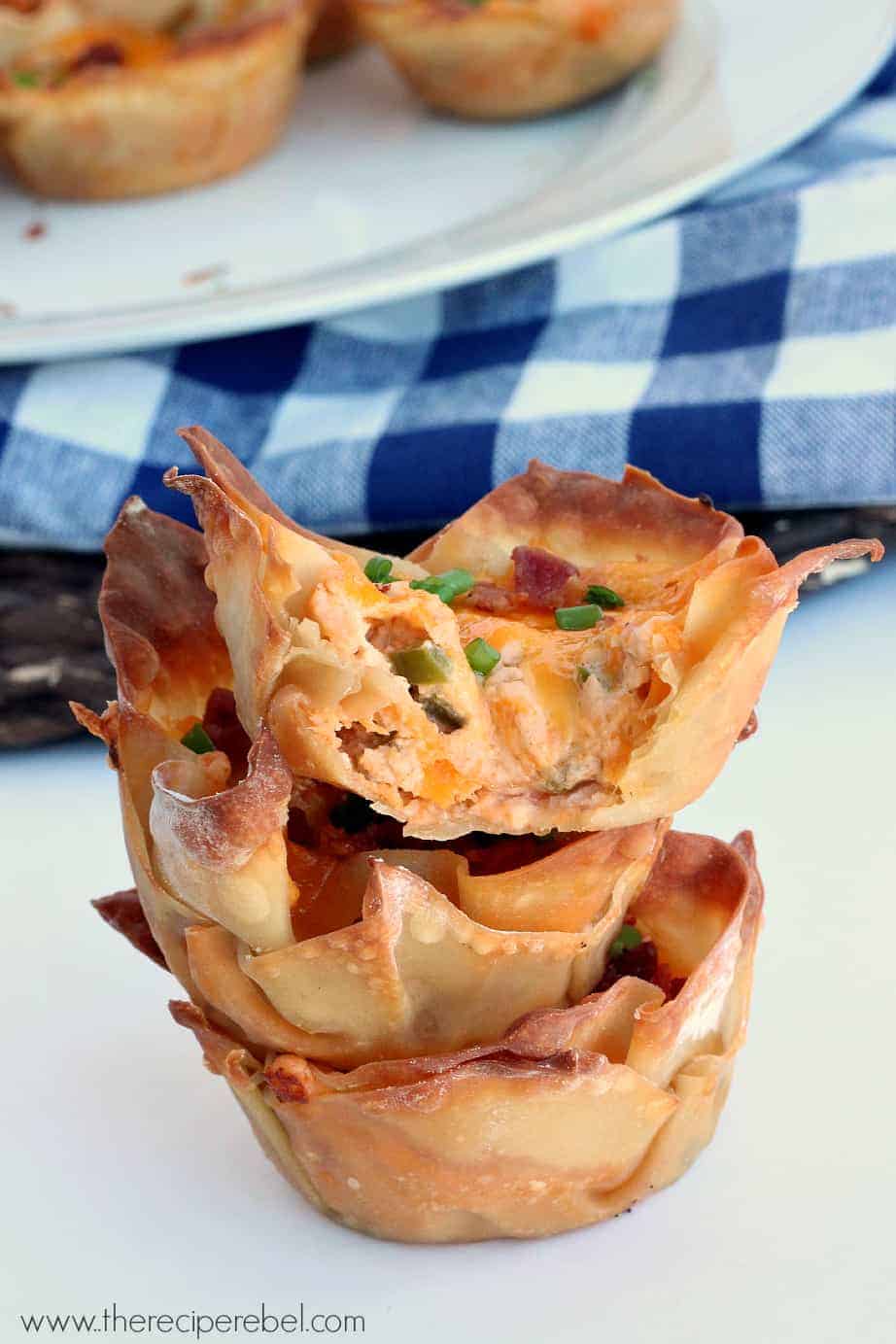 BRUTAL, right?
BEFORE:
What went wrong:
we don't really know what it is (I mean, would you actually know??)
it is so very brown
the coloring is weird (likely partly due to weird lighting and partly due to bad editing)
though the cream cheese filling is tasty, it's not that appealing
What's the best feature:
The thing with food like this is, although it tastes great, there's nothing really attractive about it. If anything, the melty cheese and crispy edges of the wonton are what would draw people in. If you left the picture with just a crispy wonton wrapper filled with something topped with melty cheese, people (a) aren't going to know what it is, and (b) not going to find it that appealing.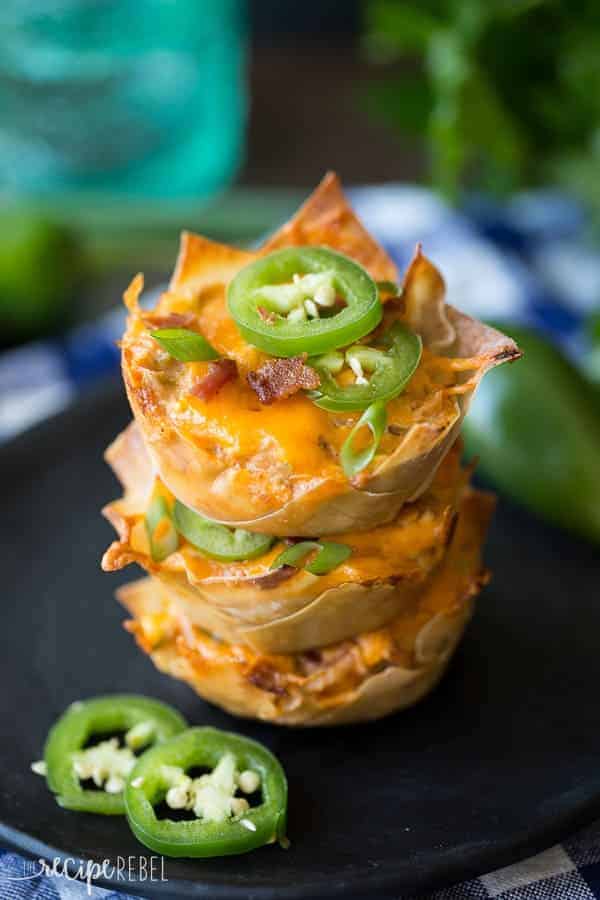 AFTER:
Color:
My Jalapeno Popper Cupcakes definitely needed a boost of color to make them appealing. Fruits and veggies are an excellent way to add visual interest, in the background of a photo or as a garnish. Your best bet is to stick with what's already in the food, because your props and garnishes should make sense. I garnished the plate and the top with sliced jalapenos, as well as some extra bacon and green onions. It helps viewers to figure out what they're looking at, and it brings life to the photo. Plan ahead by saving some cooked bacon for garnish and buying extra jalapenos.
When I have a food that's really brown, I often like to incorporate some cooler colors to add contrast to the dish. Along with the jalapenos I garnished with, I added whole jalapenos in the background, a bunch of leafy parsley (even though it's not really part of the recipe, you can't really see what it is), a blue gingham towel (note that it's the same towel from the first pictures!) and some blue glasses. Because none of it is in focus, it's not taking away from the food.
This time, since Jalapeno Poppers are more "man food" or "game day food", I wanted to go with a darker look, and I think it really makes the food pop.
Texture:
The texture hasn't really changed, but I knew I didn't want to show the cream cheese inside the wontons. It's delicious, but it wasn't adding anything to the photos. I angled the cupcakes toward me so that what stood out was the crispy edges of the wontons and the melty cheese on top (my best features).
The important thing is that you take the photos before the cheese starts to look too cold and congealed! In these photos, the garnishes help to take some of the emphasis off of the state of the cheese, so you can still see it, but you might not notice if it's a little more set than I'd like it to be.
Placement/Angle:
I shot these photos from a little further above the food, and angled the cupcakes to be facing the camera so you could see more of what was on top. This helps people to figure out what you're showing them. Rather than placing more of the cupcakes in the background (which I often do) I opted for props that would bring a little more color and visual interest to the photos and contrast to my focal point.
I'll be back next week with one more preview post (and one more transformation!) and news about when you can purchase the book! Stay tuned 🙂