What a winter.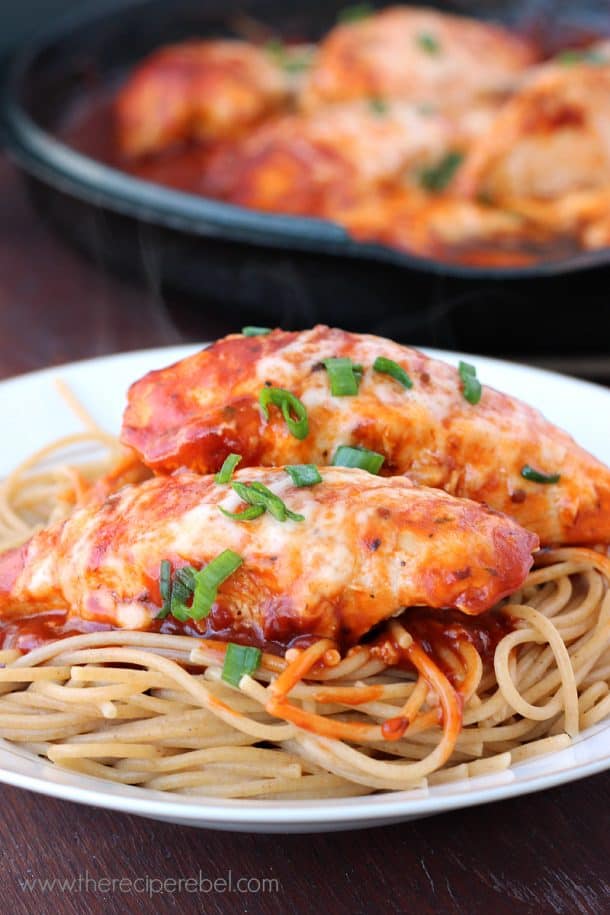 I was kind of getting used to the mild weather and fluffy snow. I even felt that spring wasn't too far off at one point.
Then we got Extreme Cold Warnings and the flu.
It turns out, taking care of two kids while having the flu isn't actually that fun. And neither is slaving in the kitchen all day.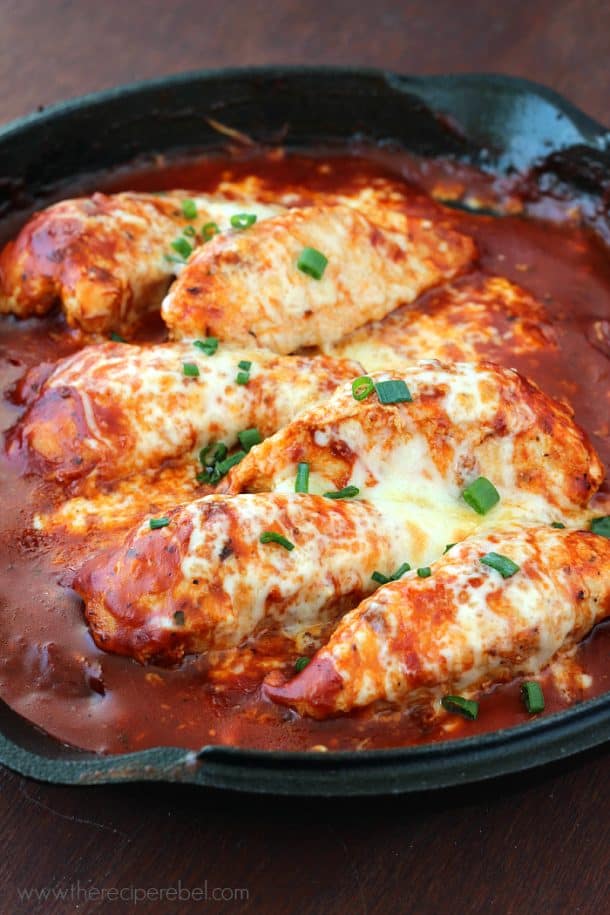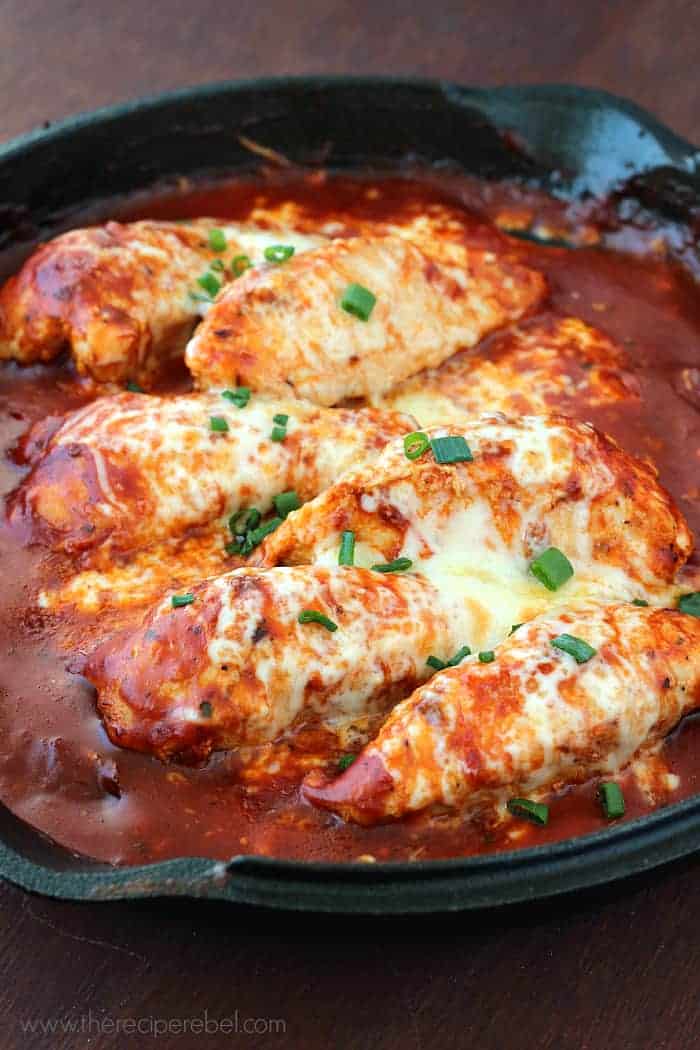 Thankfully, one of my tasks for the week was trying out my next recipe from the Cook with Campbell's web site. I was super excited for this one because everyone loves chicken parmesan.
This version is super quick and easy – there's no breading, so you can skip that step (and trust me, you won't even miss it!). It also only has 7 ingredients plus the salt and pepper. Exactly the kind of comfort food you need when it's cold, miserable, and you're sick and don't feel like doing much in terms of dinner prep.
It's all about minimum effort and maximum flavor here, friends.
I didn't have the tomato soup with oregano and basil called for in the original recipe, so I substituted regular tomato soup and added about 1 teaspoon each of basil and oregano. It had great flavour! I kind of thought it was just going to taste like chicken breasts and tomato soup, but the sauce has much more flavor than you'd expect.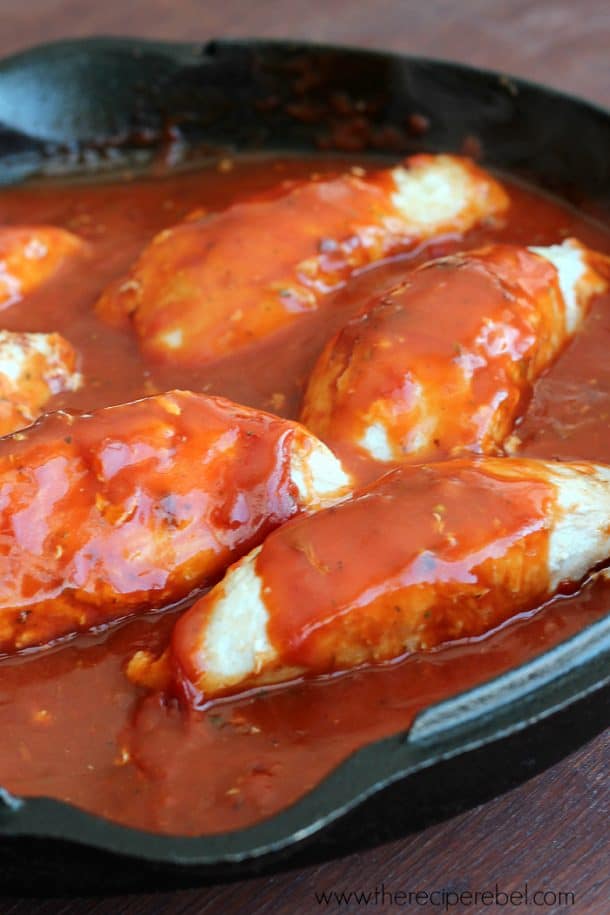 I had 3 large chicken breasts, so I cut them in half lengthwise. I served it over pasta, but if you're going to do that I would recommend doubling the tomato soup and broth to make even extra sauce. We like things saucy around here 🙂
Disclosure: I am part of the Campbell Company of Canada Ambassador program with Mom Central Canada and I receive special perks as part of my affiliation with this group. The opinions on this blog are my own.
Ingredients
2

tbsp (30 mL) olive oil

4

(454 g) skinless, boneless chicken breasts

1/4

tsp (1 mL) each salt and freshly ground pepper

1

can (284 mL) CAMPBELL'S® Condensed Tomato with Basil and Oregano Soup

1/2

cup (125 mL) CAMPBELL'S® Ready to Use Chicken Broth

1

cup (250 mL) shredded mozzarella cheese (about 6 ounces)

1/4

cup (60 mL) grated Parmesan cheese

2

tbsp (30 mL) finely chopped fresh parsley
Instructions
Preheat broiler to high. Heat oil in a large, ovenproof, non-stick skillet over medium-high heat. Season chicken with salt and pepper. Cook chicken for 3 to 5 minutes per side or until browned; move to a plate.
Stir soup and broth into skillet; bring to a simmer. Add chicken back to skillet and cover with sauce. Cook, covered, for 7 to 8 minutes or until chicken is cooked through.
Toss mozzarella with Parmesan; sprinkle over chicken. Broil for 2 to 3 minutes or until cheese is melted and golden (or if you don't want to use the broiler, just cover the skillet with a lid until cheese is melted!). Sprinkle with parsley before serving.
See the original recipe.