Because now at least I've got your attention.
If I just titled the post, "Oatmeal Raisin Cookies," you'd skip right over it and on to some totally indulgent, ridiculous, gooey, chocolatey thing and totally underestimate these cookies.
For the record, I'm calling them "Dirty Apron Oatmeal Raisin Cookies" because they are out of The Dirty Apron cookbook.
This is my last cookbook review for a while – though I'm definitely not putting the cookbooks away! I have thoroughly enjoyed finding some new inspiration in the pages of these gorgeous books from Raincoast Books.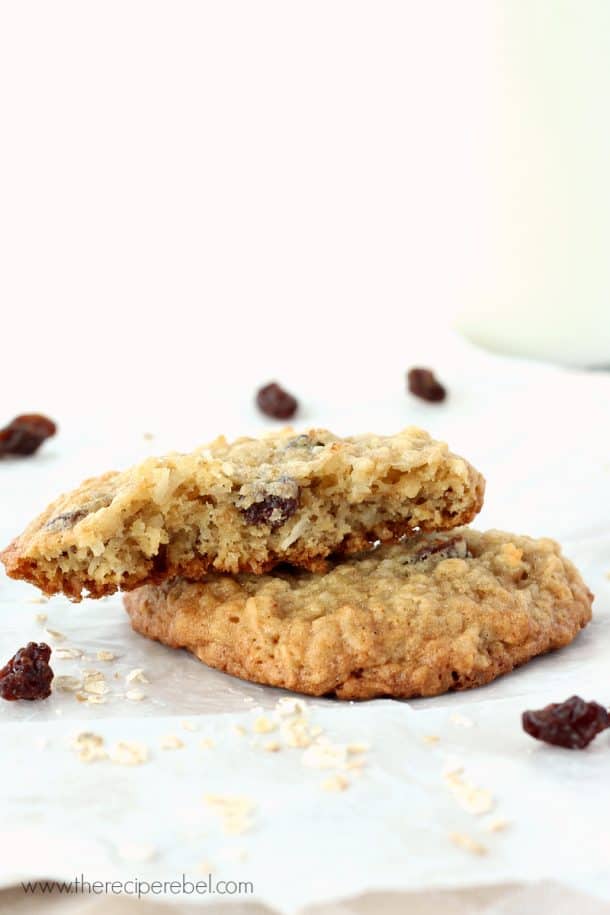 And I hope you will, too! Don't forget to enter the giveaway for all 8 cookbooks – there will be 4 winners of 2 cookbooks each, and all you have to do to enter is put in your email address! There are also bonus entries for following along on social media.
The giveaway ends Friday, March 27 – so be sure to check it out before then!
ANYWAY. Cookies.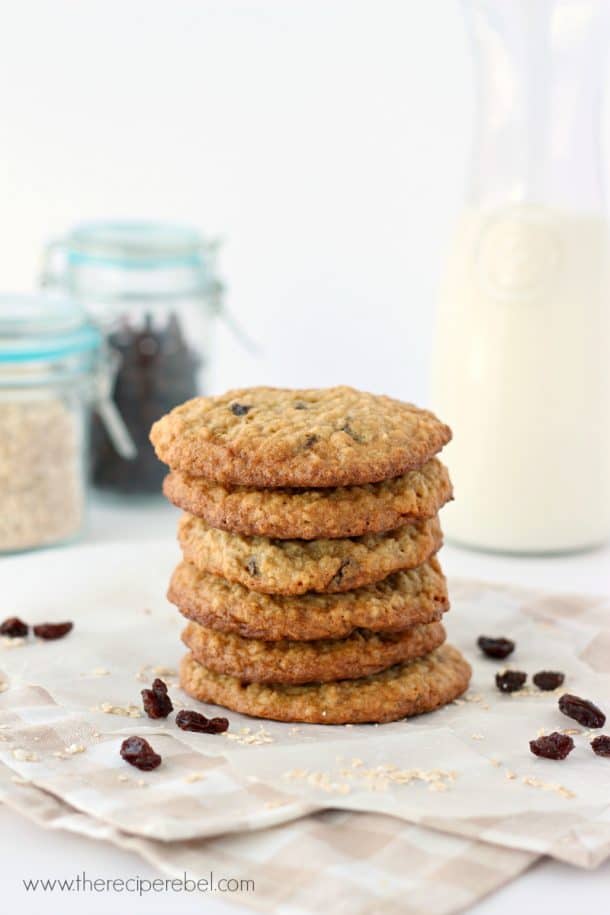 If you're here to begin with, you're probably on my side already. Which is the Oatmeal Raisin Cookie Lover side.
I think there are a good number of people who don't like oatmeal raisin cookies. And I just don't understand. Apparently some people don't even like raisins.
As a kid, my mom would buy raisins with the little stem still attached, and that would be our job after she had restocked – to sit with the bucket of raisins and pull of the little stem.
I don't think I even hated doing such a tedious job, because I'm pretty sure quite a few ended up in my mouth.
If you happen to have made it here and you aren't a fan of raisins, you could totally add chocolate chips. But it's just not the same. Raisins are the perfect chewy, sweet accompaniment to the oatmeal and coconut.
But this isn't just about cookies.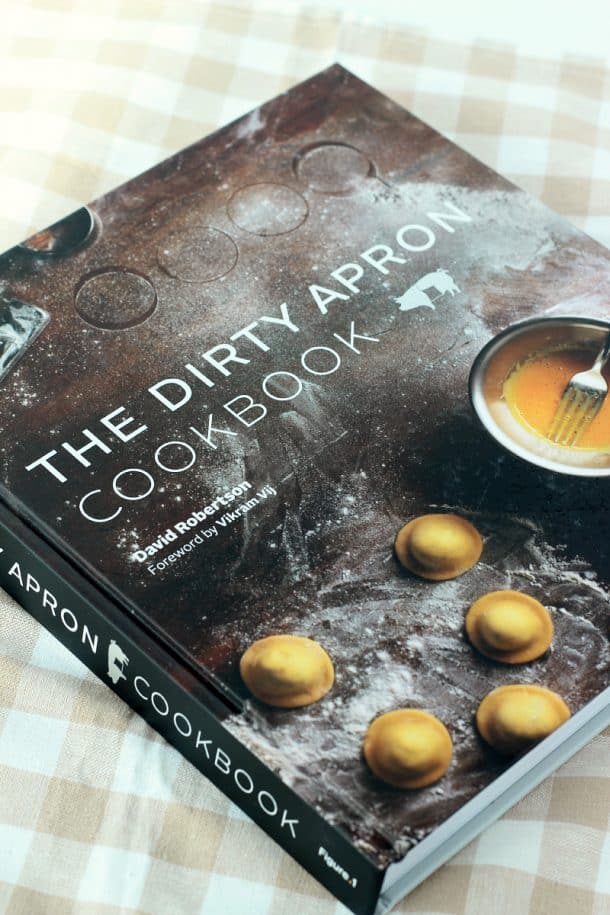 The Dirty Apron Cookbook
by David Robertson is a collection of recipes from The Dirty Apron Cooking School and Delicatessen in Vancouver, British Columbia. And since David has taught more than 40,000 students, I'd say he's definitely qualified to be writing this book.
This is exactly my kind of cookbook. There are a wide range of recipes: from classics (oatmeal raisin cookies), to seafood recipes, desserts, and breads. One of my favorite parts of the book is the last section: Basics. Here David includes recipes for stock, brine, pasta dough and puff pastry. That he includes "Classic Puff Pastry" and "Rough Puff Pastry" makes it easy to choose your comfort level.
My favorite line from the introduction, and one that I think sums up the kinds of recipes you'll find in the book: "fine food shouldn't be elitist or mysterious. Cooking should be fun, joyous and rewarding."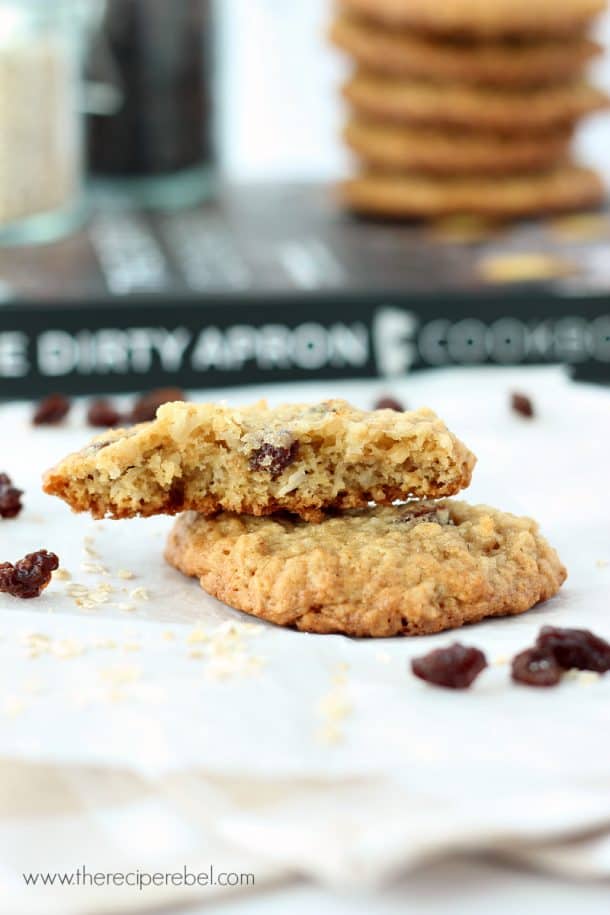 I, as you can probably tell, love food that's not fussy.
I knew when I read the recipe for these cookies that it was my kind of book. There's no extra steps, no sifting of dry ingredients or combining them in a separate bowl.
I know many people would frown on this, and insist on using the most amount of dishes possible, but that is the way my mom taught me to bake, and I haven't heard very many people complain about her baking! So I can totally appreciate how quick, easy, and absolutely delicious the recipe is.
Don't forget to head over and enter the giveaway for this and the other 7 amazing cookbooks!
Ingredients
1

cup butter, room temperature

1

cup sugar

1

cup brown sugar

4

eggs

1

tsp vanilla

1

1/2 cups all-purpose flour

2

tsp baking soda

2

tsp baking powder

2/3

tsp salt

3 1/3

cups quick-cooking or rolled oats

2

cups shredded coconut (the recipe calls for unsweetened, but I used sweetened)

1

cup sultana raisins
Instructions
Preheat the oven to 325 degrees F. Line baking sheets with parchment – Mine are smaller, so I could only fit 6 cookies on a pan as they spread thin. I needed 6 baking sheets. The original recipe calls for 2 pans of 12 cookies – I tried this and mine ran together!
In a stand mixer with a paddle attachment, cream together the butter and sugars until light and fluffy. Add the eggs and vanilla and combine. Add the flour, baking soda, baking powder and salt and mix just until a dough is formed. Using a spatula, stir in the oats, coconut and raisins until they are evenly distributed.
Use an ice cream scoop or tablespoon to spoon dough onto parchment paper, leaving 2 inches between cookies. Using wet hands, press the dough down so that it is somewhat flat. Bake for 6 minutes, then turn the baking sheet and baking until golden, about 5-6 more minutes.
Remove from the oven, allow to cool slightly on the baking sheet and then move to a wire rack. Or to your mouth. Whichever you choose.
 *This post contains affiliate links