Do you guys have a cooking bucket list?
I have this list of things in my head that I swear I will try or learn to make (well) sometime in the future.
Macarons (I tried once when I was probably 16. Needless to say, I failed miserably)
Pain au chocolate
Real cannoli
Dessert ravioli
Puff pastry
Mostly things that involve a lot of flour and sugar.
This was also one of them.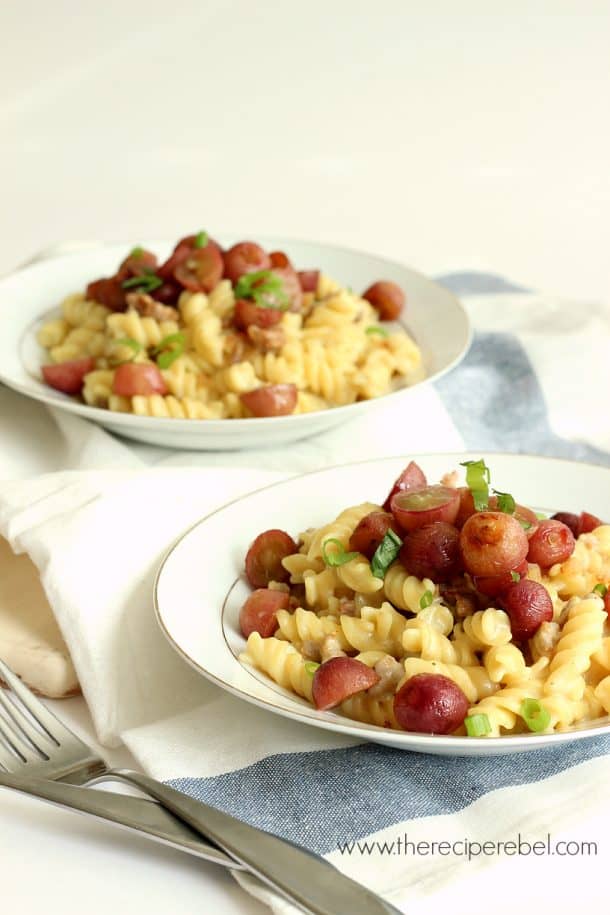 I had seen a recipe for a pasta with Italian sausage and grapes on Pinterest a long time ago, and it was always kind of stuck in the back of my mind. I'm a big lover of blurring the line between sweet and savory. I love to add fruit and other types of sugar to my savory dishes.
Now, it could just be that I'm a sugar addict.
Or maybe it just really does add that something extra special, another layer of flavour to a dish.
Or maybe it's both.
So I had to try it.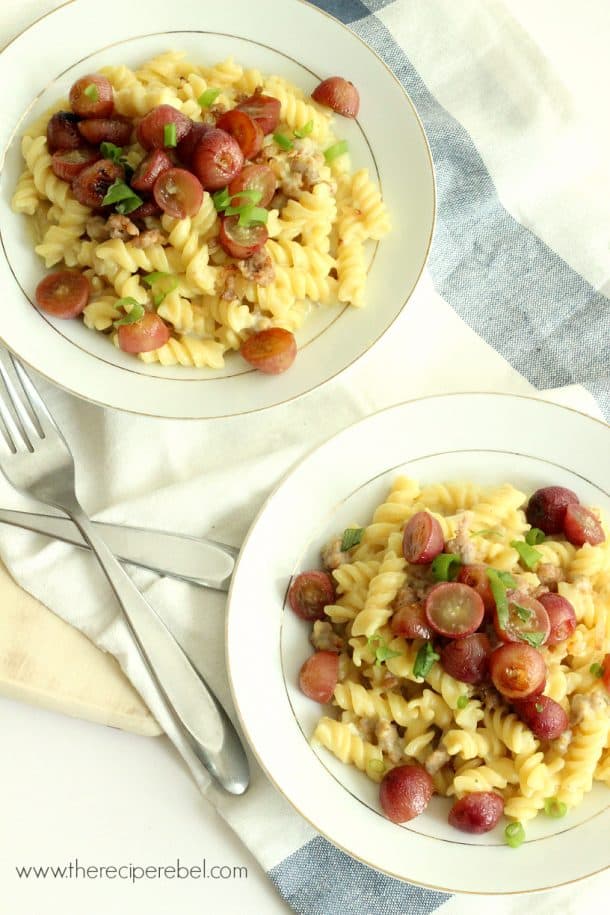 Secretly red grapes are probably my favorite fruit of all time. I mean, there's nothing like fresh strawberries straight from the bush. But strawberry season here is only a couple of weeks and the strawberries you get in the off season? Like red cardboard.
But I had never tried them in a savory dish before, and I was really intrigued. I mean, people eat red grapes and cheese together on cheese plates all the time. Red wine and cheese (not that I'm indulging in much of that lately). So I figured I'd do something slightly creamy and cheesy, but not overwhelmingly.
I was torn between pizza and pasta, so I took a vote on Facebook. The answer was almost unanimous: pasta.
I couldn't let you down, so I gave it a shot.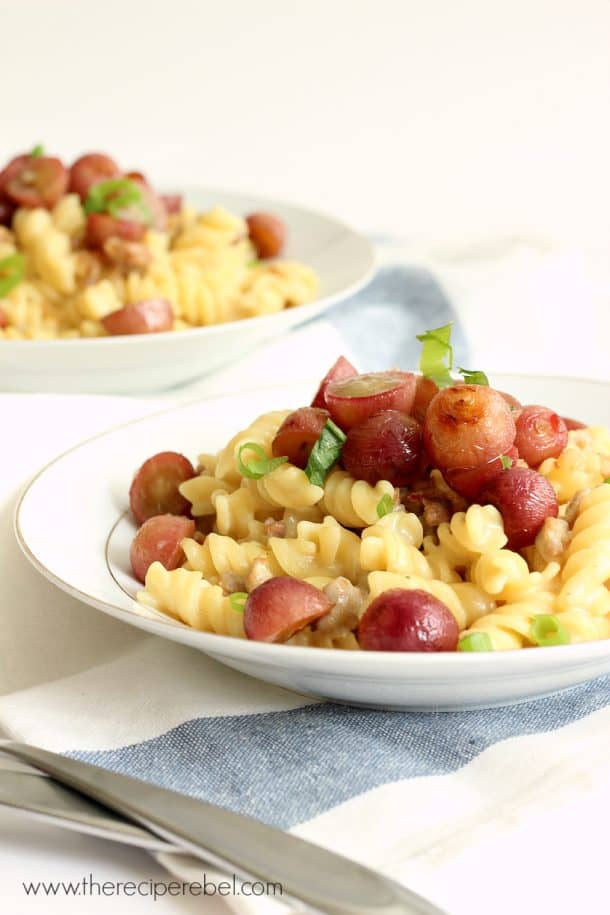 The pasta on its own is to die for. Creamy but not overly thick and rich, with a slight spice from the Italian sausage. The roasted grapes on top just add something extra special — a touch of juicy sweetness that contrasts the spice and the creaminess so perfectly. If you're looking for something a little more adventurous to try, give it a go!
*Remember to save this recipe to your recipe box by clicking the Save Recipe button below!*
5-6 main dish servings
adjust servings
Creamy Rotini with Italian Sausage and Roasted Grapes
Easy, creamy, one pot pasta with Italian sausage, topped with oven roasted grapes for a hint of sweetness.
Ingredients
1 1/2

cups red grapes, halved

1/2

tbsp oil (canola, olive, etc.)

a pinch of salt

1/2

medium onion, diced

2

links mild Italian sausage, casings removed (or spicy -- whatever you like!)

1/2

tsp minced garlic

4

cups rotini pasta (or a similar size and shape)

3

cups chicken broth

2

cups milk (I use 1%)

1

cup shredded mozzarella cheese (or get fancy and use your favorite)
Instructions
Preheat oven to 400 degrees F. Place grapes on a tin foil lined baking sheet and toss with oil and salt. Roast for 30-45 minutes until puckered, wrinkly and starting to release their juices.
In a large pot, saute onion and sausage (scrambling the sausage as you cook it) for 5-6 minutes over medium-high heat until browned. Add the garlic and cook 1 minute.
Add 4 cups rotini pasta, broth and milk. Bring to a simmer and reduce to medium heat. Cook and stir, uncovered for 12-15 minutes until pasta is cook and liquid is thickened. Stir in cheese.
Dish out pasta and top with roasted grapes.