Disclosure: I am part of the Campbell Company of Canada Ambassador program with Mom Central Canada and I receive special perks as part of my affiliation with this group. The opinions on this blog are my own.
So I'm super excited to be an ambassador for Campbell's for the next few months. For this reason, I'm going to be trying out some of the tasty recipes on their site and sharing them with all of you.
Though that's certainly not the only reason to be trying out some of the stuff on the Cook With Campbell's web site.
I think the best part about so many of the recipes is how quick and easy they are. Maybe you've noticed my obsession with quick and easy lately…. It could be because I'm more than 8 months pregnant, a high school teacher and mother of a toddler.
But I know you don't care to hear me whine about how badly I need a nap, and that you'd much rather hear about cheesy perogies smothered in a creamy, spicy, bacony sauce.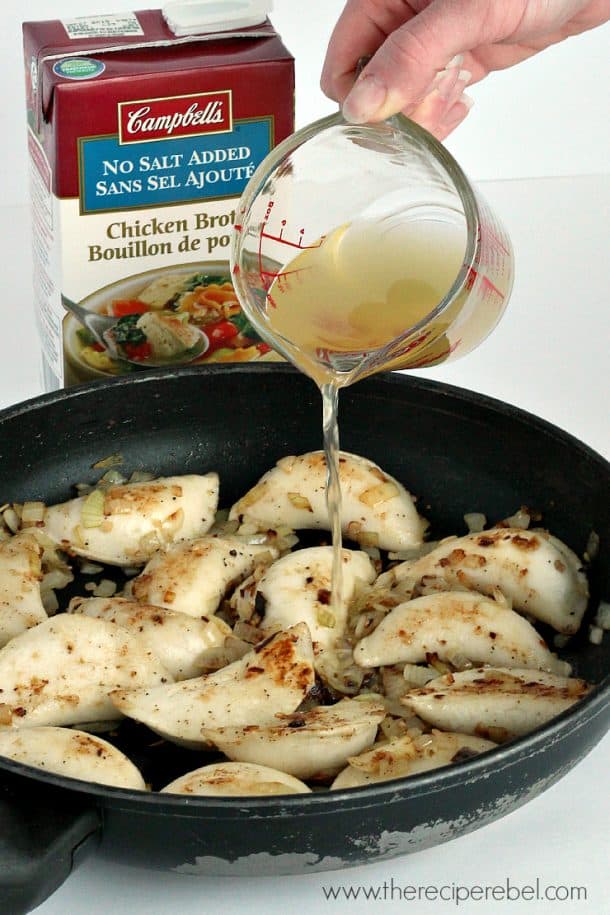 I was checking out this recipe before I was even accepted as an ambassador for Campbell's, because (a) I love perogies and (b) it's a combination I'd never heard of before.
I'm always intrigued when I come across a recipe that surprises me. This list of ingredients is one I would never have thought to put together on my own, so right away I think, "I need to try that." Plus, there are perogies involved.
I was a little nervous, but we were not disappointed. The sauce is creamy, smoky and a touch spicy — though the spiciness of the sauce will depend on what kind of salsa you use. It's an interesting combination, but it totally works. And my toddler? I know it's a pass if I don't have to remind her even once to eat her supper, and she asks for more 2 or 3 times.
I also love throwing spinach into everything, because once it's cooked it shrinks down until it's hardly noticeable, and it's a great way to sneak in some healthy stuff. Because I have to be honest, the only way I'm getting my spinach is when it's snuck in with some other saucy, cheesy, bacony stuff.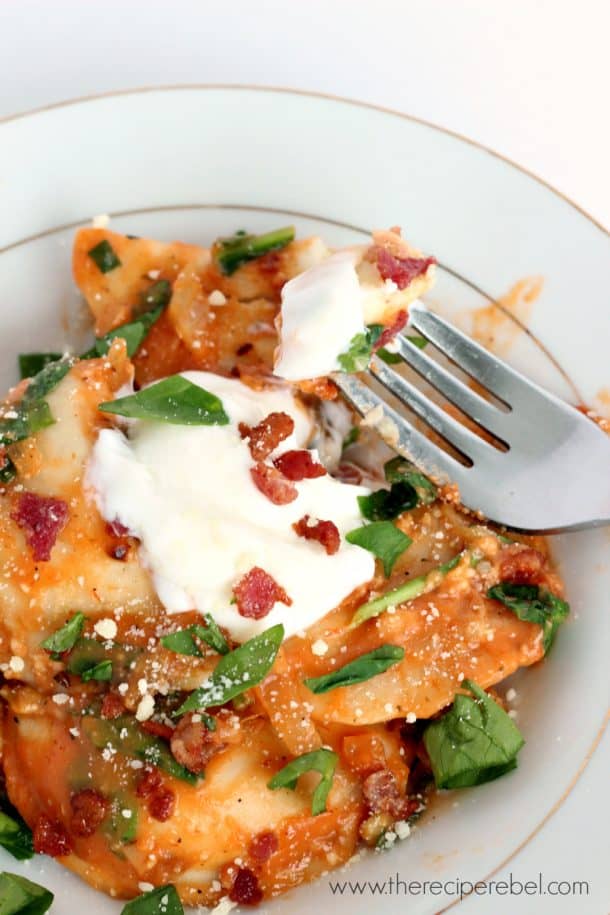 So maybe I'm the only one feeling a little short on dinner prep time lately, but either way, a dinner that's Simple to Make, Easy to Love? Always a win.
Find the original recipe here.
4-5 servings
adjust servings
Creamy Perogie Dinner
Creamy Perogie Dinner: an easy weeknight meal that's full of flavour!
Ingredients
5

slices bacon, diced

1

onion, finely diced

1

tbsp (15 mL)garlic, minced

1

tsp (5 mL)ground black pepper

1

box (907 g)frozen perogies

1

can (284 mL)CAMPBELL'S® Condensed Low Fat Cream of Celery soup

1/2

cup (125 mL)CAMPBELL'S® Ready to Use No Salt Added Chicken broth

1

cup (250 mL)salsa

2

cups (500 mL)baby spinach, loosely chopped

1/4

cup (125 mL)grated Parmesan cheese

1/4

cup (125mL)sour cream (garnish)
Instructions
Cook bacon until crisp at medium heat in large skillet. Drain bacon on paper towel; remove all but 1 tbsp fat from skillet.
Add onion, garlic and black pepper to skillet; cook and stir until onions are translucent – about 3 minutes. Return bacon to pan.
Add perogies to skillet and cook until browned on each side, about 10 minutes.
Add the soup, broth and salsa and stir to combine and let simmer for 10 minutes
Add the spinach and Parmesan cheese and cover skillet with lid. Turn heat off and let sit for a couple of minutes to allow spinach to wilt slightly then mix.
Garnish with sour cream and serve immediately.