*This post is sponsored by Granny's Poultry. All opinions are my own.
So, in case you haven't been following along with me for long (or you've been skipping over all of those super big, important, thought-provoking words I write before I get to the good stuff) should know that I'm now home with our almost-3-month-old and our almost-3-year-old.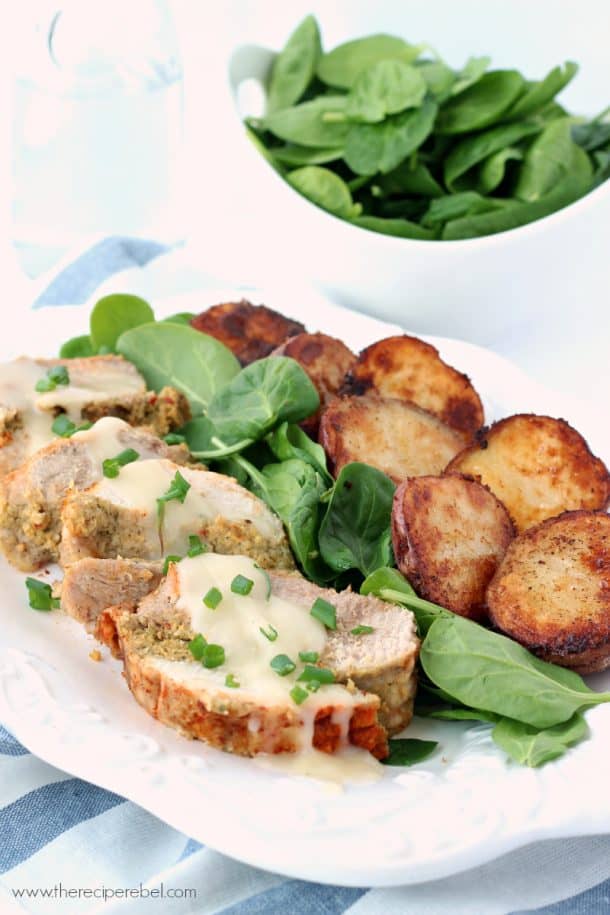 Things are going pretty well, but the days can be a little hectic at times. The hubs told me this week that he had forgotten to pick up something in the city when we were in the weekend before, so he was thinking he might need to go back on Saturday to pick it up.
I casually replied, "so you want to take our oldest to Brandon on Saturday is what you're saying?"
He didn't even hesitate.
I think he might have even welcomed the idea of a little daddy-daughter outing. I knew I married him for a reason.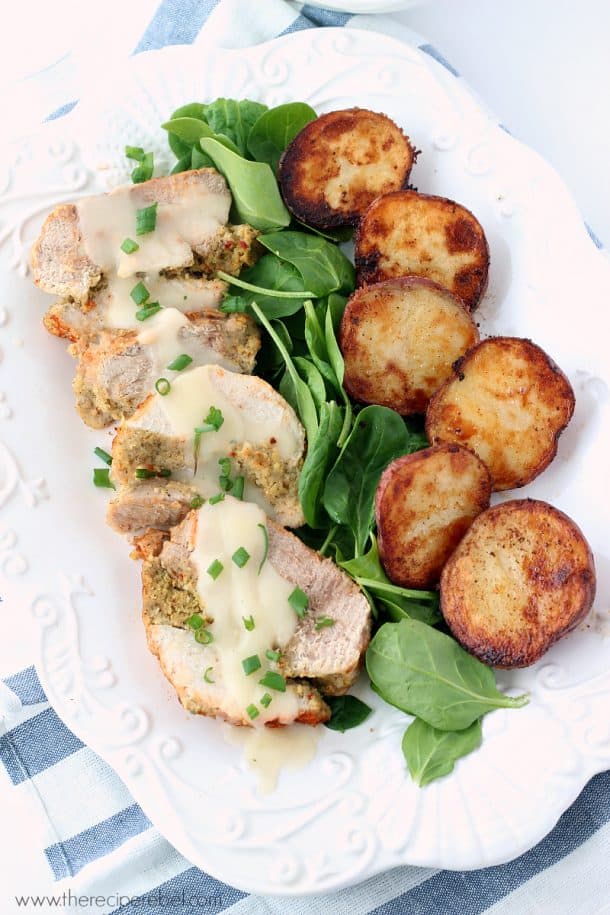 So Saturday morning I stuck this turkey roast from Granny's Poultry in the slow cooker and cleaned the house.
I know, I know – it doesn't seem that terribly exciting seeing as I pretty much had the morning to myself. But every once in a while I feel like I open my eyes and see how dirty our house actually is.
You'd think, being at home, I'd have lots of time to clean my kitchen. Turns out I spend too much time making a mess of it.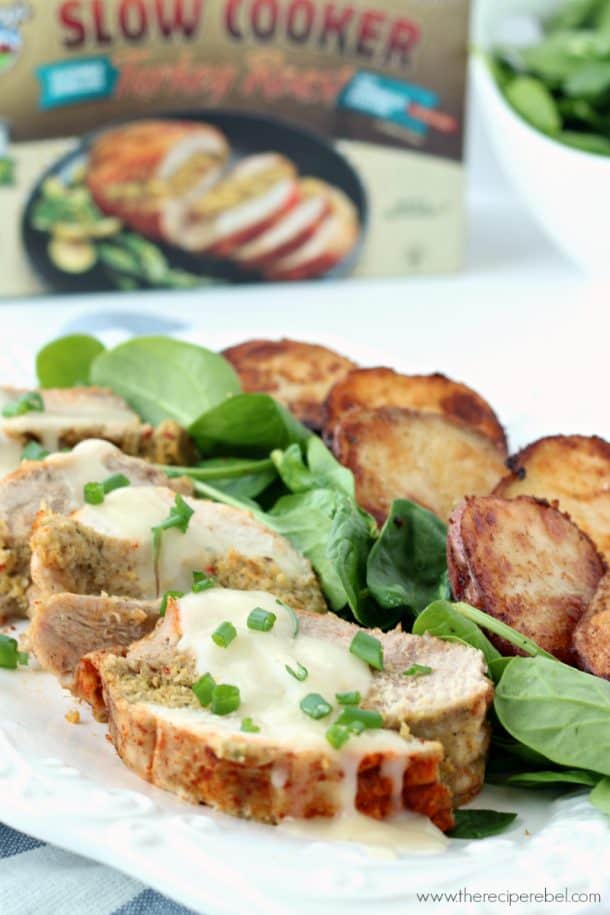 It was oddly therapeutic though, even though it will be clean for exactly 3.74 seconds after the hubs returns with the toddler.
When Granny's Poultry approached me to see if I wanted to try out this turkey roast, there was no way I could turn it down. It goes into the slow cooker frozen, and in a few hours you have an extravagant meal with very little prep.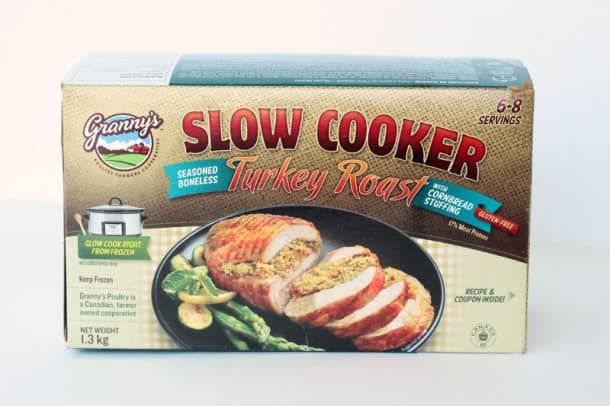 And with a baby and a toddler, I'm all about quick and easy (and I'm pretty sure I say that Every Single Time).
I made some simple, No-Fail 3-Ingredient Roasted Potatoes (one of my very first recipes on the blog – you'll see it again below) to go alongside it, and a very simple gravy, and had a fantastic lunch waiting for the other two when they got back from their little shopping trip.
The turkey roast comes out of the slow cooker perfect moist, and you've put in pretty much no effort! The cornbread stuffing is also gluten-free, so it's perfect for family and friends with sensitivities to gluten. It is the perfect thing for a small Easter gathering, as it serves 4-6 people. With some super easy sides and a simple gravy, you've got an elegant holiday meal in no time!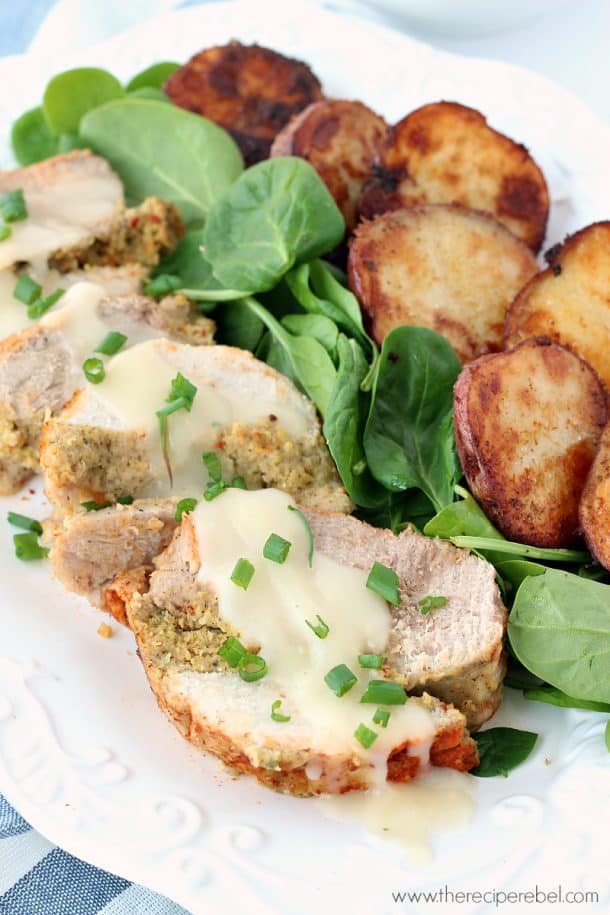 Lucky enough for you, Granny's wants to give you the chance to have an equally fantastic lunch (or supper, or Easter dinner), and they're giving away a slow cooker and a $50 Sobey's gift card to one reader from Manitoba, Saskatchewan or Alberta! The product is available at Sobey's in these provinces.
See the entry form below! You can enter simply by putting in your email address, but if you'd like bonus entries, you can follow along on social media as well : )
6 servings
adjust servings
Cornbread-Stuffed Turkey Roast and No-Fail Roasted Potatoes
5 hours 30 mins
Cook Time
Cornbread-Stuffed Turkey Breast and Roasted Potatoes: a meal that's perfect for entertaining and easier than you think! The slow cooker and Granny's Poultry take all work out of this perfect holiday meal.
Ingredients
Turkey Roast
1

Granny's Cornbread-Stuffed Turkey Roast

Included spice rub

1/2

cup water
No-Fail Roasted Potatoes
1/4

cup butter

About 1 tbsp seasoning salt (I use Lawry's)

4-6

red potatoes, halved
Simple Chicken Gravy
2

tbsp butter

2

tbsp all-purpose flour

1

cup chicken broth (the good stuff)
Instructions
Turkey Roast:
Place the turkey roast in the slow cooker according to package directions. Pour water over top and sprinkle with included spice rub. Cook on low for at least 5 ½ hours or until a meat thermometer reaches 170 degrees F.
Let sit on the cutting board for 5-10 minutes, covered in foil, before slicing to retain the moisture.
No-Fail Roasted Potatoes:
Preheat oven to 400 degrees F. Place the butter on a rimmed sheet pan and place in the oven while it's preheating to melt the butter.
When the butter is melted, remove from the oven and sprinkle with the seasoning salt. Place potato halves, cut side down, on top of the butter and seasoning salt.
Use a pastry brush to brush some of the butter on the backs (skins) of the potatoes.
Bake for 30-40 minutes, or until tender and potatoes are golden brown.
Simple Chicken Gravy:
In a small pot, melt the butter. Add the flour and cook for 1 minute, stirring.
Whisk in the chicken broth, and cook over medium heat, stirring, until thickened. This should take about 3-5 minutes.
Enjoy! Serve with a side salad or veggies if desired.