Because if you're going to eat vegetables, you should eat them with bacon. And sauce.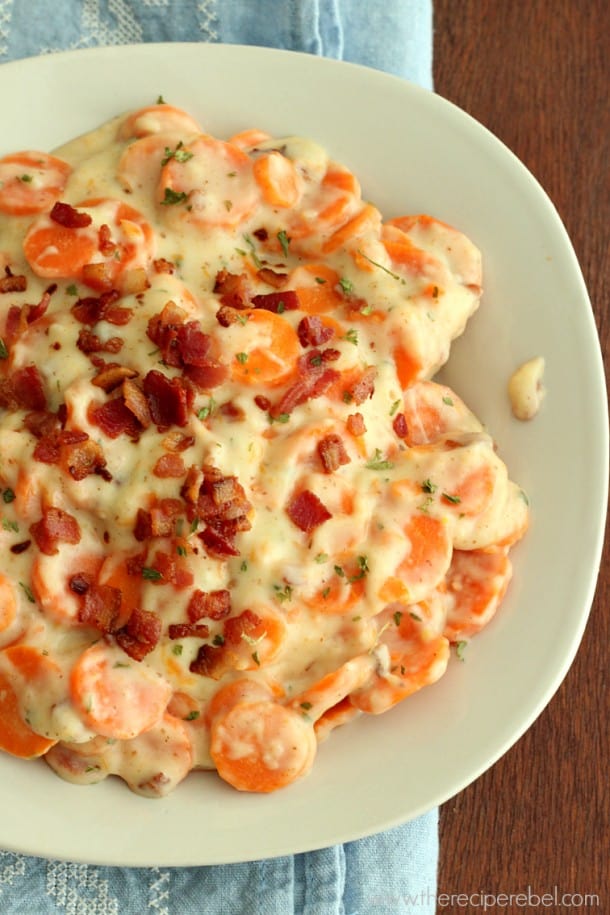 Now, you know I'm not a huge veggie lover.
Growing up, I don't really remember my mom making me eat raw vegetables. Maybe she just gave up before I was old enough to really remember.
On the other hand, cooked carrots, corn, and peas are vegetables we had regularly. I can't say I ever really enjoyed any besides corn, but I tolerated them.
Even today, I cook vegetables often or throw frozen veggies into my meals because I know, as a responsible adult and parent, that I should eat them.
But there's no forcing me to eat these carrots.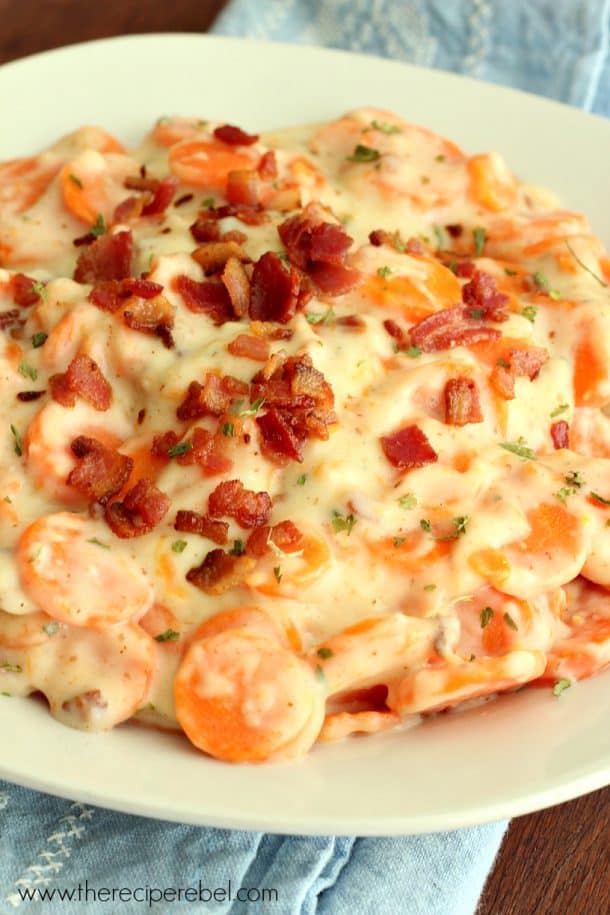 I mean, I love a good creamy sauce on just about anything. Or on a spoon. And bacon? Crispy, smoky bacon. You really can't go wrong.
This is a side dish the whole family loves, veggie lovers and veggie haters alike. And it's perfect for Thanksgiving or Christmas!
5-6 side servings
adjust servings
Carrots with Creamy Bacon Sauce
Sweet carrots served with a creamy, smoky bacon sauce. The perfect side dish for any holiday!
Ingredients
5

medium carrots, thinly sliced

3

slices bacon, diced

2-3

tbsp all-purpose flour

1 1/4

cup milk

1/2-3/4

tsp salt

1/2

tsp dried parsley
Instructions
Place carrots in a medium pan and just cover with water. Bring to a boil and cook 7-10 minutes, until tender but not mushy. Drain, spoon into a serving bowl and cover with tin foil.
In the same pan, cook the bacon until crisp. Remove some for a garnish if desired.
Stir in 2-3 tbsp flour, 1 tbsp at a time, until the bacon grease has thickened. You don't want to add so much flour that it doesn't all get absorbed by the grease, so add gradually and continue stirring.
Stir in milk, ½ cup at a time, stirring until smooth in between each addition. Stir in salt and parsley to taste. Add carrots back into the pan, stirring until coated. Serve.
Recipe adapted from Company's Coming Rush Hour Dinners.